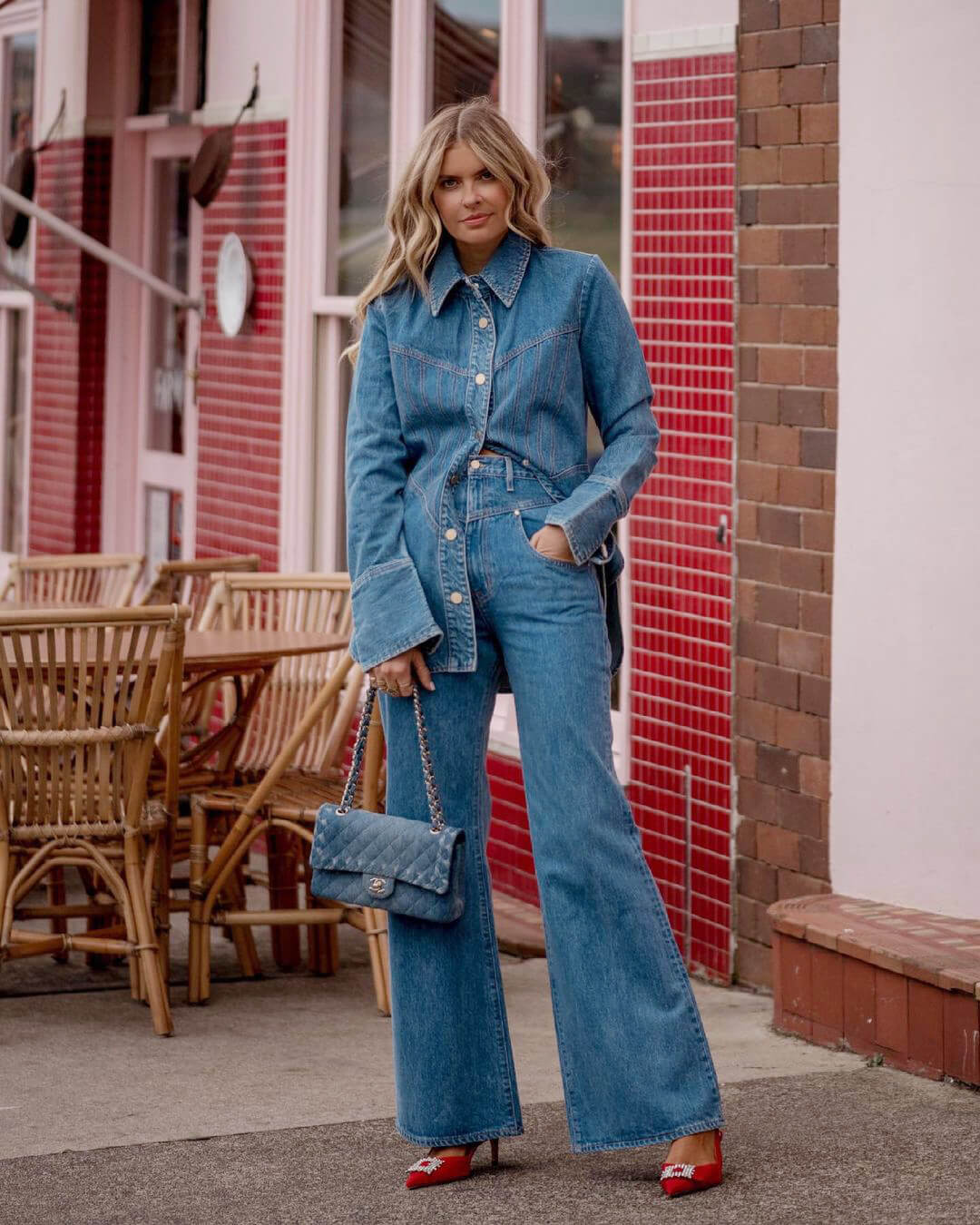 Photo via @elle_ferguson
It seems like Memorial Day was just here – but now, 4th of July is around the corner and will arrive before you know it! Best of all, Independence Day falls on a Sunday, making for a long, relaxing weekend. Just make sure you settle your plans before the holiday approaches! Whether you end up celebrating beachside, at a lake house, or even just a local cookout with your friends and family, you'll want to have some festive but easy outfits planned. A red, white and blue themed ensemble is always a good idea when styled right, but there are plenty of other options from classic stripe motifs to resort-inspired looks. If you're ready to celebrate the holiday in style, scroll down to get all the 4th of July outfit inspiration you will ever need!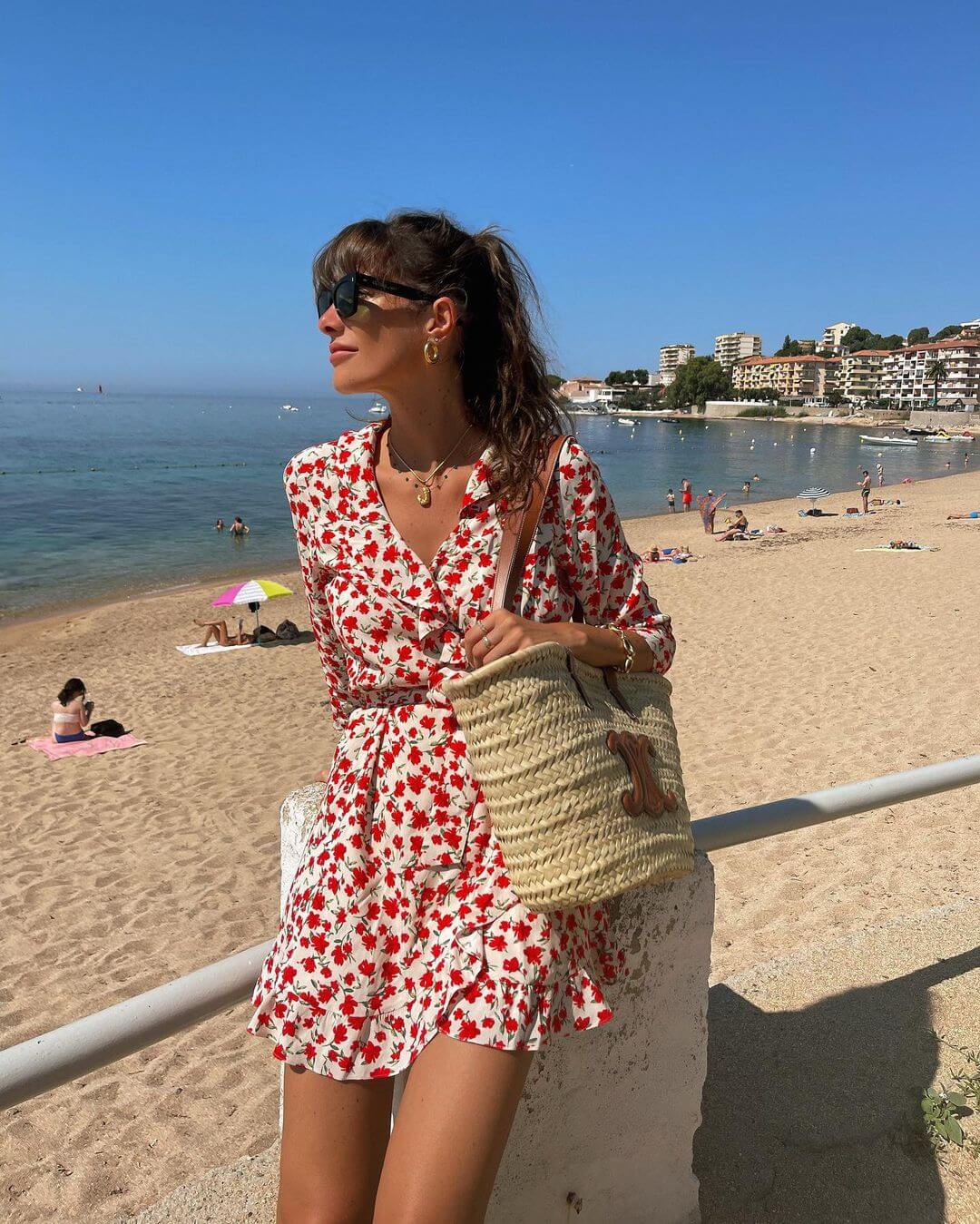 Photo via @juliesfi
1) Printed Red Dress
No literal stars and stripes here. Instead, we love this delicate, floral printed wrap dress. The red print is a chic way to achieve a festive look without taking the holiday too literally. Keep it summer appropriate with a straw bag and a comfy pair of leather slides.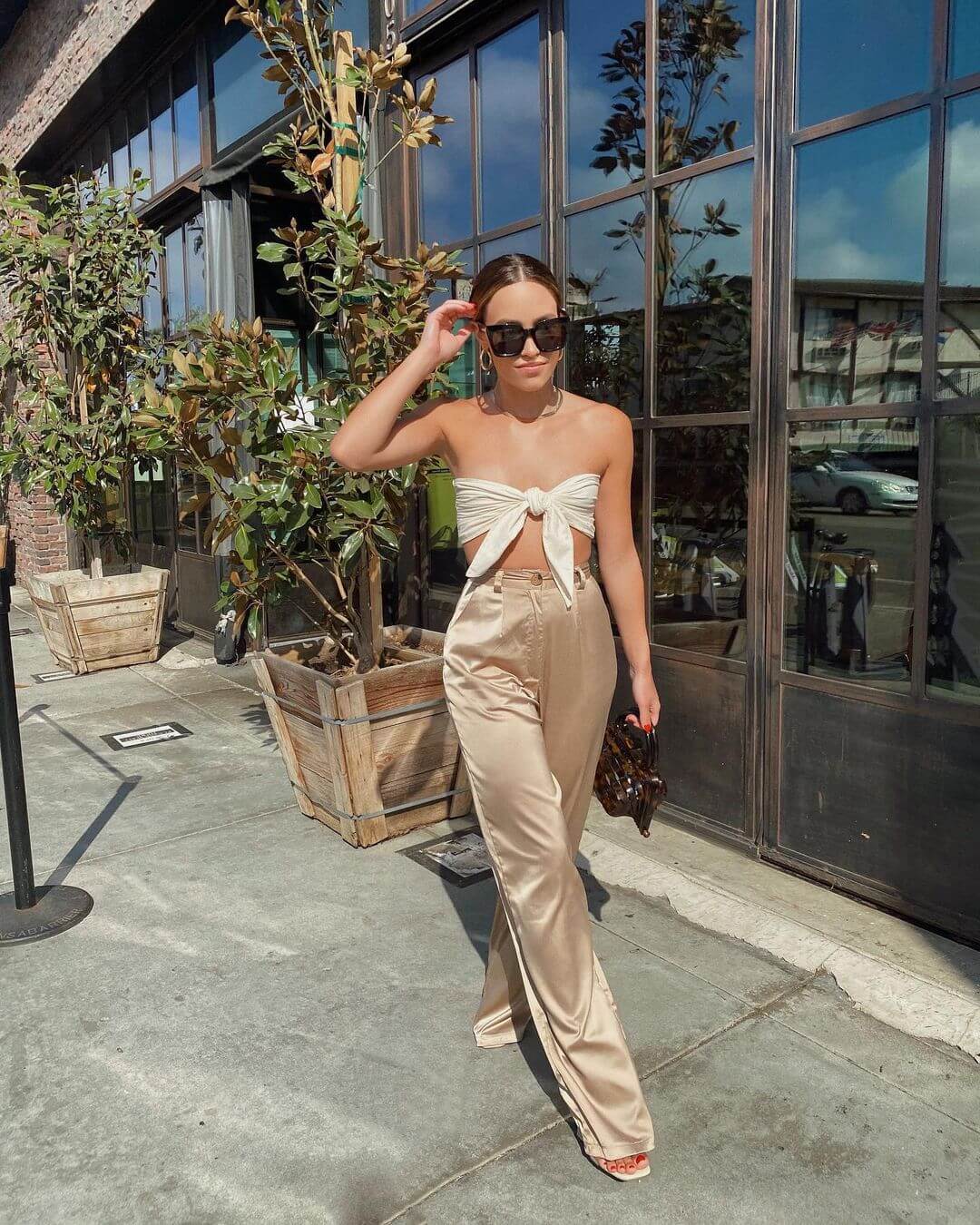 Photo via @claudiagraziano
2) Scarf Top & Trousers
Bougie dinner plans for 4th of July? This next outfit will certainly turn heads! The scarf tied as a tube top screams vacation mode while the champagne trousers are polished and perfect for dining out or relaxing at a winery. You can level up the glam vibes further by opting for a slicked back low bun, gold hoop earrings, and oversized sunglasses.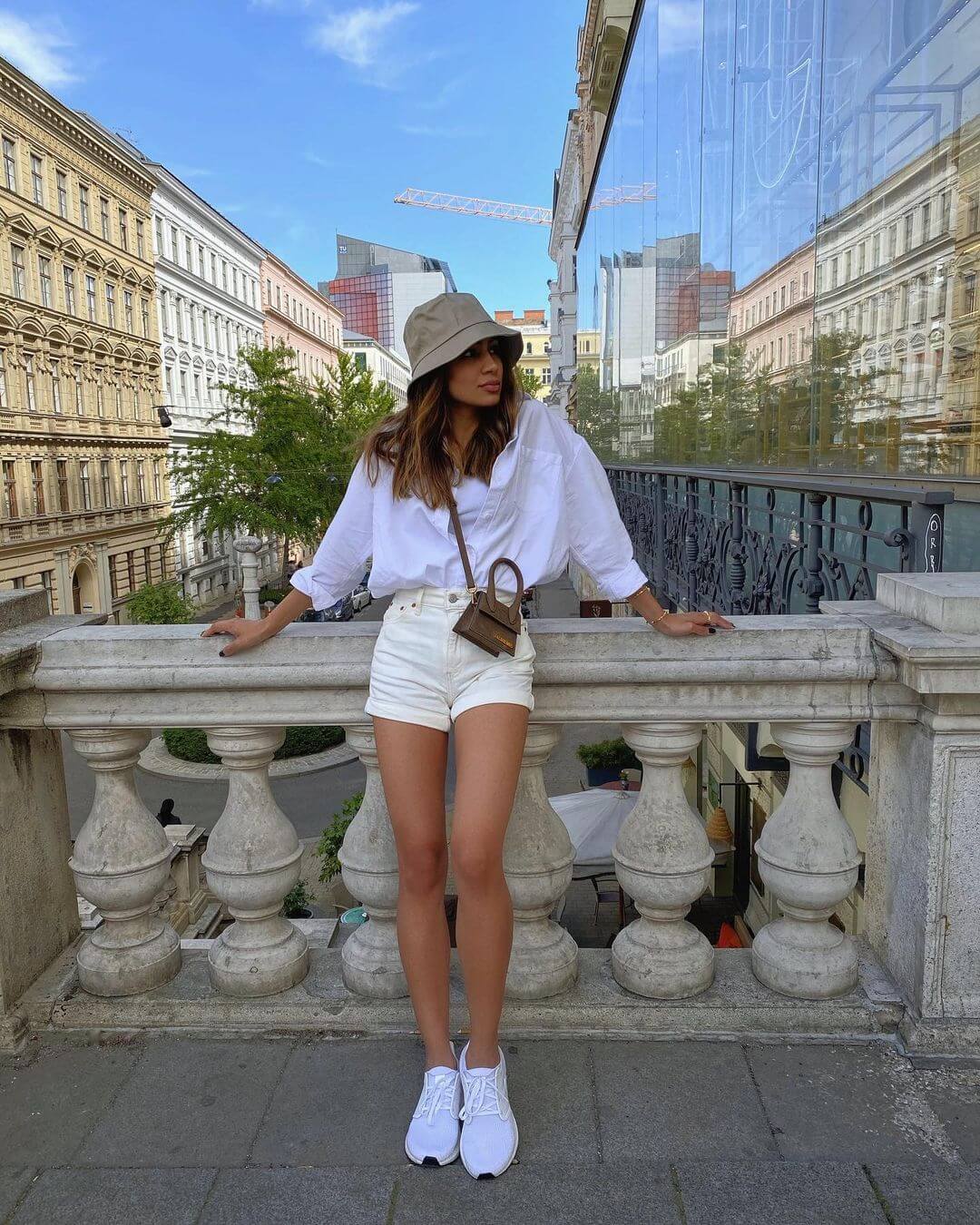 Photo via @soniaheartsfashion
3) Casual Neutrals
Channeling a neutral palette is always an easy way to achieve a put together outfit. Fourth of July celebrations will likely be spent outside enjoying burgers and watching the fireworks, so comfort is key! We love this casual take on neutrals, complete with a loose button-down top and tucked into some off-white denim shorts. An olive bucket hat and sneakers are the only add-ons needed for a stroll around the block – or downtown.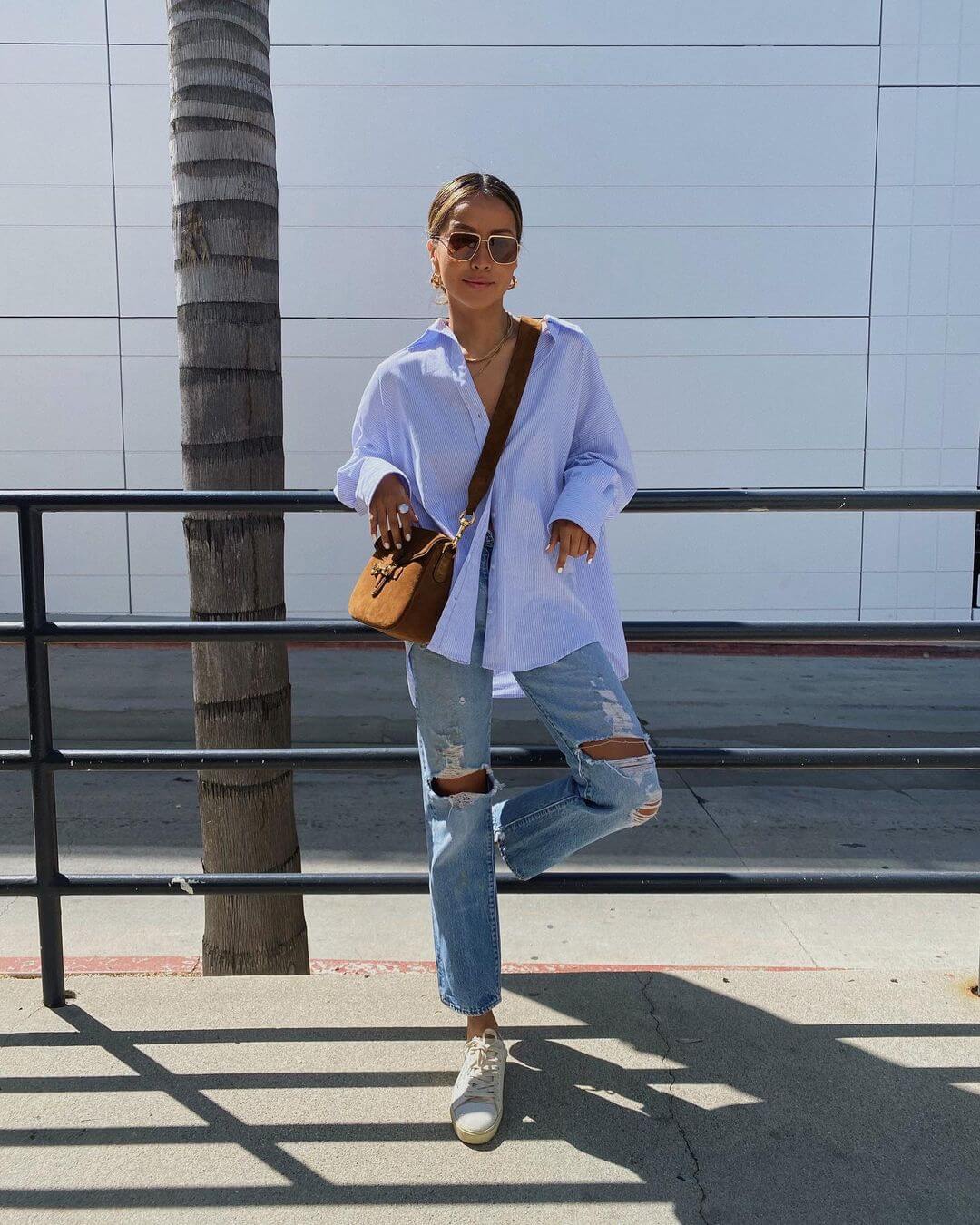 Photo via @sincerelyjules
4) Blue Button-Down Top
On the topic of casual, we have another chic look for all your low key celebrations. An oversized blue pinstripe shirt offers a subtle nod to the holiday! We love how Julie kept it low key by securing only one button and allowing the flowy cut to fall over her straight leg jeans. The minimal jewelry and structured handbag dress it up enough to complete the look. This easy ensemble is made up of basics you probably already own – so, no additional shopping needed.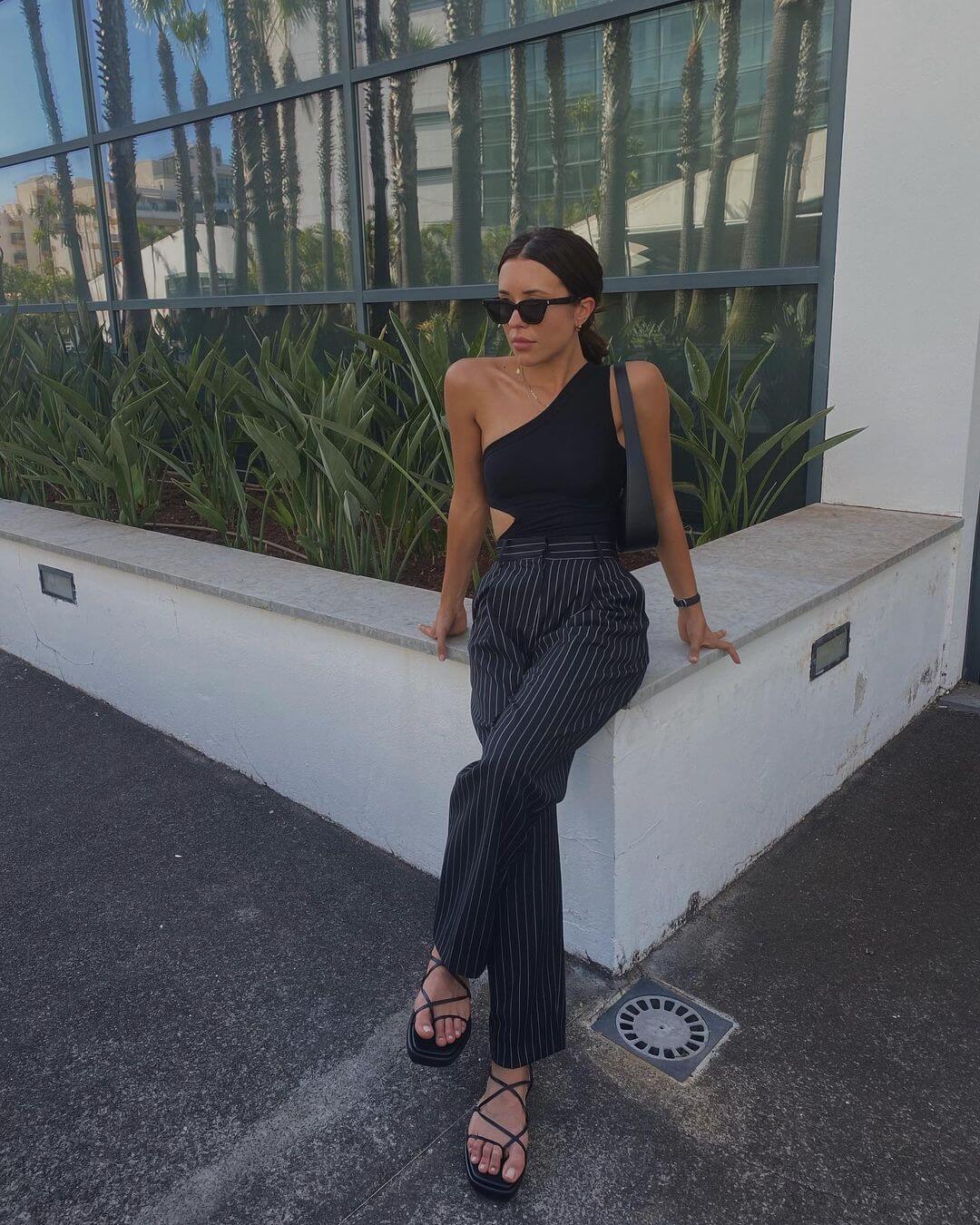 Photo via @deborabrosa
5) Pinstripe Pants
Looking for a more polished take on a 4th of July outfit? This sleek, all black look is just that. The asymmetrical, cut out bodysuit styled with the striped trousers and strappy sandals creates a minimal aesthetic fit for socializing. You could even swap the top for a one-piece bathing suit or bikini top if your 4th of July plans include taking a dip in the pool!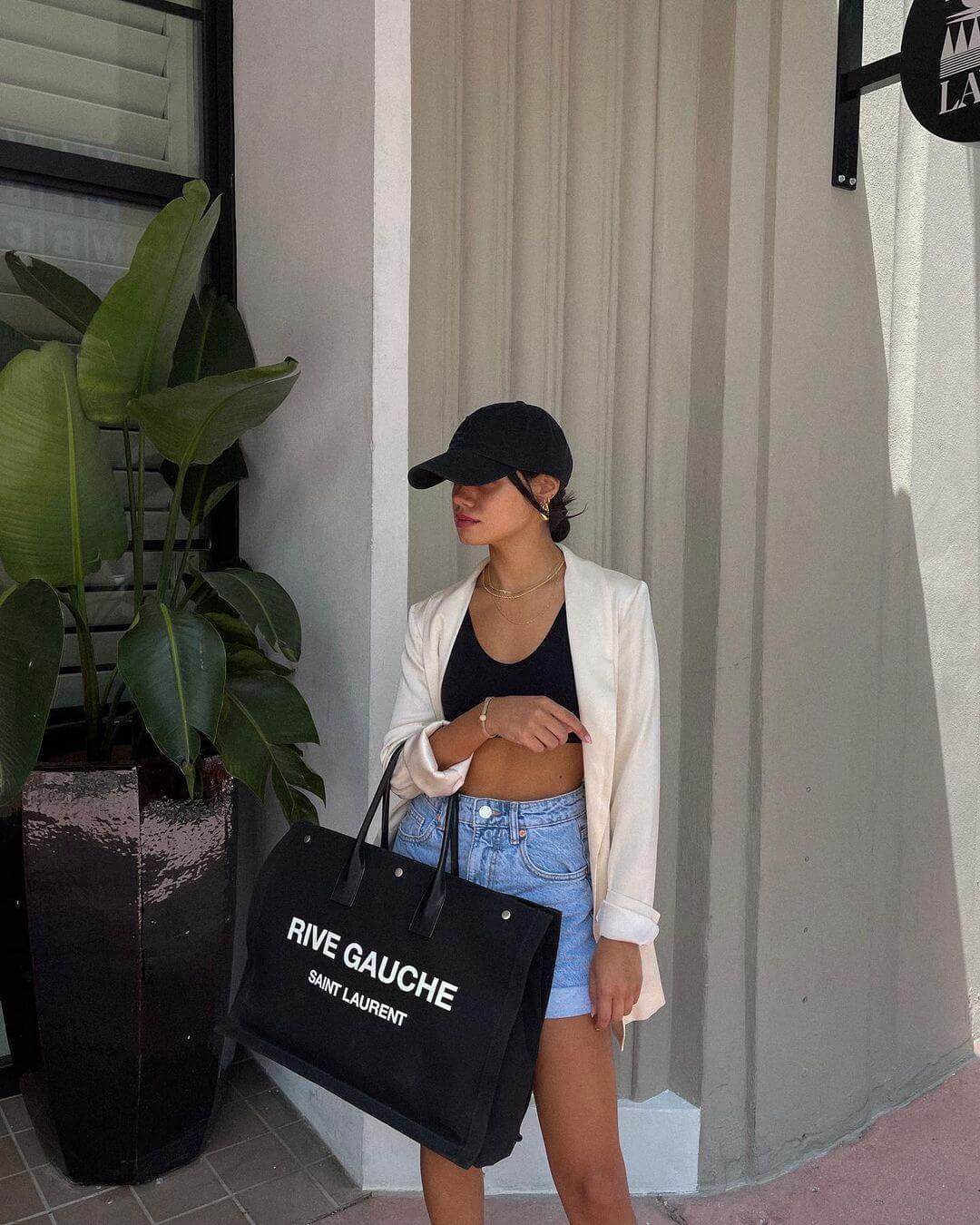 Photo via @michelleinfusino
6) Crop Top & Blazer
The power and versatility that lies in a blazer is unmatched. We absolutely love this summer look for any holiday plans. The simplicity of the baseball cap, bra top and denim shorts feel very Americana while the blazer and linen tote are the cherry ton top, pulling each piece together. Be sure to wear this for a backyard BBQ or a picnic in the park.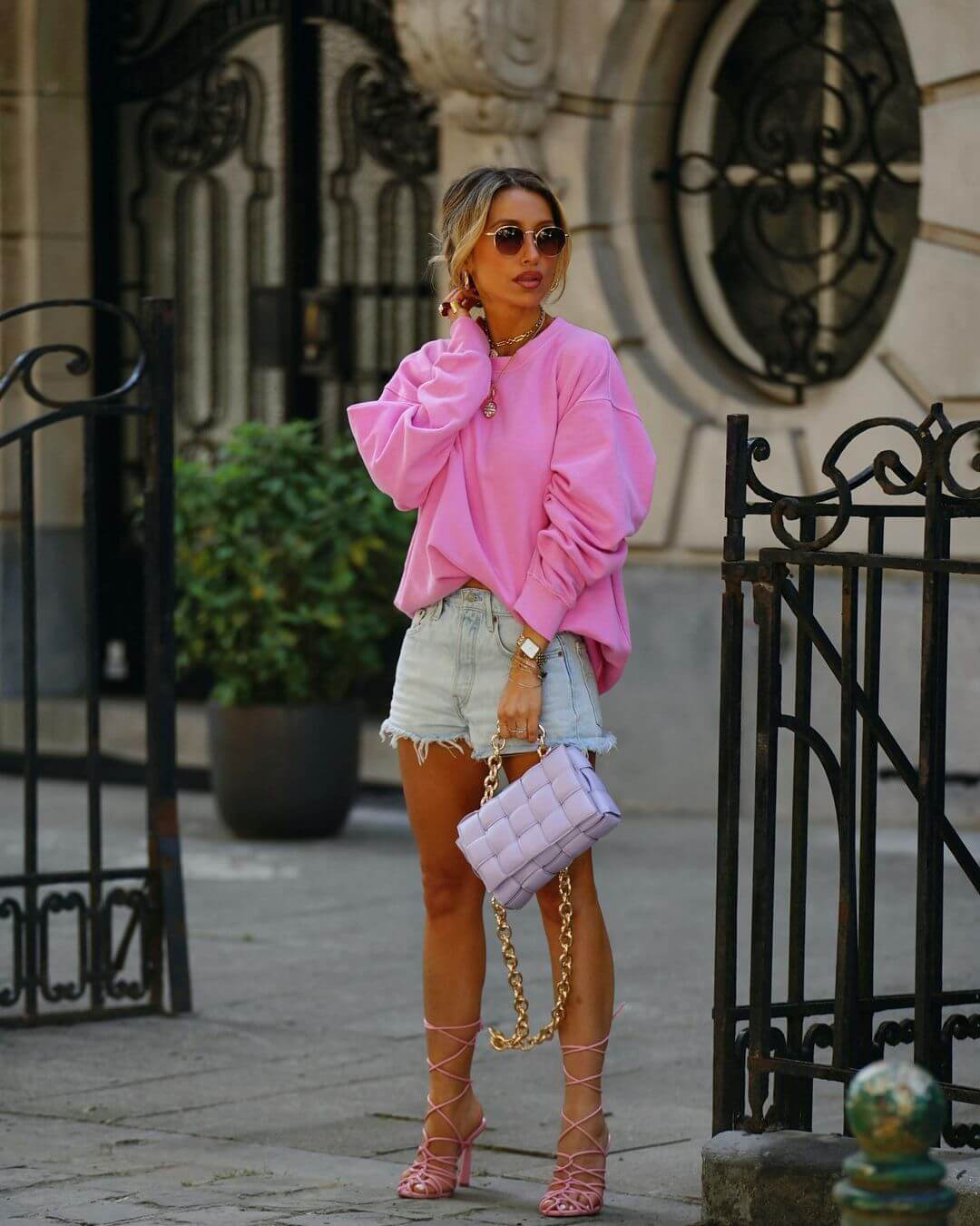 Photo via @sasabylopez
7) Neon Hues & Statement Sandals
If you're tired of neutrals and classic American colors, this hot summer look might be what you're looking for. The neon pink sweatshirt and maximalist accessories will definitely usher you into the spotlight. This would be a stylish outfit to wear if you are celebrating the holiday with your closest girlfriends!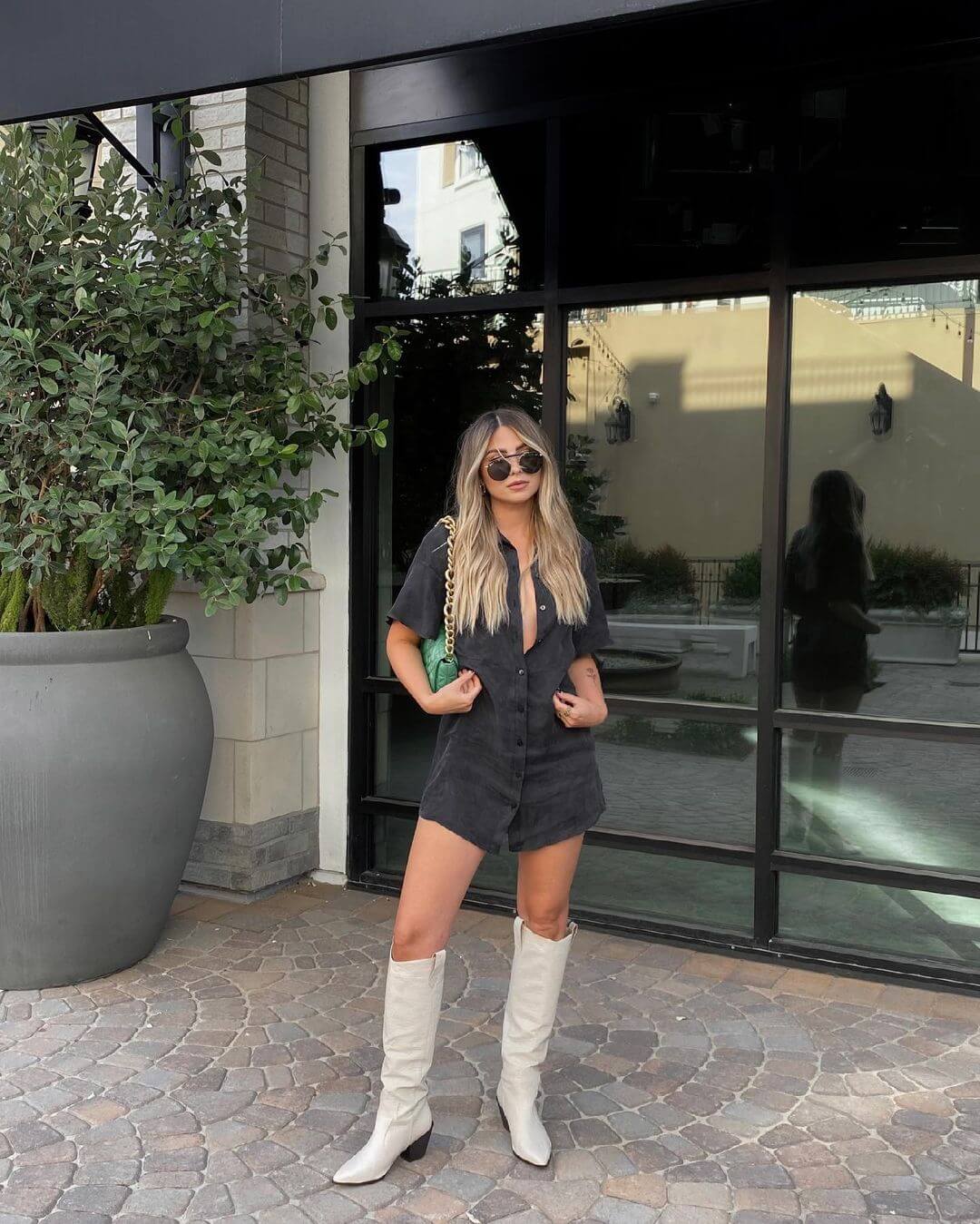 Photo via @josipellicano
8) Shirt Dress & Cowboy Boots
There is nothing more American than the image of an old, western cowboy, so why not channel this in your 4th of July look this year? Of course, a more chic, contemporary adaptation would be a sleek pair of cowboy boots with a loose shirt dress as Josi portrays here. Feel free to switch out the shirt dress for a floral mini for a feminine take.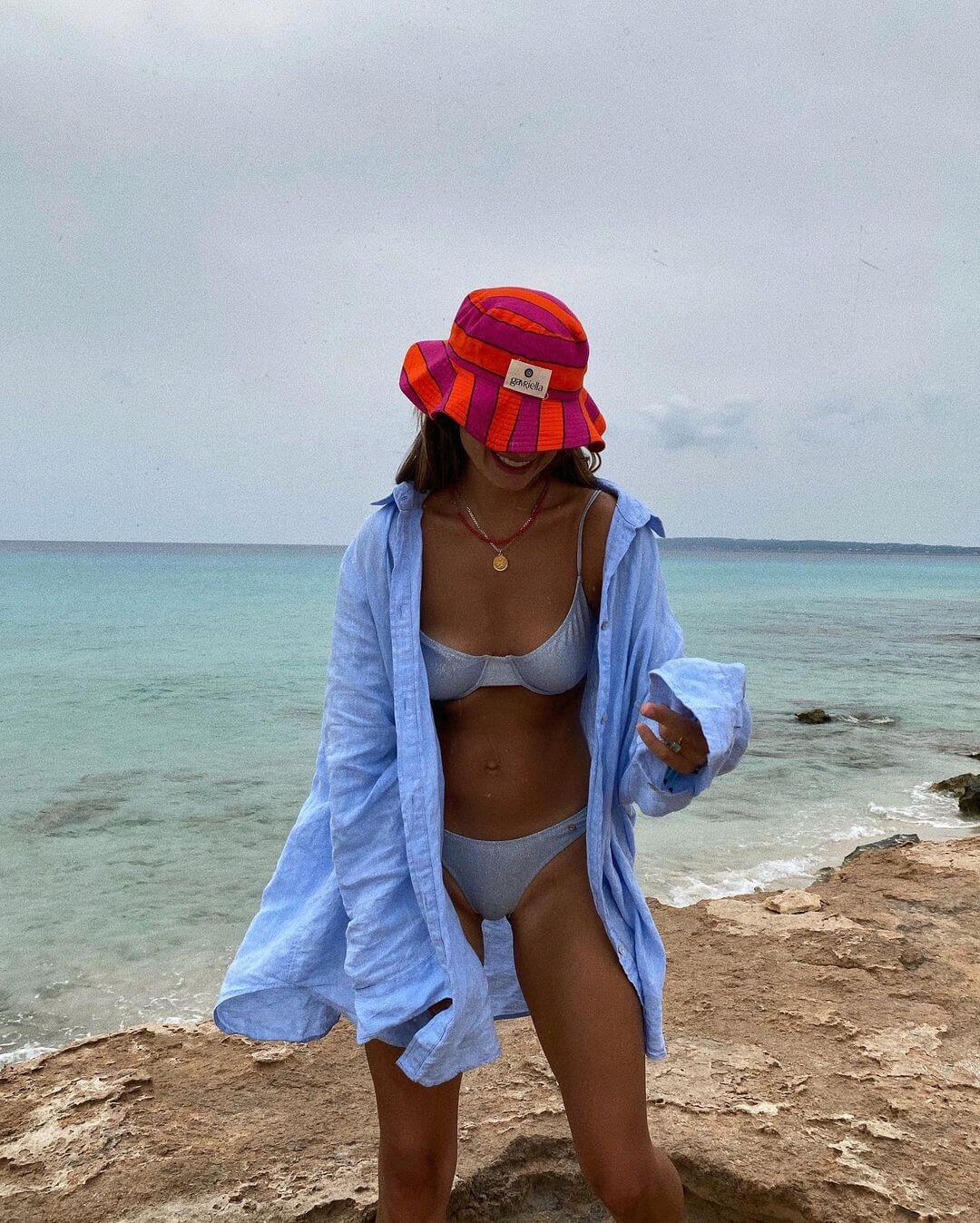 Photo via @marvaldel
9) Patriotic Swim
If your vacation plans involve heading to the beach or a pool, we have the only swimwear look you need to pack. A light blue bikini set with an oversized shirt and colorful bucket hat will help you stand out from the crowd. If you're going out for dinner and drinks, just add a micro mini skirt with some kitten heels.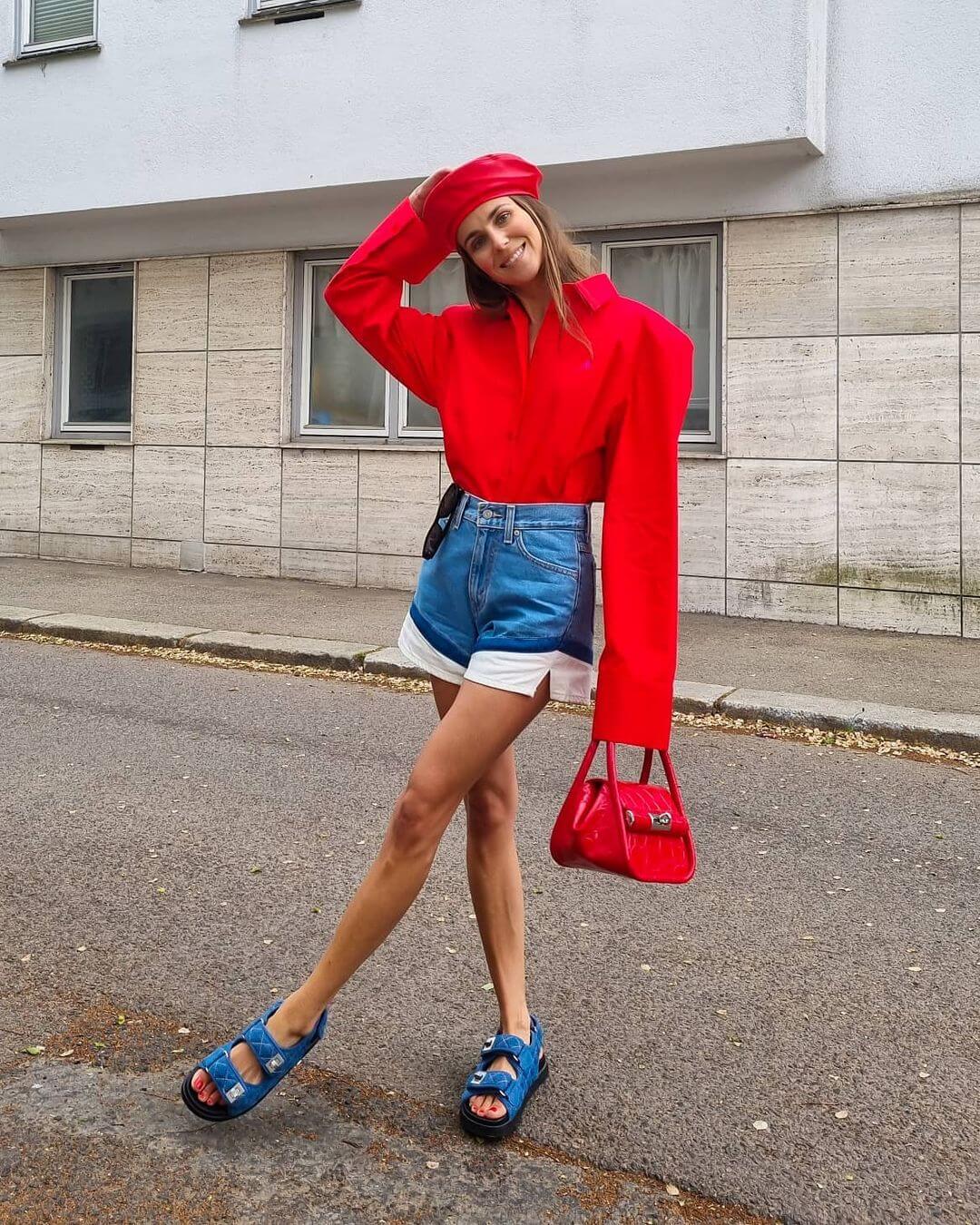 Photo via @ninasandbech
10) Red, White & Blue
If you do want to take on the tried and true Americana colors for the 4th of July, this outfit is a great starting point! The cherry red beret, oversized shirt and structured bag pack a punch without looking cheesy. Add cool-girl points with some colorblock denim shorts and chunky blue sandals. The end result is such a fun, festive outfit that gets you into the patriotic spirit – and beats the heat !

The holidays are always a good excuse to get dressed up and look cute – and the 4th of July is no different. Fortunately, you won't need to over think your outfit for this patriotic holiday with the 10 fashionable looks above.
(Visited 1 times, 1 visits today)