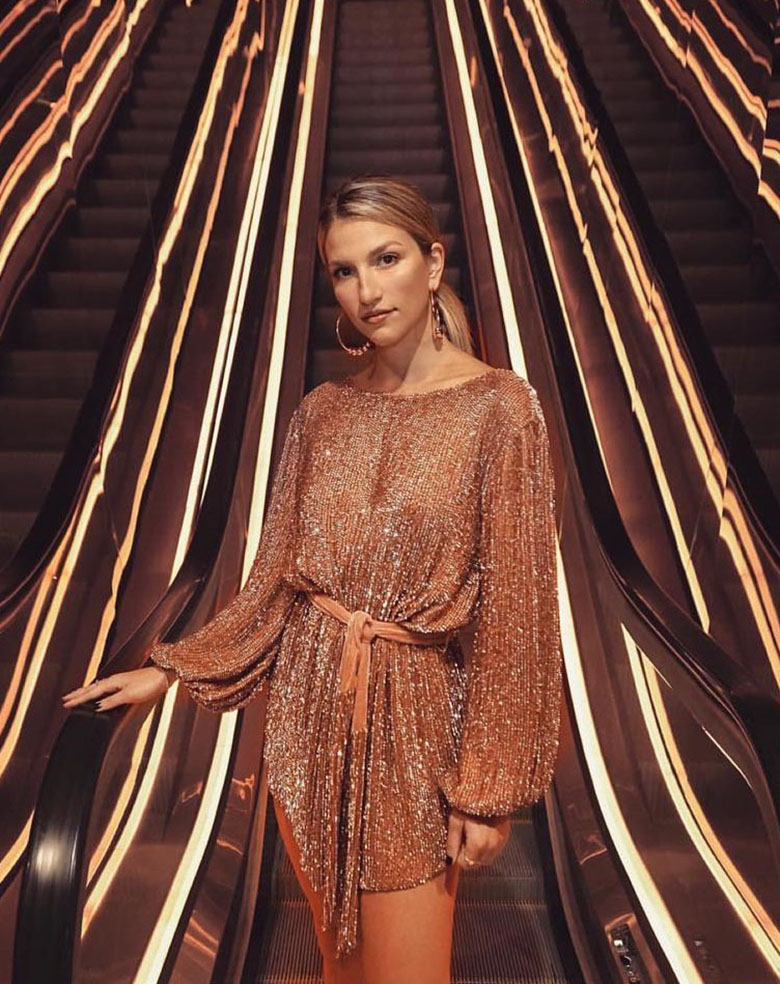 With holiday season in full swing, 'tis the season to get into eye-popping party dresses and go all out! And when your social calendar is jam packed with champaign nights, shimmering lights, dance-floor dates, and mistletoe magic, you better have those party dresses on the ready! Whether you're a fashion fan of little black dresses, bodycon dresses, club dresses, flirty dresses, sequin dresses, or even just good old fashioned party dresses, we want you to be front and center at every occasion, looking and feeling every bit the fierce party girl that you are! That's why we put together this list of the top 12 party dress brands to keep the party going! And while shimmer and shine always seem to be a favorite vibe this time of year with sequin dresses and sparkling fabrics, we equally appreciate the sophistication of a simple and sexy little black dress to share in that special holiday cheer, and ring in the new year! So whether you're the hostess with the mostest, or a frequent flyer on everyone's VIP party list, we've got you covered with the best of the best designers who happen to know a thing or two about what it takes to create show-stopping dresses of all kinds! So go ahead, grab some bubbly, get the party started, and start scrolling.
Get the party going with these top 12 dress labels:

1) Donna Mizani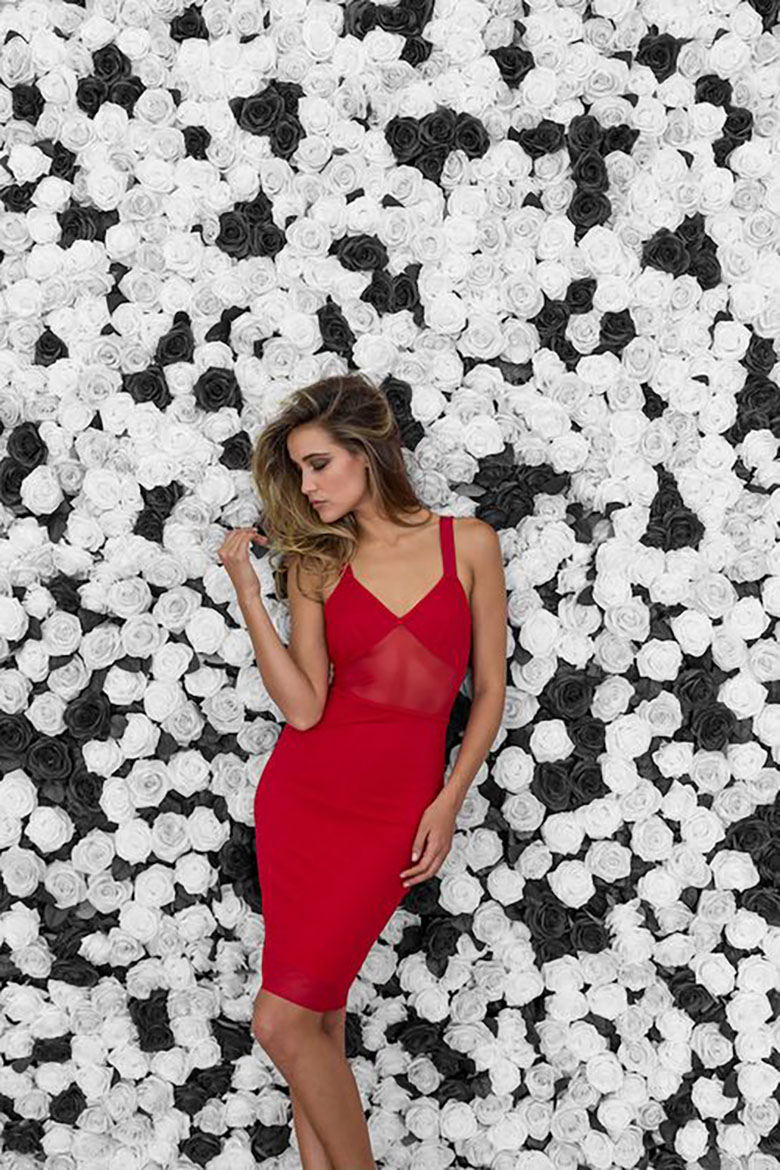 Consistency, quality, and sophistication are just a few of the words that come to mind when it comes to fashion label Donna Mizani. And while this established company may be the last on our list, its certainly not for the lack of love we have for this brand! In fact, you might even say we saved the best for last! The 27-year old FIDM graduate designer behind this namesake brand, Donna Mizani, takes her lifelong passion for fashion and infuses it into each and every piece in her collection. Plunging velvet gowns, layered ruffled dresses, sheer botanical prints, sexy dresses, party dresses, flirty dresses, sequin dresses, and figure shaping minis all create a chic and festive vibe you'll want to sport to dinners, parties, and celebrations of all kinds! New age sophistication is the name of the game with this L.A based brand run by two dynamic sisters, and so long as the designs keep comin', we'll keep wearin'!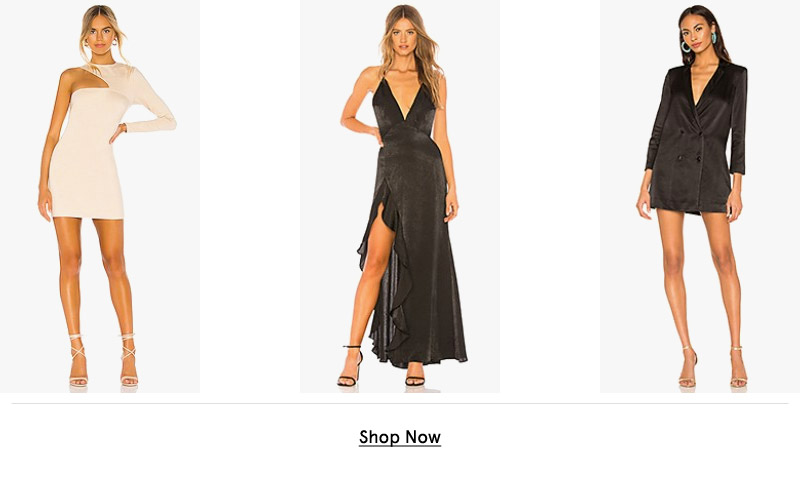 2) H:OURS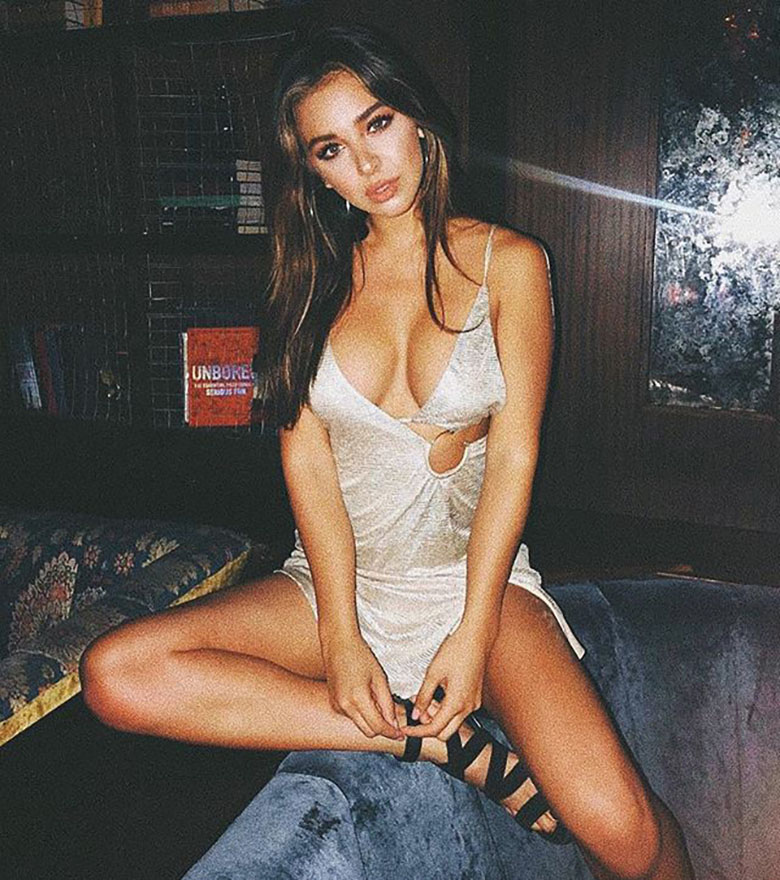 Nothing screams "Party all night long" quite like the dress brand that was created specifically for the girls who love to party around the clock. That's right, we're talkin' H:OURS! The L.A party dress label with an impressive social following and an even more awesome fan base is at the top of our list when we're in the mood to strut into a party and turn heads! And how could you not, with sequin dresses like the Lyle mini dress with its all-over sequin embellishment, or the metallic Scarlett dress with its chain links shoulder straps, or the Fabiana gown with its super sexy high front seam slit and mesh inset design. The L.A based label is making waves with its metallic, sequins', 90's inspired, and all over eye-popping party looks! So when you want to leave a lasting impression long after the gifts have been unwrapped, isn't it about time you finally get to know H:OURS?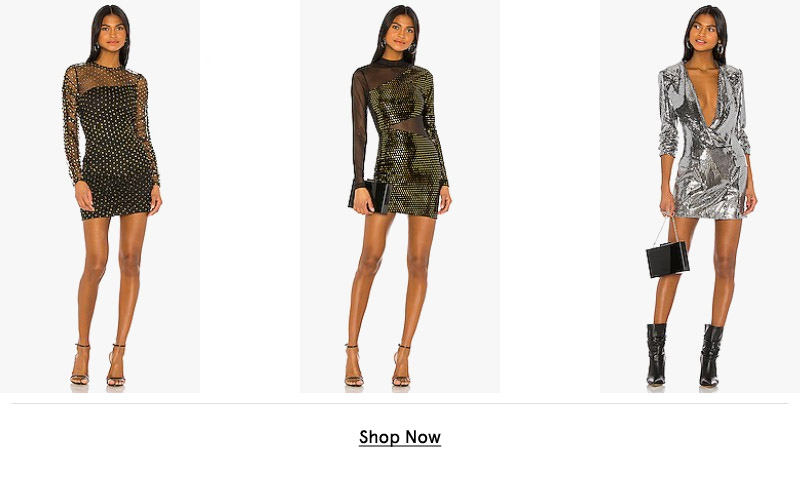 3)Likely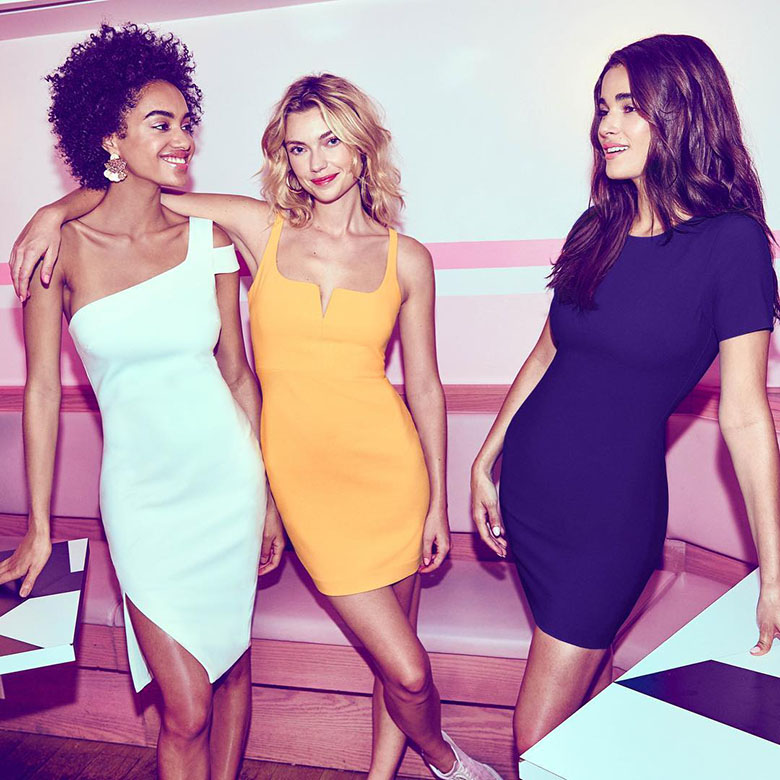 Multi-colored sequin minis, chic high-neckline silhouettes, and polka-dotted smock dresses are just the beginning with this super chic party dress brand Likely that takes you from sorority rush street, to happy-hour meet-ups, to the sexy sizzling date nights of your dreams! Always in style, and perfect for repeat offending, each piece from Likely is a sound (and might we add reasonably priced) investment in your party wardrobe, as they won't go out of style even as trends come and go. So, set the style bar high for yourself and go all out with these must-have cocktail dresses that are equal parts elegant and edgy. Now that's a combo that is cause for celebration! Cheers.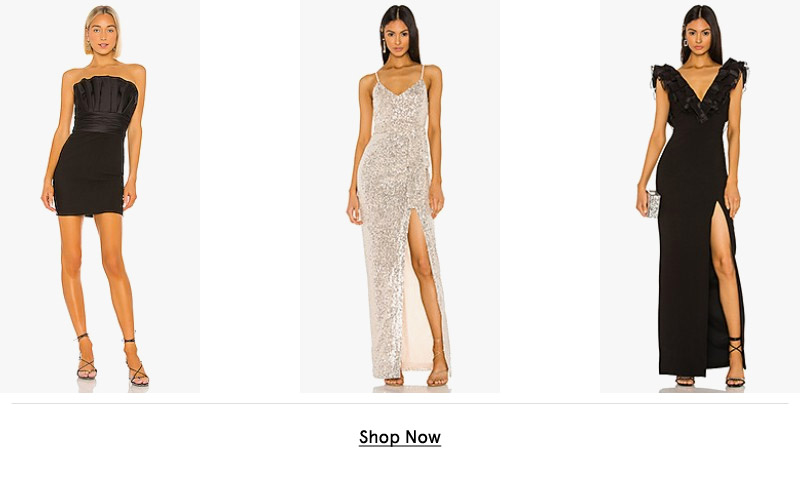 4) Nookie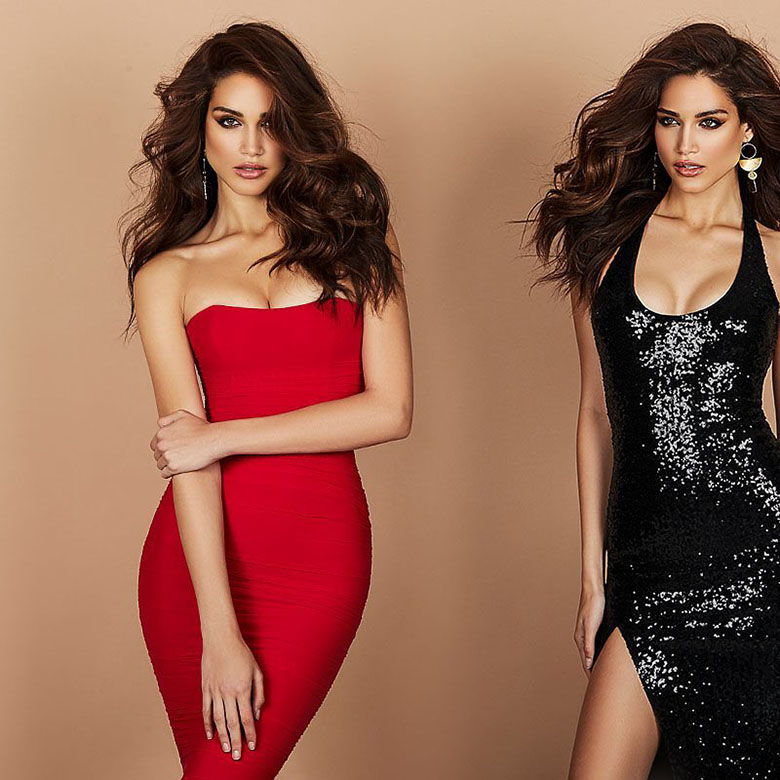 We did it all for the Nookie! The Sydney-based clothing brand Nookie, that is! And with looks this good, you're going to want to do it too! Figure-slimming smoldering floor-length dresses, show-stopping silhouettes, and soft stunning jersey dresses with sexy criss-cross V-neck designs are just a few of the must-have party dresses of the season! The brand's creator Nikita Sernack really hits the bulls eye when it comes to femininity that is powerful and full of confidence, and she takes pride that the designs are made in her homeland of Australia. We love a good Aussie fashion label! And if you're feeling adventurous and looking to take a risk this season, Nookie definitely has you covered on that front! Simply step into the jaw-dropping Mon Cherie sequin dress, with its baroque style and nude lining, and you'll shoot straight to the top of everyone's wish list with that unforgettable look.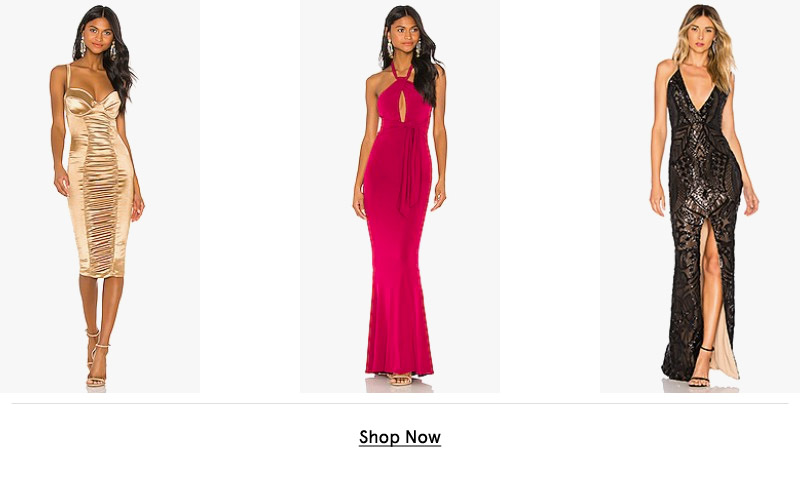 5) Retrofete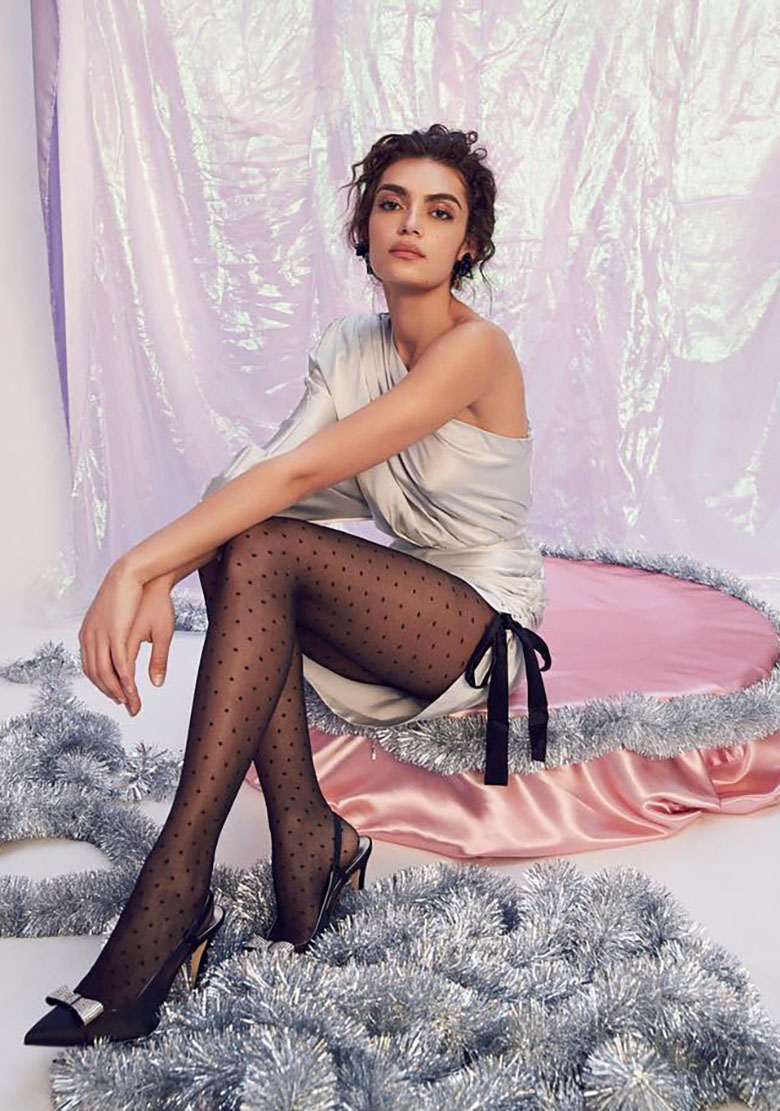 If you're feeling groovy and like stepping out in the best of 60's and 70's-era inspired party dresses, then you're going to want to take a deep dive into the disco-era designs of Retrofete! The label's designers Ohad Seroya and Aviad Klin artfully infuse their super far-out styles with glamour, sophistication, and sexiness. We are completely obsessed with the Stella sequin dress, with its color-block design, asymmetrical hem, and turquois sequined weave fabric! You can all but guarantee you'll be the hippest chic at the party with hands-down the most unique dress in town. The best part? This rad, party-ready brand always has you covered with it signature shimmery lit sequin fabrics and antique lace looks! So step into the past and elevate your retro party look with Retrofete this season – you won't regret it!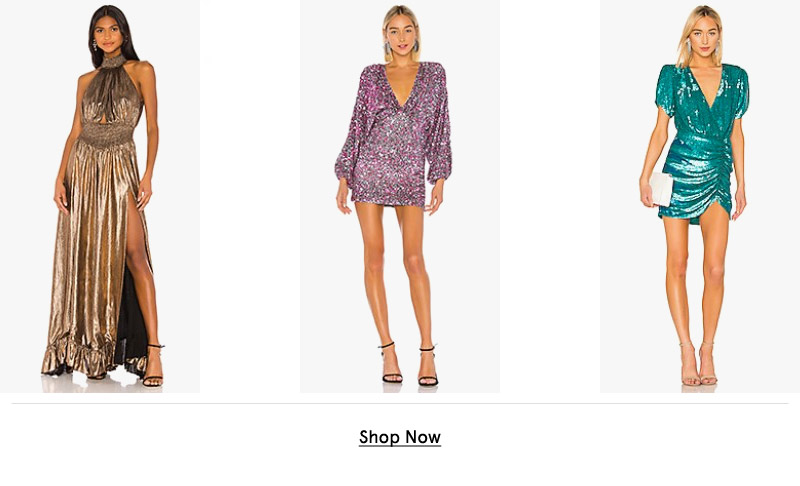 6) Misha Collection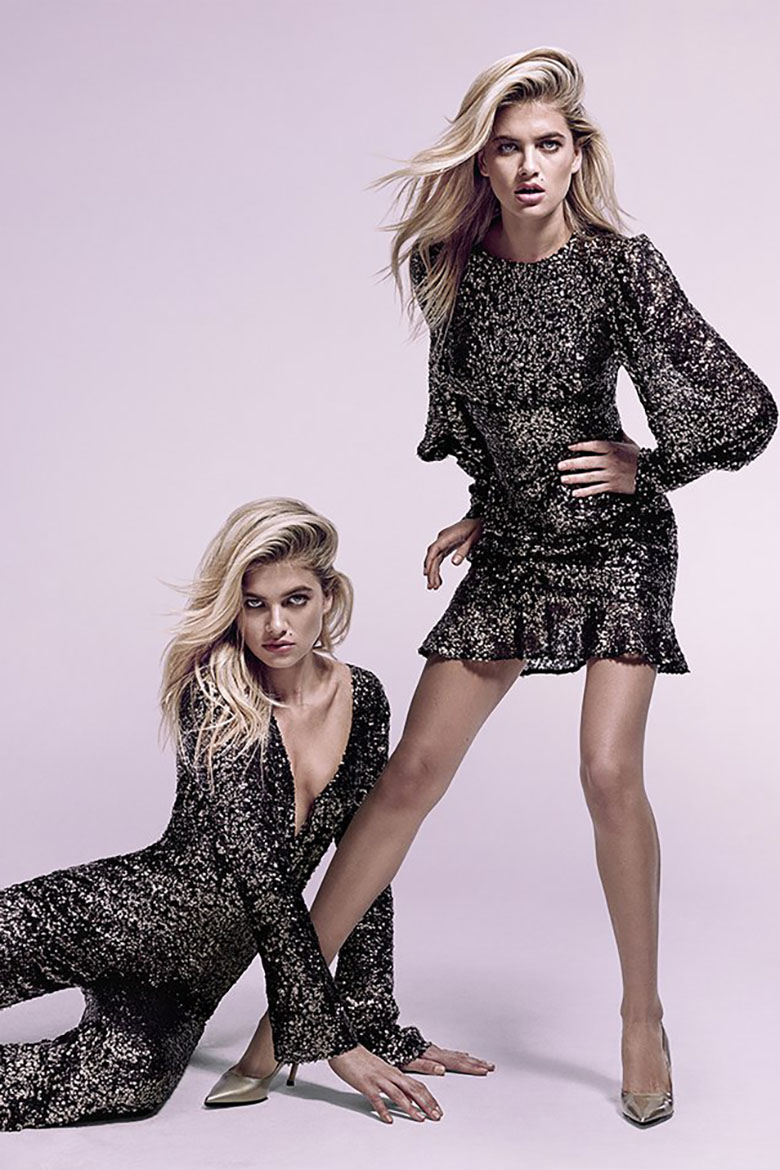 There's nothing we love more than passionate designers! And Michelle Aznavorian, the MISHA COLLECTION designer, is that and then some! Starting from scratch and determined to turn her passion for fashion into a full fledged career, Michelle impressively won a place at the prestigious Ernst &Young Entrepreneur of the year awards in 2017. And we can't say we're surprised. With the timeless esthetic of her label, Michelle Aznavorian has created a confident and ambitious MISHA muse that exudes elegance and sexiness everywhere she goes. And while this standout label really has all looks on lock down, it's the party dresses that have us hooked! Slip dresses, bandage dresses, blazer dresses, and minis – they are all here for the taking! No matter what style suits you best, you can feel confident knowing that you are making an impression the minute you step into the party.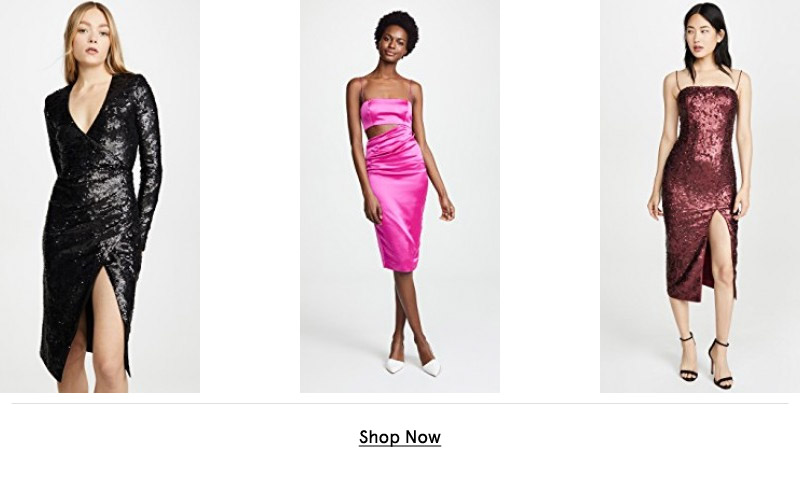 7) NBD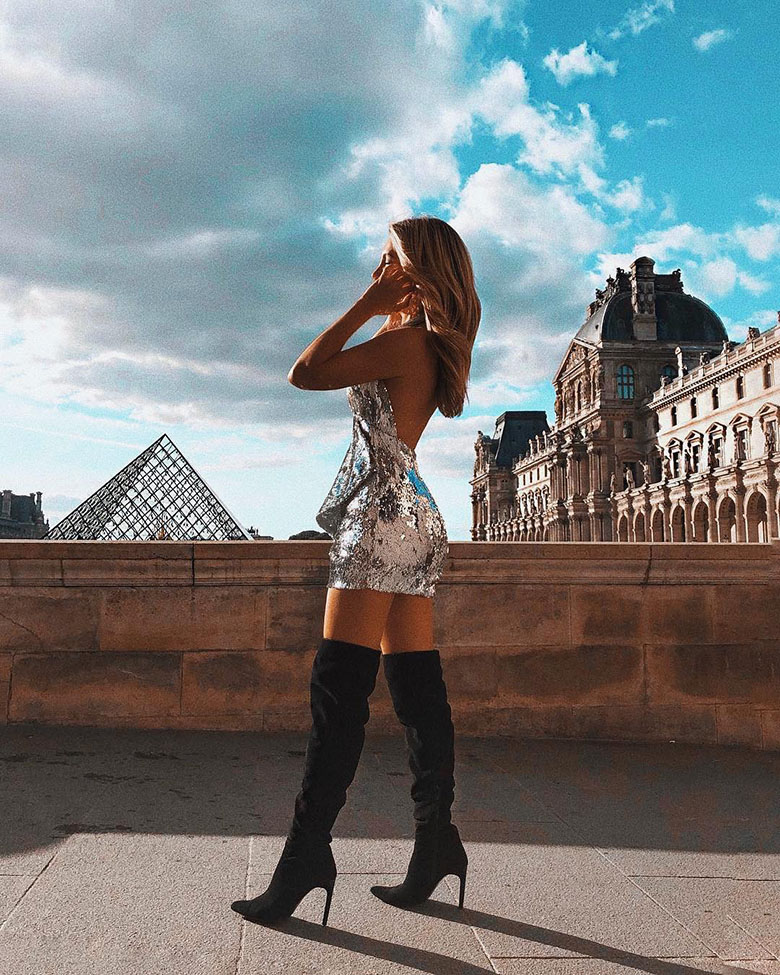 If you're the girl with the social calendar that never lets up, and you always seem to get caught with a glass of champaign in your hand (and good for you if you are!) well then, we found the perfect party dress label for you! Fashionable, current, flirty, and always fun, label NBD brings the glittery goods this season and beyond! The youthful dresses coming from this party-perfect line feature curve-hugging silhouettes, plunging necklines, corset shapes, shimmery metallic fabrics, lace, and so much more! And with the huge variety offered here, you'll not only never have to repeat offend, you can also spread the love & take care of the rest of the party girls on your Christmas list too! Now, that's something to toast to!

8) Jay Godfrey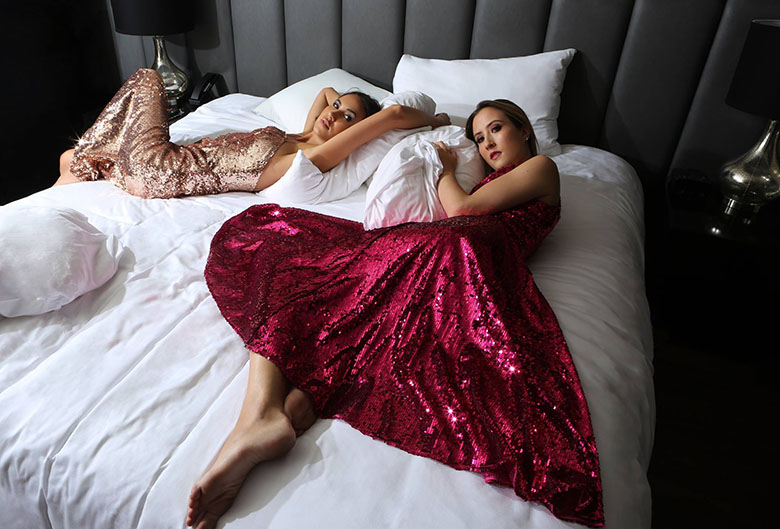 Known for his gift for accentuate the female figure, designer Jay Godfrey creates truly chic and contemporary designs that women love to wear! A self-proclaimed minimalist who embraces color, you can see that very sensibility in each gorgeous design he puts out, often offering each look in just one or two other colors, if it suits the design! This label is a prime example that less really is more! You can expect color palettes of black, white, gold, and silver with an occasional pop of red, pink, or green! Simplicity is truly key with this luxe line, like the perfect plunging mini Sophie Dress ideal for the nightclub, the hottest holiday party, or even that sizzling date you've got in the books! And if you're not sold yet, just ask the lineup of celebs who are smitten for Jay Godfrey's designs, like Blake Lively, Carrie Underwood, Eva Longoria, Jennifer Lopez, Taylor Swift, and Vanessa Hudgens. Not a bad line-up if you ask us.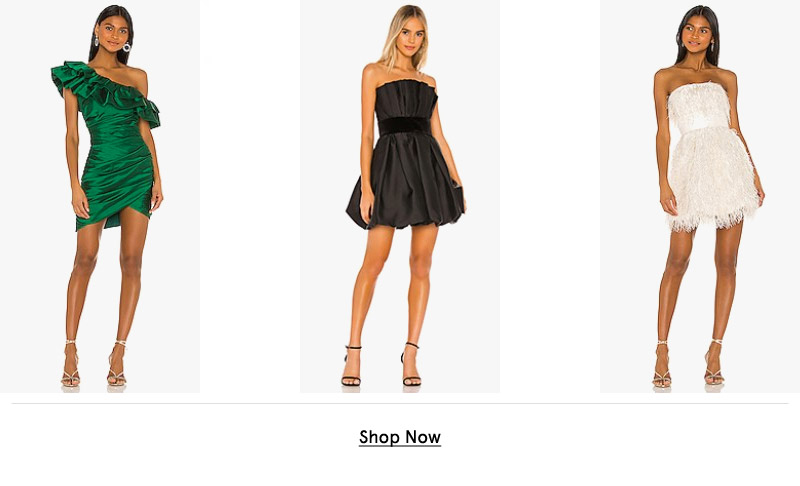 9) Black Halo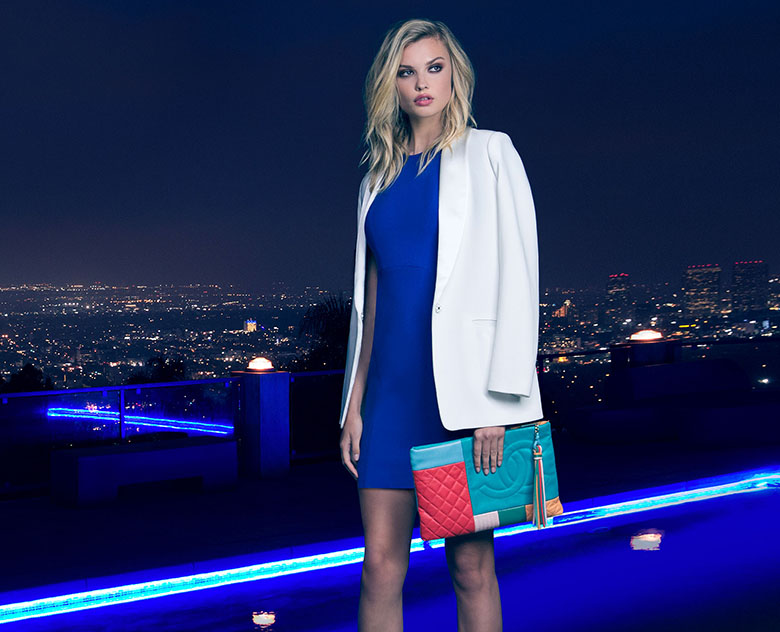 The Black Halo label that famously brought Jackie-O back into the style stratosphere by naming their hit dress after the fashion icon back in 2006, is churning out all kinds of fabulous looks, both retro and current, and you're going to want to take a peek! Stylish two piece dresses, off-the-shoulder cuts, floor-length gowns, super sexy high slits, and stretch minis are all top picks for this holiday party season! We love that this super elegant line Black Halo always keeps things classy even when turning up the heat on the sexy! Whether you're looking for eye popping prints, feminine silhouettes, or more of a classic party dress vibe, Black Halo has you covered. And if you still haven't scoped out their fame worthy Jackie-O collection (which includes jumpers and playsuits), you're going to want to see what all the rage is about with Black Halo.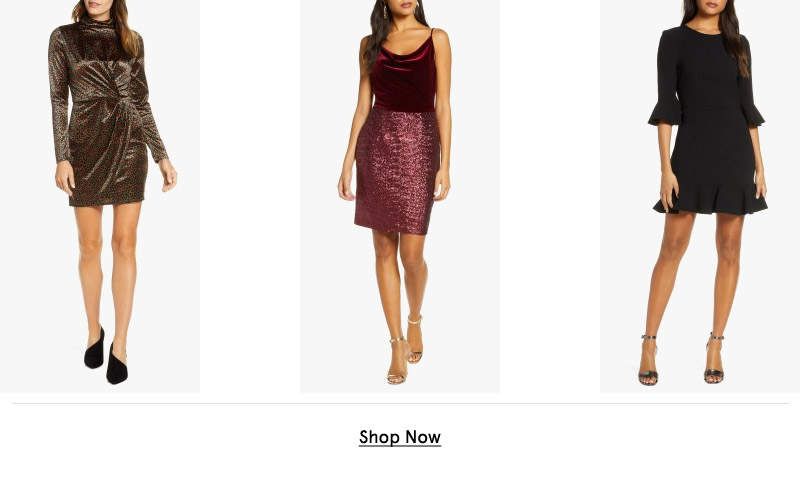 10) TFNC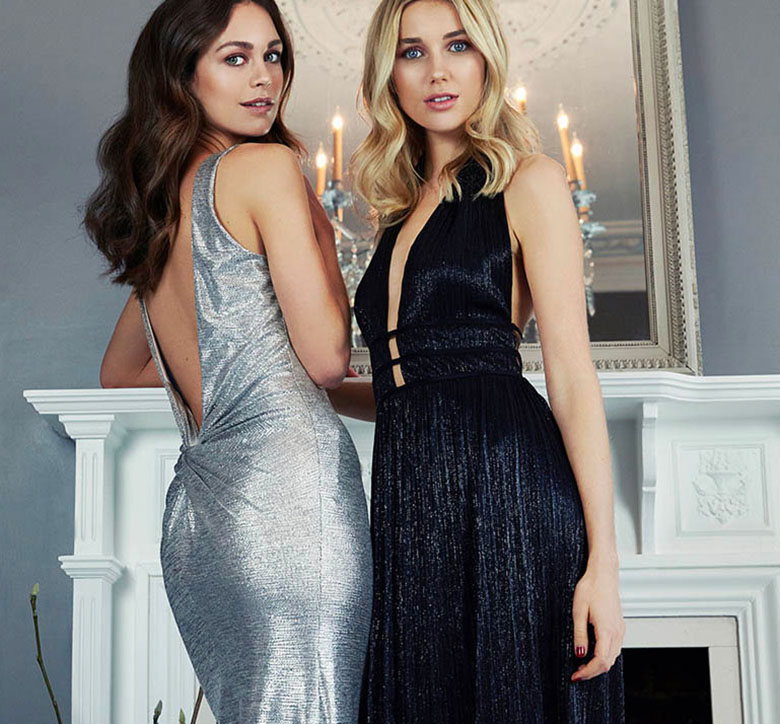 For an extensive collection of fun party dresses that are hand-picked by a great team of fashion experts, put TFNC on your wish list! The London based company that was founded back in 1976 has solidified its spot among companies who curate collections of the best-of-the-best brands of party dresses out there, without fail. Stunning, sexy, and always impressive, these new gorgeous styles will always put you front-and-center, and keep you party-ready no matter what the occasion! So weather you're looking for the perfect party dress, day dress, maxi dress, bridesmaids dress, or little black dresses, TFNC has you covered on all bases. We've been good all year, and are hoping Santa brings us TFNC's Dalice Multi Sequin mini-length cami-style dress. It's gorgeous!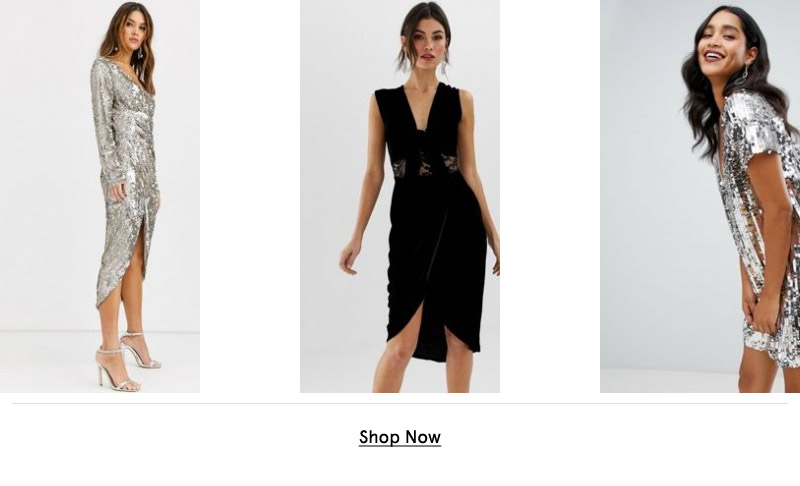 11) Lipsy London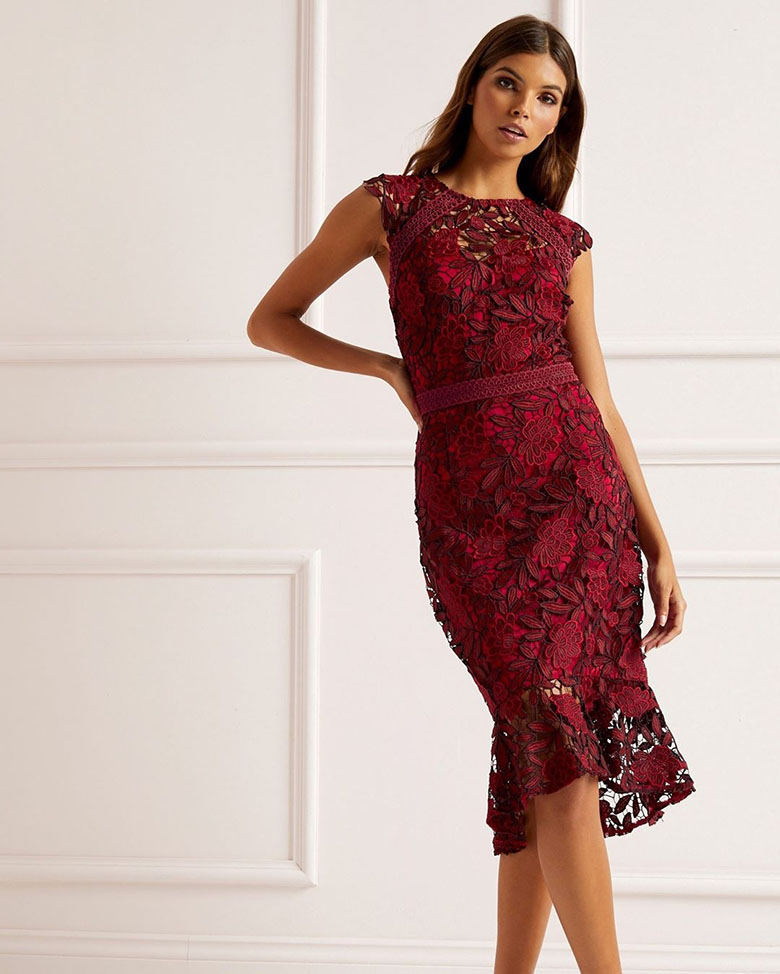 'Tis the season to treat yourself, and fashion label Lipsy London is making sure you do just that! With an unparallel line-up of sequins, sparkles, shimmer, animal print, lace, and so much more, the popular label, now available exclusively on Next and Asos, will get you mistletoe ready this party season. Known for its great celebrity collaborations, even the Kardashians got some serious Lipsy love back in 2013 with an exclusive collab that sold out immediately. (Obvi!) The Lipsy halter neck bodycon sequin dress is an absolute dream, and leopard never looked better than the horn buckle leopard wrap dress. So don't be afraid to get a little tipsy in Lipsy this season! You'll look great doing it!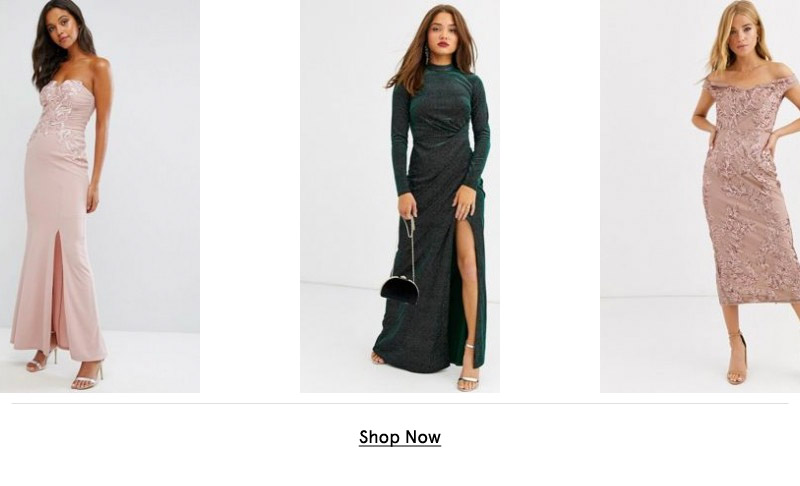 12) Katie May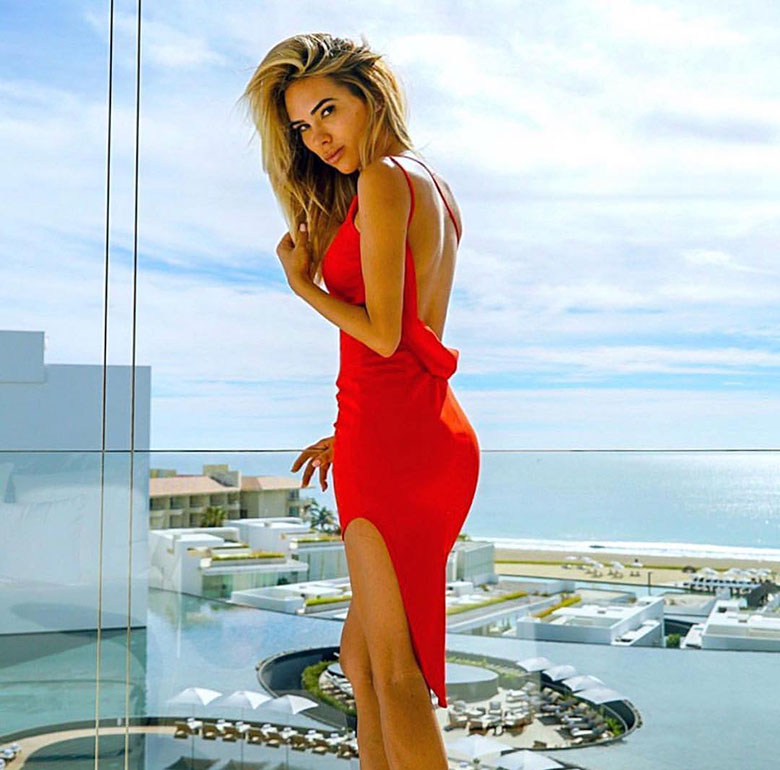 Credited for bringing the sexy back with backless gowns for the untraditional brides, dress designer Katie May Neu launched her bridal collection in 2012, which then expanded into bridesmaids' dresses, which is now a full fledged special occasion line of dresses. How's that for growth? And with holiday season in full effect, there's nothing more that we want for Christmas than a little sexy back in our dresses! Based in L.A and with a true affinity and understanding of the female figure and how to flatter it best, each dress from this exciting Katie May line displays extraordinary craftsmanship and the finest of materials. Cause there's nothing more satisfying than knowing that the dress you spent your hard earned cash on will take you from one season to the next with lasting appeal. We absolutely love the exquisite body-skimming Lucy dress. With its simple pared-down design, scoop neckline, and petite train, this little number can take you from bridal party to holiday party in an instant.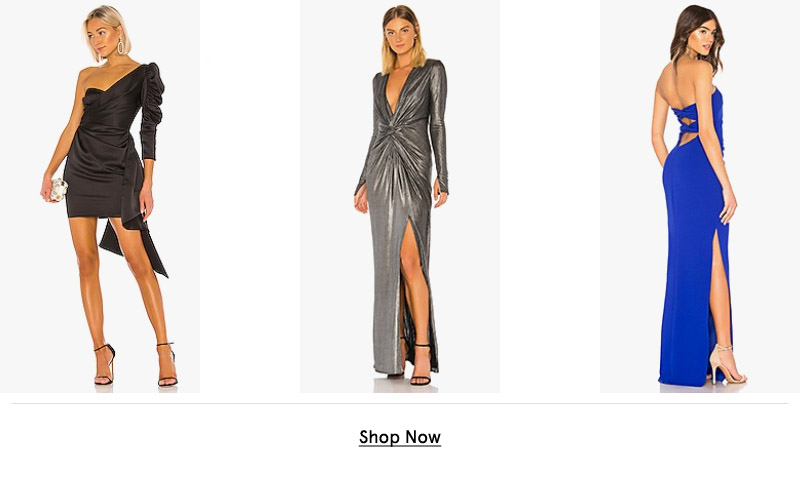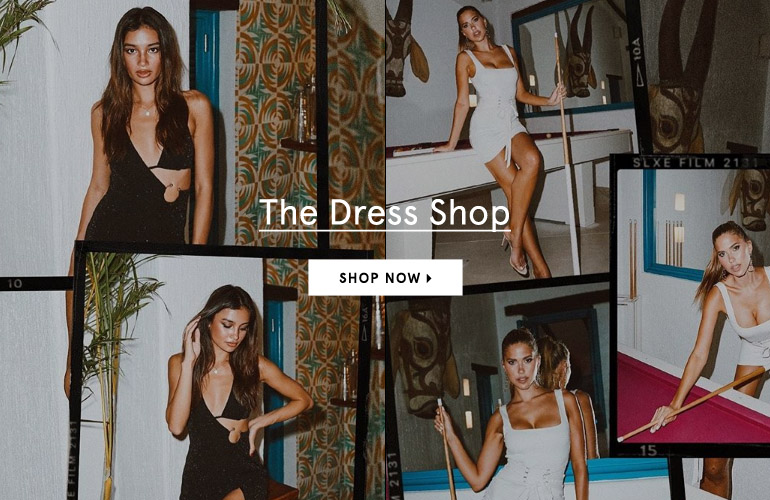 (Visited 1 times, 1 visits today)