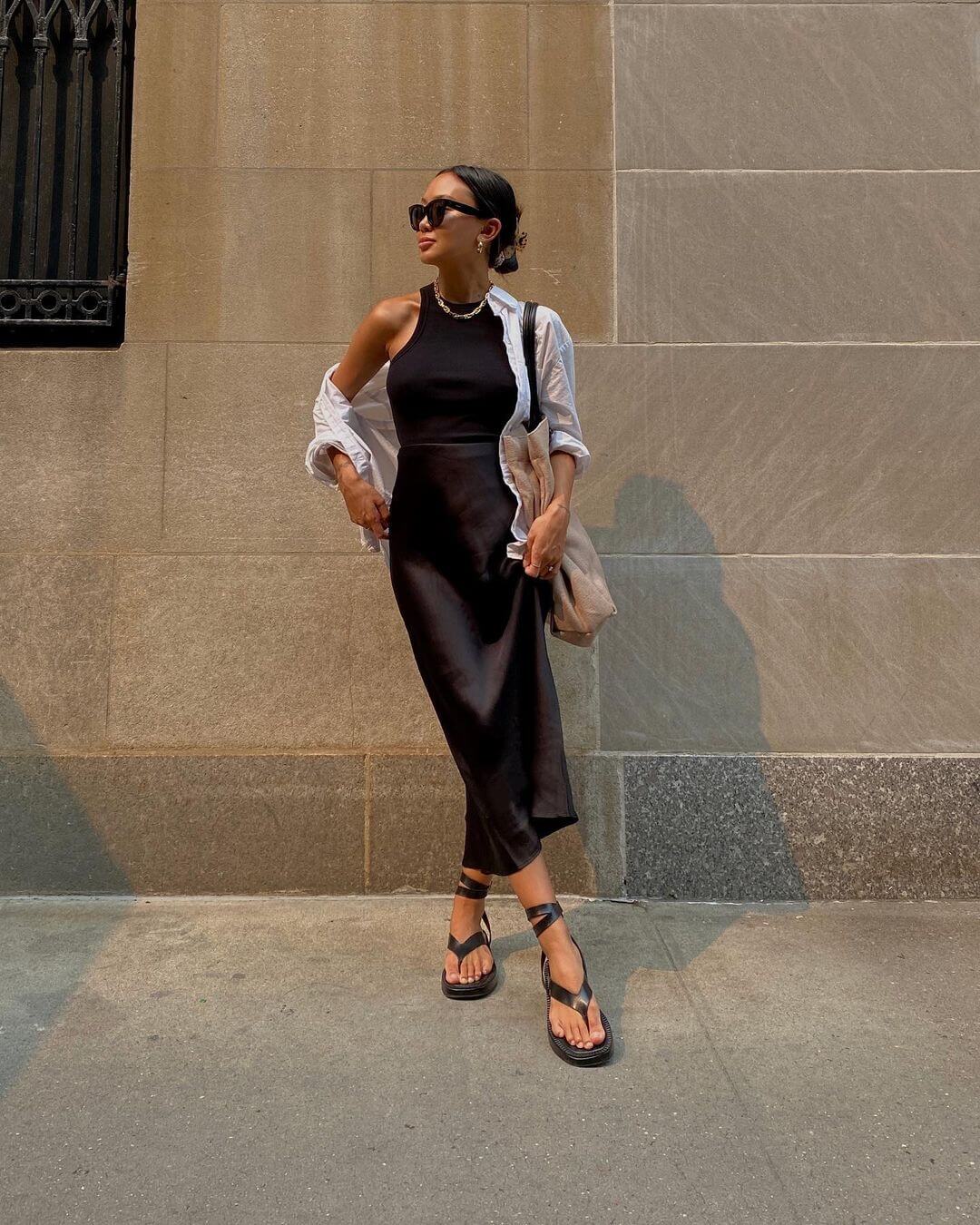 Photo via @linhniller
This summer presents such a huge contrast from last year when we were confined indoors from sun up to sundown. The economy is slowly opening back up and social distancing requirements are becoming a little more relaxed. We're definitely not complaining about the more freedom to get out and about. That also means that the dating landscape is changing significantly – and we feel it's best that you take advantage of the opportunity to dress up. Whether you're on the hunt for a partner, happily taken or married, this is the opportune time to venture out and explore what you've been missing out on this past year! Of course, you will need some new and approved looks that are fit for an outdoor dinner, night at the carnival or wherever else the night might take you! Fortunately, we have 10 summer date night looks that don't try too hard hard. Keep scrolling to discover your next outfit!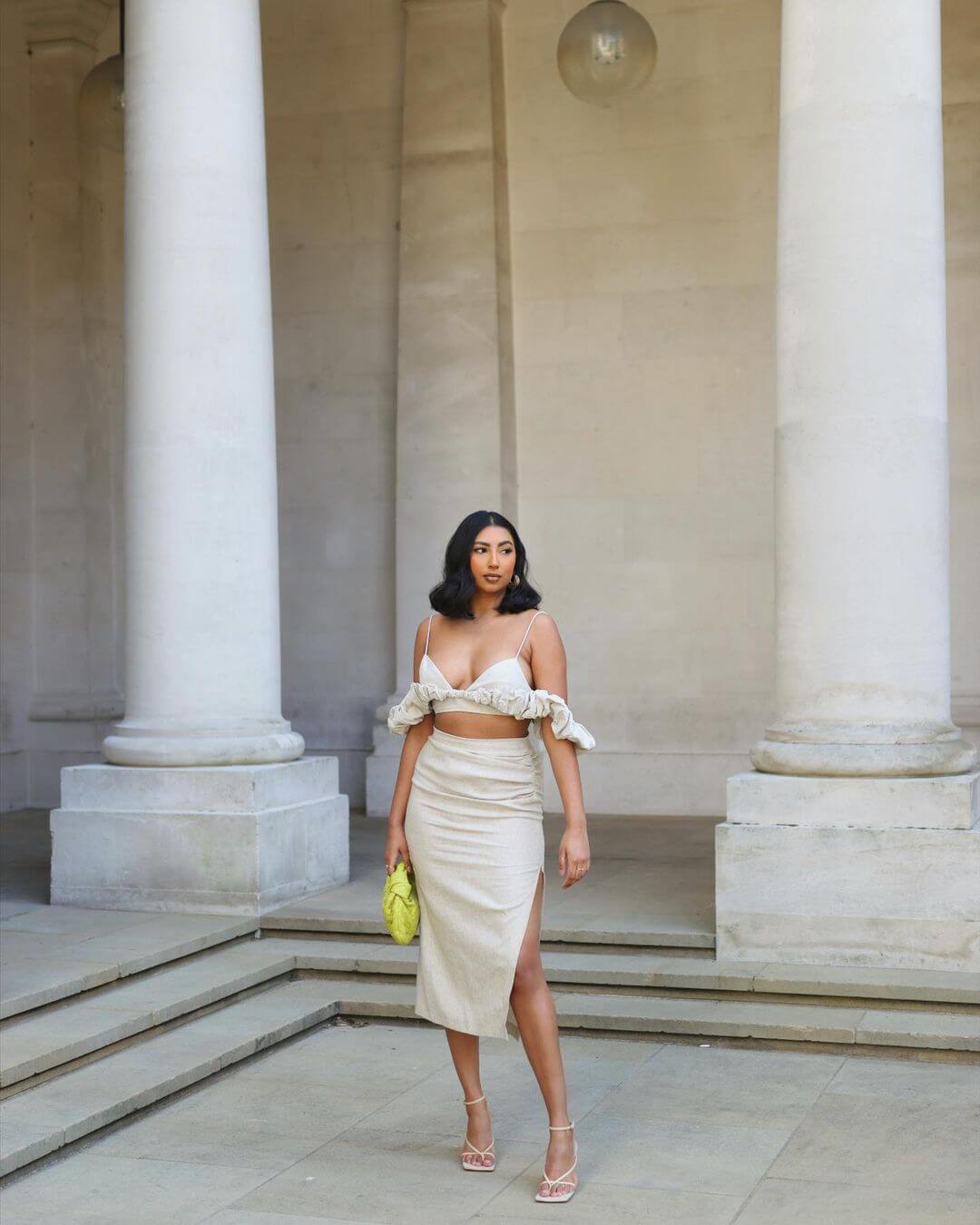 Photo via @noorieana
1) Sultry Matching Set
Matching sets are a girl's best friend and lucky for us, there are plenty of date night appropriate options to choose from. They strike that fleeting mix of polish, chic, and effortless, which we all love. This influencer's bra top and coordinating pencil skirt is proof that a summer set is incredibly sultry and ideal for your upcoming candlelit dinner date.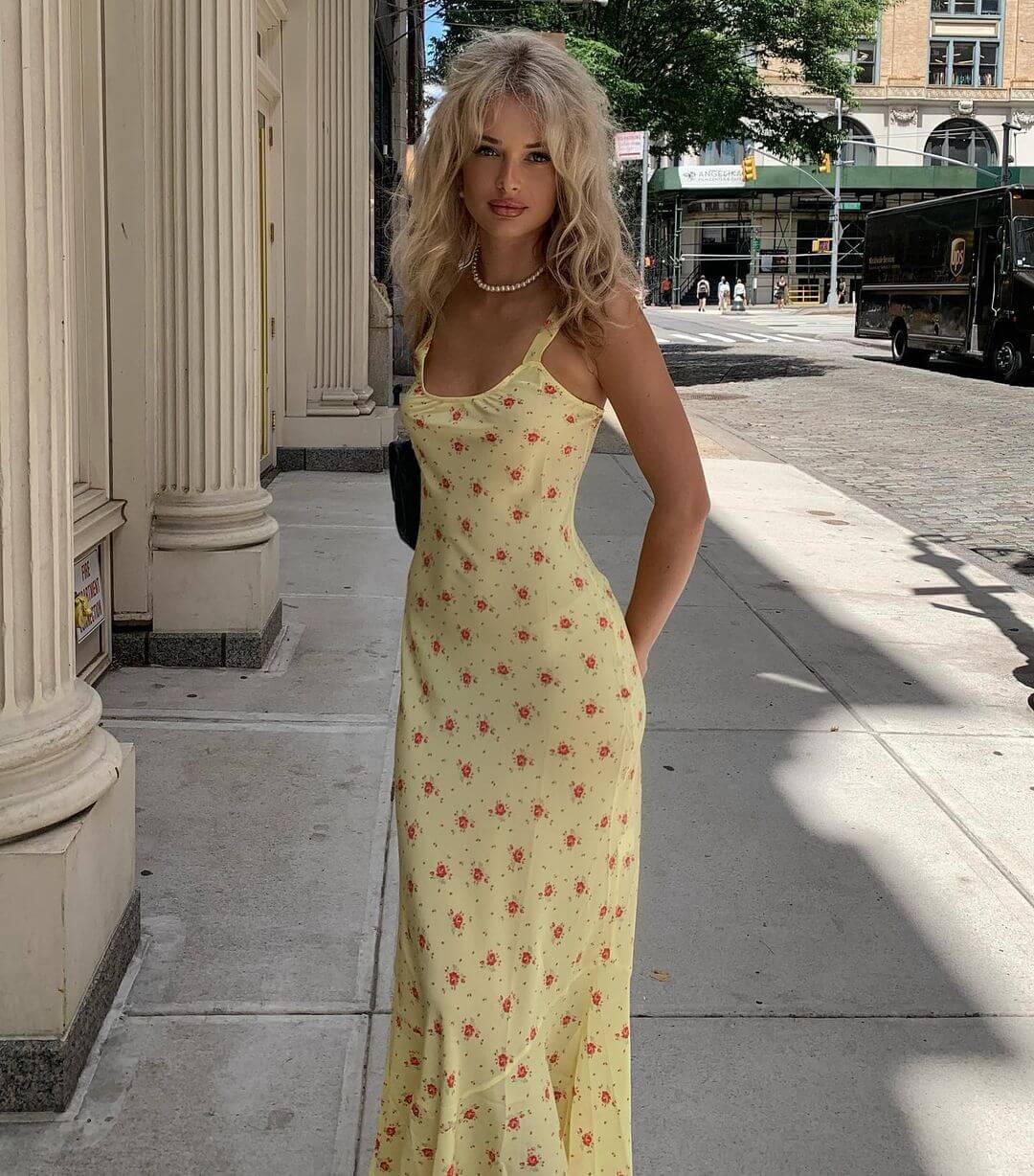 Photo via @carolinavmarie
2) Floral Maxi
A maxi dress is a staple for any hot girl summer! This vintage floral-inspired one piece is a refreshing take on the look. When shopping for summer dresses, definitely be on the hunt for dainty florals to help you embody those butterfly feelings! Next, top it off with a pearl necklace and shoulder bag – and you're set for a picnic in the park or drinks at a wine bar.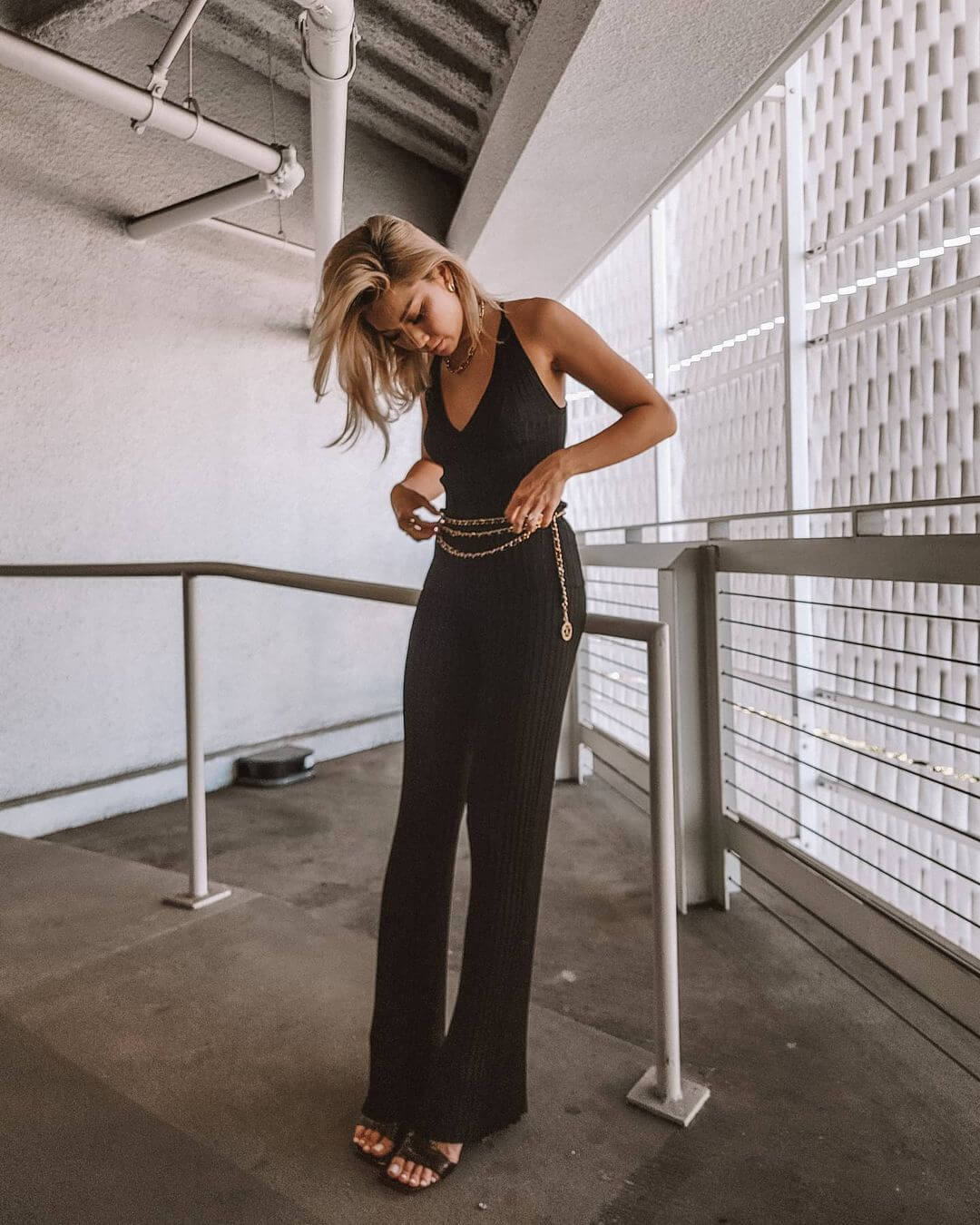 Photo via @francislola
3) Jumpsuit
If you love the maxi dress look but want to try something with a bit of a twist, consider looking for a summer jumpsuit. Although stunning and statement-making on its own, you can transform it into a high-octane look by adding a chain belt as Francis did above. Just complete your look with a matching chain necklace and some heels. We'd suggest this look for cocktails at a rooftop bar.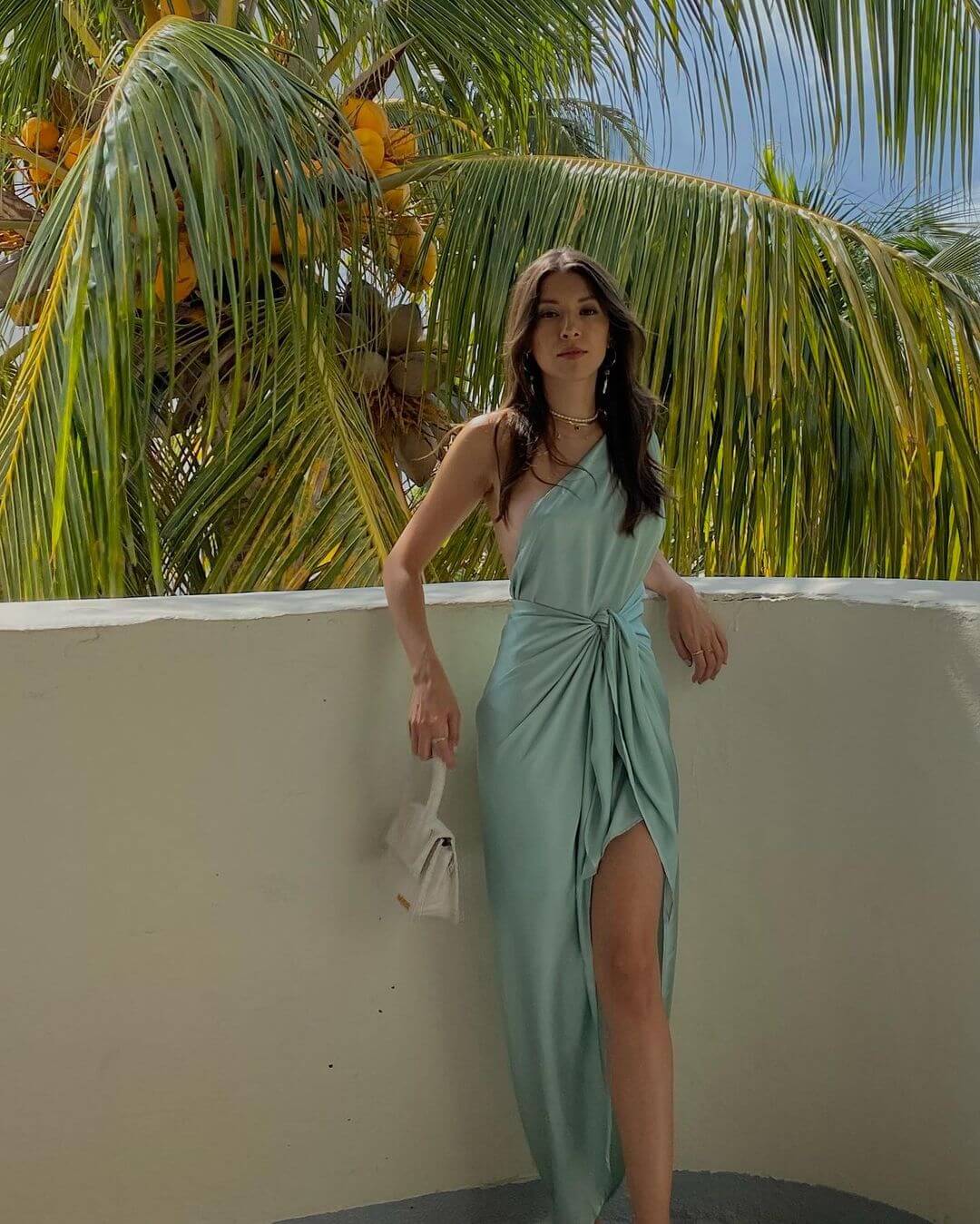 Photo via @ironnsalt
4) Slinky Dress
Nothing says summer fling more than a little silk number. A dreamy dress in this fabrication is just the thing you need for a rendezvous with a lover. It is lightweight, ethereal and will certainly make an impression as soon as you walk through the door. Details like a thigh slit and one-shoulder neckline elevate this piece further for a night out.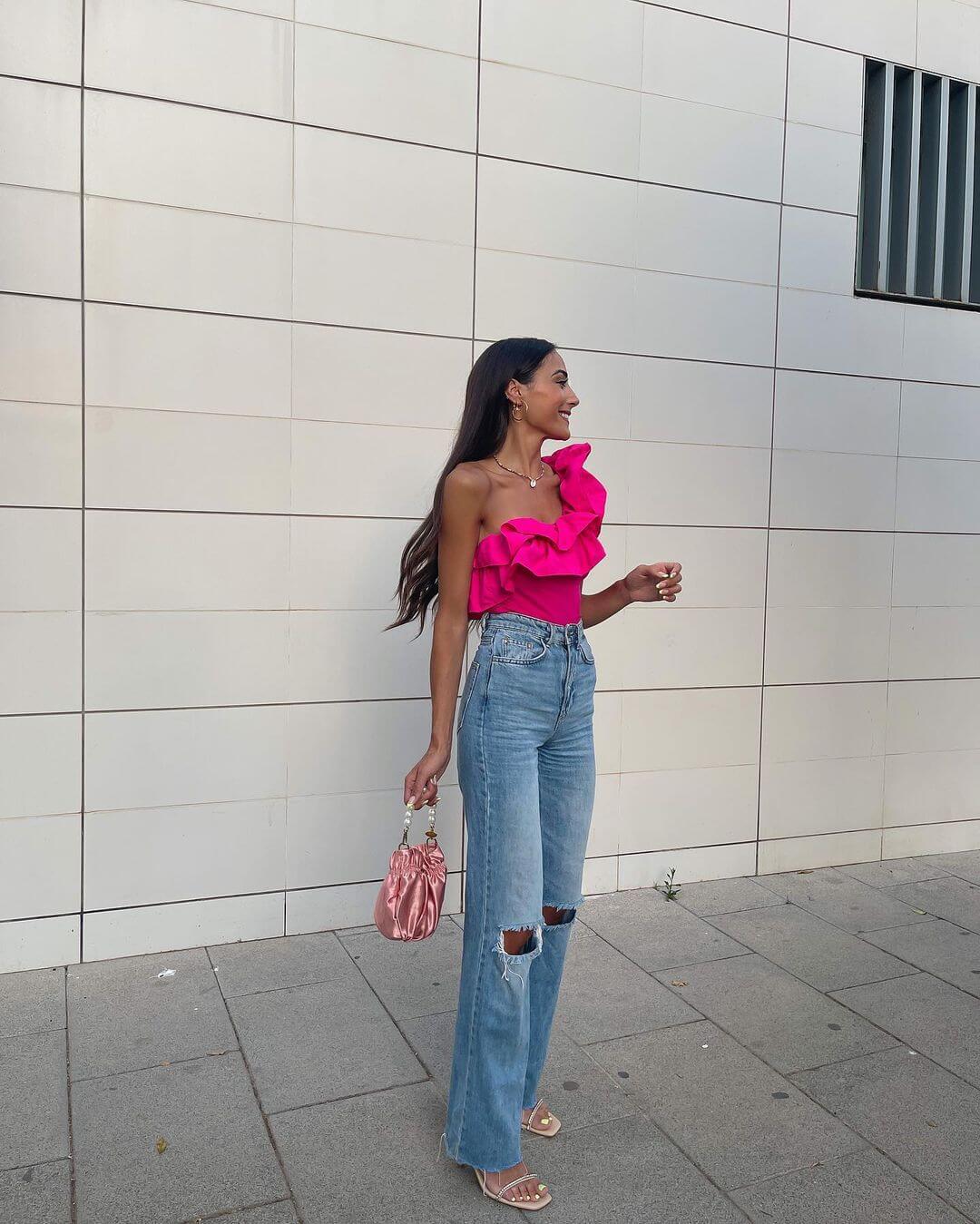 Photo via @tania.ayuso
5) Bold Top & Denim
We are all about dressing up a pair of jeans for a night out. An easy way to do so is with a bold, colorful top! Anything in a bold hue and with voluminous details instantly revamps denim. You can take this casual look up a notch with your favorite evening bag and some embellished heels.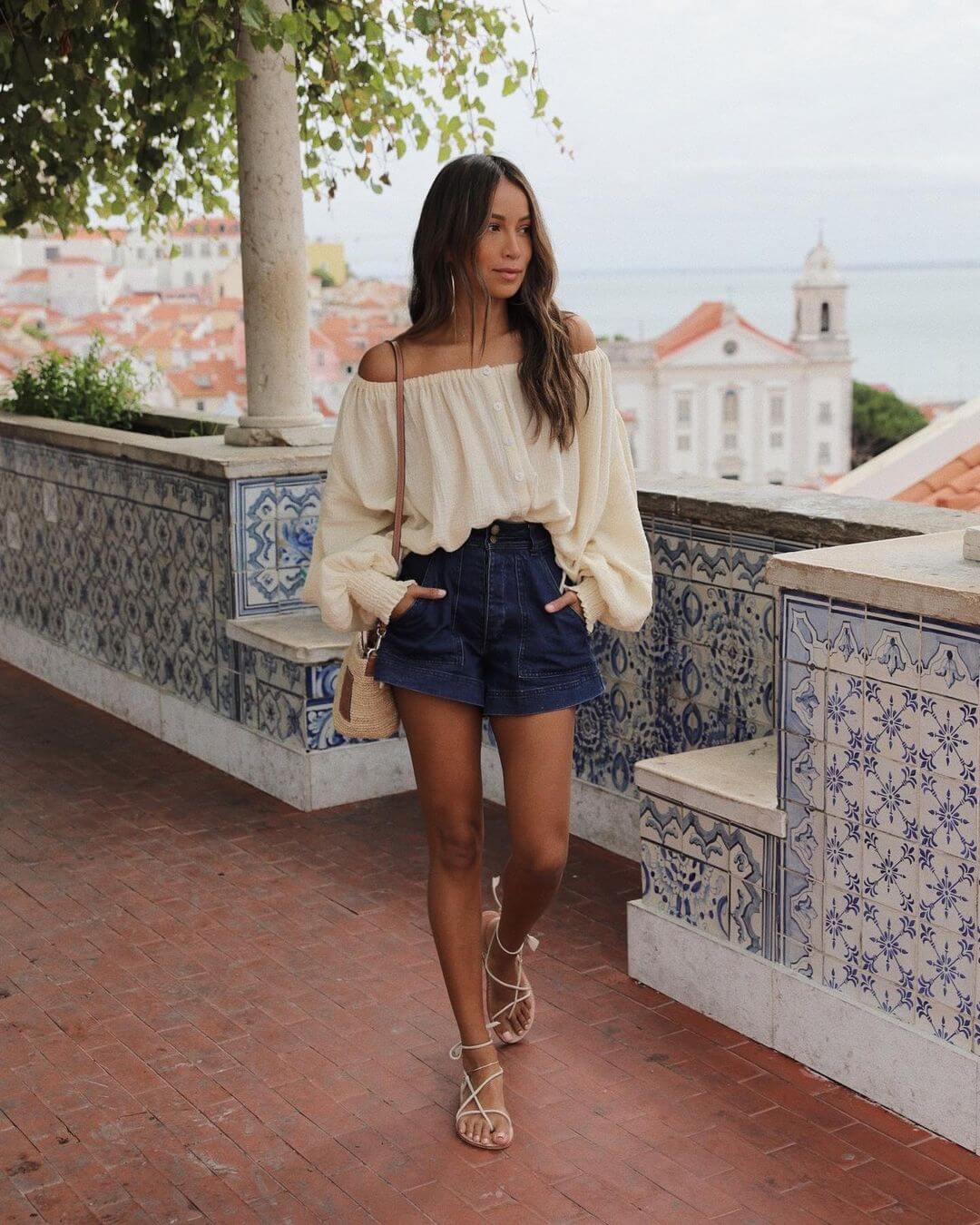 Photo via @sincerelyjules
6) Off-the-Shoulder Top & Shorts
Summer date night looks don't have to be all frou-frou. In fact, you could achieve a sexy and feminine outfit with a pair of shorts and lace-up flats! A billowy off-the-shoulder top paired with the duo always makes for a lovely choice to wear on a date as it shows off just enough skin. This outfit combo is a surefire way to survive the summer heat.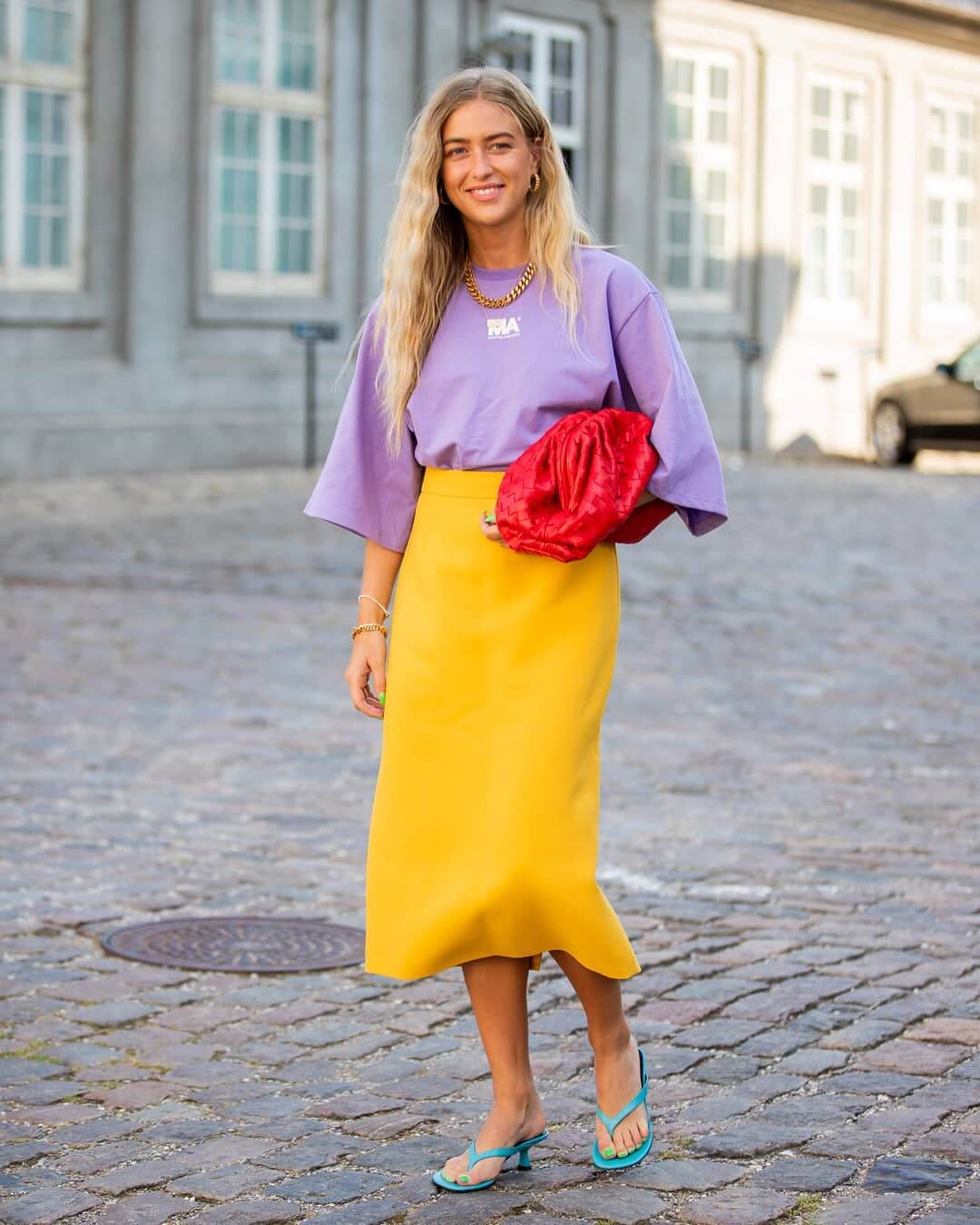 Photo via @thestyleograph
7) Bright Colors
Summer is all about the bright, cheerful colors. It is often said that the clothing you wear have an impact on your mood, so let your outfit set the tone for a fun date night. We love the masterful color blocking here with the lilac t-shirt, gold midi skirt and blue sandals. It all comes together to make a high-impact look that stands out.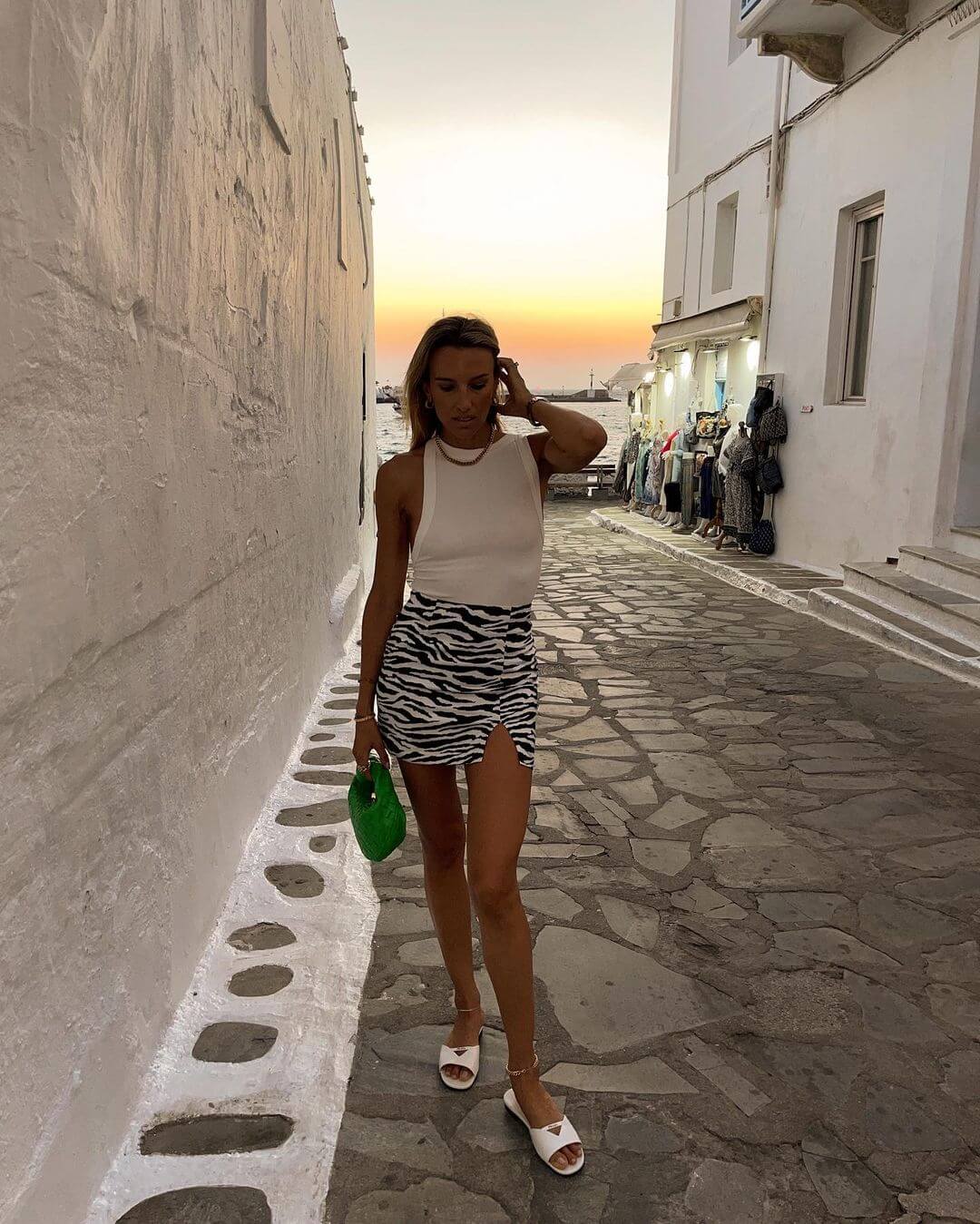 Photo via @lisadnyc
8) Itty-Bitty Mini
An itty-bitty mini skirt makes for flirty summer date attire – and we're loving Lisa's trendy take on it with the tonal zebra print. You can keep the rest of the outfit minimal by pairing it with a simple tank, slides, and a statement bag – all of which we're sure you already own! Be sure to pile on the bling for some extra pizazz.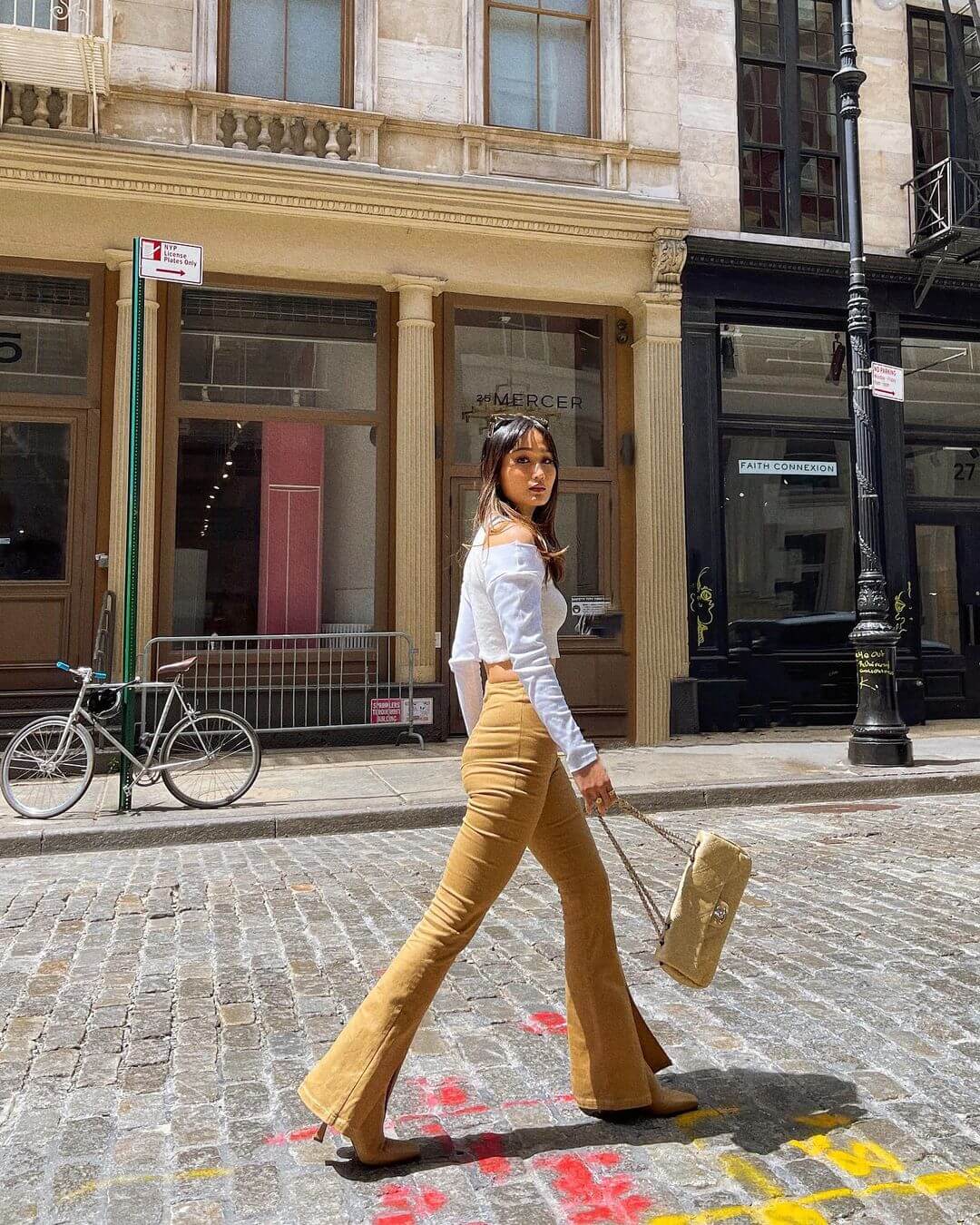 Photo via @prettyfrowns
9) Cut Out Top & Flares
Make a good first impression on your next date night by being the ultimate trendsetter in a cut out top. It shows you like to take some fashion risks and you always end up owning it! Though you can style your top with just about any bottom, we love the idea of flares and/or split hem pants.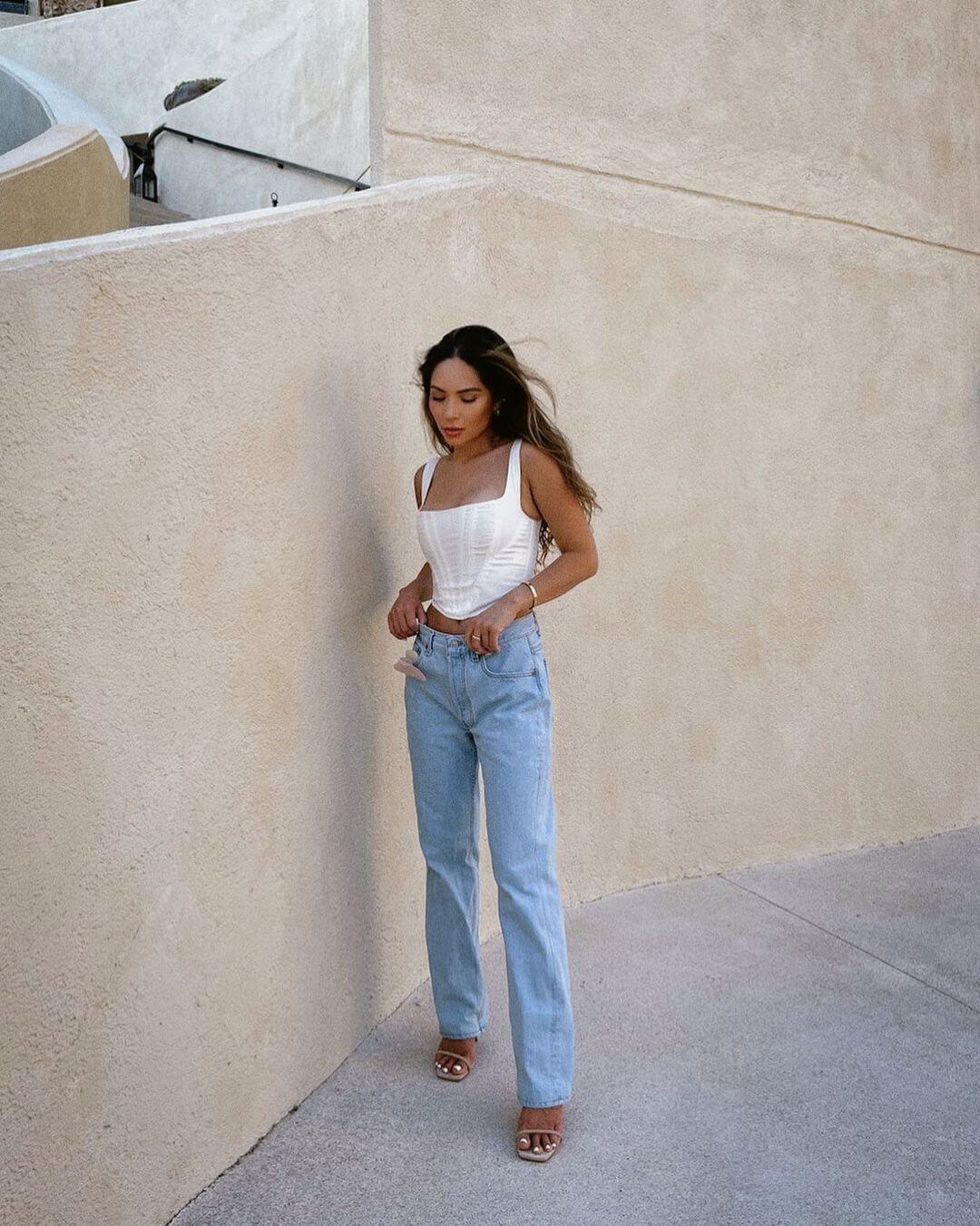 Photo via @marianna_hewitt
10) Corset & Denim
Corsets are another trending style that certainly mirrors the romance of an evening summer date. This top is on the more formal side but you can dress it down by rocking it with some relaxed denim for a casual affair. Nothing really beats the low-key contrast loose jeans provide to the seduction on top.

Getting dressed for an evening out can be a challenge, but these summer date night looks prove that it doesn't have to be – even if you're not super girly. With the right styling and on-trend pieces, you'll be ready in no time. Which one will you be trying out for your next outing?
(Visited 1 times, 6 visits today)