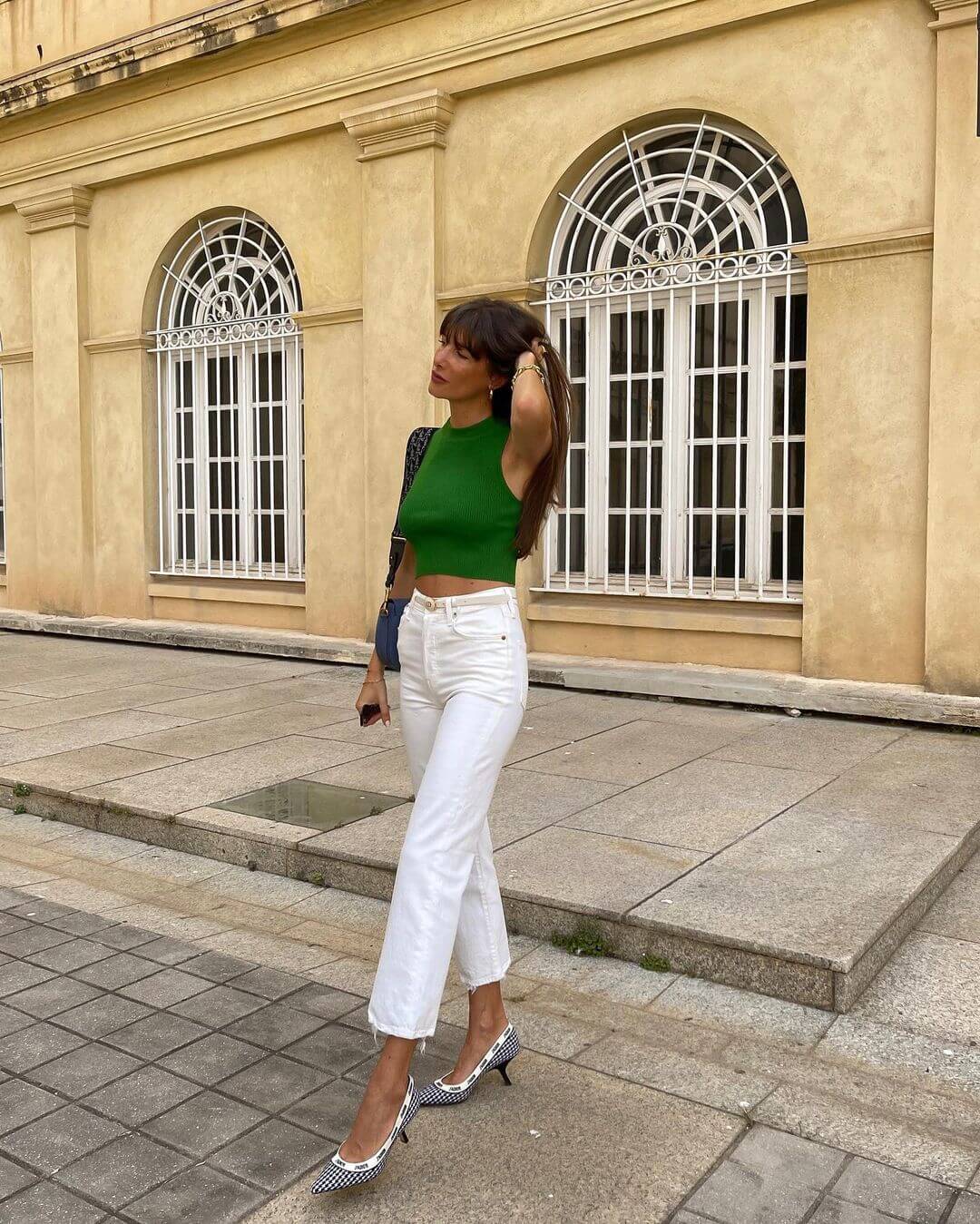 Photo via @juliesfi
If you are looking for a versatile summer bottom that can seamlessly be worn from work to play, we have just the thing. White denim is such a clean, refreshing look, especially for the warm weather. The fact that it's a light neutral means that you can pair with just about everything. It also happens look a little more dressed up than your basic blue jean, so you can wear it in more professional and elevated settings. Since this piece is so incredibly versatile, we thought we would take to Instagram to pull a refreshing round up of the latest white denim outfits. This will help you get the lowdown on some of the best ways to tackle this look for the remainder of summer. If you haven't updated your white denim stash in a while, the 10 fashionable looks below will convince you otherwise! Read ahead for 10 incredibly chic outfits featuring white denim.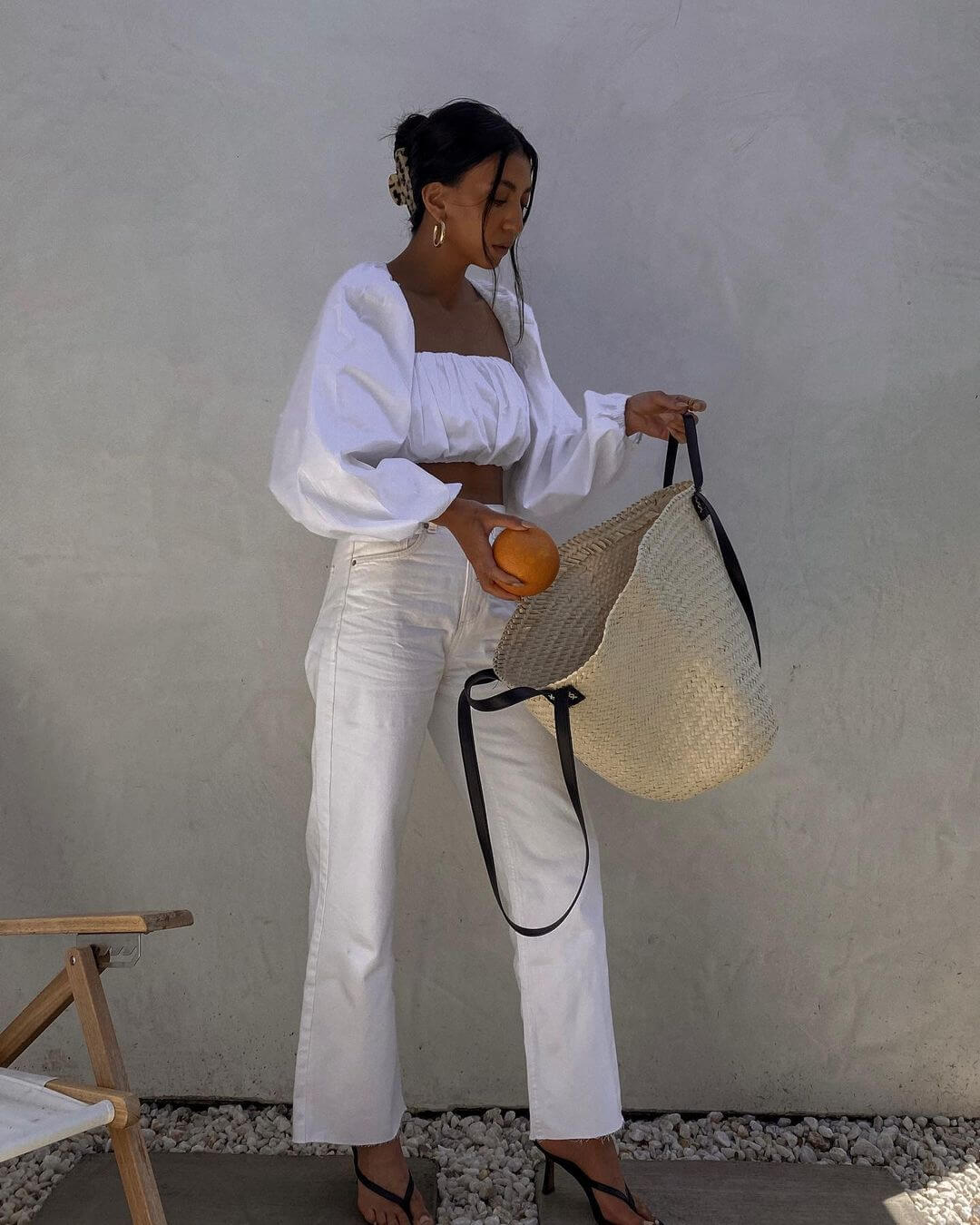 Photo via @kayla_seah
1) Statement Sleeve
White denim, especially full-length jeans with a relaxed silhouette, can be styled to create some of the most coveted looks of summer 2021. For instance, we all know and love the statement sleeve top. It looks so romantic and feminine with your favorite pair of neutral denim. Further accentuate the summertime vibes with the addition of a straw bag and thong heels just as Kayla did here.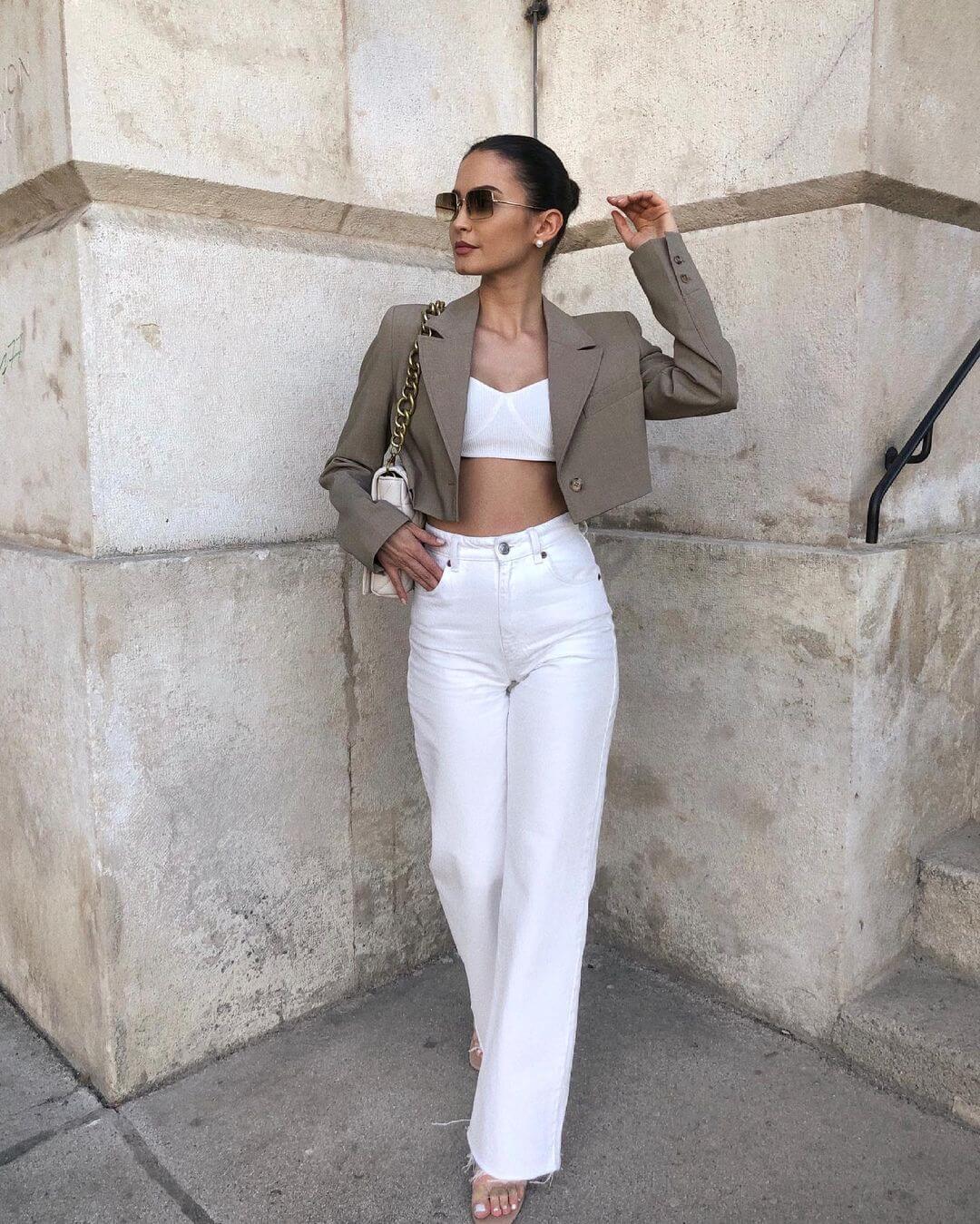 Photo via @majamarko7
2) Bra Top & Blazer
A pair of white jeans can easily replace a pair of smart trousers when you want that sophisticated edge without the structure. Just go for a high waist and wide leg cut. These pants beg to be paired with a crop top. When going into the office, a slim-fitting tee and cropped blazer does the trick – but we recommend switching into a bra top for after hours!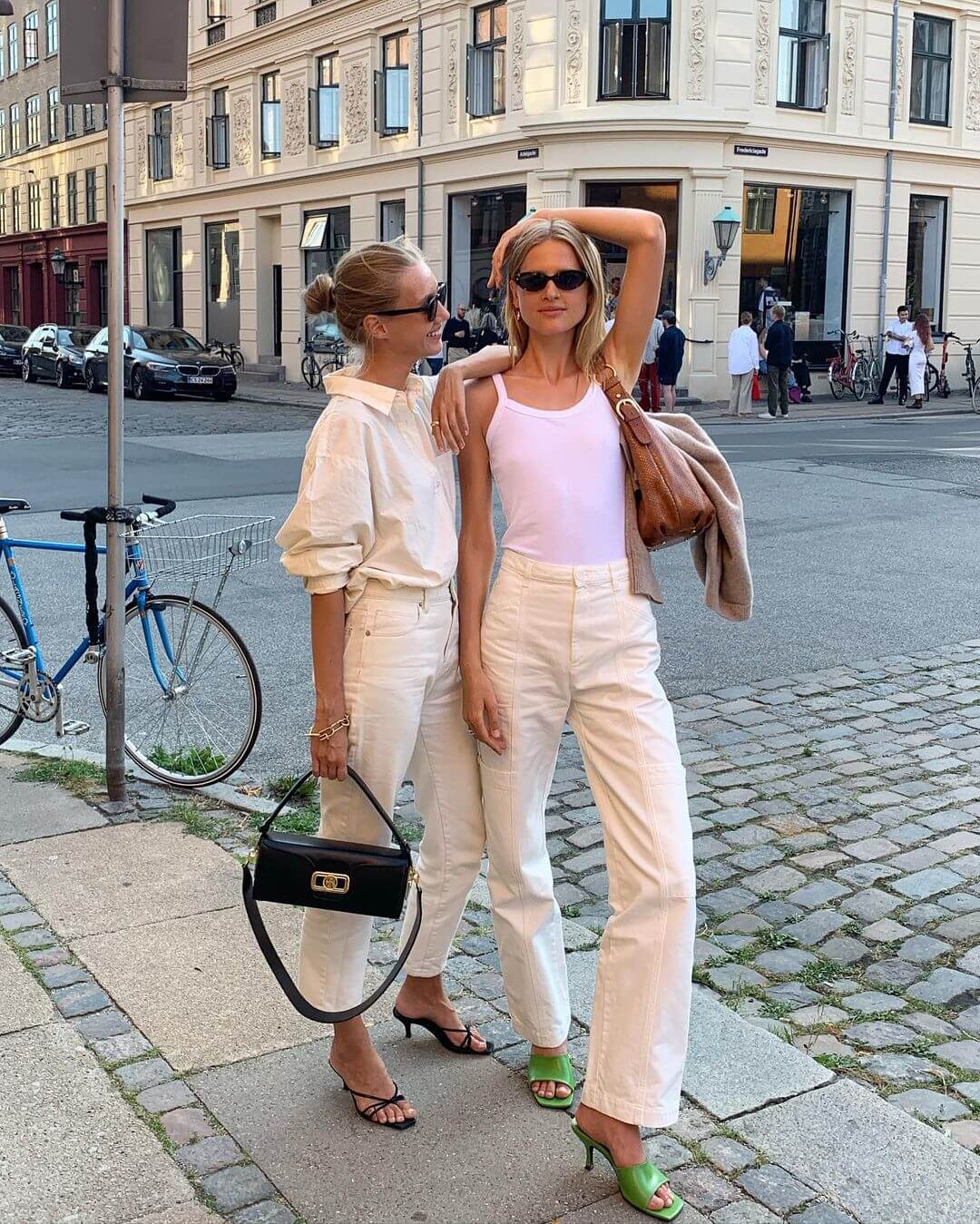 Photo via @amaliemoosgaard
3) Elevated Basics
You do not have to overthink your white denim look either. Simply pair your own with some elevated basics, like a ribbed racerback tank top or an oversized button-down shirt, for an effortlessly chic outfit. From there, you can get extra creative with your accessories to make your white jeans stand out. We love the idea of adding bright, neon heels or a structured bag with lots of gold hardware. Your accessory options are infinite.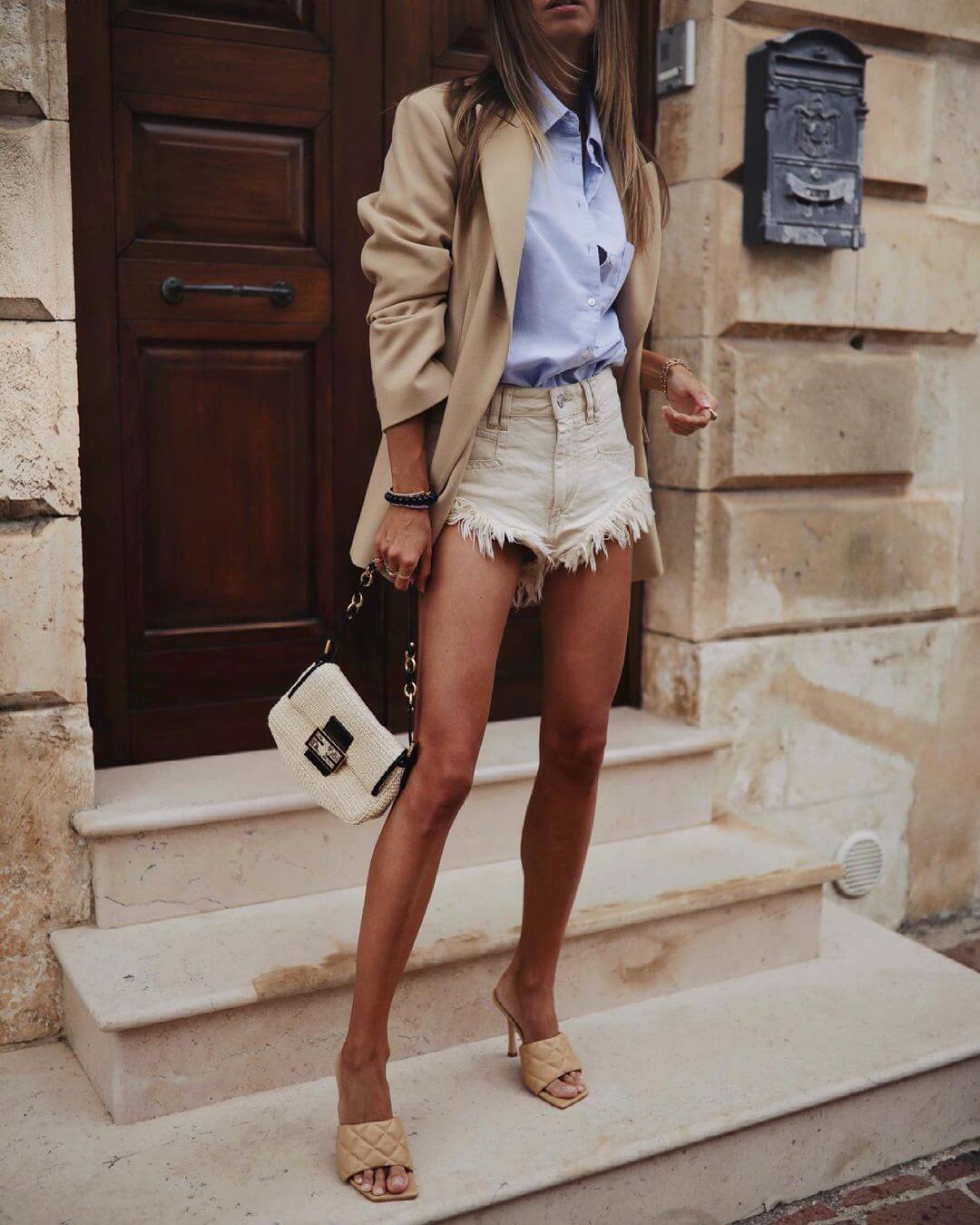 Photo via @andicsinger
4) Summer Tailoring
A blazer and a button up shirt never go out of style but we love how this influencer made it summer appropriate by losing the pants for white denim shorts. This warm, neutral look is something we can wear every year. The shorts help bring back a casual cool vibe without taking away from the polished aesthetic. You just need to keep the look updated with current accessories. For now, that means quilted, square-toe heels and a raffia shoulder bag. Don't underestimate the timelessness of cut-off white shorts.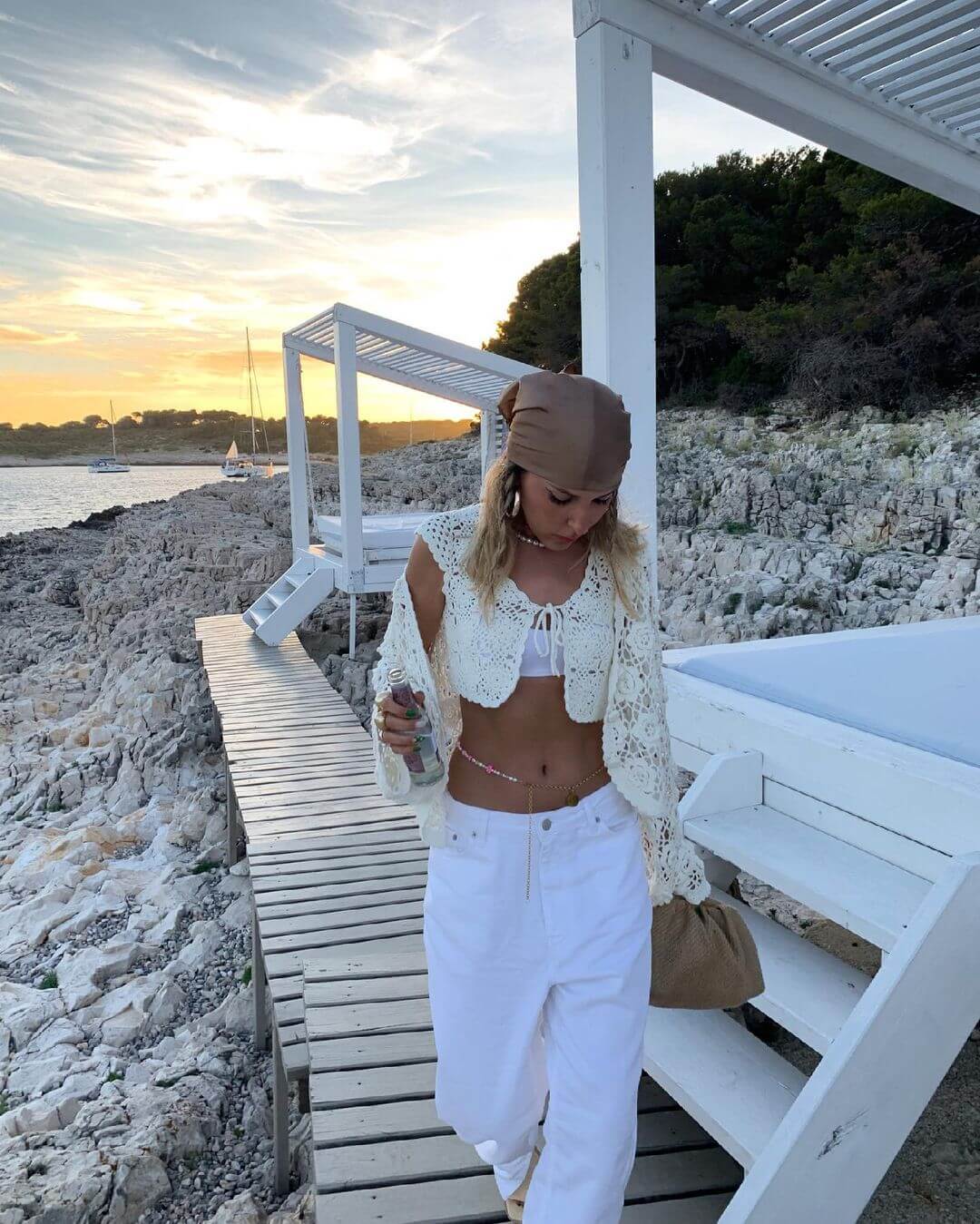 Photo via @sofiamcoelho
5) Cropped Crochet
Take your white denim beachside with this next outfit. We adore the pairing of the low rise baggy jeans with a micro crochet top. The two pieces are ideal for a trendy vacation fit or for pulling over your bathing suit as a coverup. Don't forget to spice up this look with a belly chain – it adds to the carefree, boho vibes.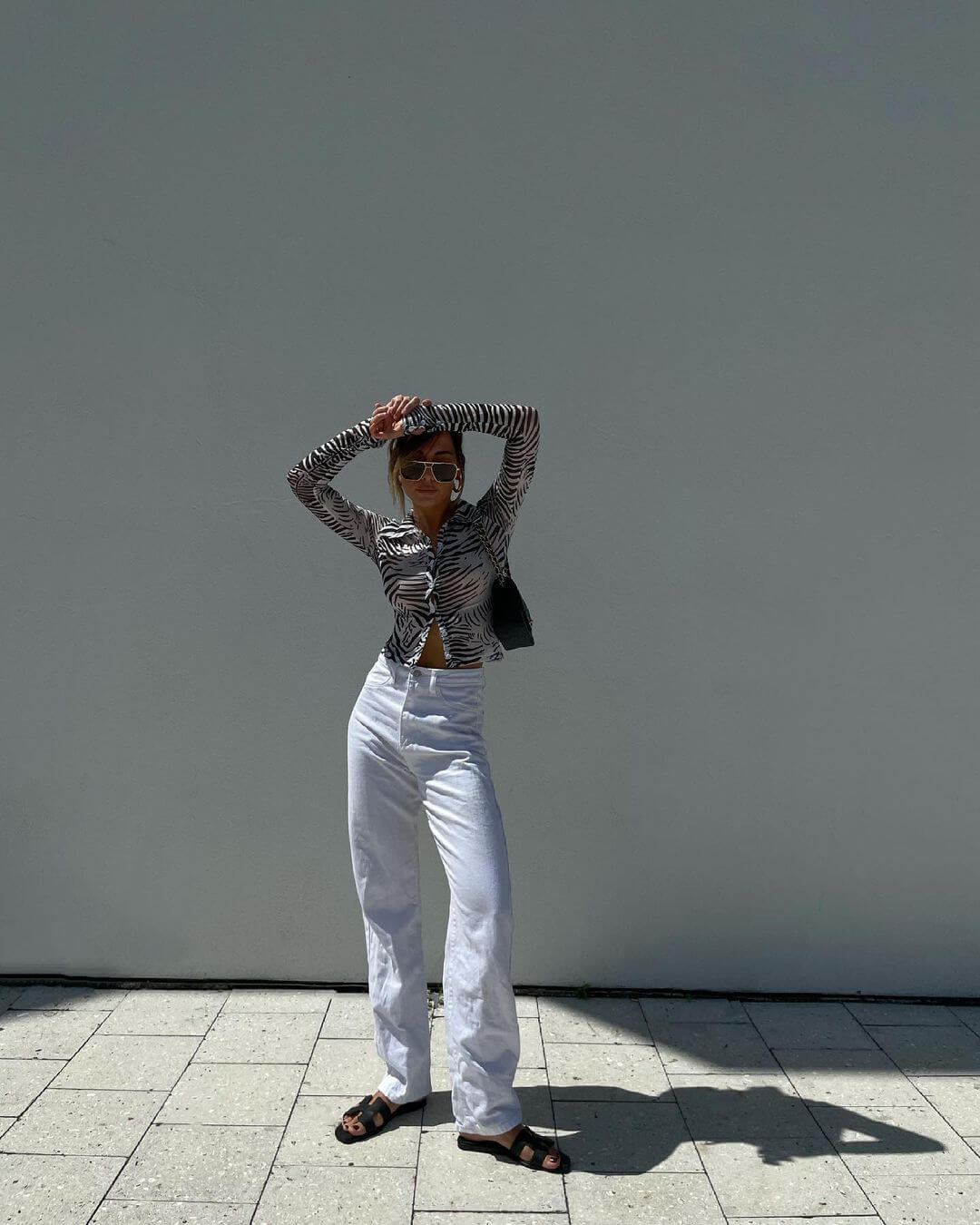 Photo via @imnotsorrydarling
6) Walk on the Wild Side
Whether it is swimwear, home goods or fashion, there is no denying how popular the elevated animal print trend has become. In particular, the white and black zebra print is a must for summer and happens to work flawlessly with white denim. Carolina's sophisticated look is a little artsy, with a street style flair and such a killer combo to try out this season.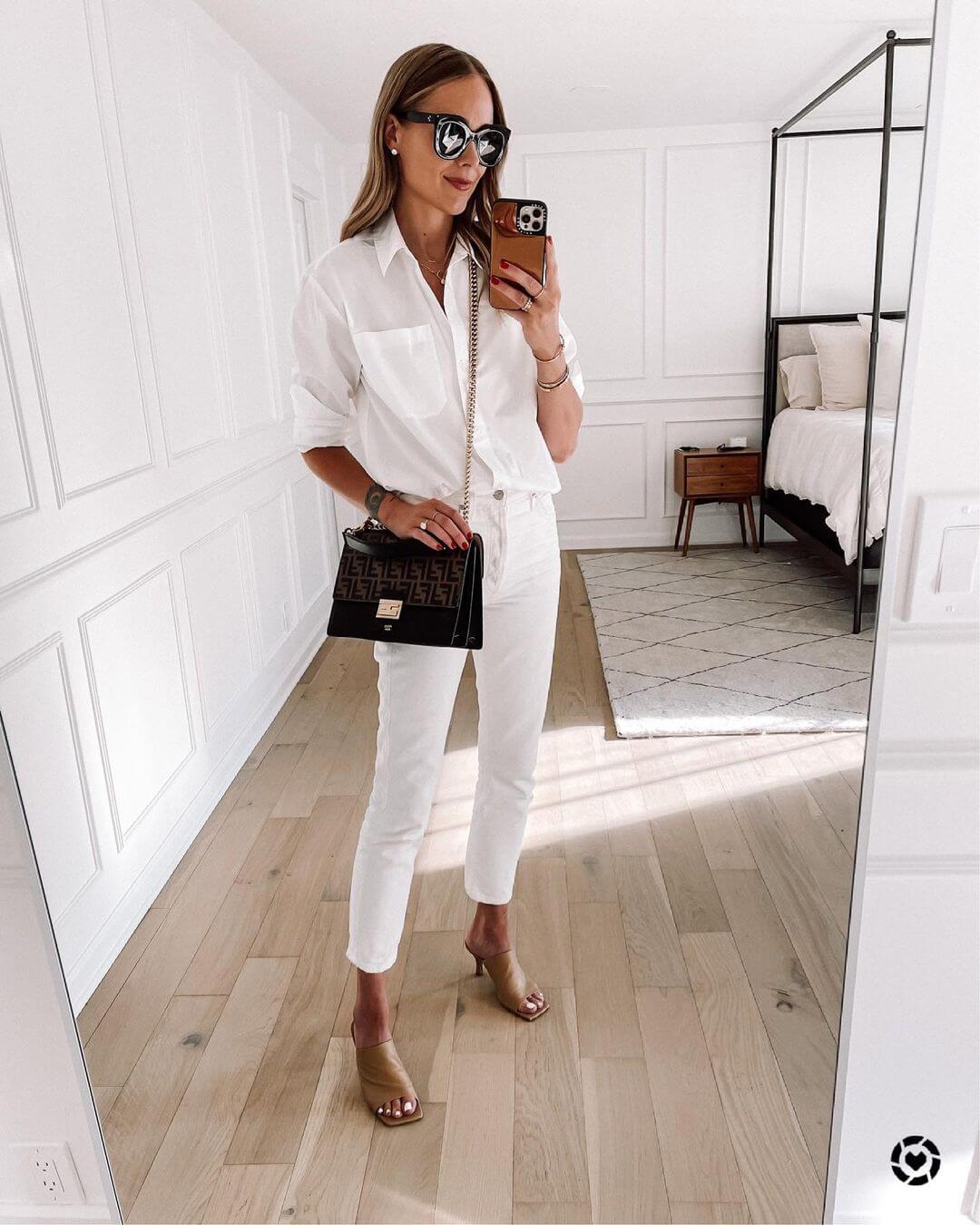 Photo via @fashion_jackson
7) Head to Toe White
As you probably already know, dressing in a tonal outfit creates the illusion of height and is super elongating for any body type. So, it's no surprise that wearing an all white outfit is just as slimming as an all black one. Just opt for slim-fitting jeans and a white blouse, then complete it with nude heels. This outfit combination is ideal for the office or weekend festivities.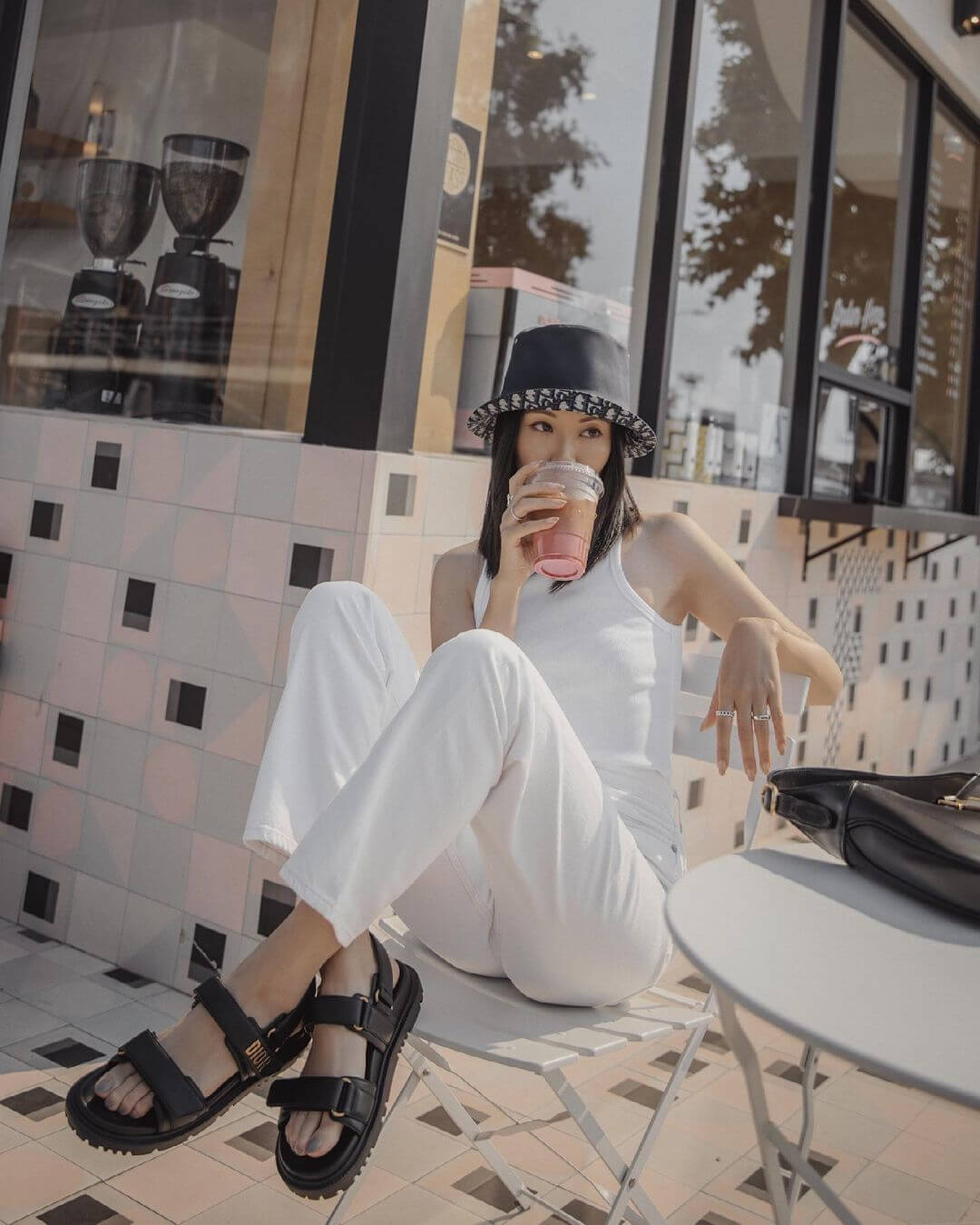 Photo via @tsangtastic
8) Casual Accessories
Looking for the ultimate casual-cool outfit combo for your updated white jeans? Rock an equally white top for a crisp, monochrome look. The trick to pulling this look off is to pop in some high contrast accessories. The bucket hat and bulky sandals are the ideal accessories to create visual interest while maintaining that effortless look.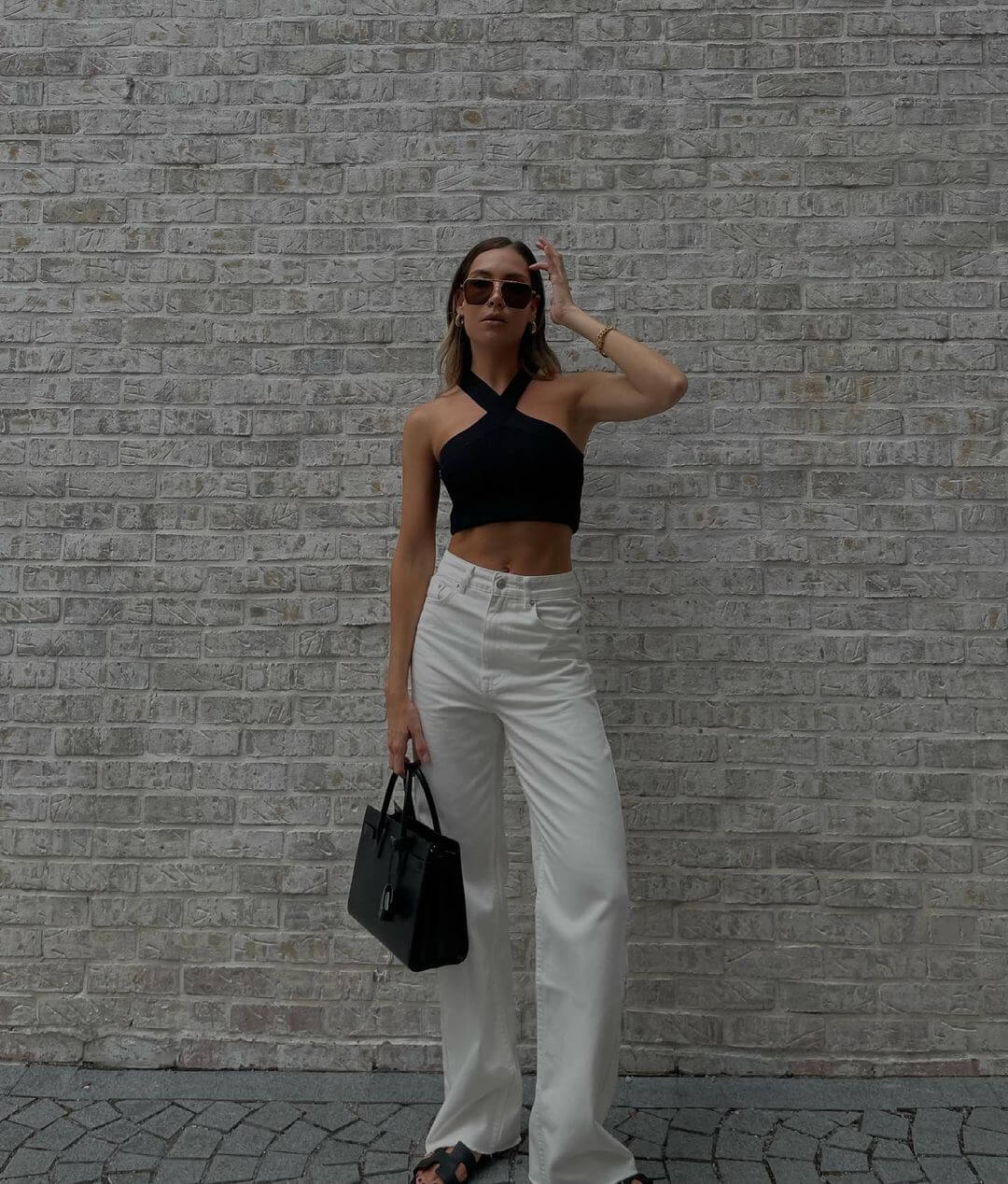 Photo via @imnotsorrydarling
9) Black & White
You can also keep things classy by opting for a black and white outfit. These full-length jeans are totally enhanced with the halter top, polished tote bag and aviator sunnies. It's the easiest outfit ever when you're going out, and no one will ever know how simple it was to put together.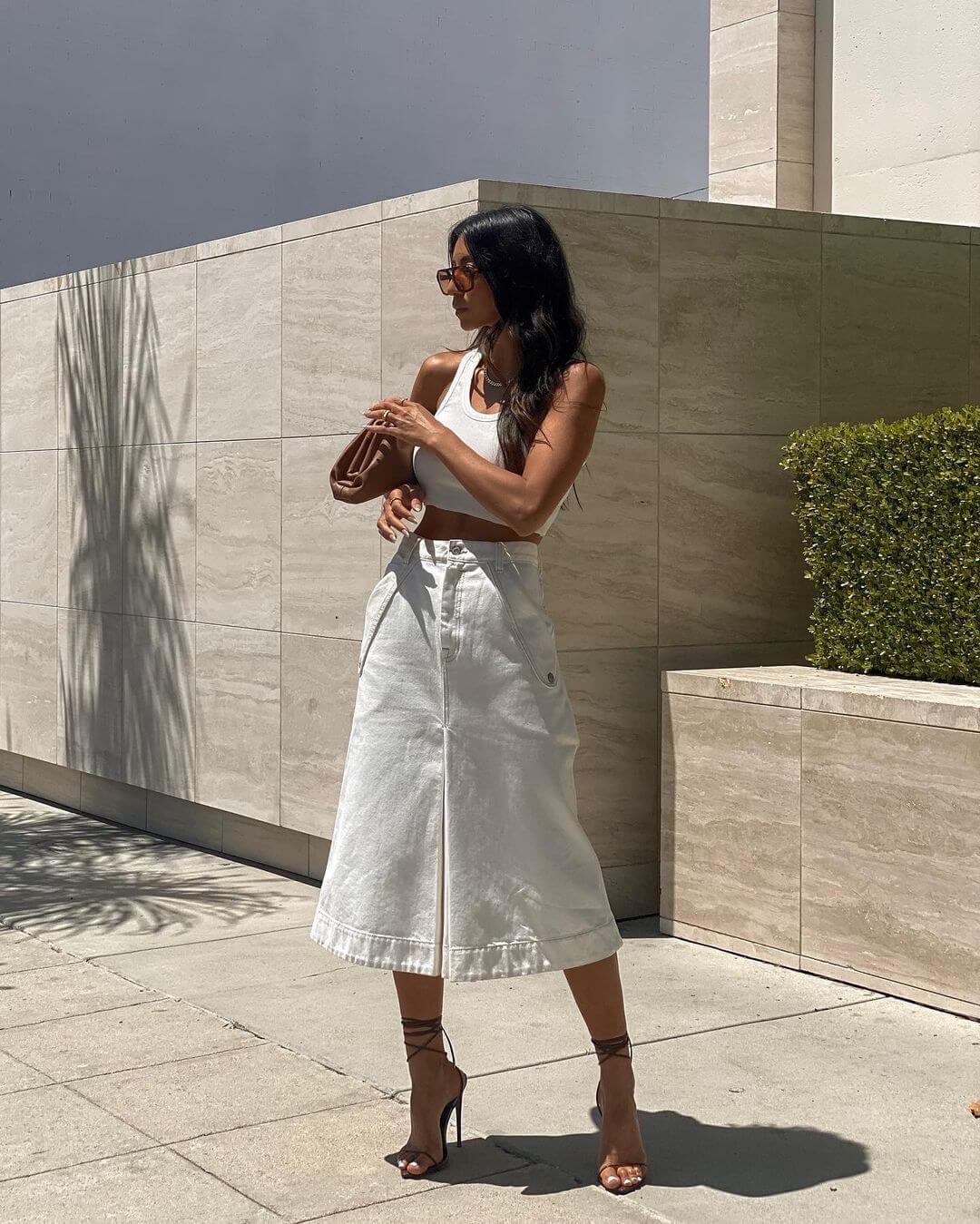 Photo via @kayla_seah
10) Make it a Skirt
Of course, you could always find white denim in an entirely different silhouette! This denim midi skirt is a chic option for those who want to toss things up with unexpected pieces. We love how this influencer kept the ensemble simple with a cropped white tank, but then amped things up with the eye-catching heels. It certainly adds some oomph and glam to this summer look.

White denim has become a popular choice for easy chic summer looks – and the 10 outfits above prove just how versatile they can be. With luxurious separates and interesting textures, you'll be ready for any occasion from work to vacation and anything in between.