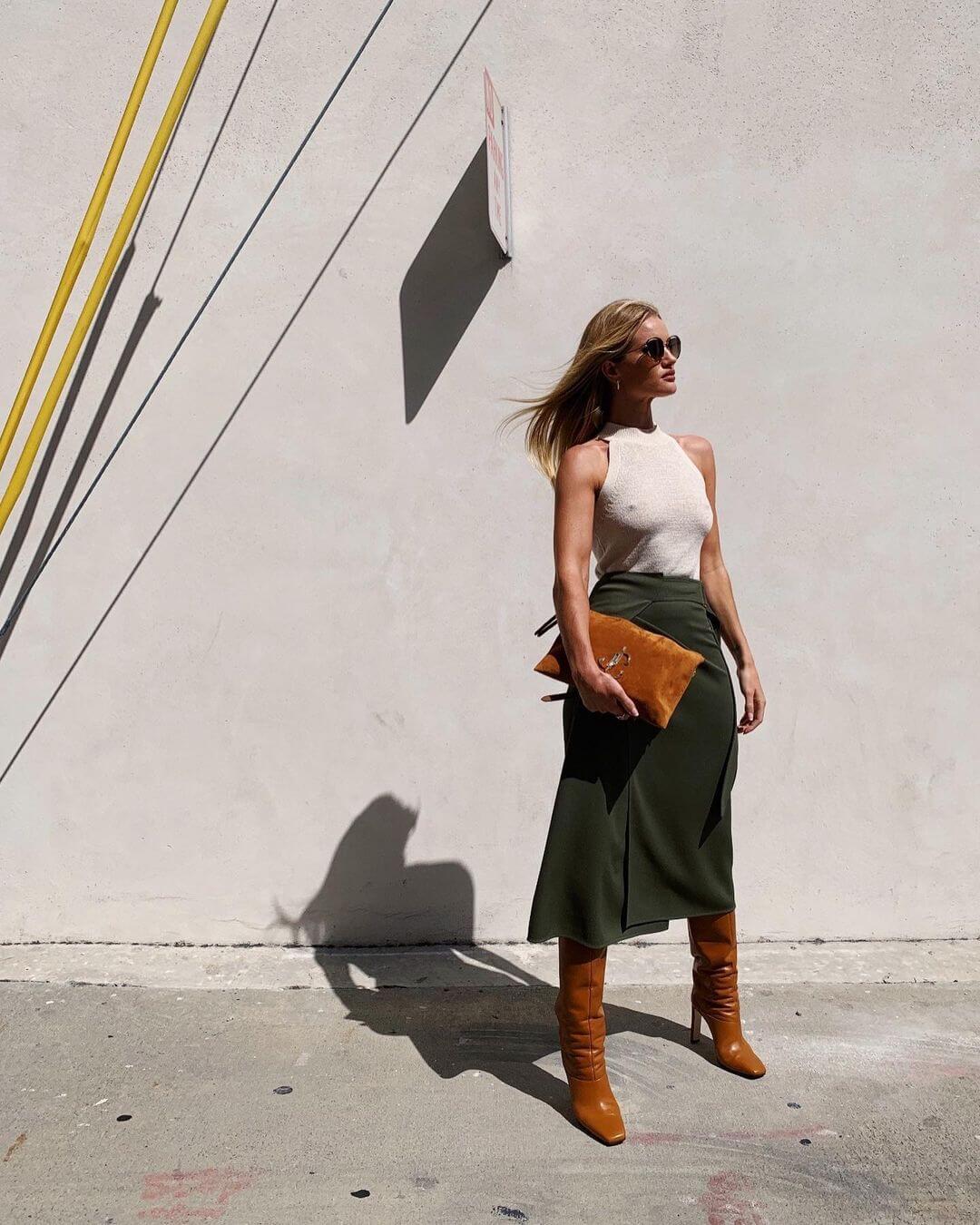 Photo via @rosiehw
We are firm believers that one can never have too many pairs of shoes within their rotation, especially during fall and winter. There are many different details, silhouettes and heel heights that set each pair apart from one another and this post is our PSA on why you need room for (at least) one more. We are formally advocating for slouchy boots – one of the hottest footwear trends of the season. This boot style features a loose, gathered shaft that perfectly pairs with your cold weather wardrobe staples as well as most party pieces. If you are not quite sure on how to begin styling these, here are 10 slouchy boot outfits to guide you in the right direction. You'll find plenty of inspiration whether you're adding them to mini skirts and tights for a transitional look or pairing them with tailored pieces for work.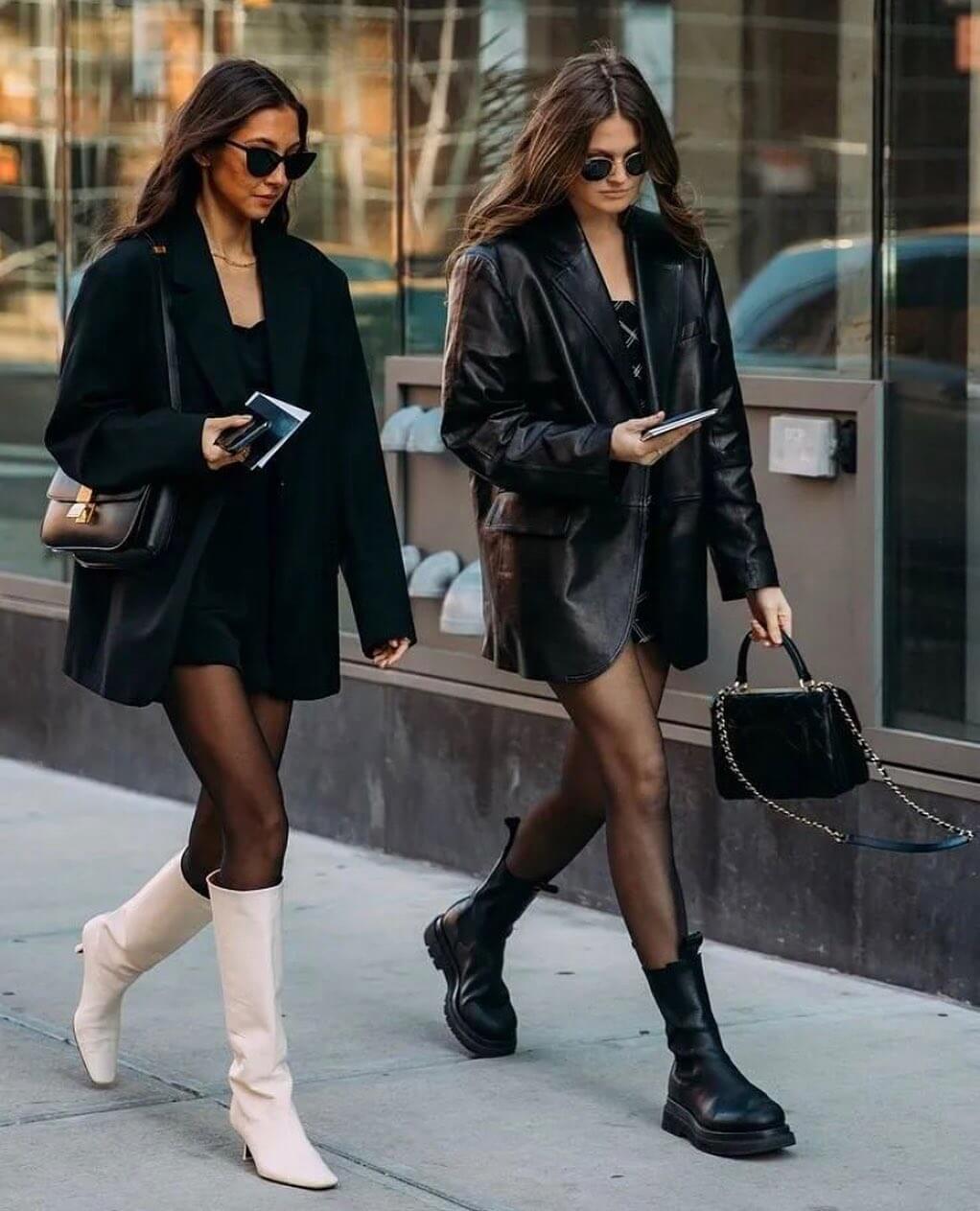 Photo via @fakerstrom
1) Contrasting Color
The first outfit inspiration uses the slouchy boots as a contrasting pop of color. In this case, a sophisticated all black outfit complete with a blazer, mini dress and tights is instantly brighter with the addition of some white slouchy boots. By keeping the main part of the outfit dark and moody, it really allows the lighter boots to shine and be the focal point of the look.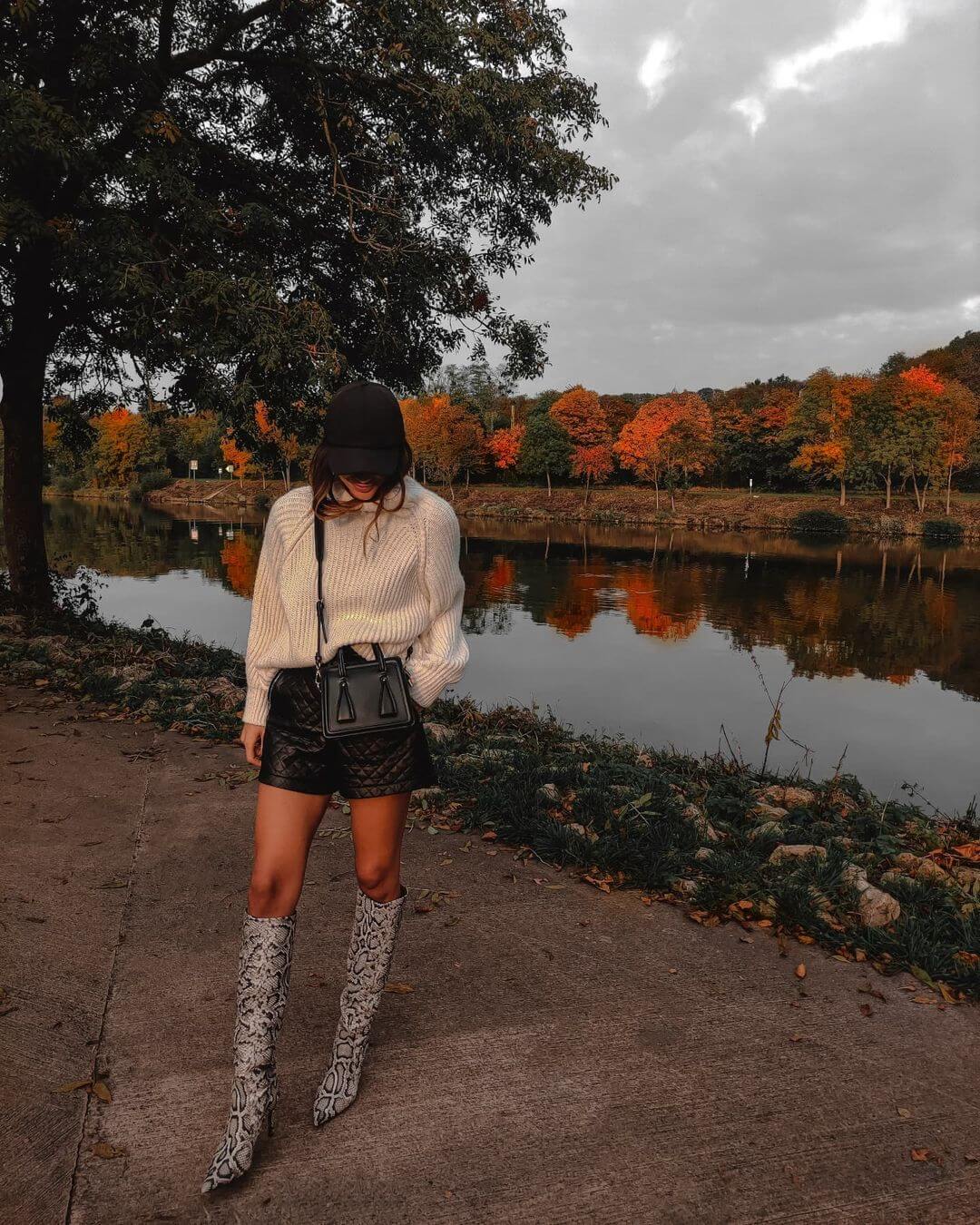 Photo via @maja_miletic
2) Pattern, Please
Similar to the above, you could also shop for slouchy boots with an all over pattern to act as a statement accessory. It is a really stylish way to pepper in some flavor to an outfit, especially if the outfit consists solely of basics such as Maja's look. Plus, a luxe take on an animal skin like a cheetah or snake is always a welcomed pattern during fall.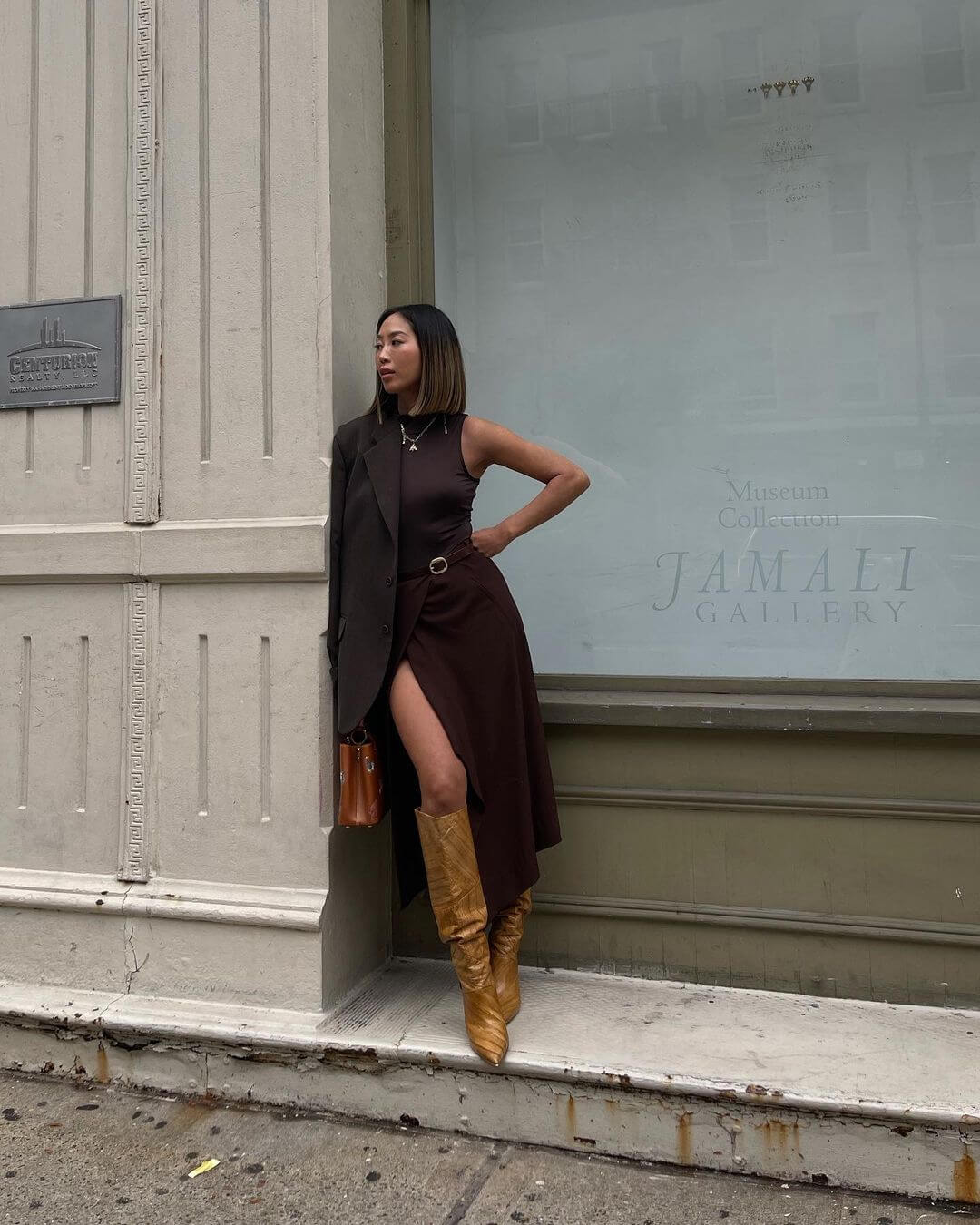 Photo via @aimeesong
3) Peek-a-Boo
An unexpected pairing but one that completely makes sense is the slit skirt and slouchy boot. As you would expect, the slit allows you to conveniently show off your fancy footwear without missing a beat. Regardless of the slit or not, any skirt or pair of shorts that allows your slouchy boot to peek through is a win for building a high-impact outfit!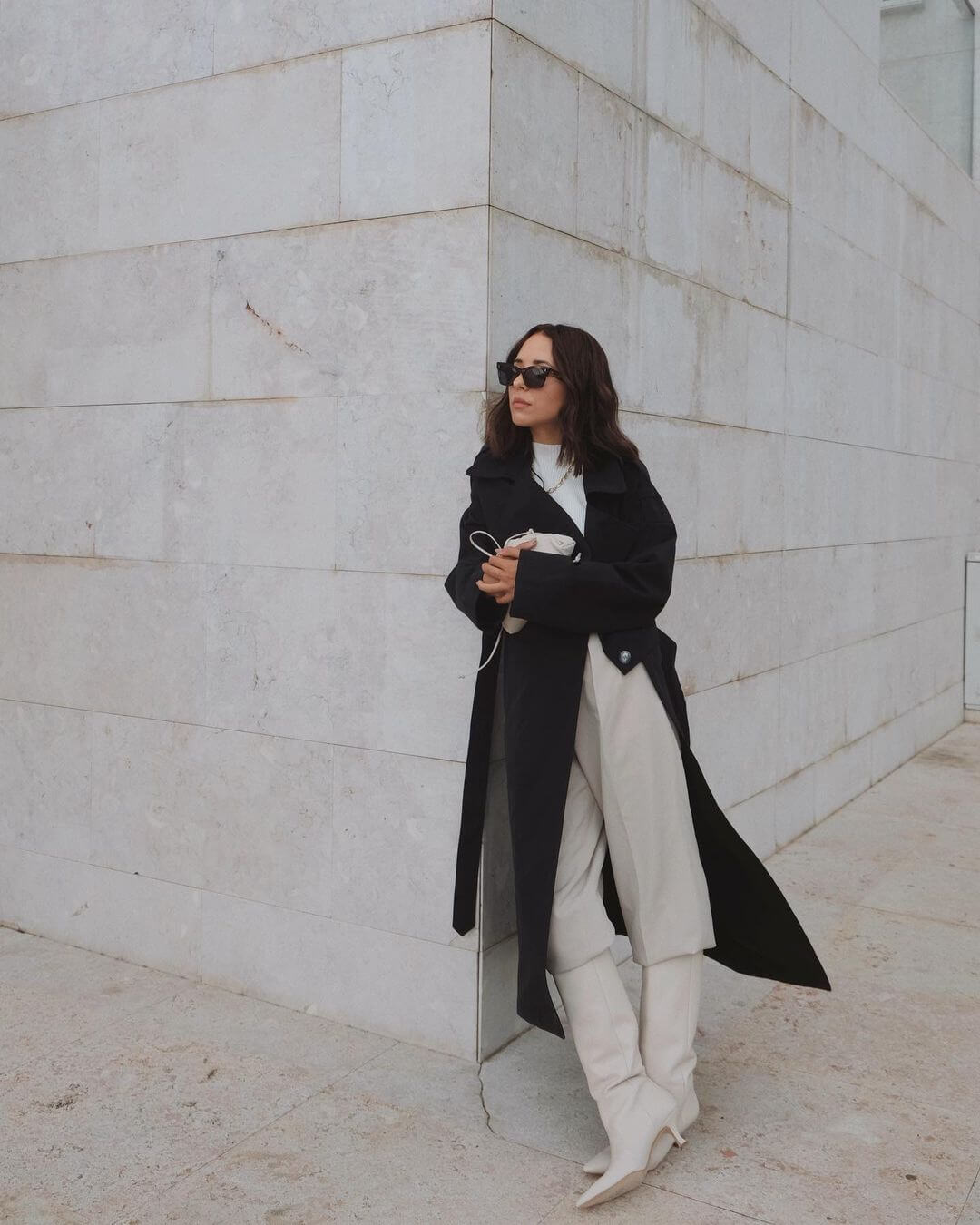 Photo via @deborabrosa
4) The Trouser Tuck
Despite slouchy boots being more relaxed, you do not always need to style it with pin straight pants. Case in point, this sleek and minimal outfit worn by Debora. She purposely tucked in some wide-leg trousers into her matching slouchy boots so they are almost an extension of the pants. This is a more unique, fashion forward way to style your boots. Try this tonal look the next time you want to look miles long.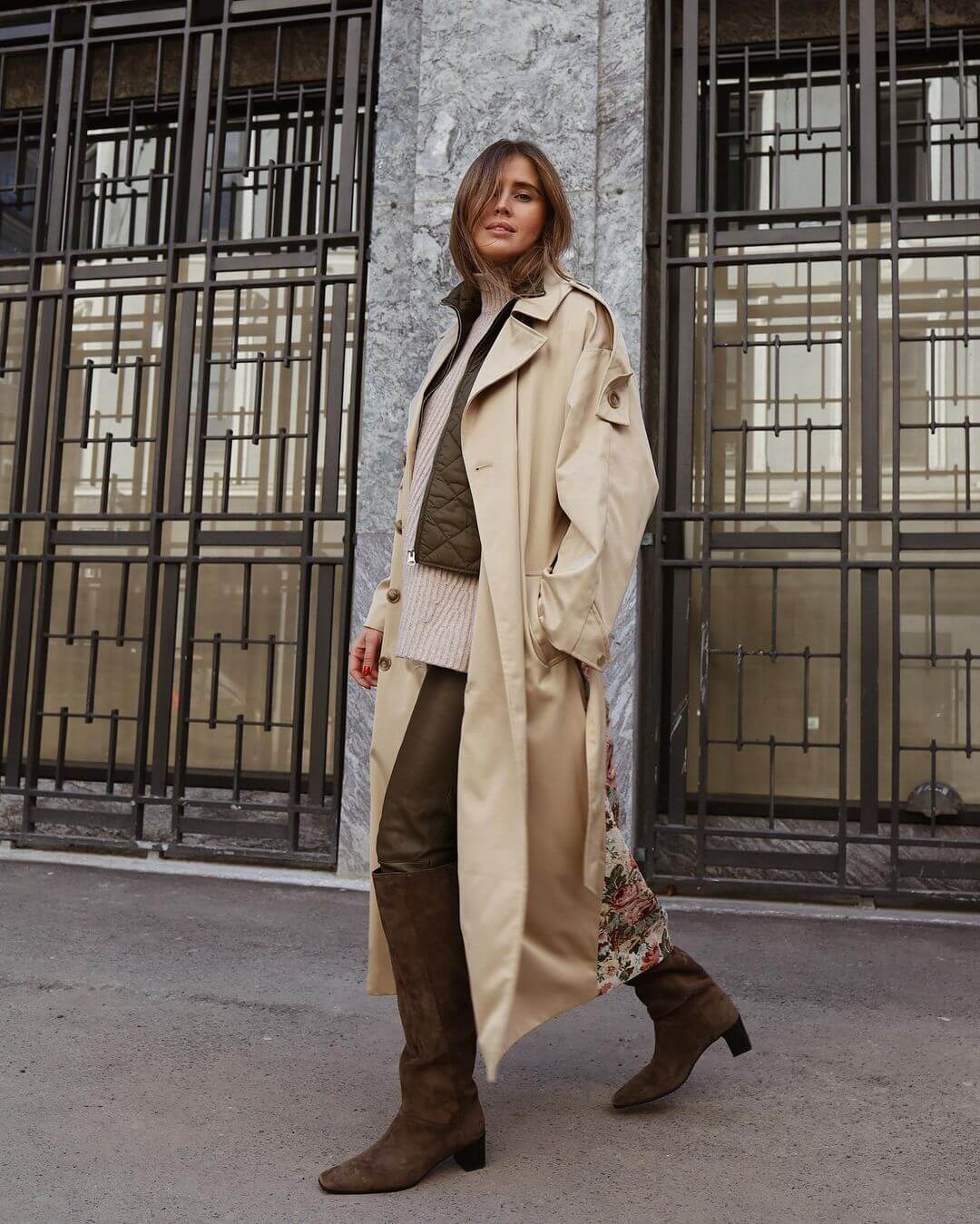 Photo via @darjabarannik
5) Keep it Tonal
Dark neutrals in fall? Not necessarily groundbreaking but can be refreshing and new when styled carefully. This tonal look features head-to-toe earthy tones, including the dark brown slouchy boots, and lots of unexpected layers. As you can see, adding texture to a tonal look keeps you relevant and seasonably chic. This effect can easily be recreated with any color slouchy boot you own!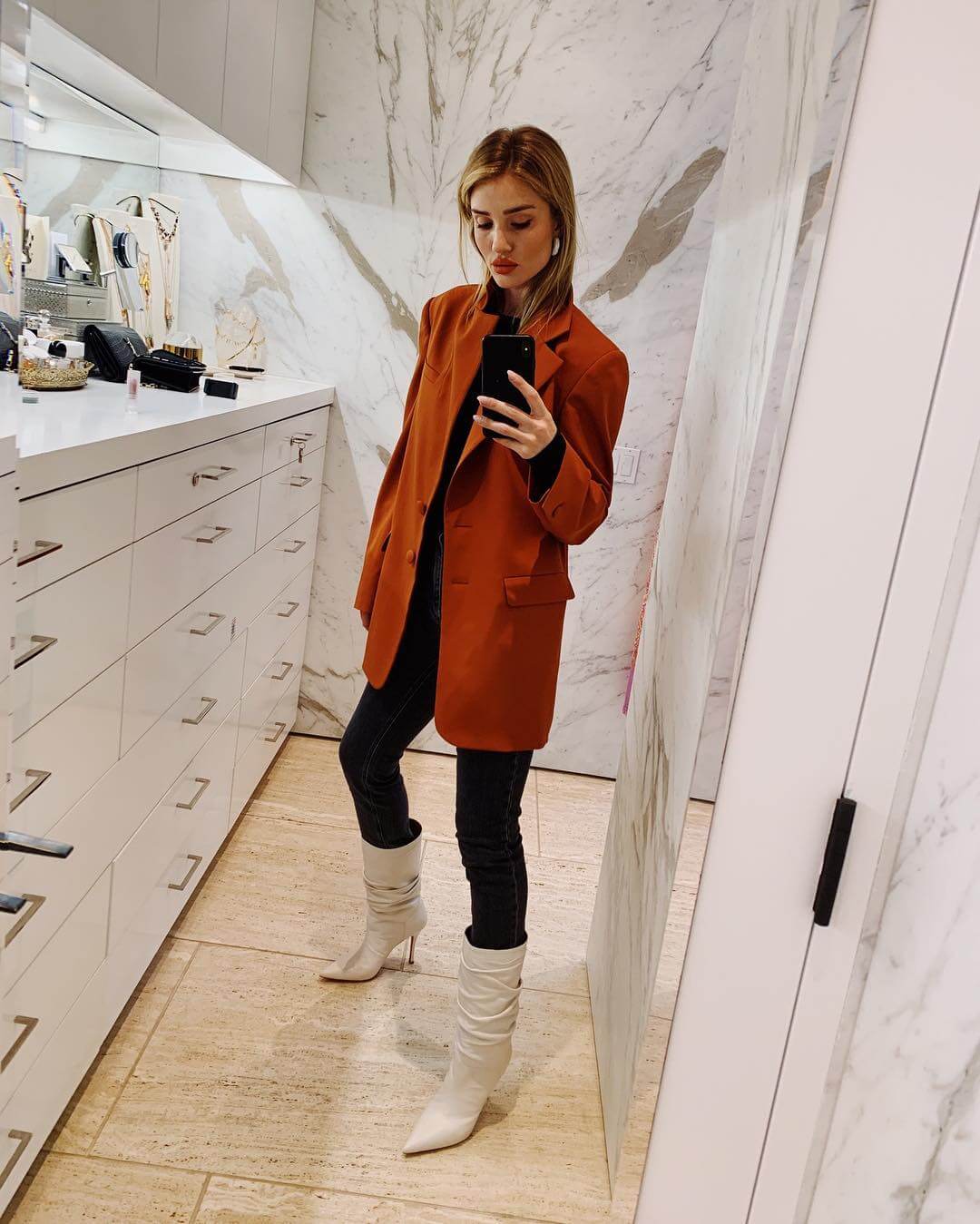 Photo via @rosiehw
6) Legging Lovers
We will always acquiesce to a shoe that looks good with leggings and are excited to say that the slouchy boot is exactly that. As Rosie demonstrates in this outfit, her calf-high boots elevate her simple outfit of oversized blazer and black leggings. In fact, any height or coloration of the slouchy boot would be equally effective in creating a chic look so this is an easy outfit formula that can be worn over and over again! In fact, this look is about 3 years old but remains seasonless today.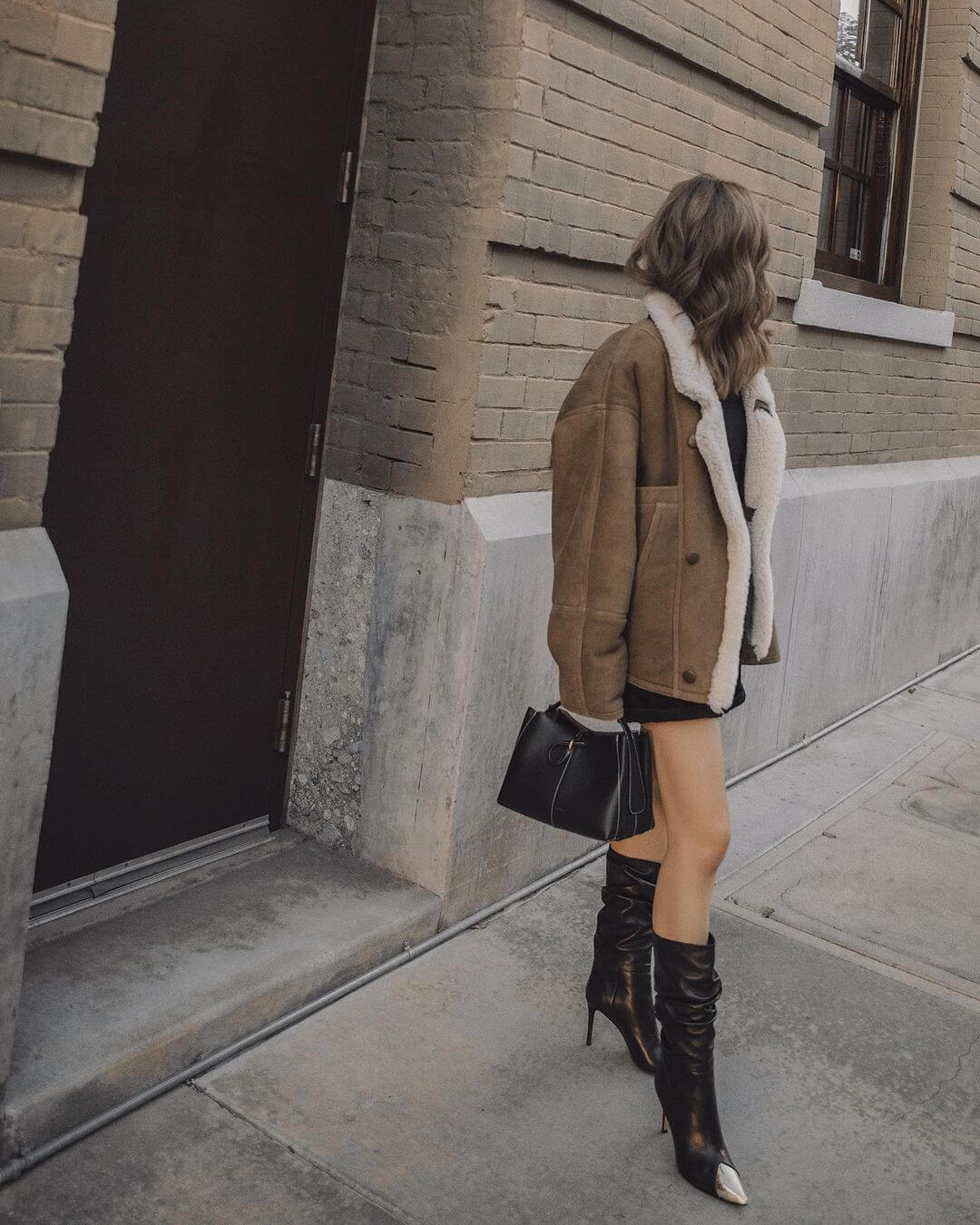 Photo via @tsangtastic
7) Mid-Calf Boots
If you are looking to make an entrance, pair all of fall's best trends in one look. Jenny makes it so easy to pull off with the use of an uber trendy shearling jacket, mini skirt, and boxy bag. The leg-baring combination makes the mid-calf slouchy boots the highlight of her outfit. This contemporary take on the throw-back footwear can be worn for any nighttime event and well into the holiday season.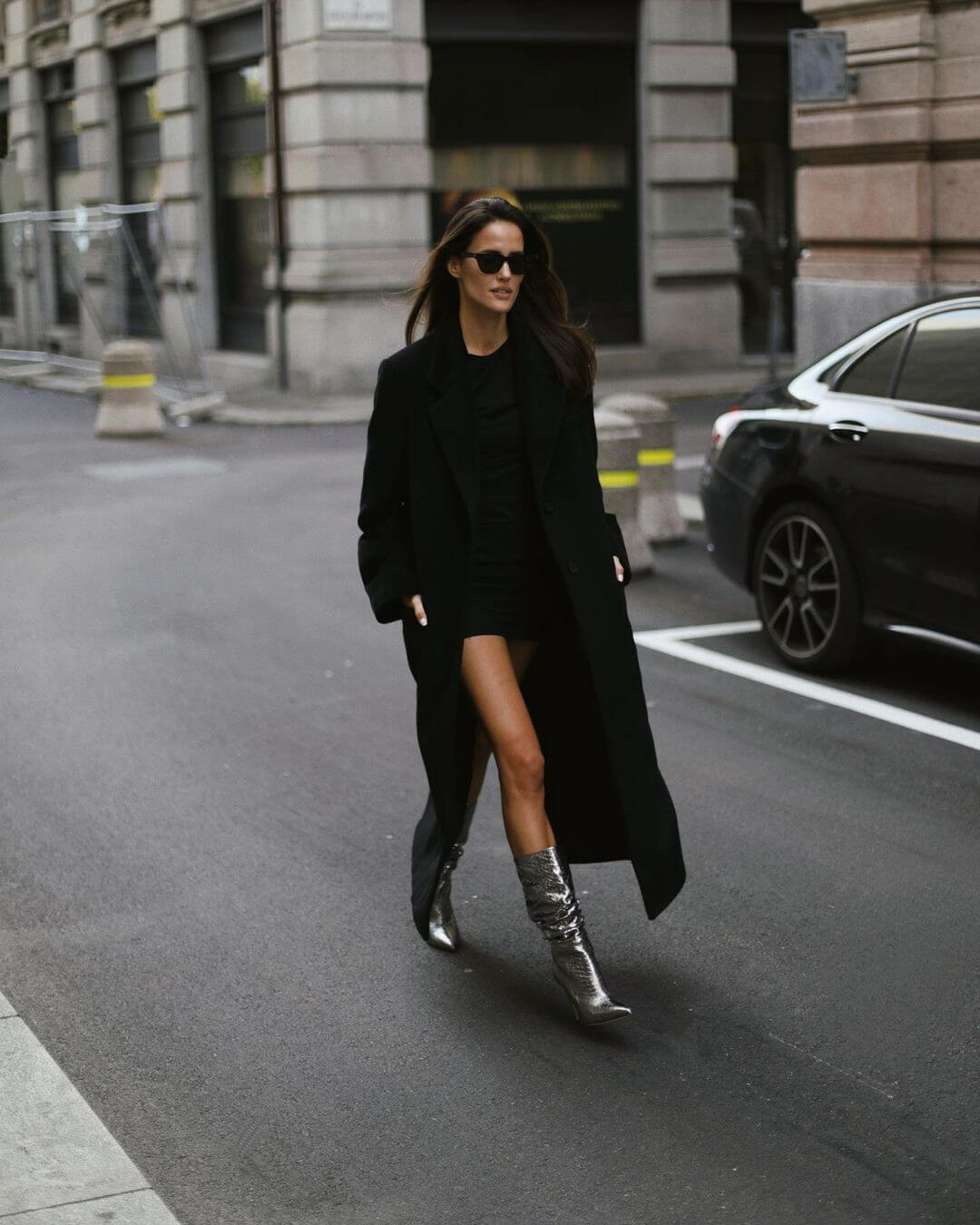 Photo via @ariviere
8) Liquid Metal
As metallic boots gain steam in the fashion world, you can kill two birds with one stone by opting for metallic slouchy boots. It is an unexpected twist that can instantly turn an otherwise simple outfit into something way more bold. If it's an aesthetic too bold for you, remember that you can always pare things back by styling the metallic boots with a head-to-toe black outfit.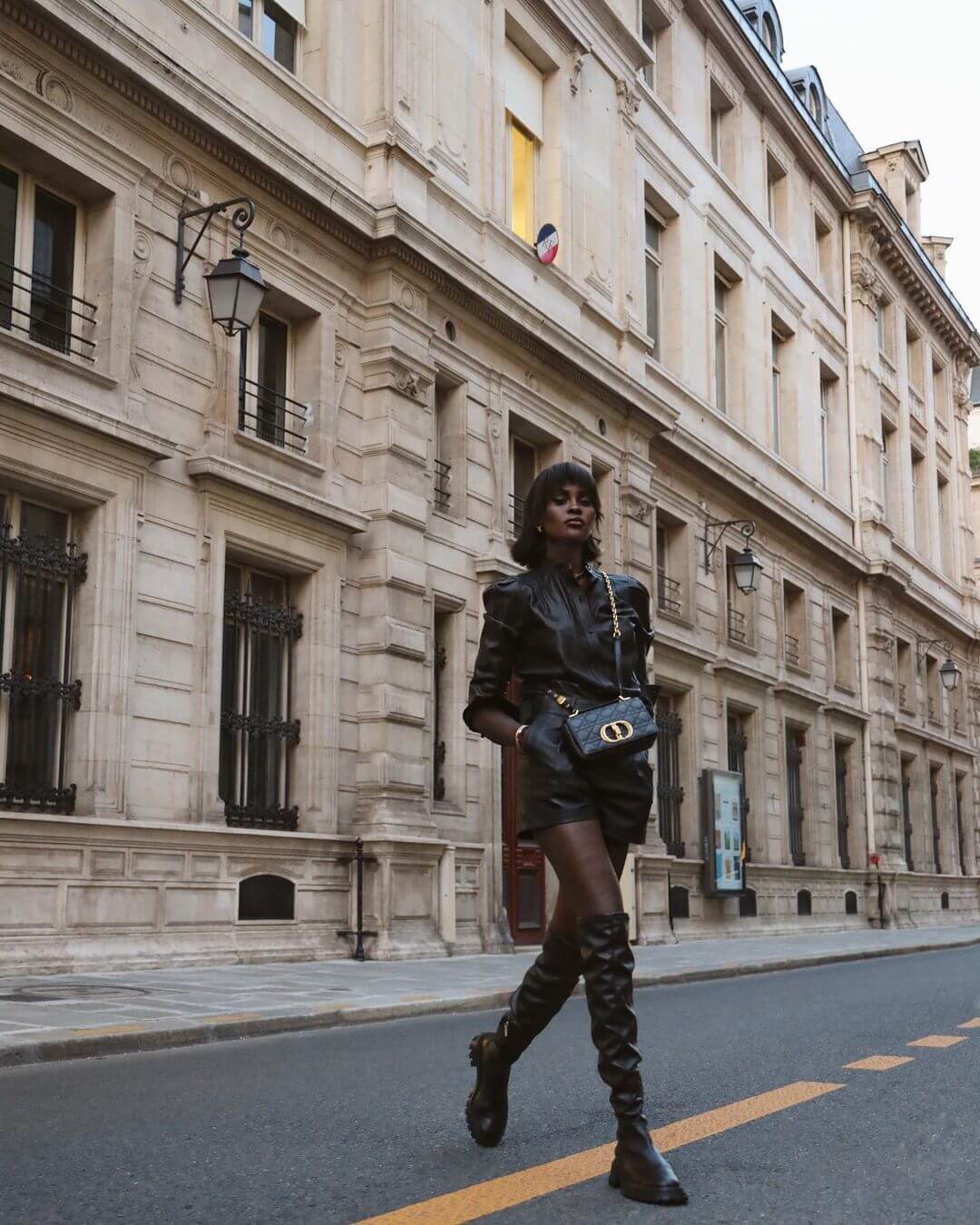 Photo via @lefevrediary
9) Leather Weather
Since many of the slouchy boots will be leather, why not double down and pair it with an all leather outfit. This sleek leather romper is a match made in heaven for the featured over-the-knee slouchy boots, although a leather shirt and leather pants would be just as effective. By pairing leather on leather, you create a calculated, coordinated outfit that is an instant show-stopper.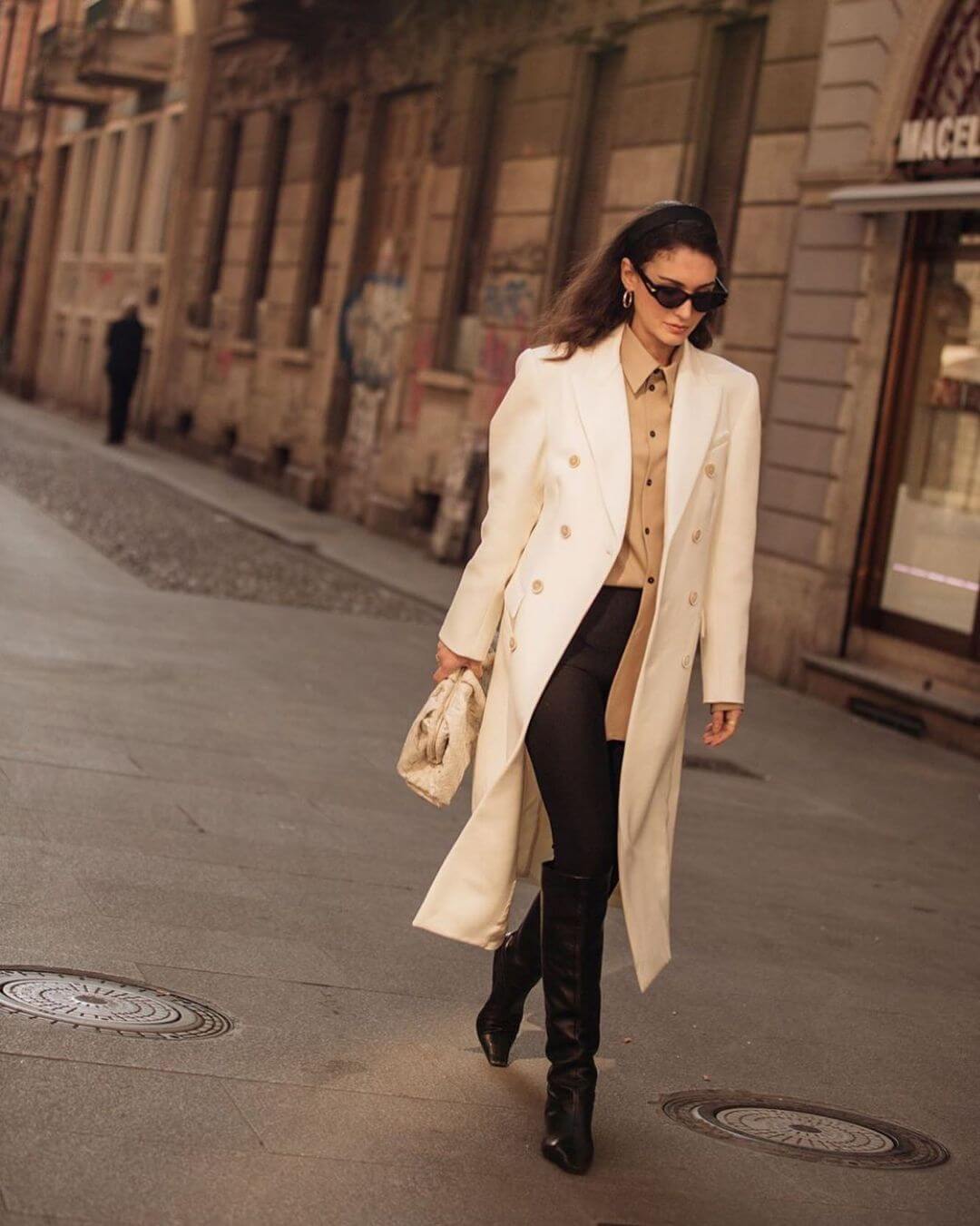 Photo via @dilettabonaiuti
10)Workwear
A quick scroll through Diletta's Instagram shows no shortage of style inspo when it comes to slouchy boots. However, we plucked out this look specifically because it proves that the trendy shoe can make a great update to your workwear wardrobe. All you need to achieve a cool, office look is a long tailored coat and a button-down shirt half-tucked into black slacks. Despite a more simple base, the look is boosted immediately with the slouchy boots in toe.

(Visited 1 times, 9 visits today)