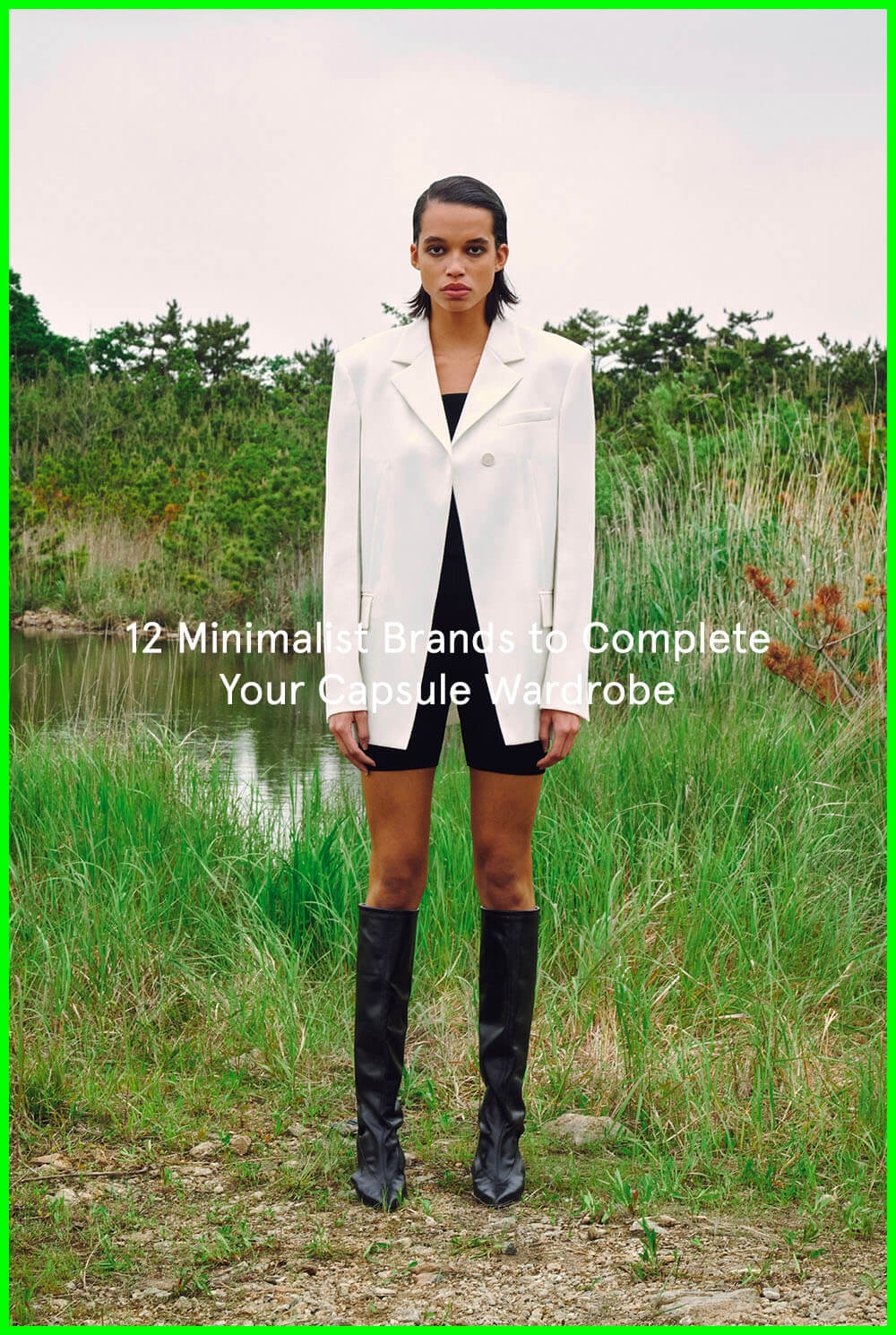 As much as we love diving into all the emerging fashion trends, there is something that continually draws us back to the idea of owning a true minimalist wardrobe. Just imagine the feeling of opening your closet doors to find an array of stunning pieces in smart silhouettes and muted colorways that require minimal styling effort while making maximum impact. It really can't be beat. Another bonus? Everything can be mixed, matched, and layered endlessly for any occasion. Minimalist ensembles are known to have a polished finish, whether you opt for floor-skimming skirts or loose-fitted trousers, so there are ultimately no limits to what you can piece together. Not to fear if you love the occasional pop of color or layered jewelry though. The simple, elegant designs put no limits on how you accessorize.
As you're starting to prep your wardrobes for the cooler temperatures ahead, we can't think of a better place to start your fall shopping than with some of the best minimalist clothing brands that will revolutionize the way you dress. Fortunately, we did all the heavy lifting and uncovered an impressive list of 12 minimalist clothing brands every style enthusiast needs to know! If you're ready to take the steps to become a more intentional shopper in a way that doesn't compromise style, scroll ahead!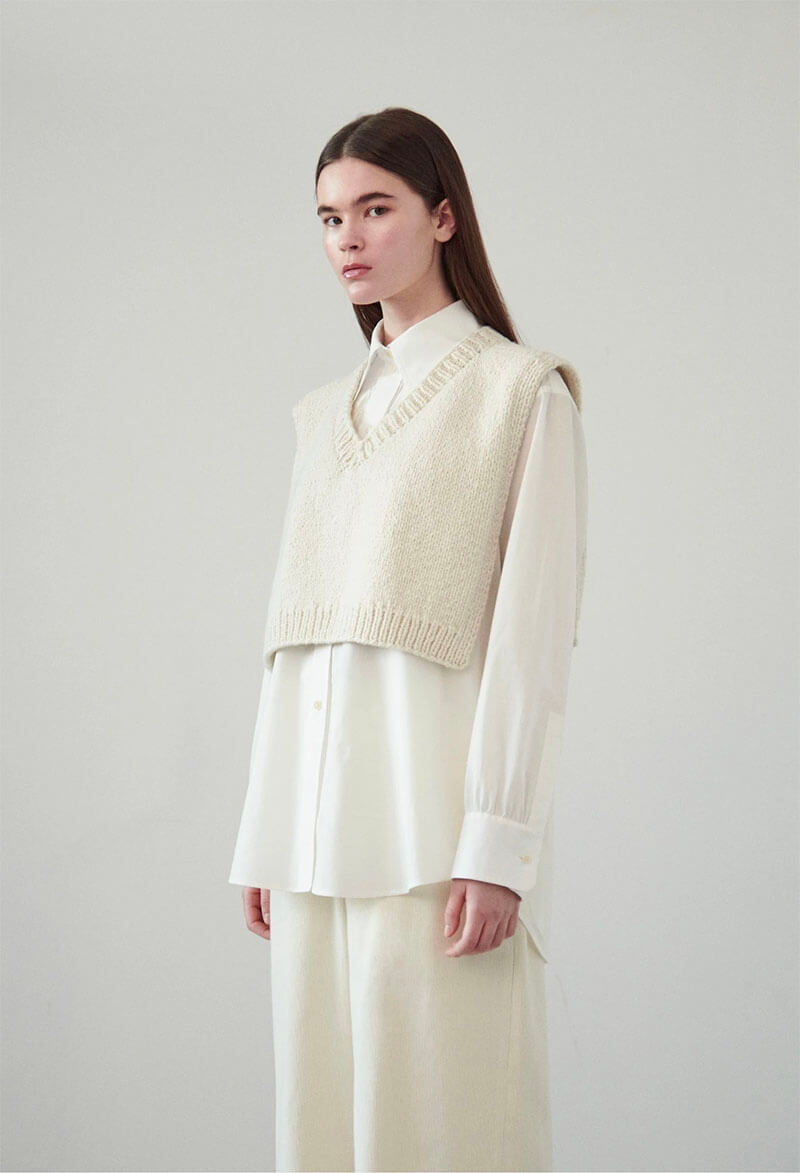 To start, we wanted to jump right into the beauty and sophistication that comes with the minimalist fashion brand, Julia Jentzsch. Designer, Julia, had a goal to create beautiful, modern clothes that are meant to last – and we believe she is achieving this and so much more. She had previous experience in the industry with her resume containing renowned labels, such as Tom Ford, Jil Sander, and John Galliano. Her speciality is taking luxurious fabrics and interpreting them in understandable, wearable silhouettes for everyday life. Even with just a quick glimpse at her collections, you can see the thought and practiced design that goes into each and every piece. We are really into the draped styles like the silk yohji dress or the Xerafina dress – both pieces would look incredibly elegant worn with some neutral ankle booties or heels. If minimalist dressing is your aim, Julia Jentzsch is there to provide you with everything from andgrogynous blazers to impeccably draped silk dresses.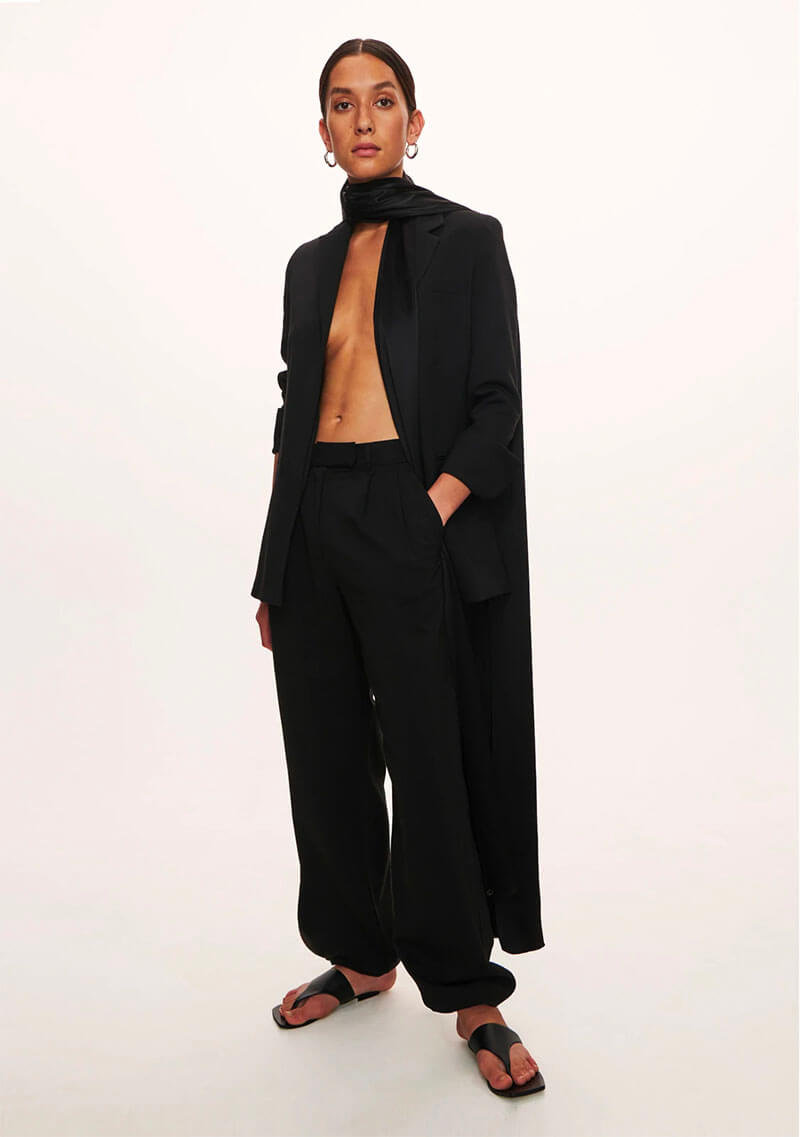 For timeless clothing that can be worn over and over again, you'll want to explore minimalist clothing brand, Esse. This contemporary, ready-to-wear label founded by Charlotte Hicks was literally conceived out of the desire to go back to the basics – or to return to the ESSEnce of dressing. Each piece is beautifully crafted with legs to live on in your wardrobe for many years to come. Key items like the collarless blazer and the utility trousers are tailored to relaxed perfection, making them ideal necessities for work or for play. Additionally, we are a really big fan of their denim offerings. The rigid jeans cater to the loose denim trend but still manage to accentuate your curves in the right places. We promise Esse will quickly become one of your new holy grail brands to achieve the ultimate minimalist style.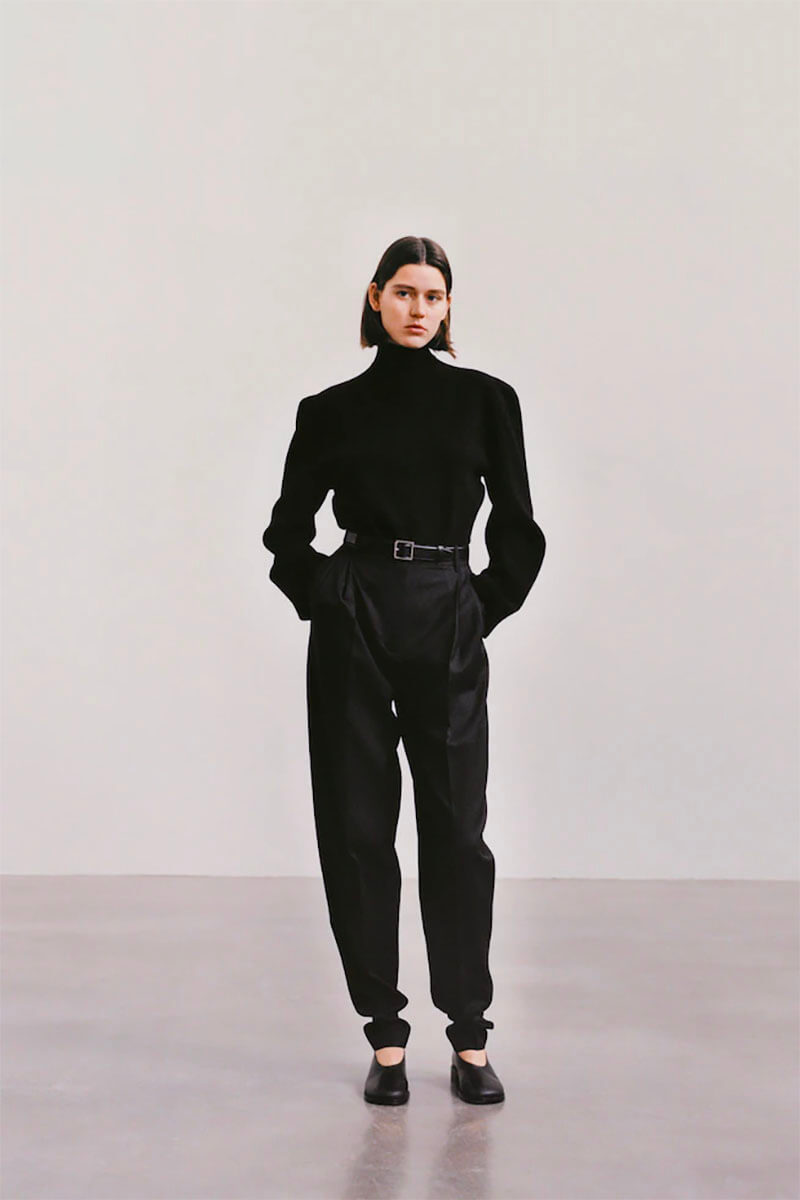 This next brand has paved the way for minimalist clothing. Established by celebrity fashion icons Mary-Kate and Ashley Olsen, The Row has set a foundation for exploring the strength of simplistic shapes and showcasing how even the smallest details can go a long way in making a garment truly spectacular. Known for precise tailoring and relaxed elegance, The Row looks and feels like nothing short of pure luxury. Soft knits, unstructured tops, and slouchy hobo bags are the name of the game with this minimalist label. After so many years of being in the spotlight for their unique approach on style, we are continually impressed with what the Olsen twins and The Row offers and that's precisely why we continue to go back for more.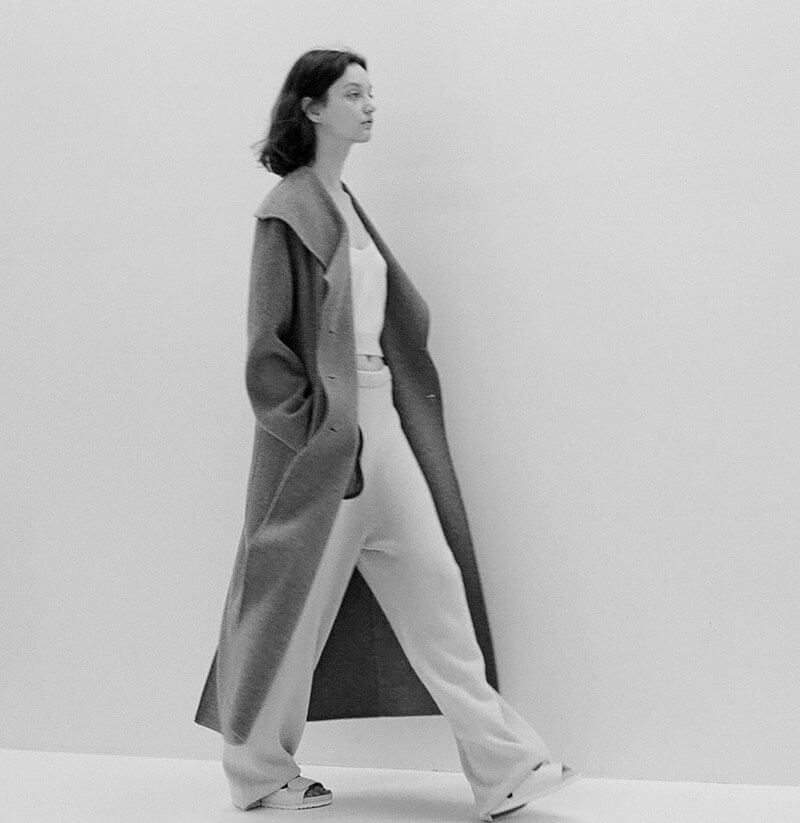 In efforts to bring contemporary Korean fashion to the rest of the world, ARCH THE label aims to deliver clothing collections that celebrate the aesthetics of both Eastern and Western culture. Founded by designer Joo Eunsil, this minimalist clothing brand wants to highlight the power of selecting only the best fabrications. ARCH THE chooses the finest organza, softest cashmere, and pure cotton to weave together stunning wardrobe staples that will certainly complement anyone's already pre-existing wardrobe. You can indulge in billowy button-ups that feel like heaven on the skin or envelope yourself in the cashmere and silk wrap coat as an upscale way to stay warm throughout the upcoming seasons. Either way, this is such an impressionable brand with a novel take on style. Upon wearing any of the pieces, you are sure to receive compliments and inquiries everywhere you go.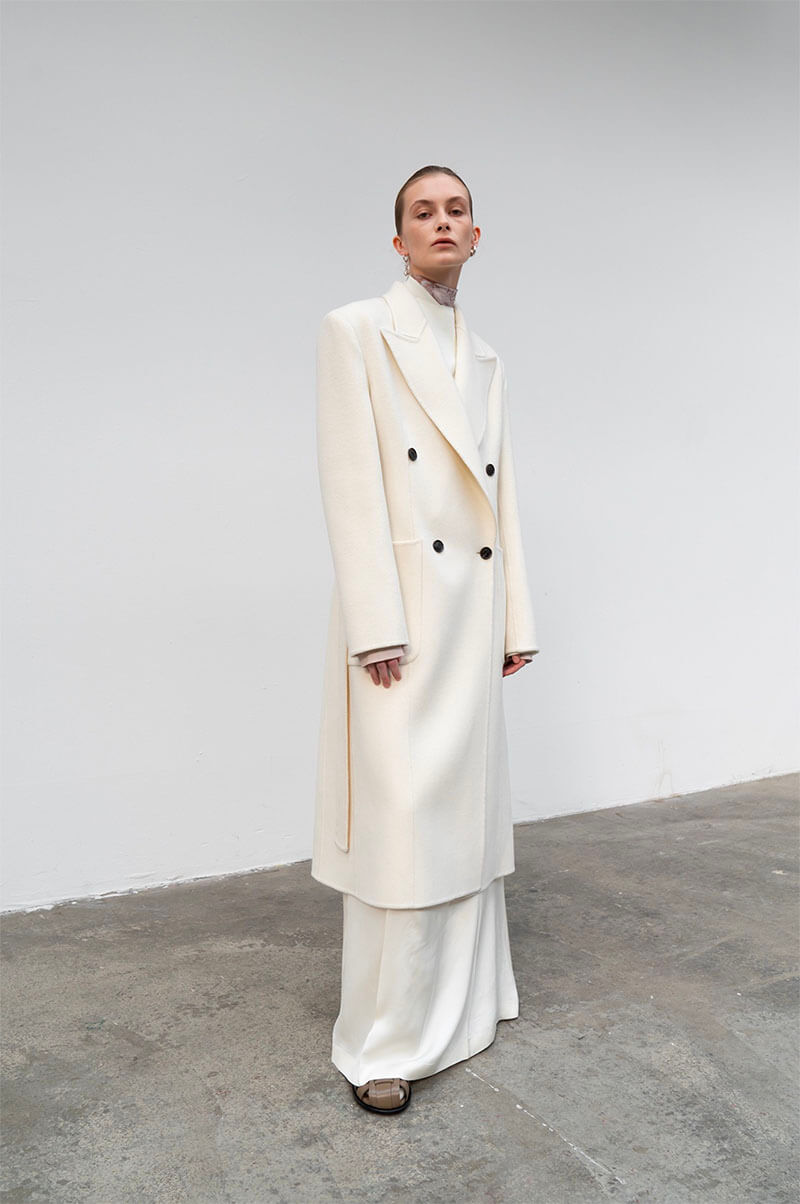 As the brand name suggests, Low Classic is full of classic wardrobe staples that will help you carry out the coveted minimalist style aesthetic. Founded by designer extraordinaire, Myoungsin Lee, the Low Classic collection is incredibly elegant, simple, but most importantly – wearable. Overall, the label focuses on more utilitarian designs in which each top, bottom, and outerwear piece is equal parts chic and practical. We look to Low Classic as a means for fulfilling our perpetual need for elegant wardrobe basics such as the belted faux-leather trench coat or even ultra-modern accessories, like the recycled leather flow bag. As you can see, minimal style enthusiasts most certainly need to keep Low Classic on their radar for all future shopping endeavors.

If you are looking for unique, standout minimal outfits that are off the beaten path, Amomento is 100% worth checking out. This label is on the more affordable end but the sheer innovation and design continually surprises us with each collection that comes out. Designer, Lee Mee-Kung, looks to modern elements and design for inspiration and this is certainly evident in carefully crafted pieces like the culotte trousers or even accessories – like the padded flip flops. Amomento is not only a stunning clothing label, but also a subtle life reminder that the clothing we choose on a daily basis should always be a reflection of our true style and not just what happens to be trending at the moment. Amomento urges us to keep in mind that we do not remember days, we remember moments so let's do all we can to make it count.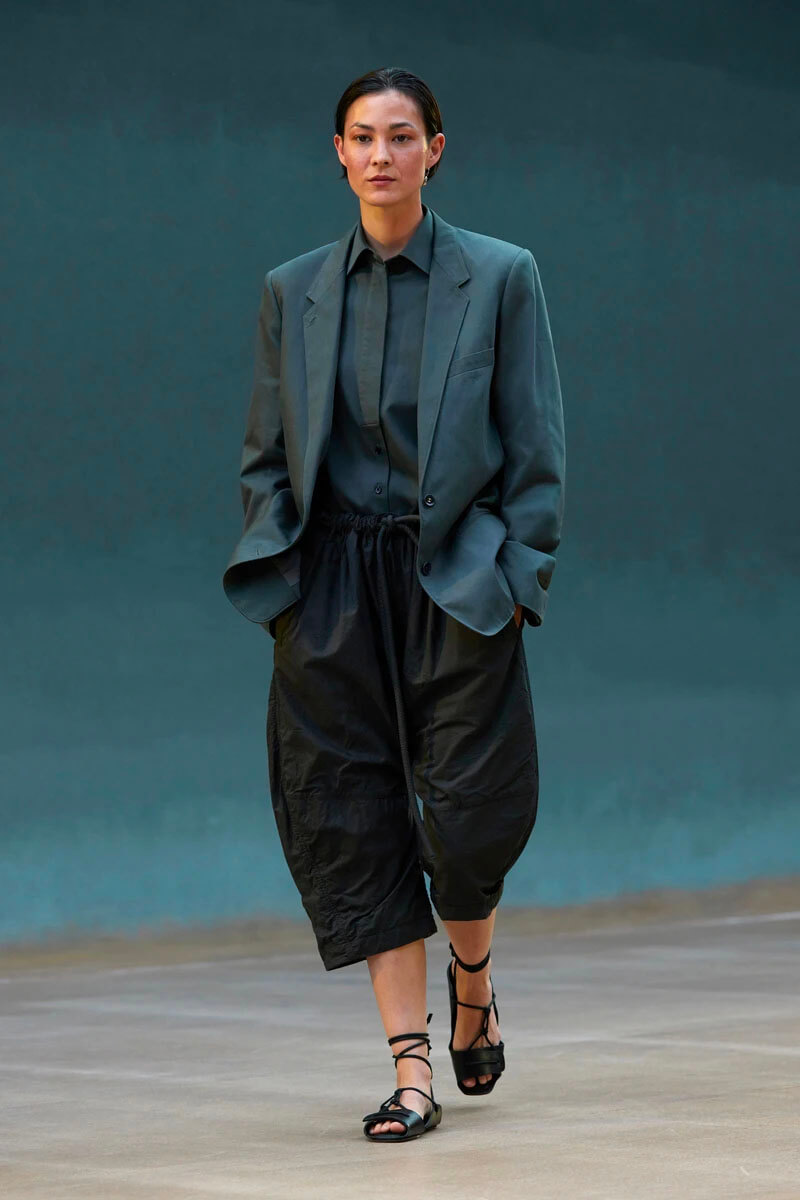 Parisian chic, neutral, and sophisticated are the three adjectives we would use to describe the minimalist clothing brand, Lemaire. Prevailed by the textile geniuses, Christophe Lemaire and Sarah-Linh Tran, this label encompasses timeless Parisian style that has clearly been refined over and over again to celebrate the simplicity and beauty of minimal dressing. They have a particular speciality in contemporary workwear for the modern woman. For instance, the Lemaire twist shirt is the loveliest rendition of the classic button-up that could be styled in a multitude of different ways. Or treat yourself to any of the high-waisted trousers or blazers if you need to revamp your office attire. We promise Lemaire will not disappoint as they aim to deliver nothing but superior quality and design. You will feel as chic as the women who confidently walk the streets of Paris in no time.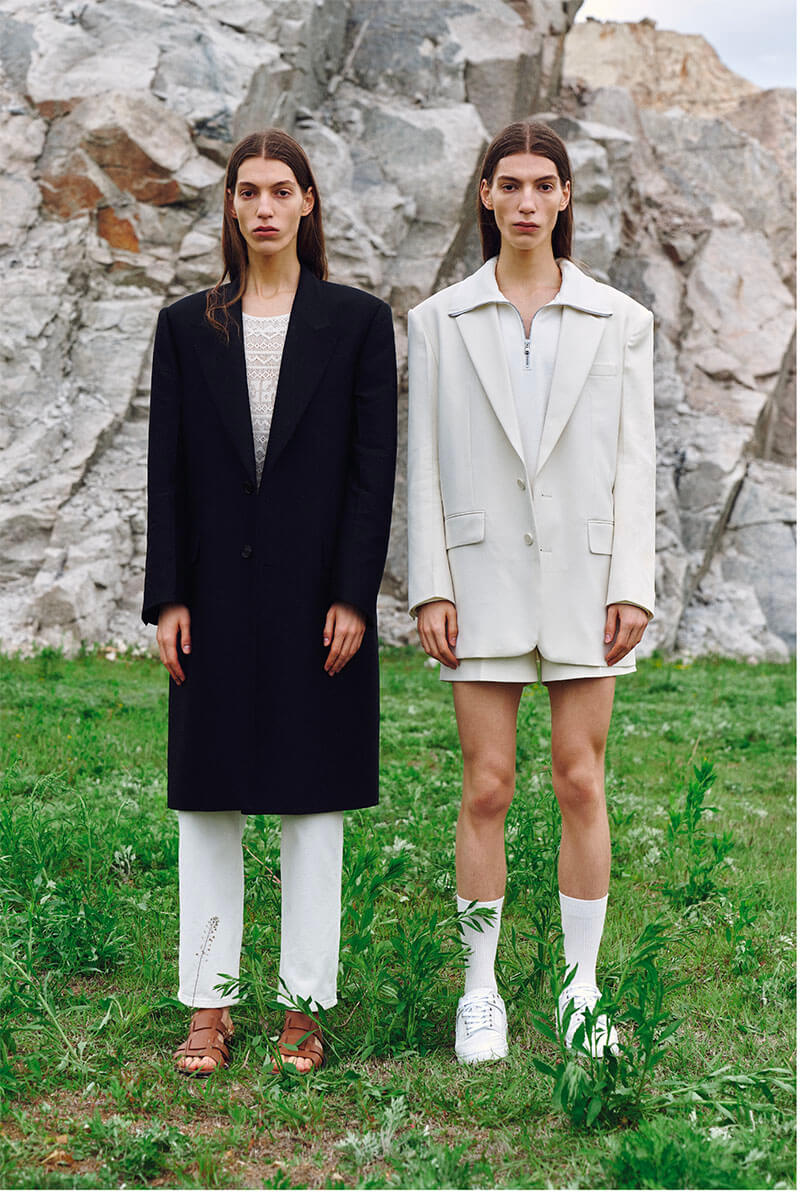 Next, we bring to you another powerhouse of a Korean brand, System. This label is very much influenced by the wide range of modern day streetwear that can be seen all throughout the busy streets of Seoul. After all, South Korea continues to be an emerging fashion capital that other brands look to for prevailing inspiration. The brand, System, is a healthy mix of androgyny and femininity, appealing to those who lean towards minimal chic style in their everyday uniform. We also love the carefully selected details added to the collection to really make their minimal clothing stand out from others on the market. You can incorporate items like the cutout sweater and asymmetrical pleated skirt as sophisticated updates to your basic wardrobe staples. We have no doubt System will quickly become one of your favorite fashion brands in no time.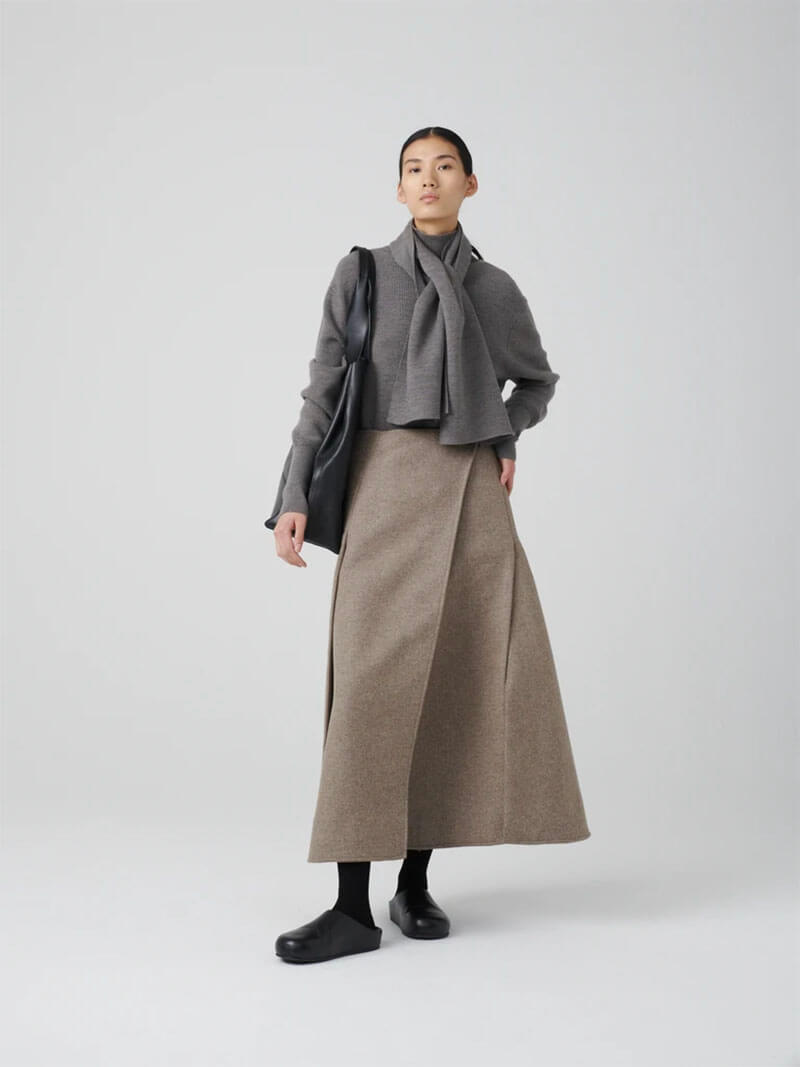 The eponymous label, Studio Nicholson, takes soft tailoring to a whole other level. Founder, Nick Wakeman, was a Textile Design graduate and has years of clothing design experience under her belt. She utilized her acquired skills to forge the most beautiful clothing with minimalist fashion enthusiasts always in mind. Studio Nicholson draws a lot of its inspiration from the clean lines and streamlined aesthetic present in both traditional and modern Japanese style and architecture. This is the perfect grounds to form a modular wardrobe with the most effective, yet simplistic designs. You will surely fall in love with all the pieces as you can easily mix-and-match button-ups, sweaters, and trousers with one another to create the foundation for the supreme minimalist wardrobe. Studio Nicholson is engineered to last, so you can rest easy knowing your hard earned money will be going towards high-quality minimalist clothing.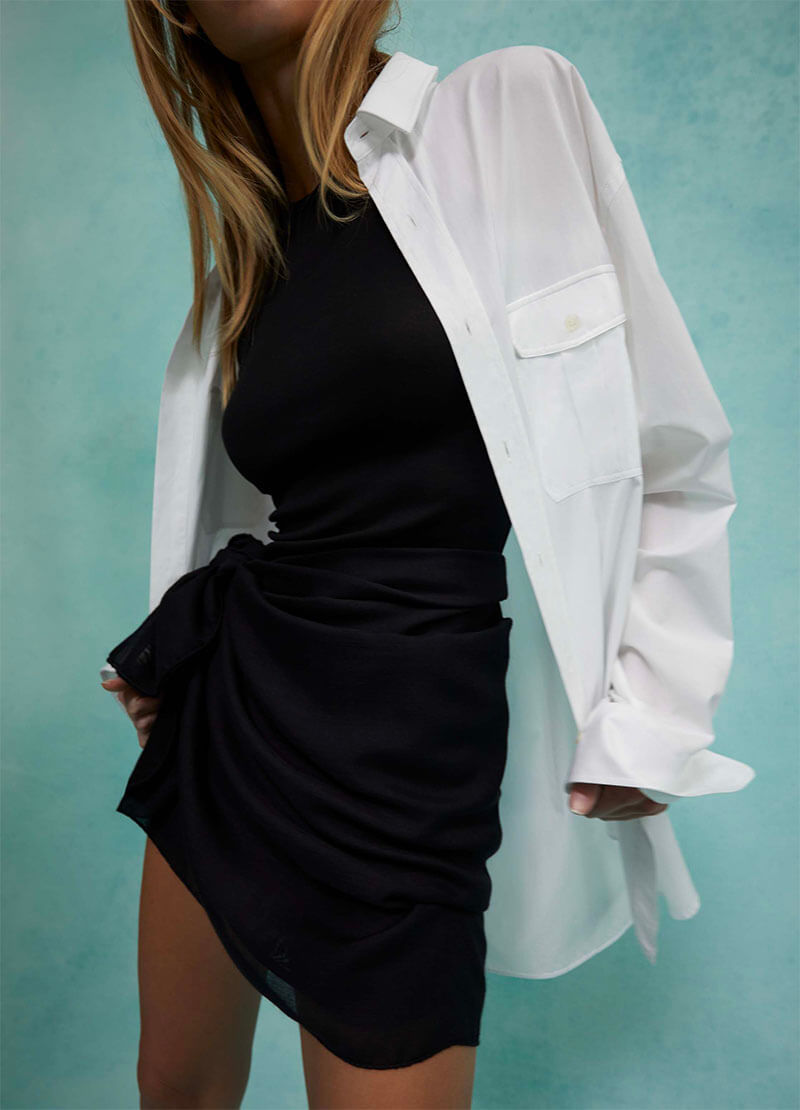 If you enjoy the concept of forming a semi-capsule wardrobe but want to expand beyond just oversized pieces, Wardrobe NYC might just be your newest brand obsession. Very much designed for the modern girl living her best life in the Big Apple, Wardrobe NYC shares the qualities of any other top minimal clothing brand but with a slightly more feminine twist. The collection features streamlined cuts that could easily be transitioned from day to night with the swap of a few accessories. With Wardrobe NYC, you can also bring to life the effortless off-duty-model aesthetic that's so coveted yet elusive thanks to their superior quality tank tops, sweatpants, dresses and more. This brand is delectably elevated and produced in limited quantities, making it a newfound staple for those who love to invest in clothing that will stand the test of time.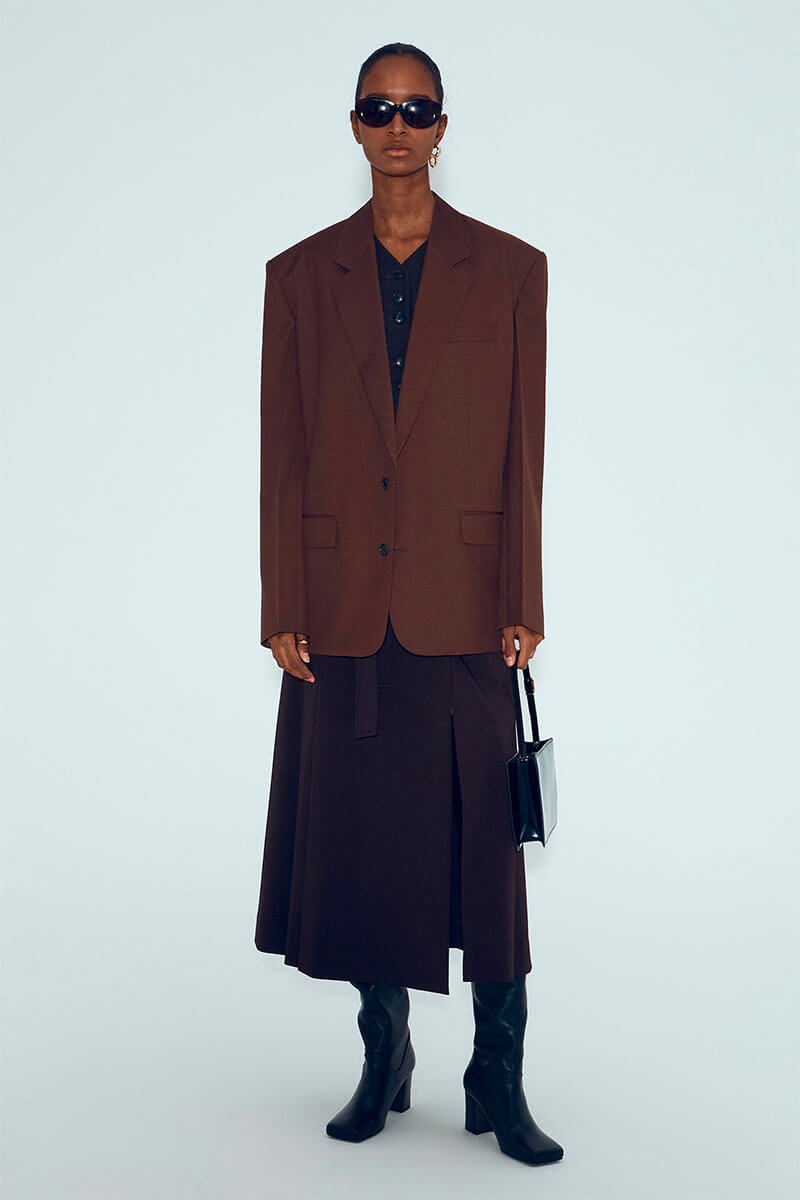 This next minimal clothing brand blurs the line between men and womenswear, providing the modern, contemporary vibe we consistently seek out when it comes to nailing down minimalist style. This leading-edge clothing label was founded by award-winning designer, Ji Yeon Jung, who chose the name, Recto, because it refers to the front sheet of paper in French, thus marking the inception of Recto's story. We love this brand because they consistently deliver a balance of sleek style with a touch of unexpected playfulness. The unique silhouettes amongst their clothing is also reflected in the accessories like the Bianca shoulder bag or the organically shaped leather drop earrings. If you happen to enjoy luxe, minimalist and conversation-inducing pieces that accent your daily looks, we highly recommend shopping Recto.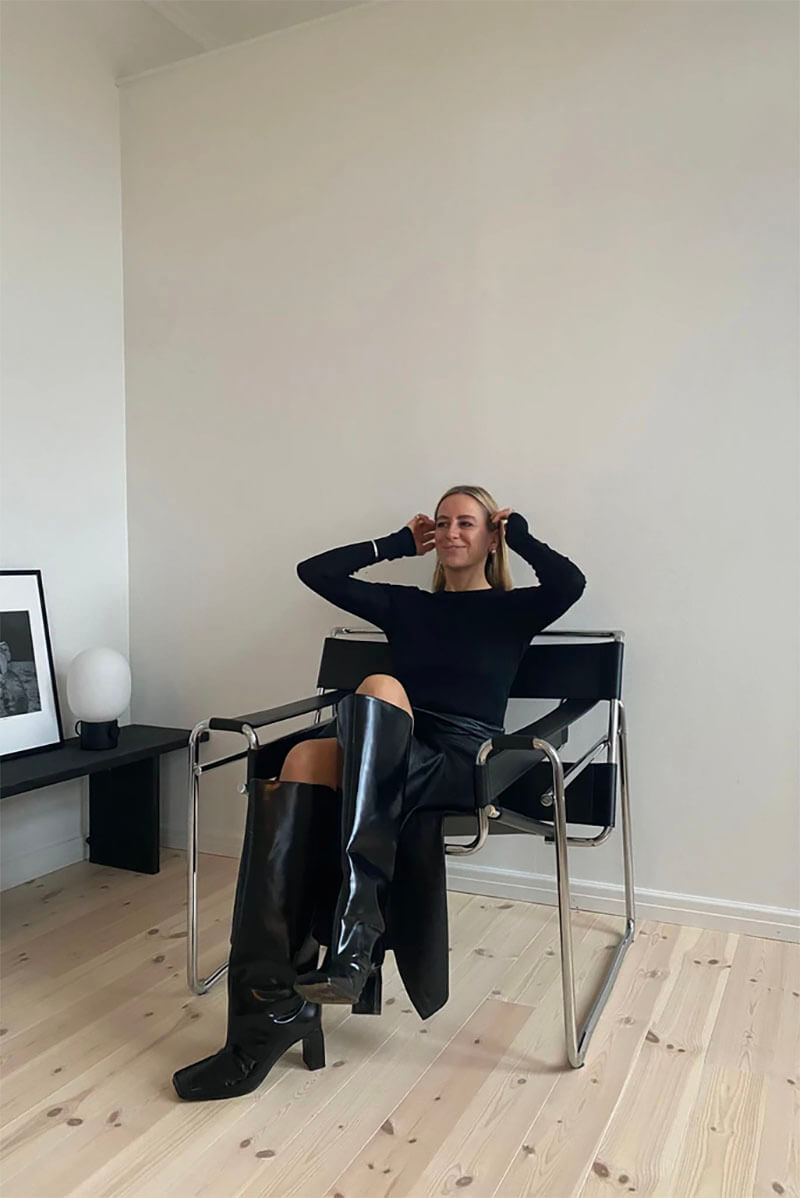 Hailing from Oslo, Norway, we predict Envelope1976 will be the new "It" label for those seeking a modern offering of clothing with a strong sustainable foundation. The focus of this brand isn't to just cater to the fashionable woman but to defy the normal fast-consumption approach of the world today. Envelope1976 cares deeply about their choice of materials, longevity, and industry ethics. Thus, each piece is timeless yet full of contemporary details that really make the clothing inimitable and incredibly desirable. In fact, this brand considers themselves to be seasonless because they believe you don't need to cater to every trend in order to be iconic or statement-making. Envelope1976 has a wide breadth of structured blazers, soft knits, and elegant evening dresses to round out your minimalist wardrobe needs.
A narrowed down clothing collection is truly admirable and desirable in this day in age where trends can be quite fleeting. Taking a little extra time to contemplate what you purchase will go a long way in creating a more concise wardrobe that isn't just easier on the environment – but can get you dressed in seconds flat. These 12 minimalist clothing labels will help you do just that while propelling you on your journey to forming an intentional, high-quality closet. Though these minimalist fashion brands are not as hyped up as others, don't be mistaken – the collections are full of cool and creative pieces that are anything but standard.
(Visited 1 times, 1 visits today)