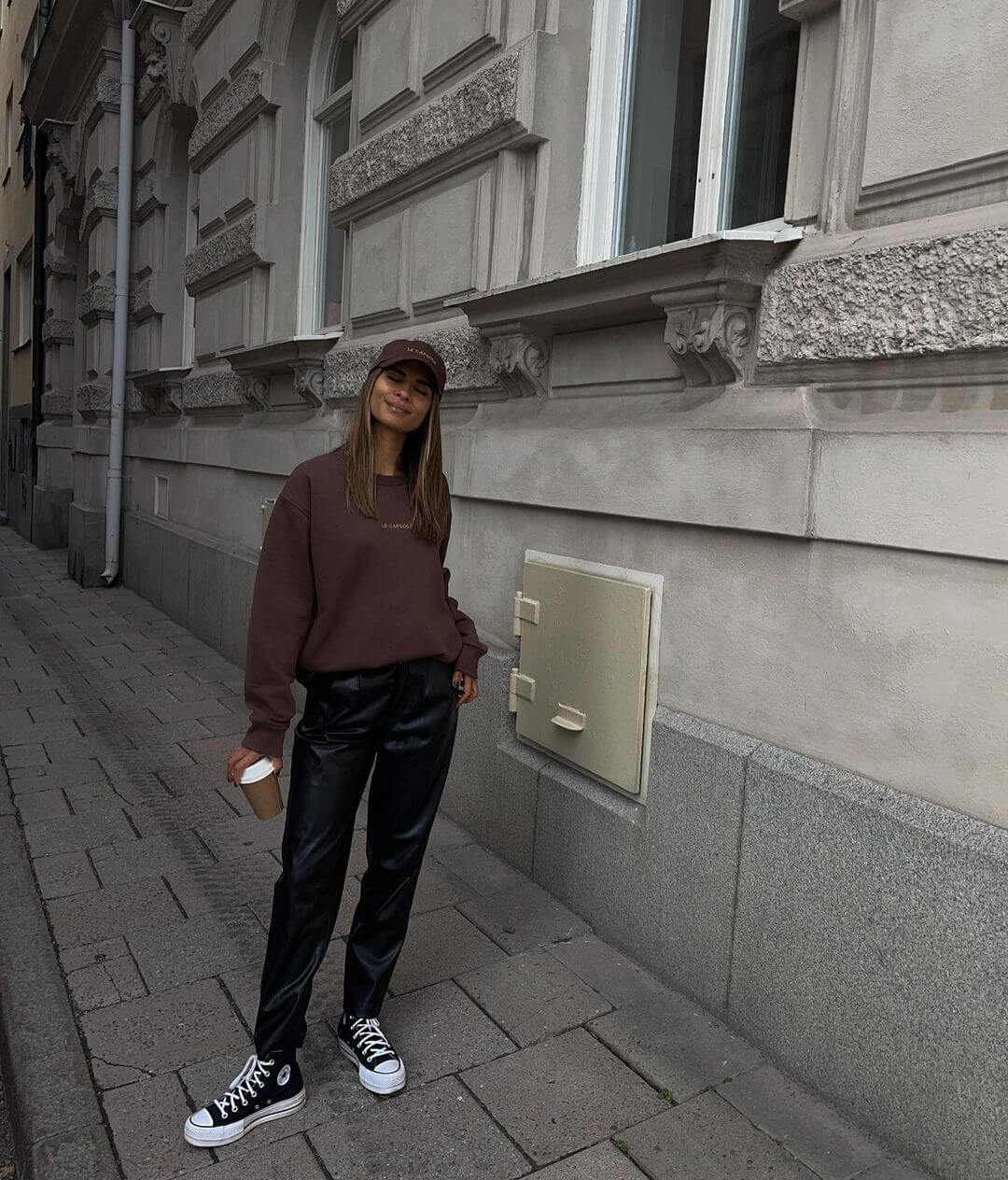 Photo via @emitaz
The holiday season is no doubt a special one filled with one-of-a-kind celebrations, shopping for best gifts and feasting in indulgent dinners. With it also comes the stress of picking the perfect outfit for countless events. There tends to be a huge focus on all the chic party dresses and festive wear for fancy evenings – but, what about the casual outfits in between? We're talking low key Friendsgiving dinners, family reunions at home and cozy date nights in that don't require dressing to the nines. That's where casual holiday outfits with a festive twist come into play. Whether you're into simple basics, loungewear or cool prints, here are 10 looks full of comfort and high spirits.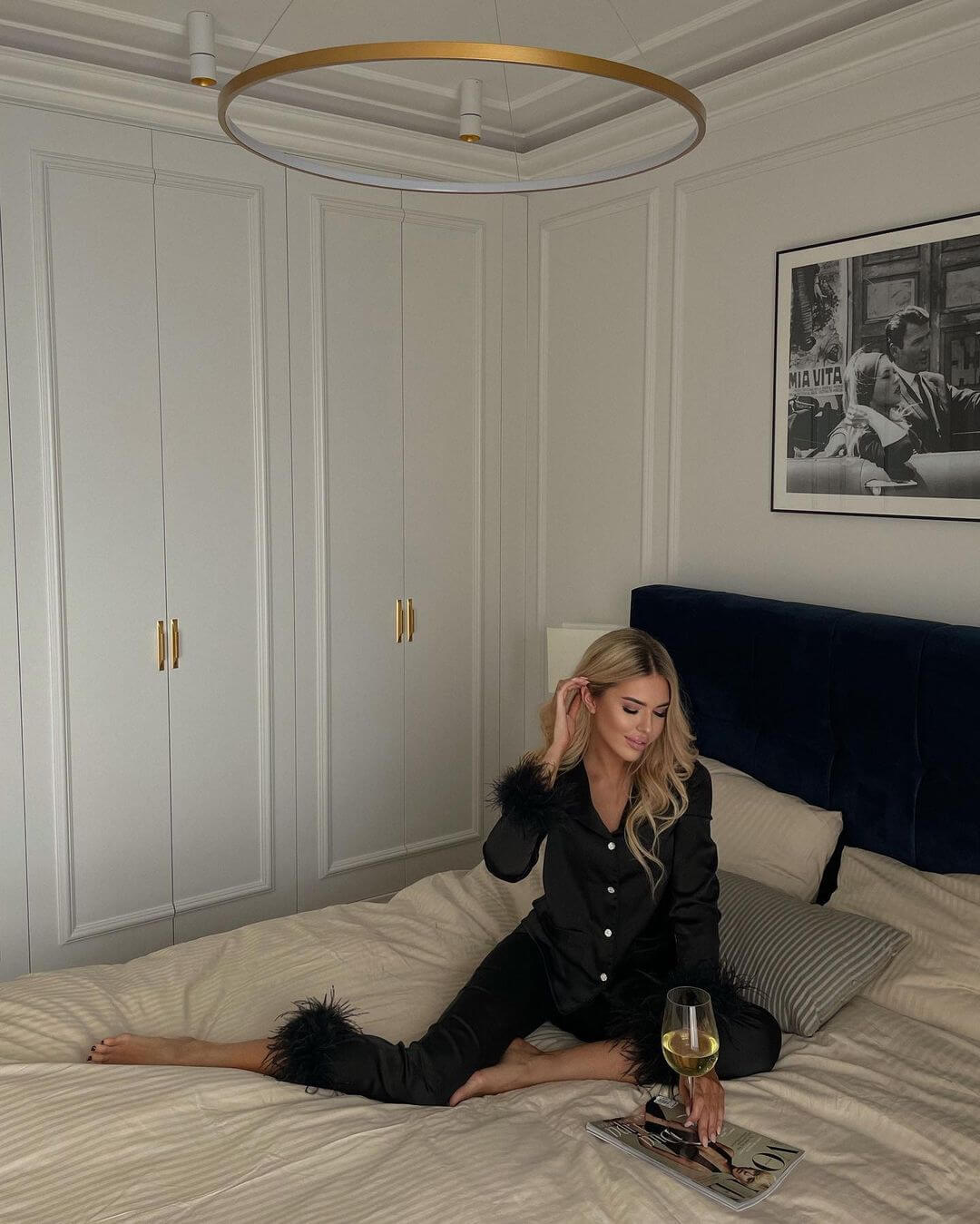 Photo via @lilysloanes
1) Netflix & Chill
First, let's tackle one of our favorite pastimes during the holidays. Getting snug and watching Christmas movies with your significant other or family. Although you are staying indoors and not going out, it always feels nice to go the extra mile and still look cute for your date at home. This is where chic pajamas change the game. We love Lily's silk PJ set and the feather trim really gives it that extra touch of glam for a chill Christmas or Thanksgiving and beyond!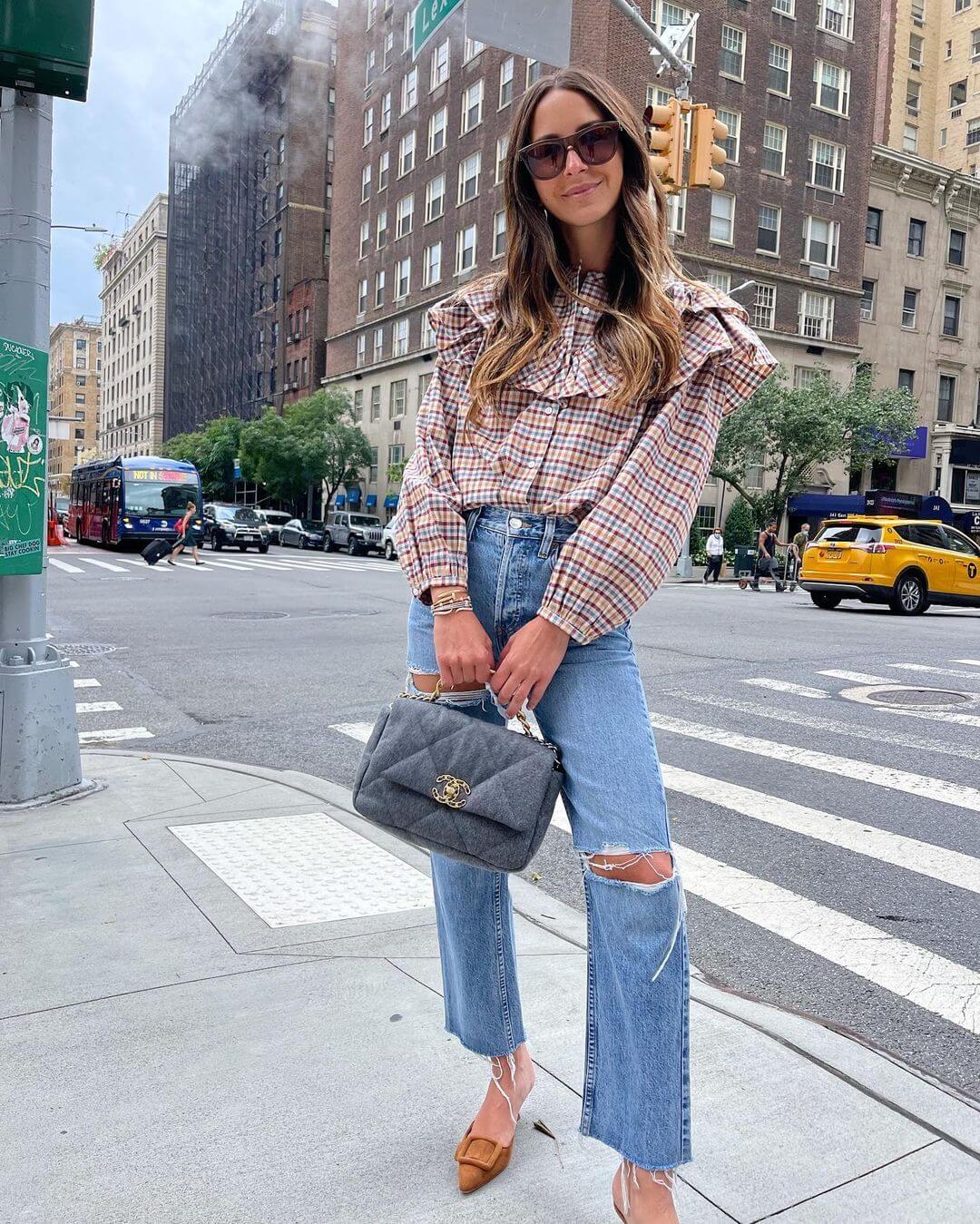 Photo via @ariellecharnas
2) Dressed Up Denim
Hands down, denim is the ultimate casual outfit piece as it can mold to any sort of occasion or event. For a quick and easy casual holiday outfit, simply pair your favorite jeans with a plaid blouse to dress it up. Arielle's ruffle shirt looks incredibly chic when tucked into her light wash jeans. This combo is an effortlessly chic mashup to try for your next get together!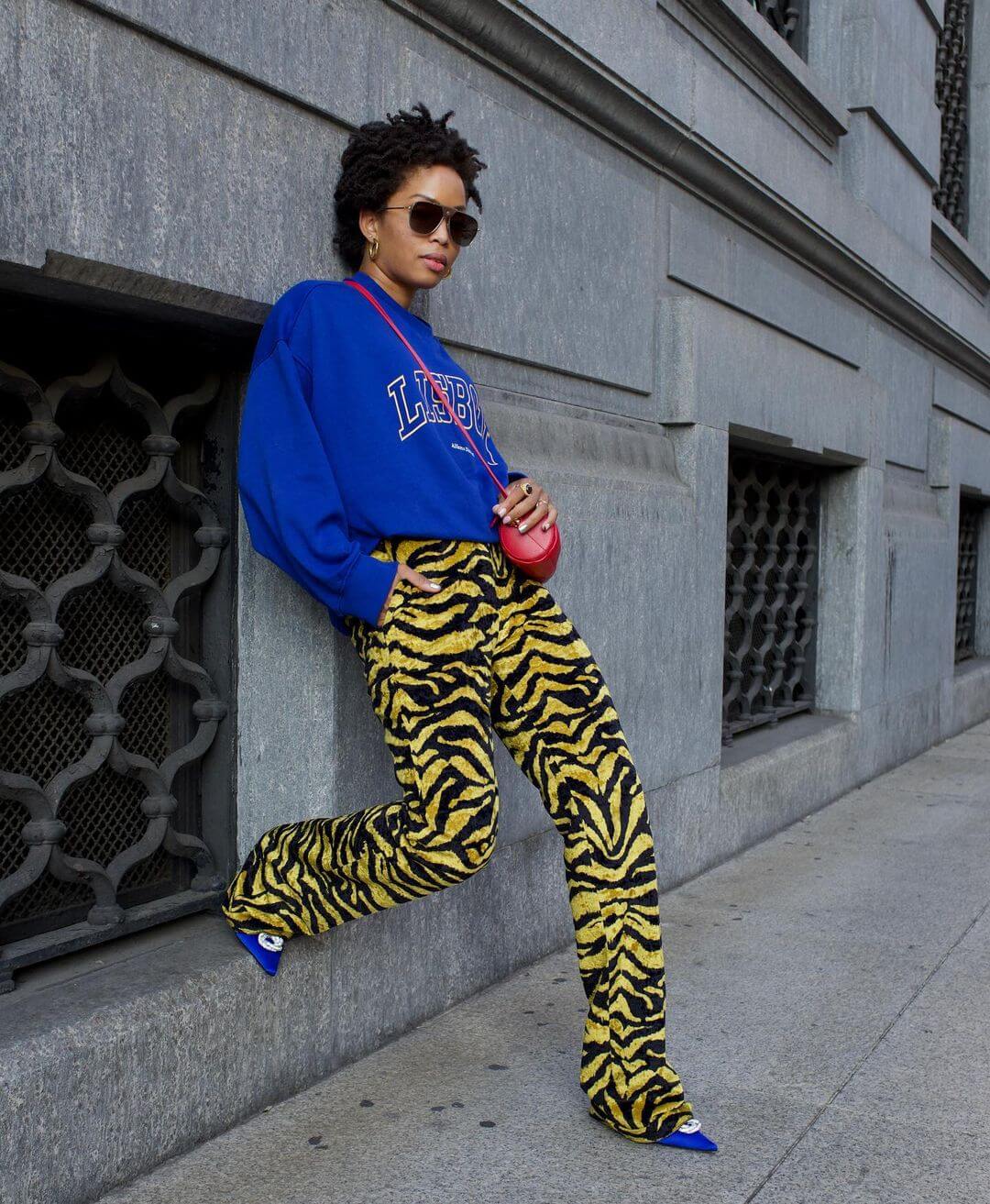 Photo via @slipintostyle
3) Party Pants
How to wear your go-to sweatshirt to your next social gathering? Simple. Pair it with some bold printed pants and revamp the vibe altogether. Ellie styled these gorgeous zebra bottoms with a punchy blue top and matching heels to create this fun, party-ready look that isn't just fitting for the holiday season but exudes casual, care-free vibes.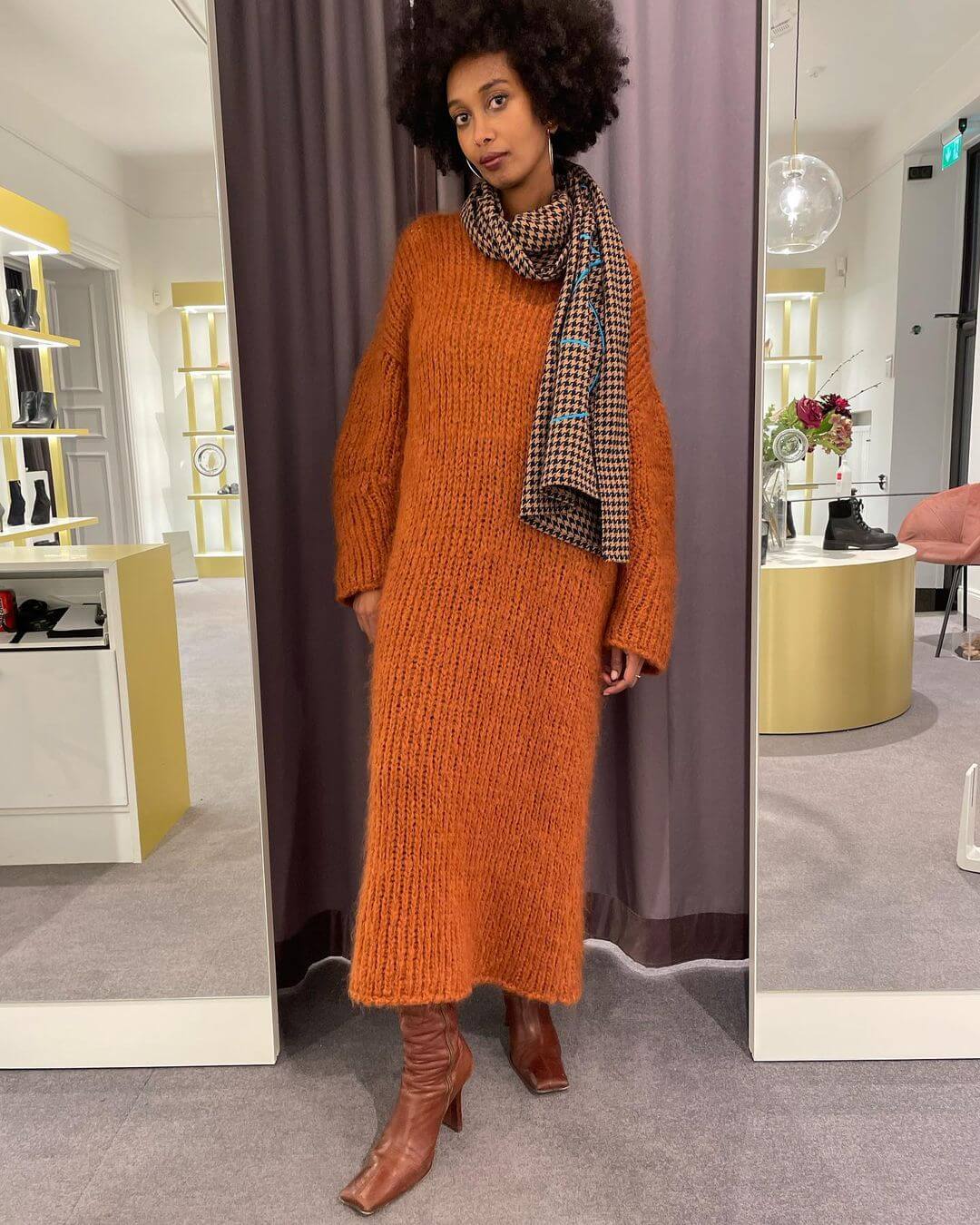 Photo via @monamali_
4) Close Knit
There is nothing better than wearing a soft, warm sweater during the colder months. In the case of holiday gatherings, sweater dresses are your solution to staying comfy but stylish at home. The best part being that it feels put together but not over the top while allowing for an extra serving of delish holiday food. Just pair it with some square toe boots and a plaid scarf to complete the outfit!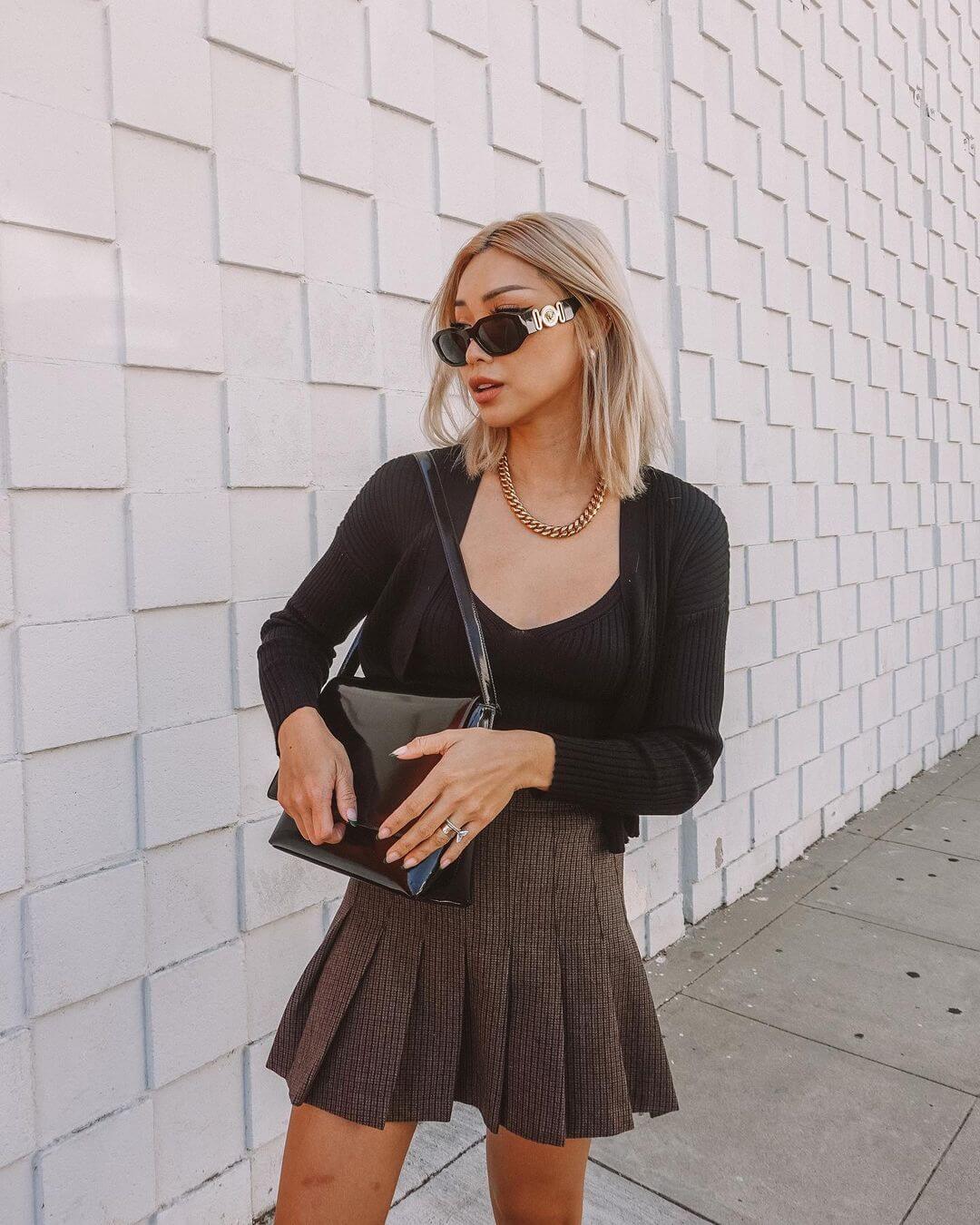 Photo via @francislola
5) Pleats to Meet You
Take the casual holiday outfits up a notch by looking pretty in pleats. The school-girl inspired mini skirt quickly becomes the focal point. Fortunately, you can keep it clean and modern by opting for a cropped sweater or cardigan set as Francis did. We love her forward styling approach with the chunky loafers but these could be exchanged for knee-high boots if the winter is harsher where you're situated.

Photo via @greceghanem
6) Statement Coat
There is no easier way to jazz up a casual holiday outfit than throwing on a statement outer layer. Note how Grace's unassuming white tee and wide leg jeans feel instantly fresh with the hot pink coat, matching handbag, and equally bold hooves. Be sure to utilize this simple party trick when you're stumped on what to wear over the holidays.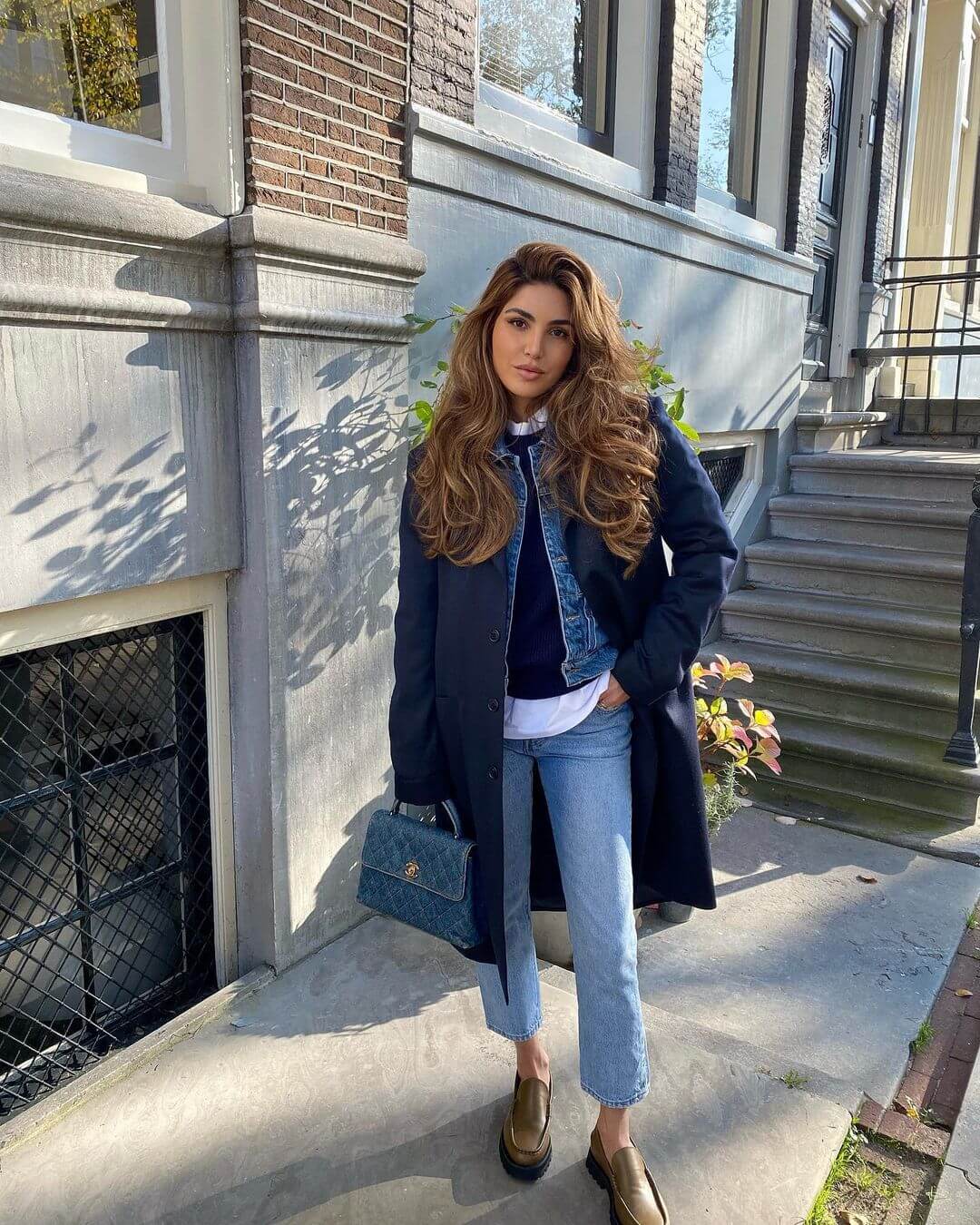 Photo via @negin_mirsalehi
7) Collegiate Clean
A masterfully layered outfit will never disappoint over a casual holiday function. Consider this look when you're going from desk to drinks or party to business meeting. Start off your base with a collared shirt followed by a pullover sweater and denim jacket. Finally, stack a peacoat on top to stay warm and stylish! The look doesn't stop there though – you can always add trendier accessories to further shake things up. Negin pulls it off with preppy loafers and a top handle bag.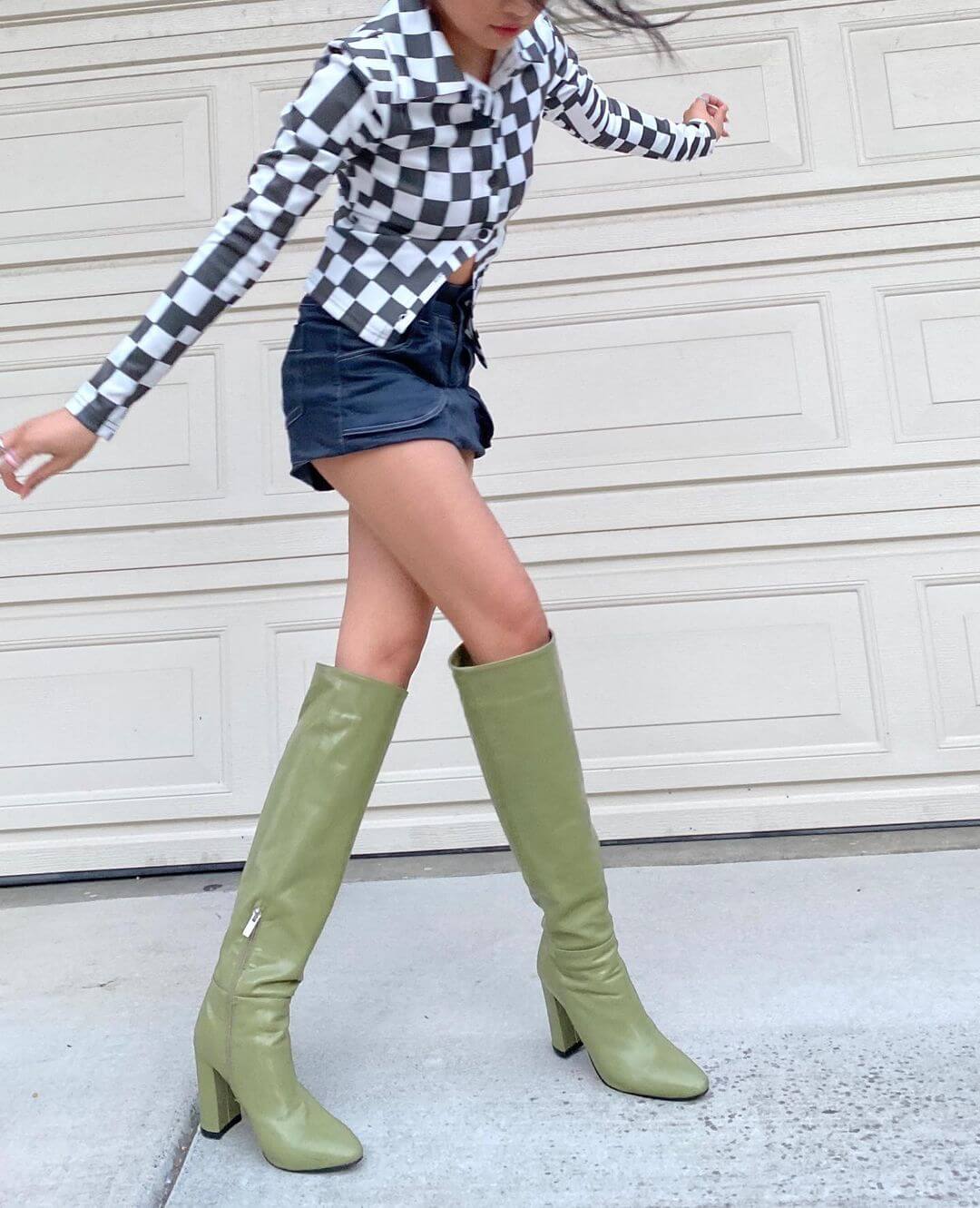 Photo via @pameluft
8) Check Mate
If you're feeling the need to get a little dressed up but don't want to feel overly done, then we recommend slipping into a black washed denim mini skirt. Bring on the fun with a checkerboard top or sweater, then finish it off with tall boots in the It color of the season (green). The unexpected get-up is so simple yet visually appealing. Plus, it brings on all the festive vibes.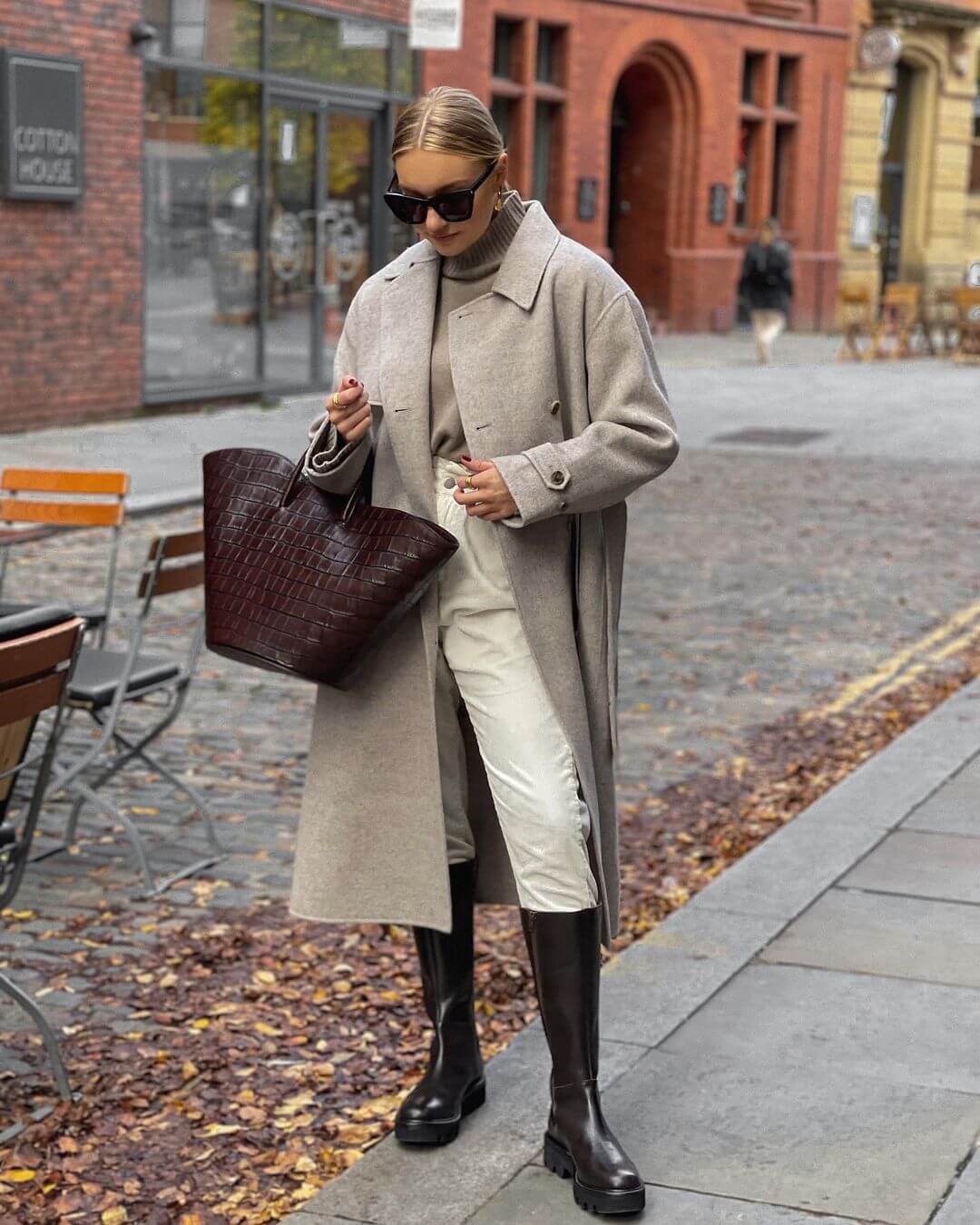 Photo via @lydiajanetomlinson
9) Ride or Die
It is all about the boots come the fall and winter season and we specifically wanted to highlight chunky riding boots. These structured beauties are the perfect accompaniment to all your upcoming holiday soirees. They elevate even the most minimal of outfits such as this neutral sweater and jean pairing.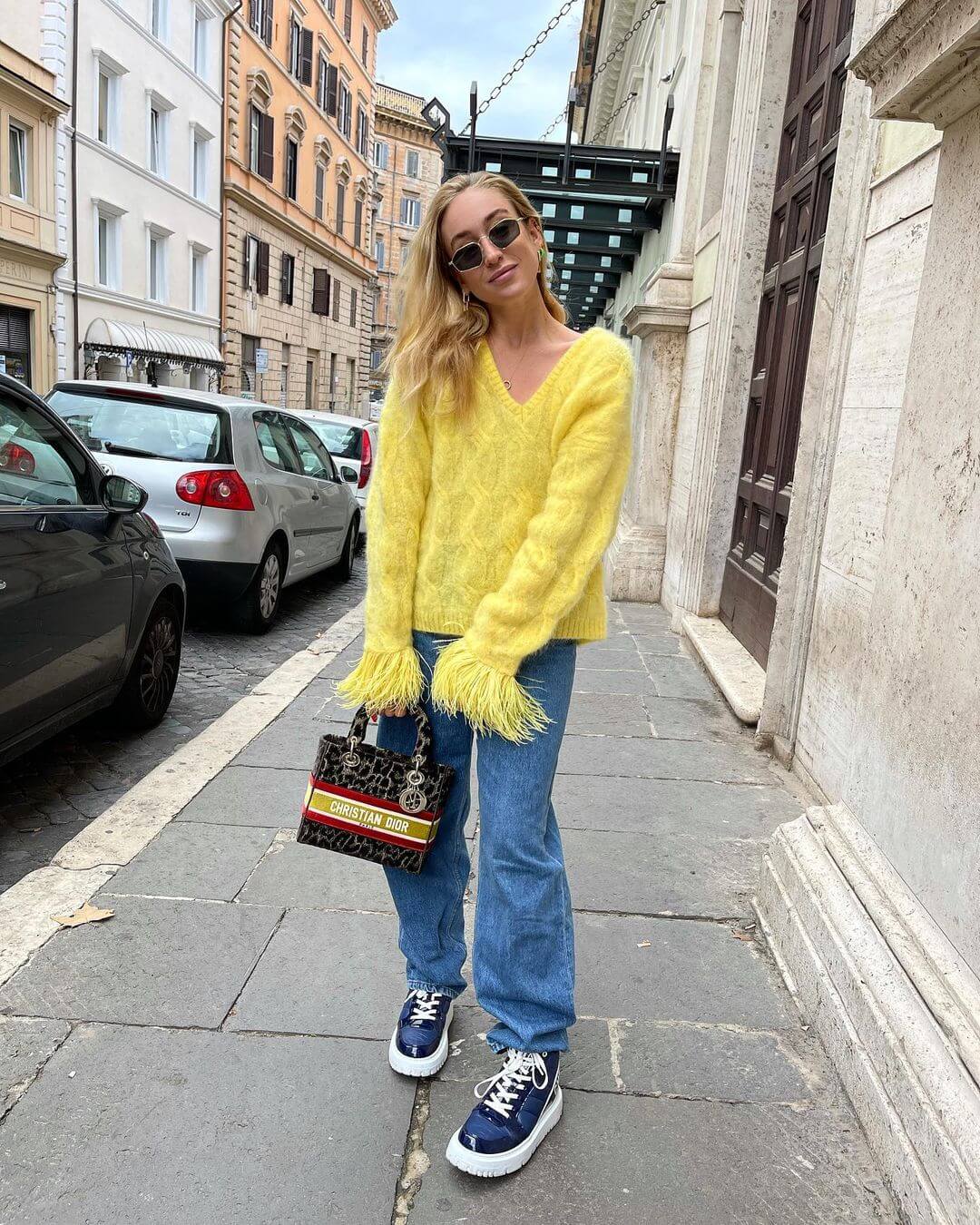 Photo via @sonialyson
10) Festive Knitwear
Of course, you can always tap into the ugly holiday knitwear theme for a photo-worthy yet comfortable look. We love this influencer's trendsetting take on it with an oversized, fringe-adorned sweater. The addition of lug-sole sneakers, baggy jeans and a printed tote bag channel the same energy as a frilly holiday look.

These 10 casual holiday outfits are proof that festive clothing doesn't have to be all glitz and glamour. In fact, you can celebrate in style with everyday pieces mixed with top notch accessories and lively accents – even if you're headed to your kitchen. A statement sweater, exquisite pajama or groovy print will do just the trick as seen above.
(Visited 1 times, 11 visits today)