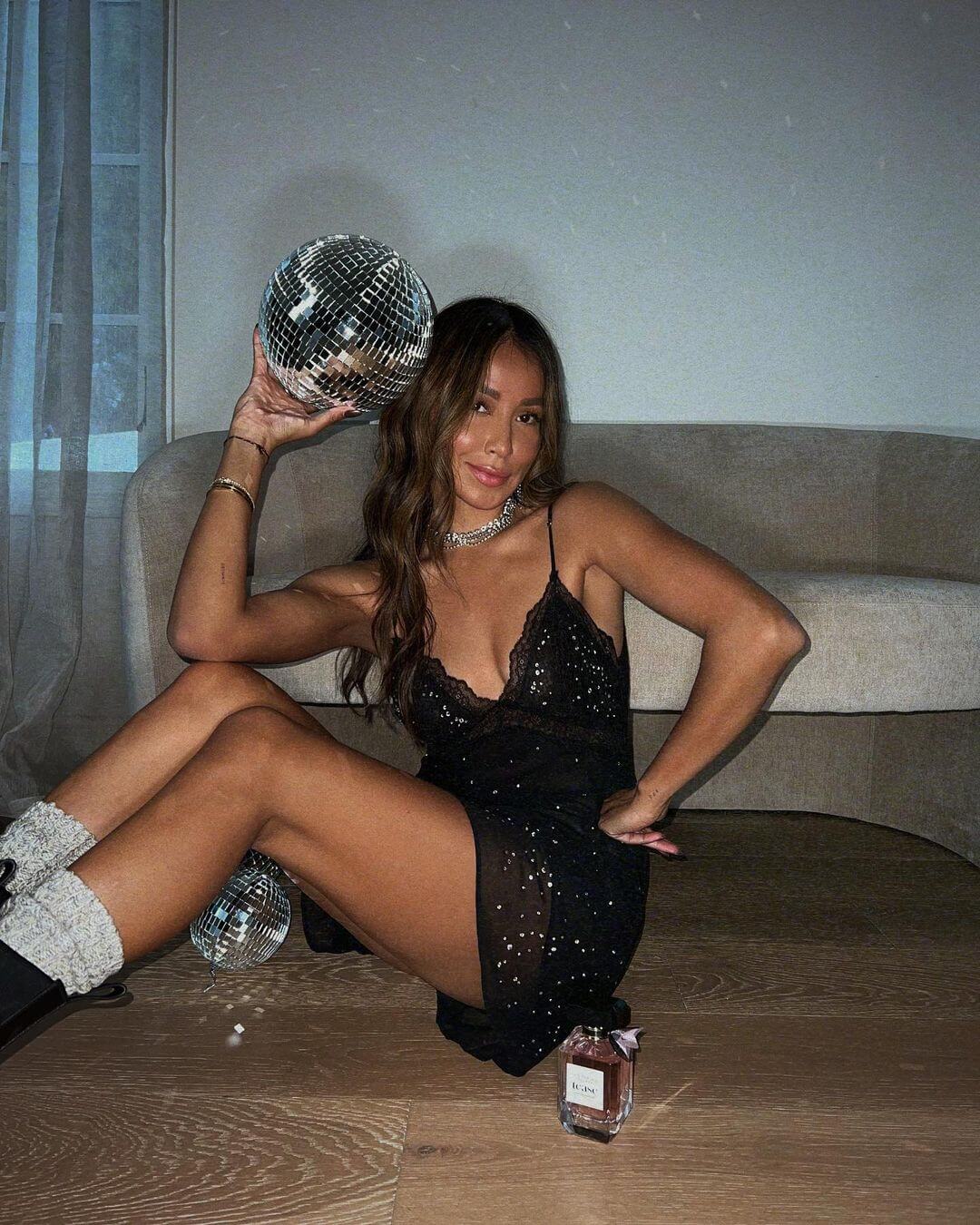 Photo via @sincerelyjules
With just a week left until the last day of 2021, we hope that you have your plans set and your outfit picked out! If you find yourself panicking at the thought of the latter, there is no need to worry. We know there may have been some last minute plans that cropped up – or maybe you've been so swamped with frenzy of the holiday season that you haven't had a chance to look for outfits. Regardless, we took it upon ourselves to provide you with this edit of the best New Year's Eve dresses. With New Year's Eve being such a momentous occasion, it's really the only time of the year that you can go all out in sequins, metallic, velvet, rhinestones or a combination of them all. It's symbolic as we say hello to a fresh new year and is also a grand excuse to have an eventful time with friends and loved ones. Whether you'll be celebrating at galas and balls or at a rooftop bar, the New Year's Eve dresses below will have you covered for anything that comes your way.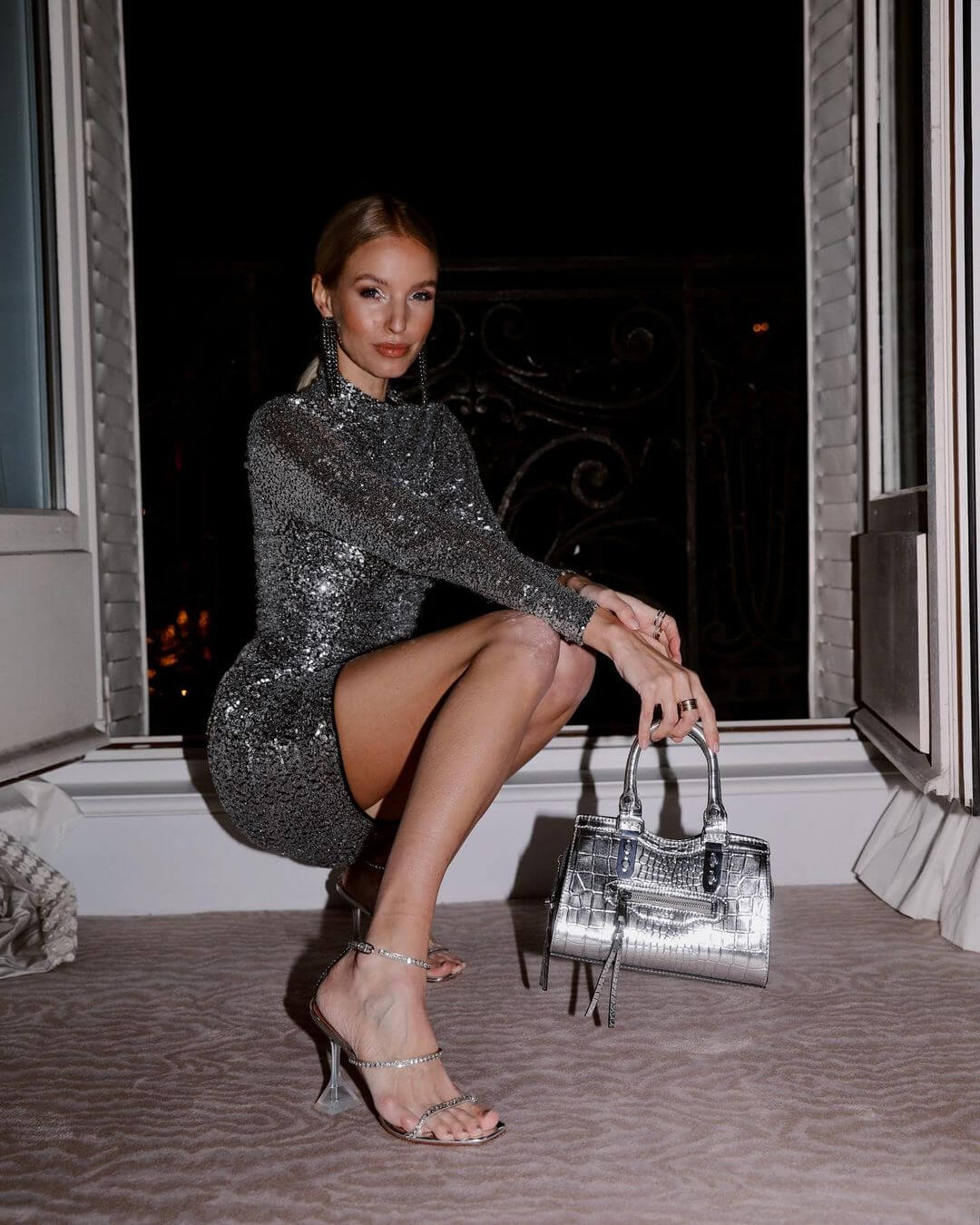 Photo via @leoniehanne
1) Sequin Overload
We're kicking things off with the archetype of all New Year's Eve looks – sequins. In this case, the more sequins per square footage, the better! This fully embellished sequin mini dress happens to scream life of the party and we love how Leonie does not stop there. She fully embraces the shine by adding everything from silver rhinestone-encrusted heels to a metallic handbag and even sparkly eye makeup.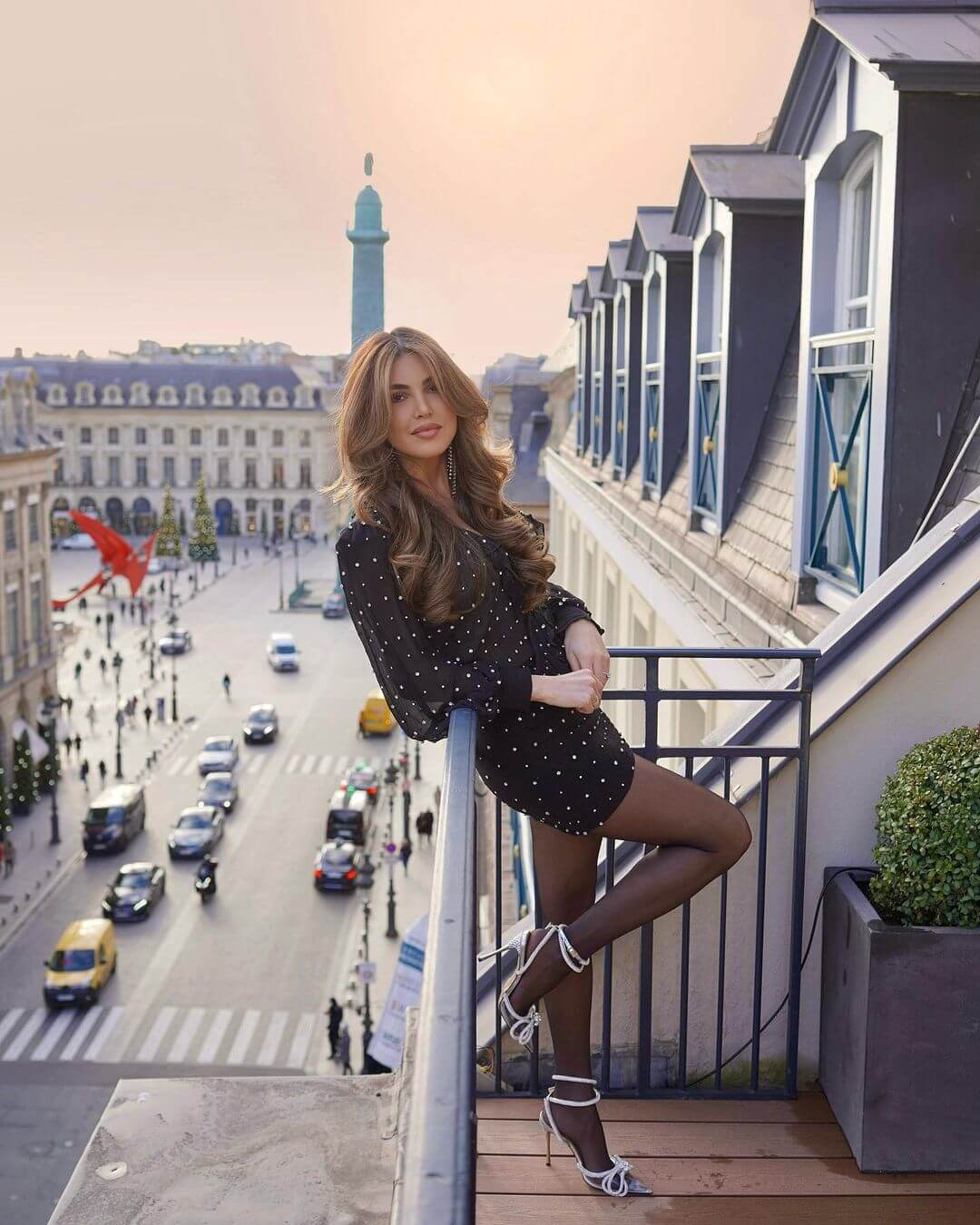 Photo via @negin_mirsalehi
2) A Bit Embellished
If you want to branch out from dripping in sequins, tone it down by swapping the high-shine look for a few embellishments of beads, pearls, or rhinestones. It still manages to give you that sparkle for your special night out. Want to go a step further? Accent the look with metallic accoutrements like jewel-encrusted heels and twinkling jewelry.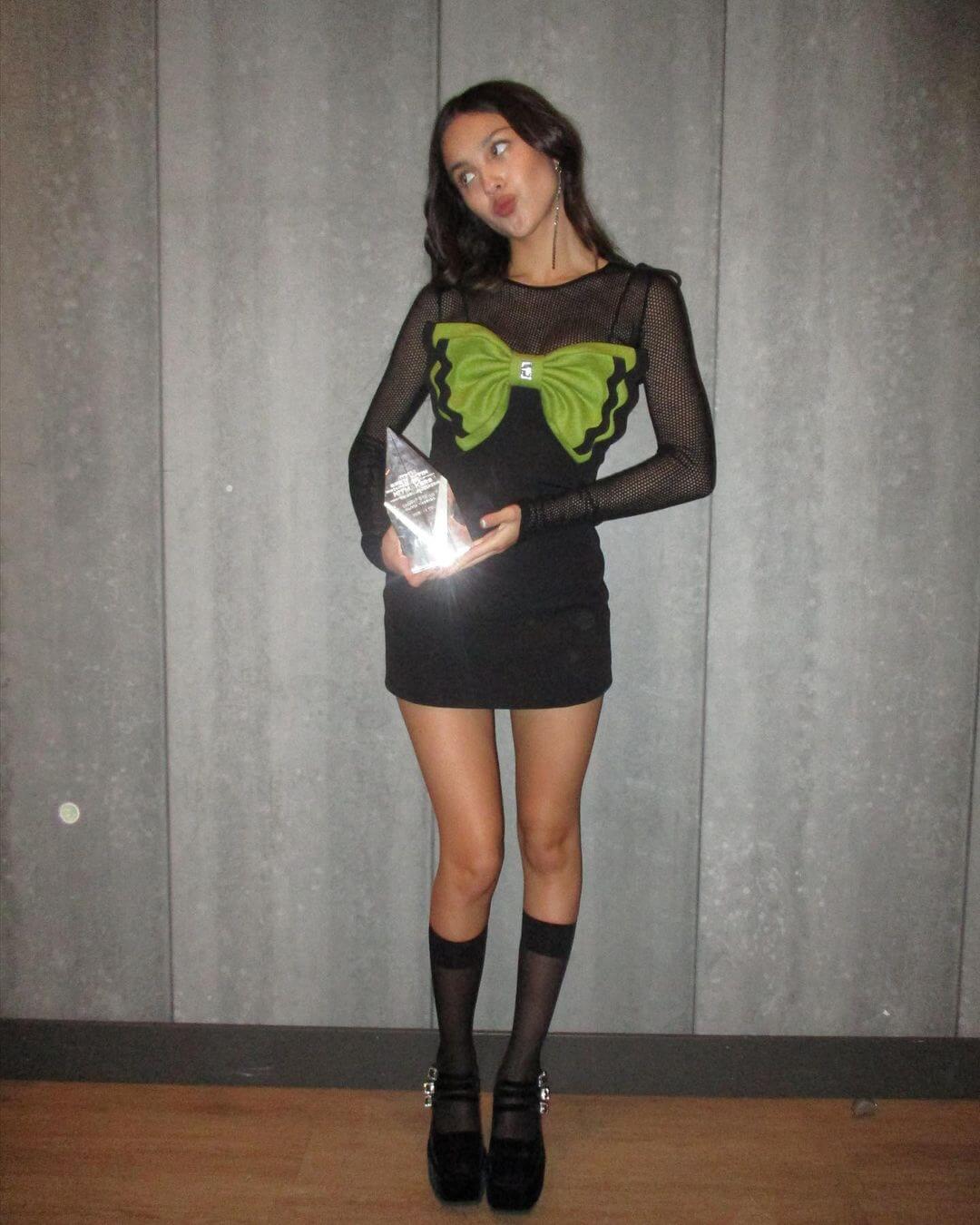 Photo via @oliviarodrigo
3) Take a Bow
One micro trend that very much has the legs to become a full blown fashion craze is the bow. Depending on the style, added bows can be feminine and girly or edgy and nostalgic. But no matter your take, one thing is certain: a bow-detailed dress is perfect for those seeking a unique party look for New Year's 2022. Below, you'll find an array of dresses with bows adorned at the center of low-plunging necklines, accenting the lower back or straps that tie into bows.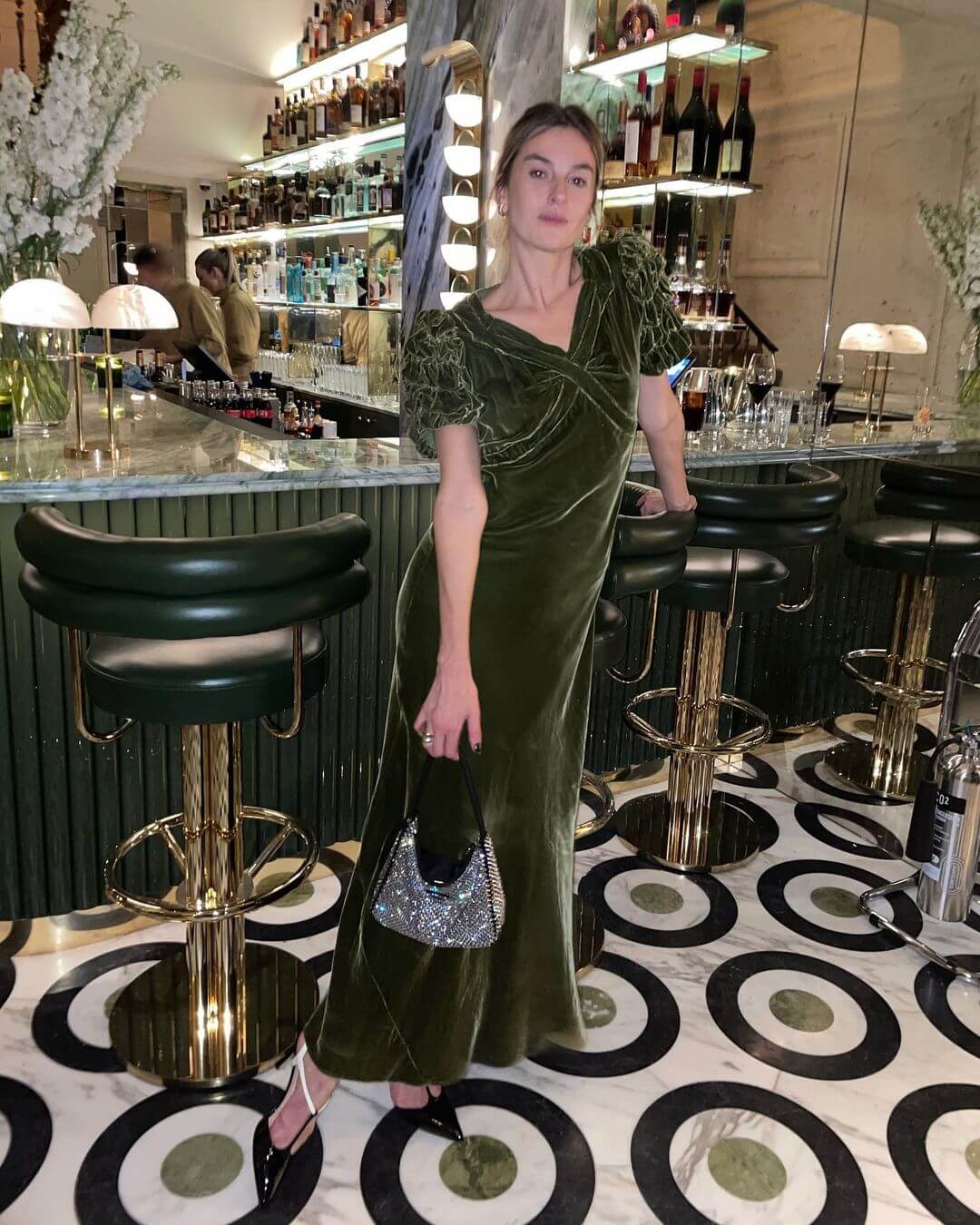 Photo via @camillecharriere
4) Velveteen
Can we all take a moment to appreciate how regal and grandeur velvet is? This luxe fabrication is a holiday favorite and makes any outfit a memorable one. If you are in the market for some classy New Year's Eve dresses, we highly suggest anything velvet. A mini velvet dress is fun and flirty while a midi or maxi length oozes refinement. Both options amp up the drama and make for stunning photos on the night of the 31st.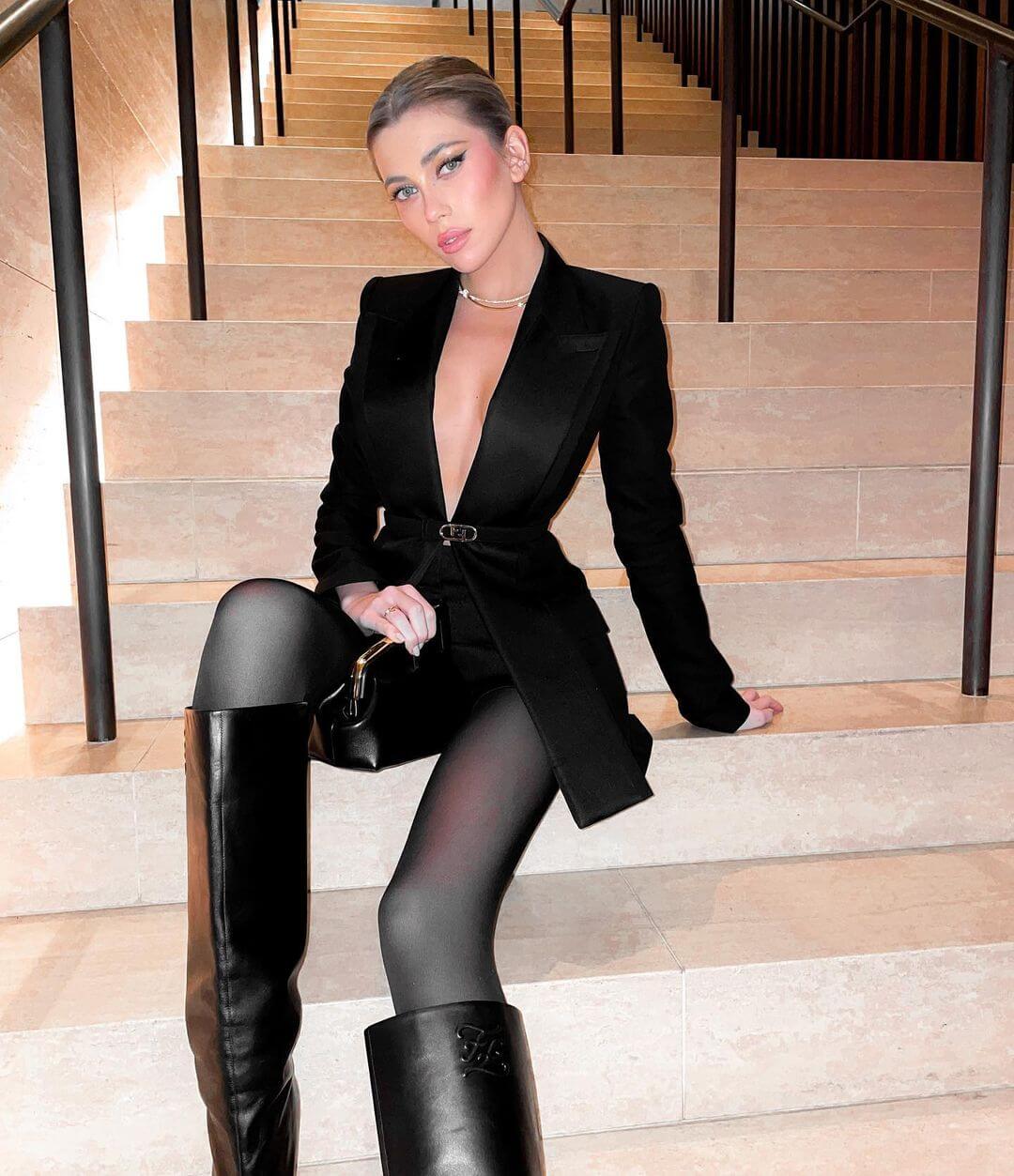 Photo via @ameliezilber
5) Blazin' All Night
We all know there is no slowing down on the tailored trend anytime soon. There will always be a time and place for blazers, and New Year's Eve is no exception. A blazer dress is incredibly polished but there are ways to vamp it up to make it more party appropriate. Style tweaks, such as adding a belt to accentuate the waist and skipping the under shirt for a deep v-neck effect, all work wonders for a night out. To finish it off, pair the blazer dress with your favorite sky high boots (tights optional).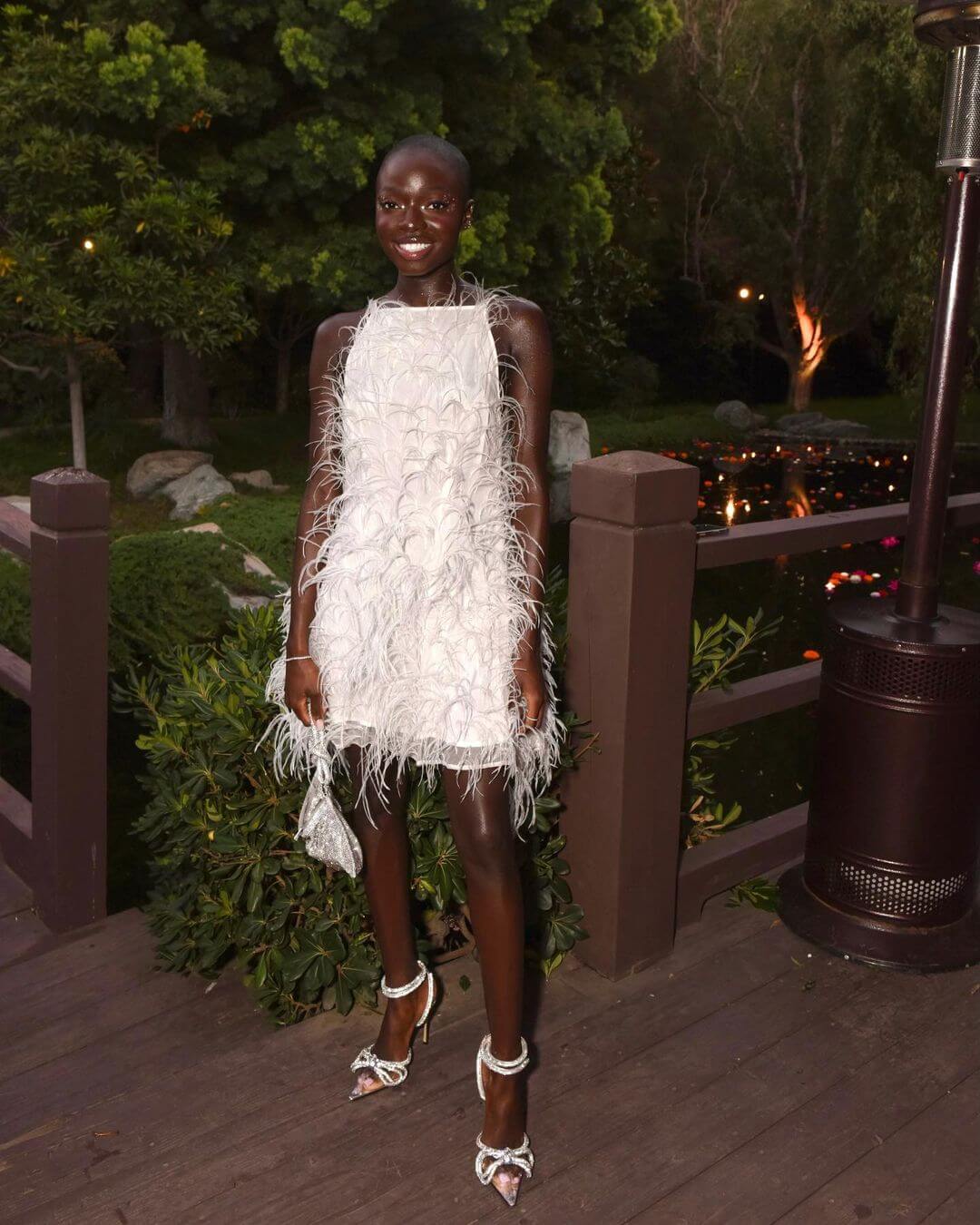 Photo via @soukeyna
6) Fierce Feathers
Looking for something a little glam with a touch of Great Gatsby for your New Year's Eve bash? Feather embellishments are a surefire way to take a basic dress from zero to a hundred in an instant. As seen above, Soukenya's fully feathered frock gives us old Hollywood glam vibes – fit for a formal evening party filled with dancing and endless glasses of champagne. You don't have to don a head-to-toe feathered look to achieve this effect either. Simply scope out feather trims and pair them with glitzy accessories.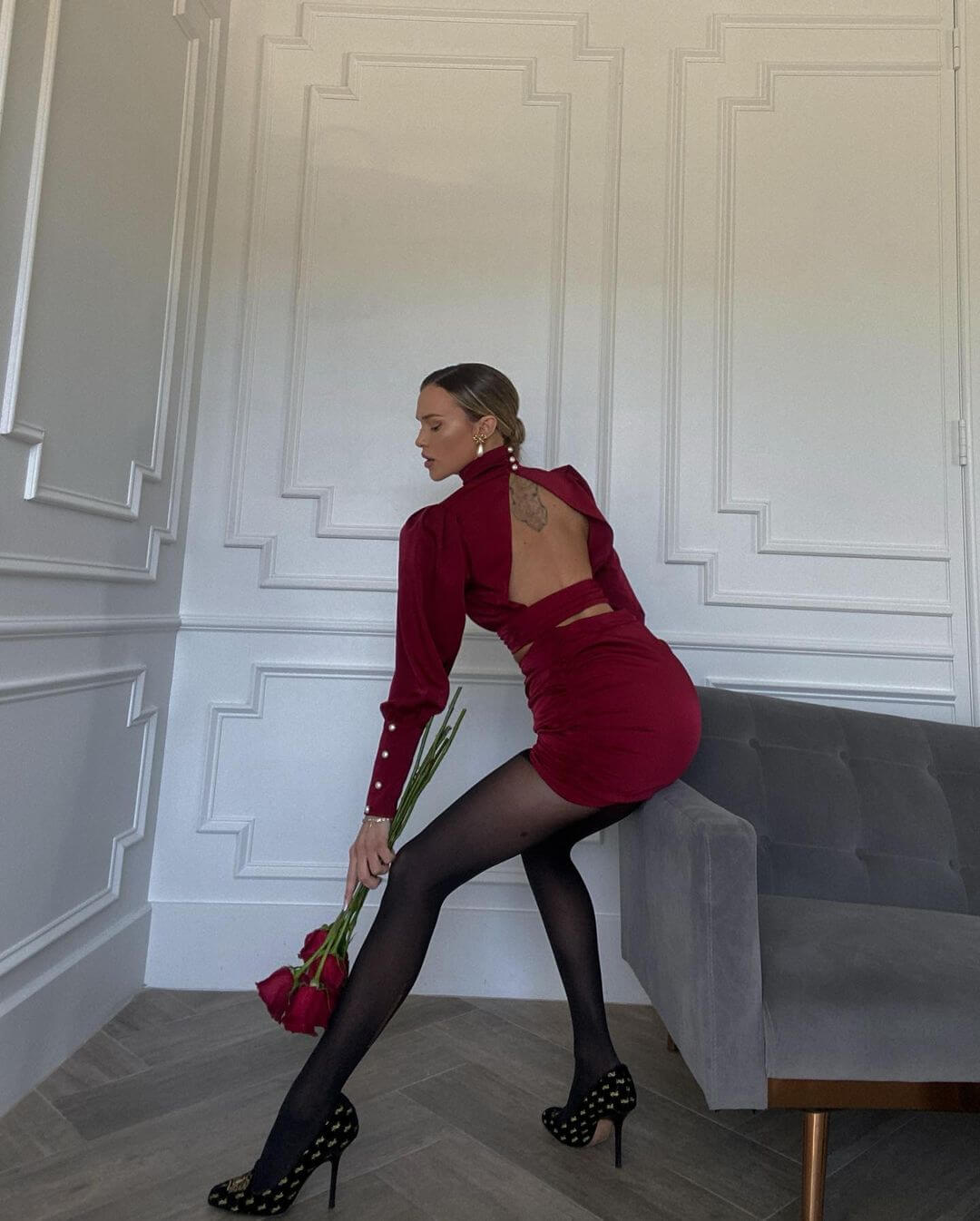 Photo via @kirbywittoesch
7) Look Back At It
This New Year's Eve, look for jaw-dropping backless dresses if you want to make an incredibly sultry statement. As sheer tights have made a comeback, be sure to utilize them to add warmth and steam to this juicy aesthetic. Further that vibe by keeping your hair slicked and showcase some bold statement earrings.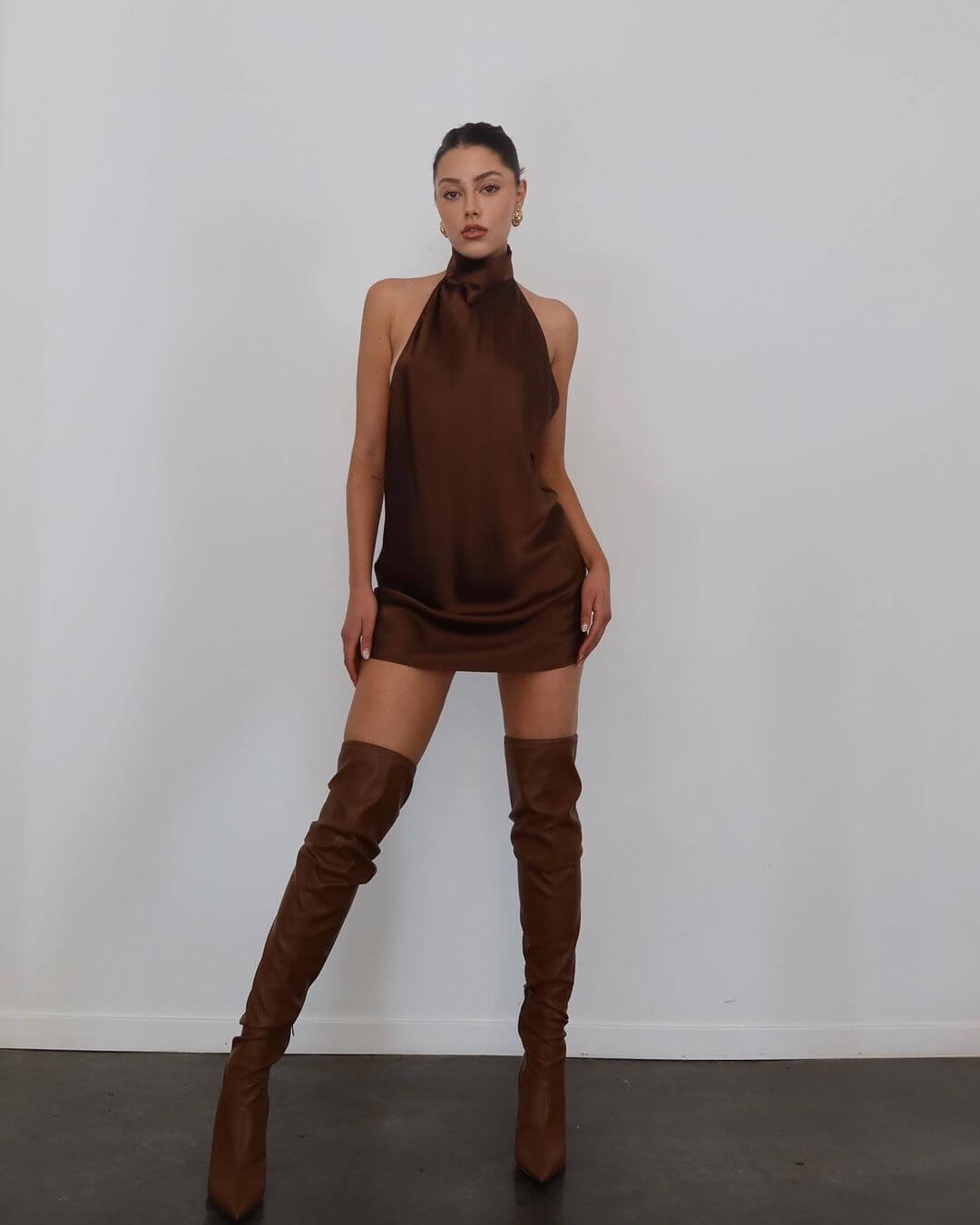 Photo via @jourdansloane
8) New Year Reboot
If time isn't on your side, you can always breathe new life into a slinky mini dress with some loud over-the knee boots. After all, wintertime is prime boot season. Tall boots don't just make a lasting impression either. When juxtaposed with shorter hemlines, the two elongate the body, resulting in legs for days.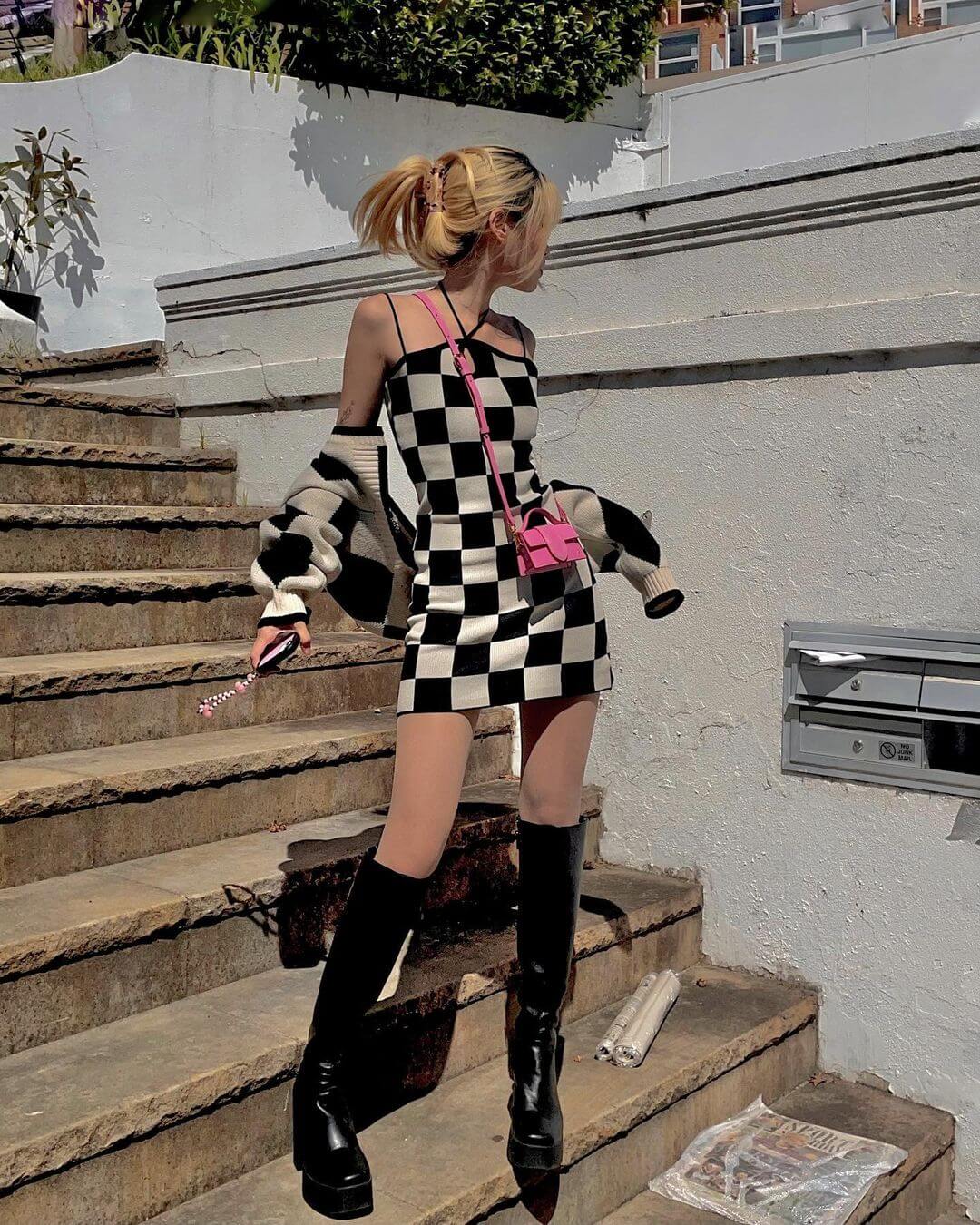 Photo via @lapetitejamie
9) Check Me Out
One of the biggest fashion movements of 2021 has been the resurgence of Y2K fashion, so you could choose to pay homage to this look on NYE. Checkerboard prints are a central part of this aesthetic and we love how it is incorporated into the mini dress. Of course, one of the most signature styles of any Y2K enthusiasts are chunky platform boots, so be sure to add those into the mix!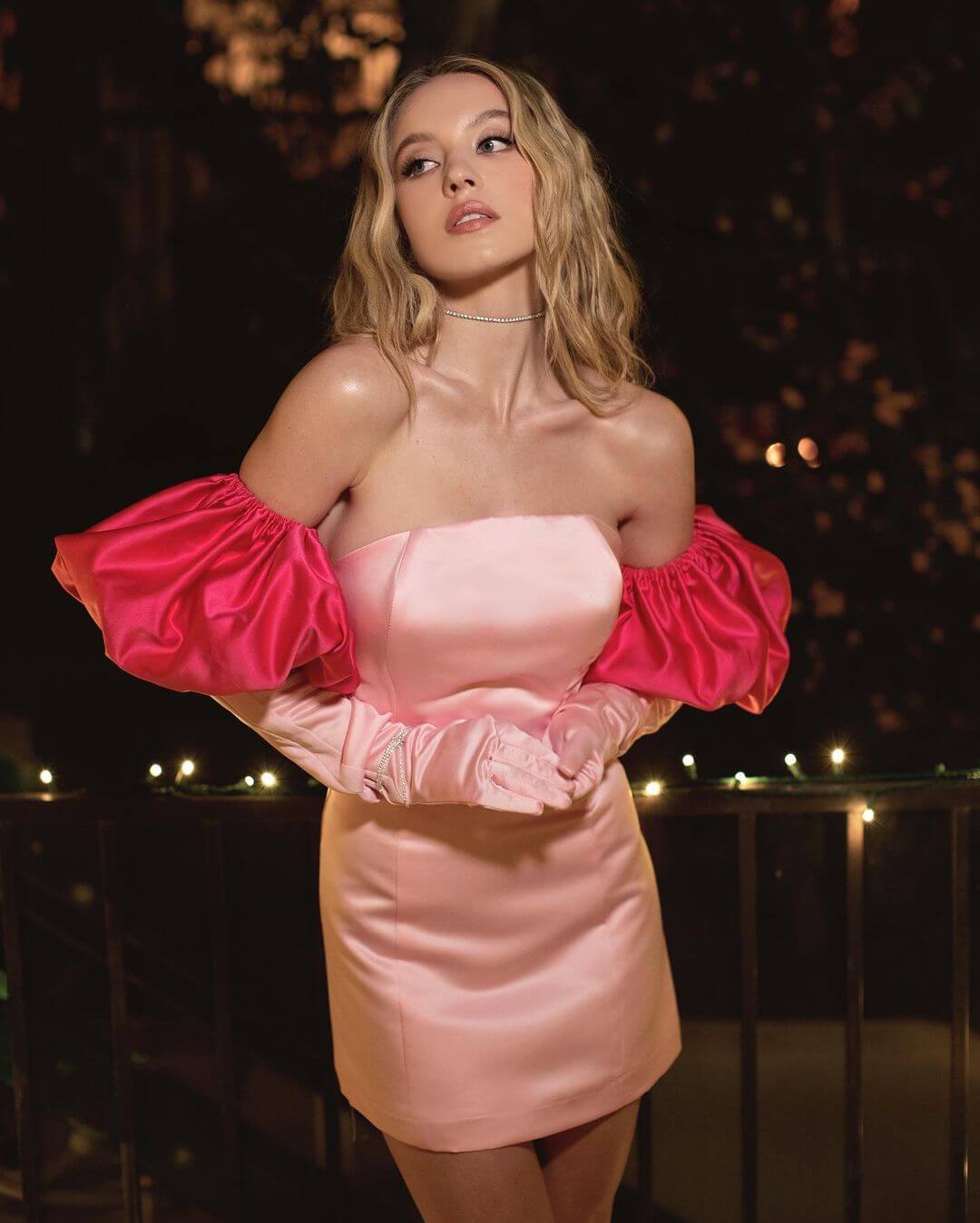 Photo via @sydney_sweeney
10) Puff Me Up
Puff sleeve, babydoll silhouettes might be up your alley if you love a directional take on ladylike dressing. Notice how Sydney adds gloves as an extra nod to the festive season. They're set to be a huge accessory statement in 2022, so you can do the same if you're looking to flex your style muscles on New Year's Eve.

(Visited 1 times, 1 visits today)