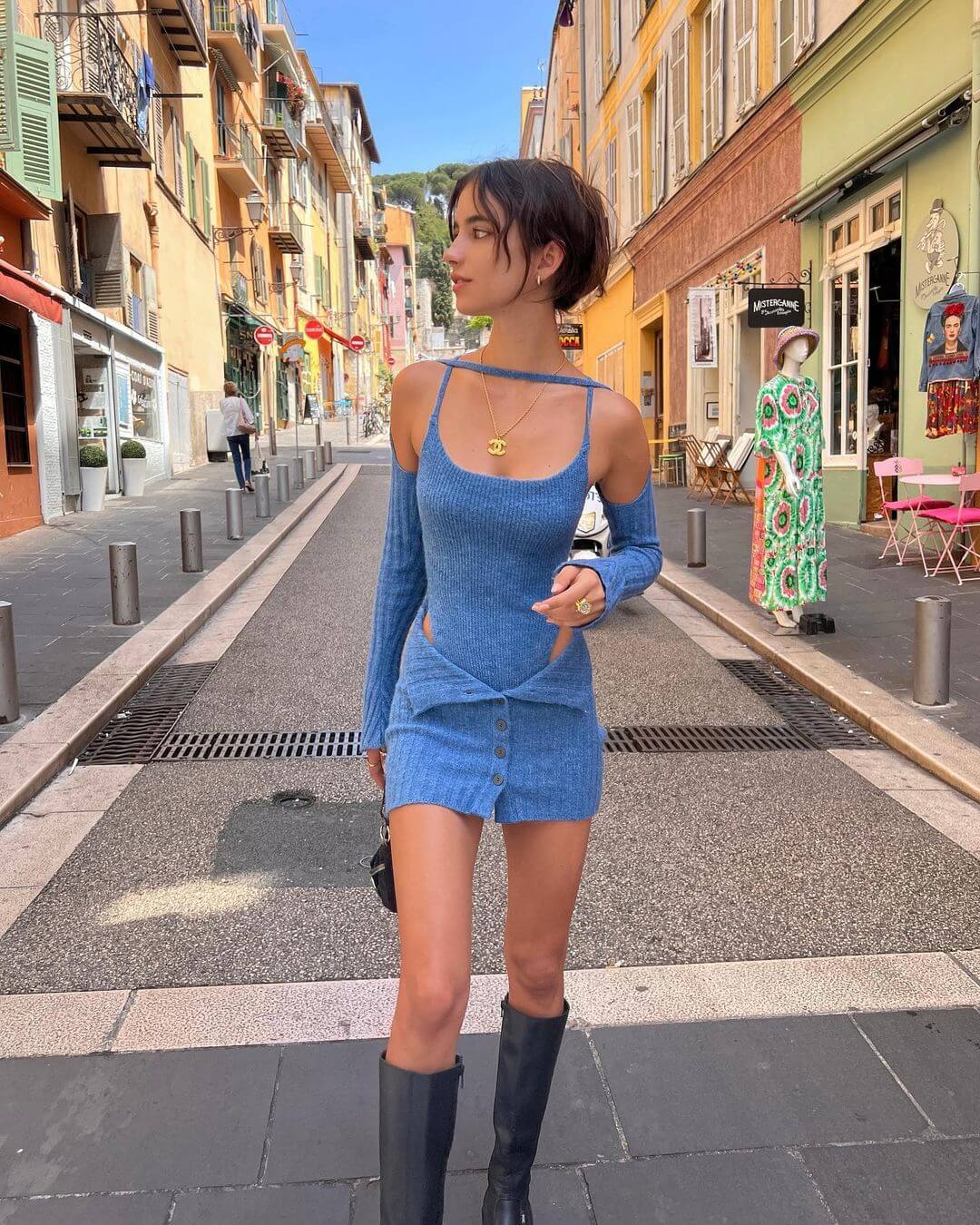 Photo via @elisha__h
Now that summertime is officially in full swing, the social season is buzzing louder than ever. Endlessly booked weekends come with plenty of opportunities to get dressed in your favorite warm weather outfits. One of our favorite trends to combat the heat while looking exceptionally chic is the oh so covetable miniskirt. As a nod to the overwhelming comeback of 90's and Y2K inspired fashion, the return of the micro miniskirt was a given. And all our favorite style icons have been taking it out for a spin. The ultra short hemline makes for a daring, risque garment – but there are plenty of ways to class it up. If you are feeling stuck on how to tackle the micro mini, we've got you covered with 10 versatile looks that work anywhere – get ready for your hottest summer yet.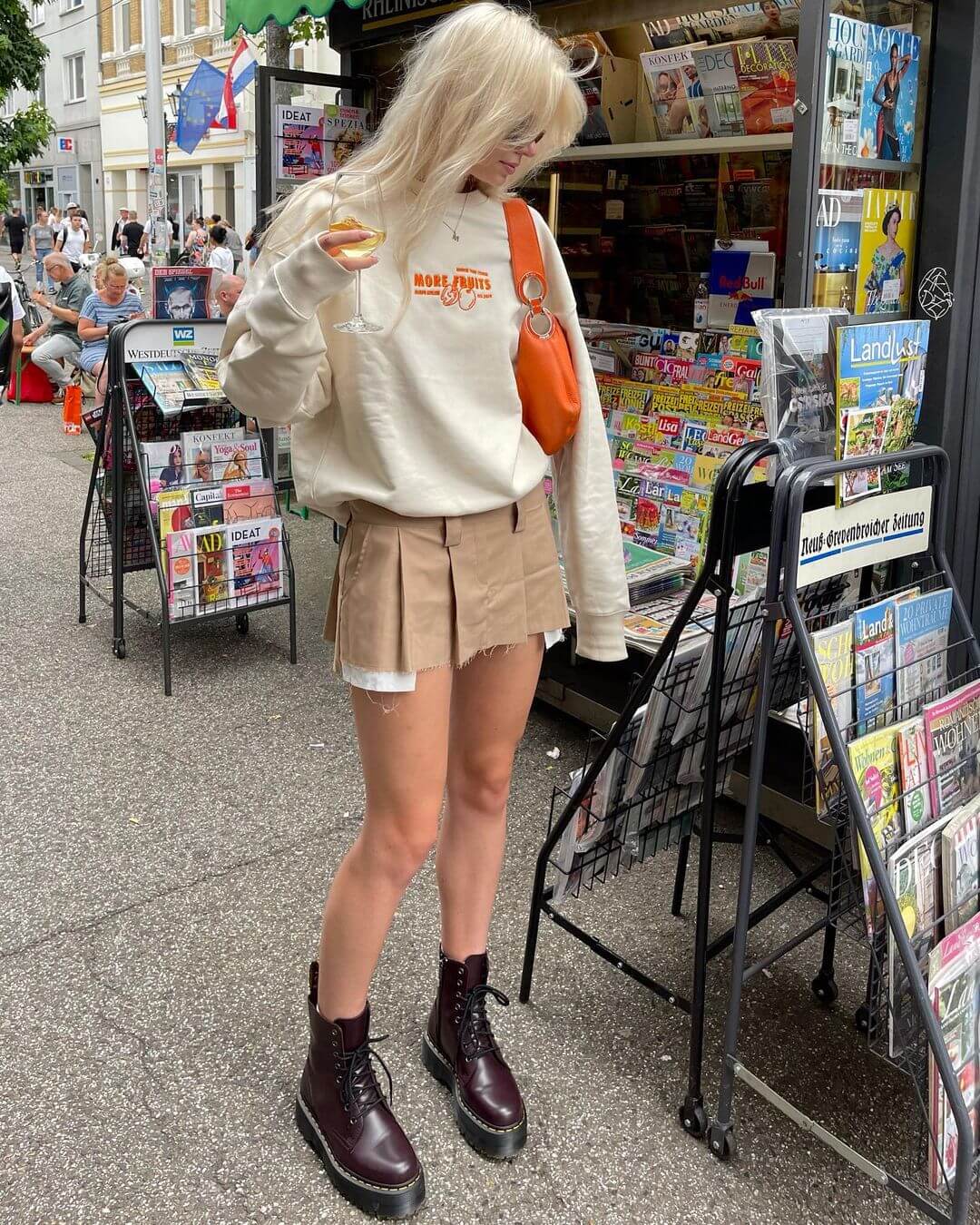 Photo via @linda.sza
1) Hint of Edge 
For a casual, everyday approach to the miniskirt, try styling a pleated mini with a lightweight sweatshirt and combat boots. The modest top and edgy footwear makes for a natural pairing with the micro hemline. You can heat things up and go the extra mile by opting for trendy sunglasses and a colorful shoulder bag.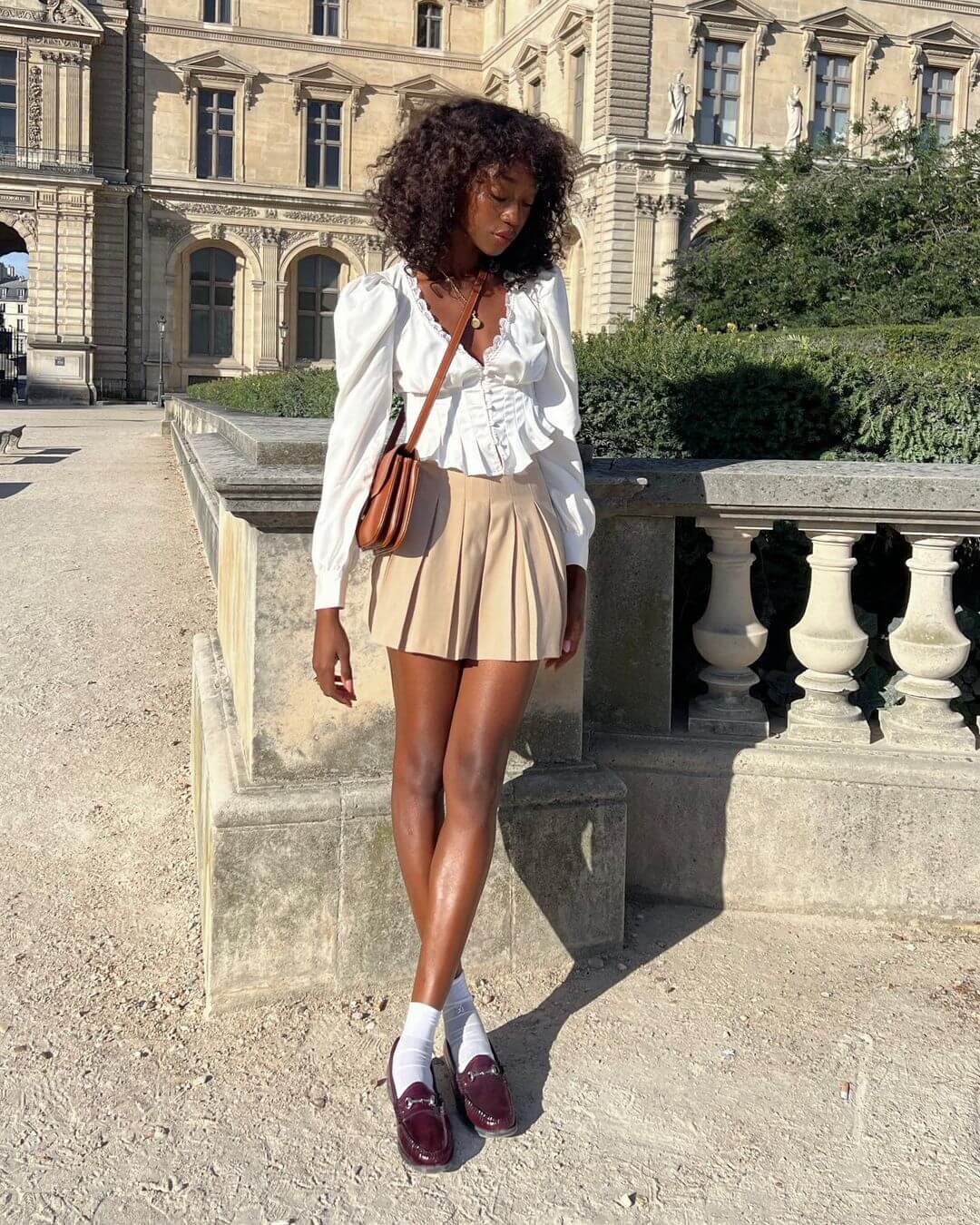 Photo via @emmanuellek_
2) Perfect Pleats 
If there's anything new we've learned in the realm of fashion these past few months, it's that that pleated skirts are not just for school girls. With a few modifications, a pleated mini can be adapted for any age. We are loving Emmanuelle's romantic French twist to this trend. She opted for a corset style top and finished the look off with some academia-inspired loafers. The addition of socks gives a subtle nod to the age old school uniform without going overboard.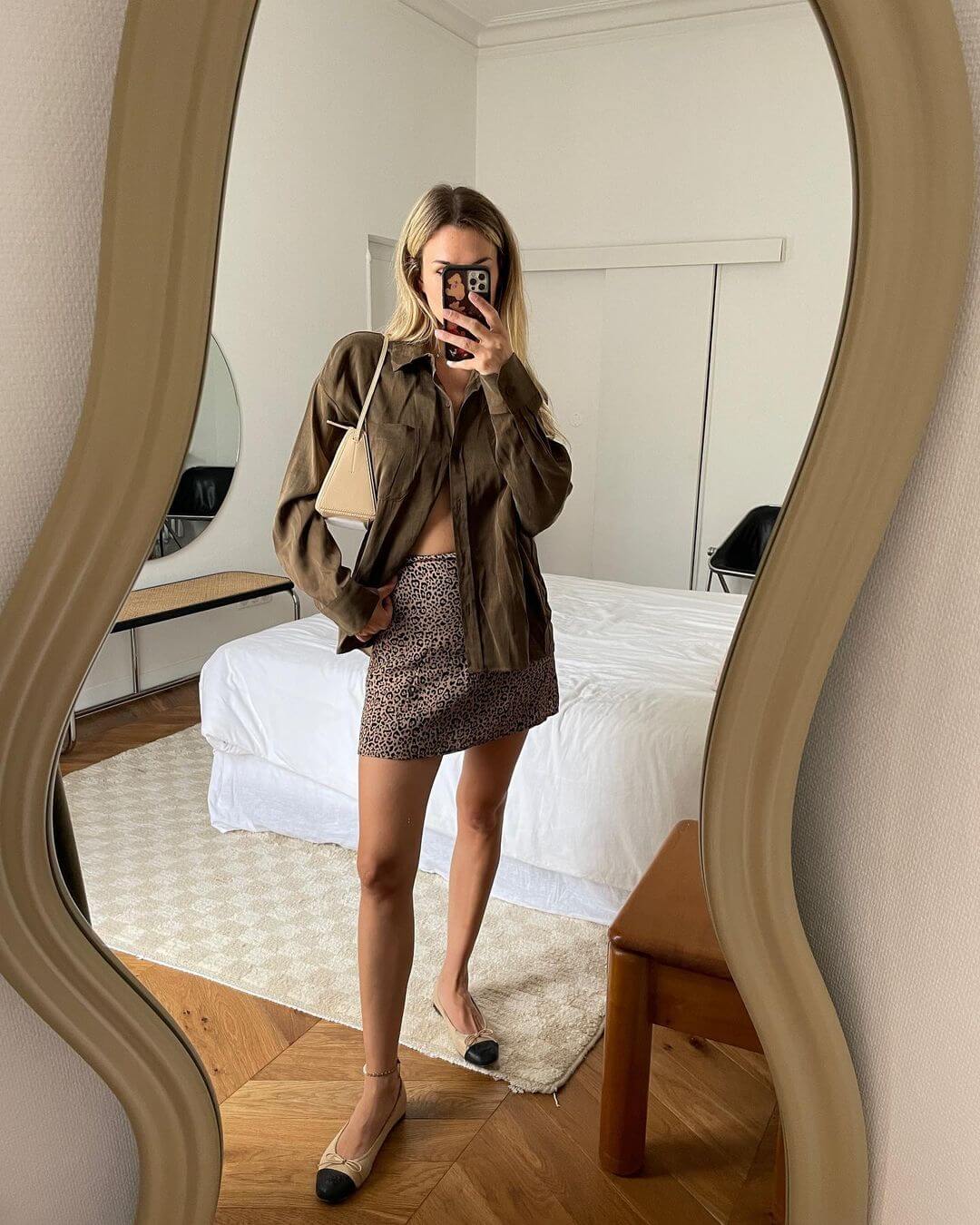 Photo via @annelauremais
3) Prints Please
If you're seeking out a surefire way to add some interest to your summer looks, trying rocking a printed miniskirt that pops on its own. Parisian influencer, Anne, showcases just how sophisticated an animal printed bottom can be when styled with other classic items, such as a button up shirt and ballet flats. Feel free to test out other patterns, like floral and abstract prints, for an equally eye-catching effect.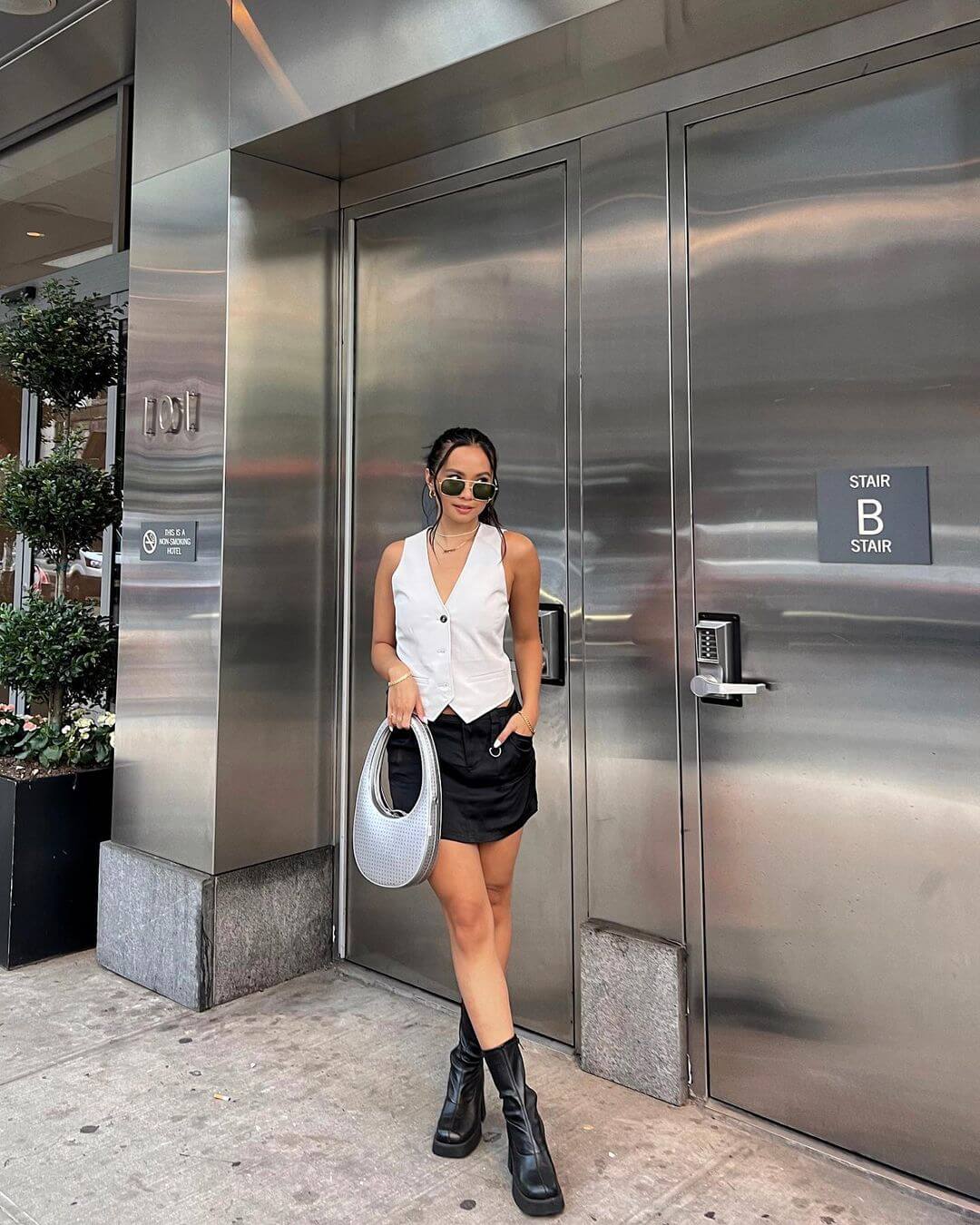 Photo via @monicasanluis
4) Vest Dressed
There are plenty of ways to temper a flirty piece like the miniskirt. One of our tricks to making it more wearable is by incorporating smart, tailored pieces. Layering with blazers will probably weigh you down, but a fitted vest feels just right with an itty-bitty bottom when it's blazing outside. The end result is chic and trendy savvy, having the ability to carry you from a work meeting to happy hour. If you want to cutback on the leg-baring look, don't shy away from calf-high boots.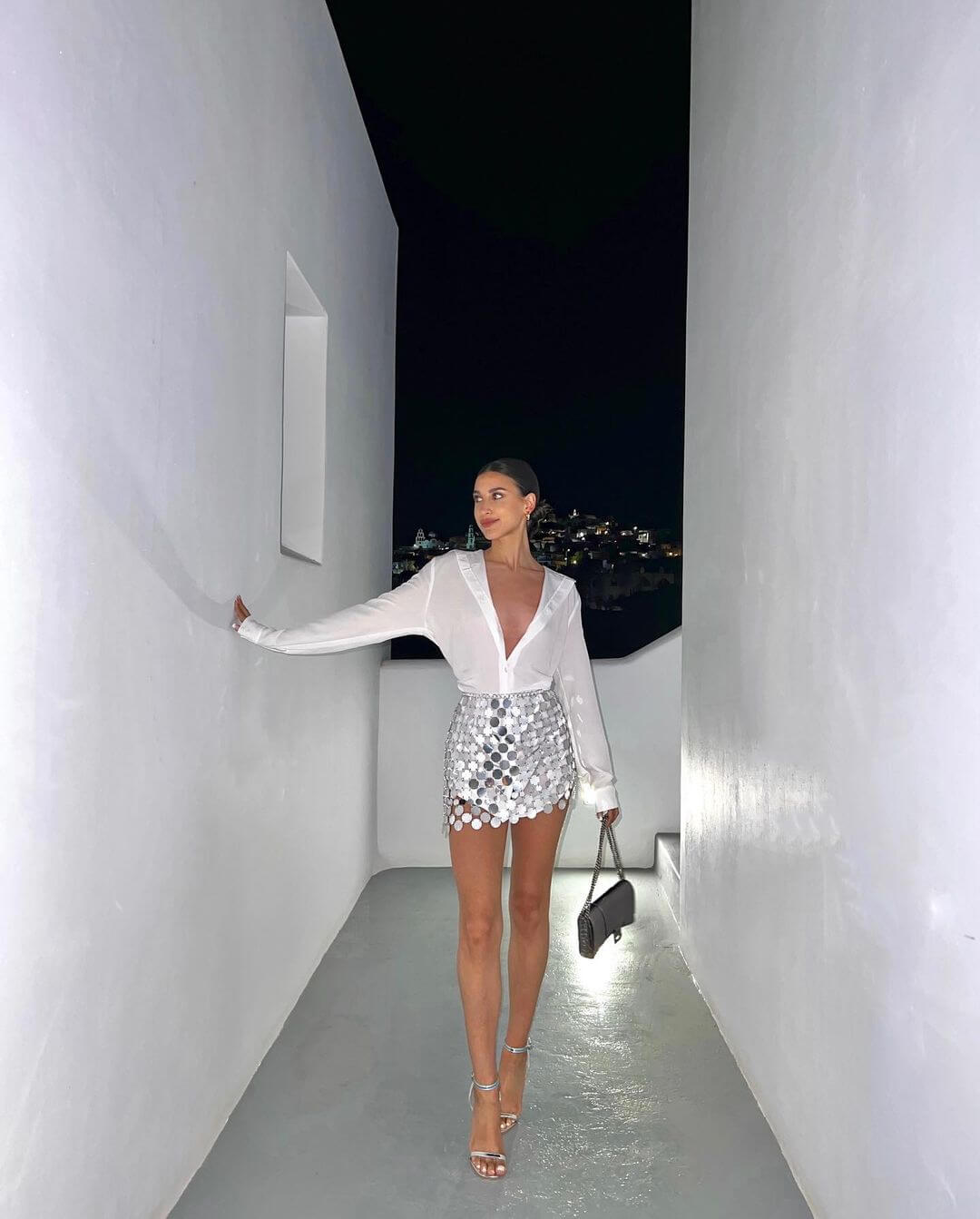 Photo via @yasminbright
5) Summer Nights
Kill two birds with one stone by opting for the ultimate night out look. You know you have a show stopper when you combine the mini skirt silhouette with the metallic trend. But to make it even better, ensure sequins are involved. This sheer, metallic skirt is the perfect match for dressing up a simple button down shirt.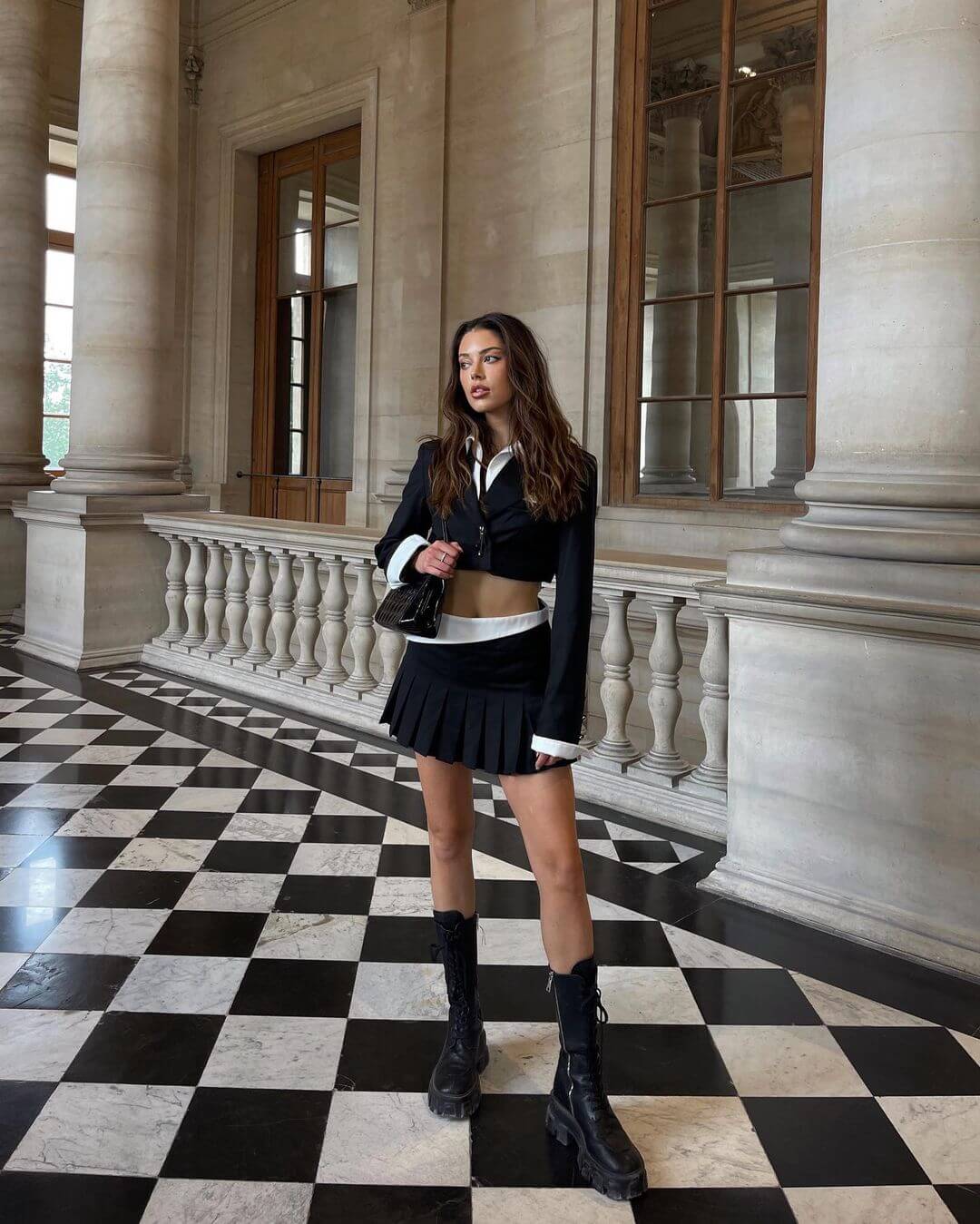 Photo via @jourdansloane
6) Modern School Girl
Here's your preview of the summer's fashion girl uniform. Jourdan takes a page directly from the Miu Miu runway show – the brand that single-handedly made the miniskirt a force of nature in 2022. You can do the same by recruiting a cropped blazer for your look along with a pavement-stomping pair of lace up boots. We love how the shoes add a touch of relaxed edge. From there, let your outfit do the talking.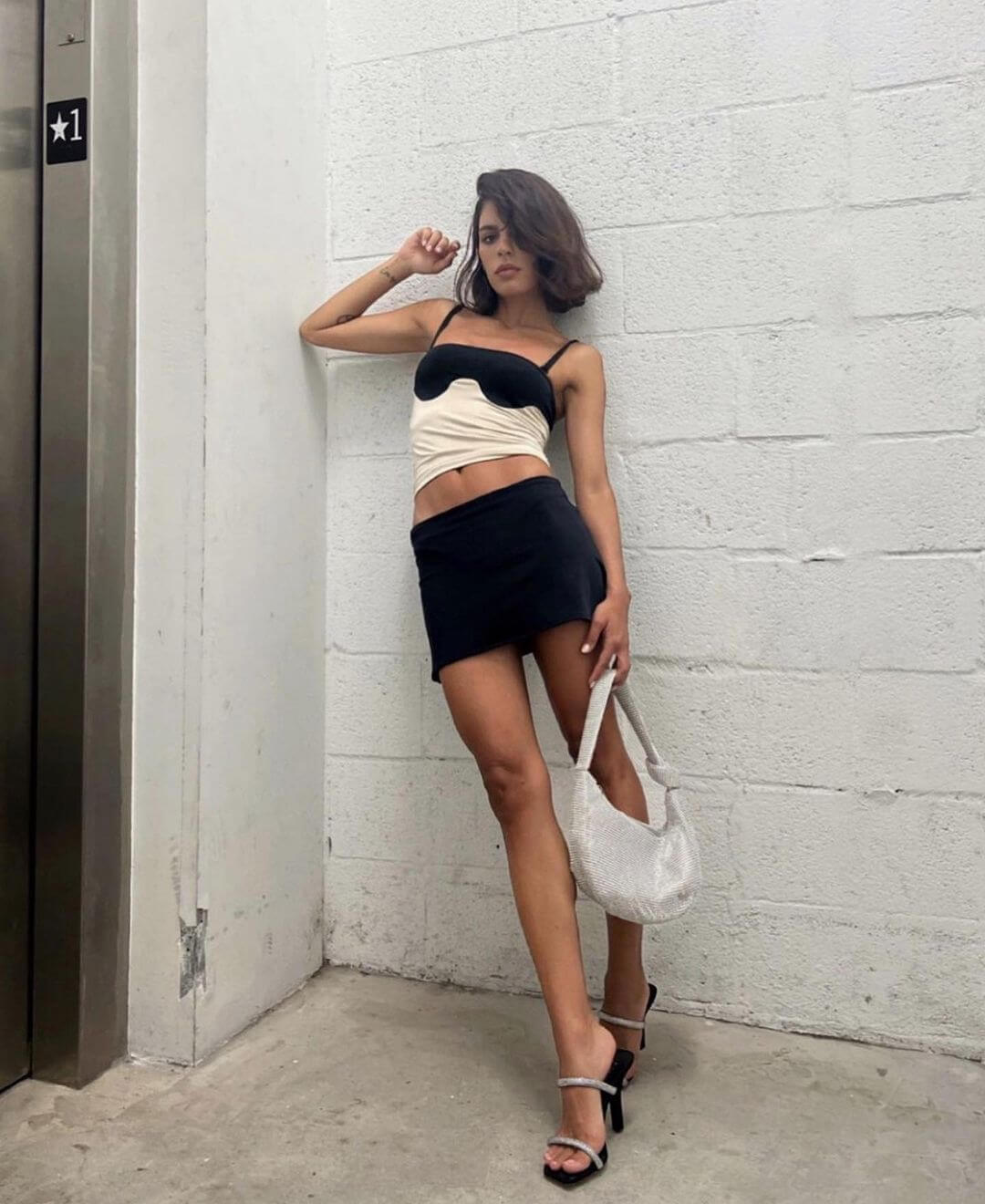 Photo via @orseund_iris
7) All Glammed Up
The miniskirt trend can even be modified for those who prefer a minimalistic approach to everyday style. A no-fuss, black miniskirt is our best kept secret for effortless style this summer. All you need is a cropped tank top to complete this model off duty inspired uniform. Further seal the deal by throwing on a pair of glam heels and handbag. Now you're ready for a night of dancing or dinner and drinks with friends.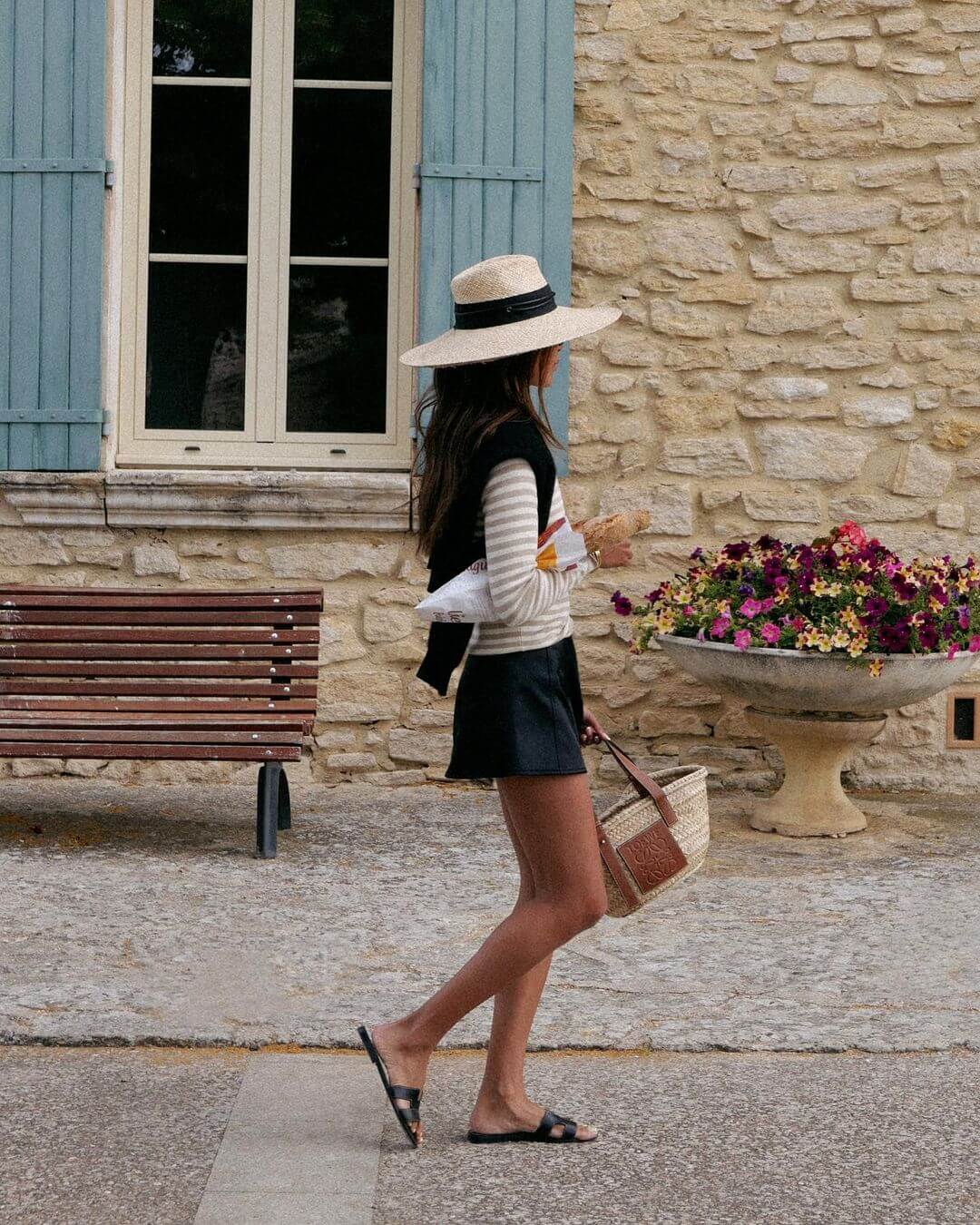 Photo via @sincerelyjules
8) Parisian Chic
Bring the vacation vibes home and channel an outfit fit for the coast of Italy or French countryside with stripes. Stripes are an iconic pattern that naturally screams European charm and sophistication. Thus, a top in this print makes for the perfect pairing with a flowy miniskirt. Just be sure to accent the look with the essential accessories of summer (aka natural everything). Then, ground the higher hemline with elegant slide sandals.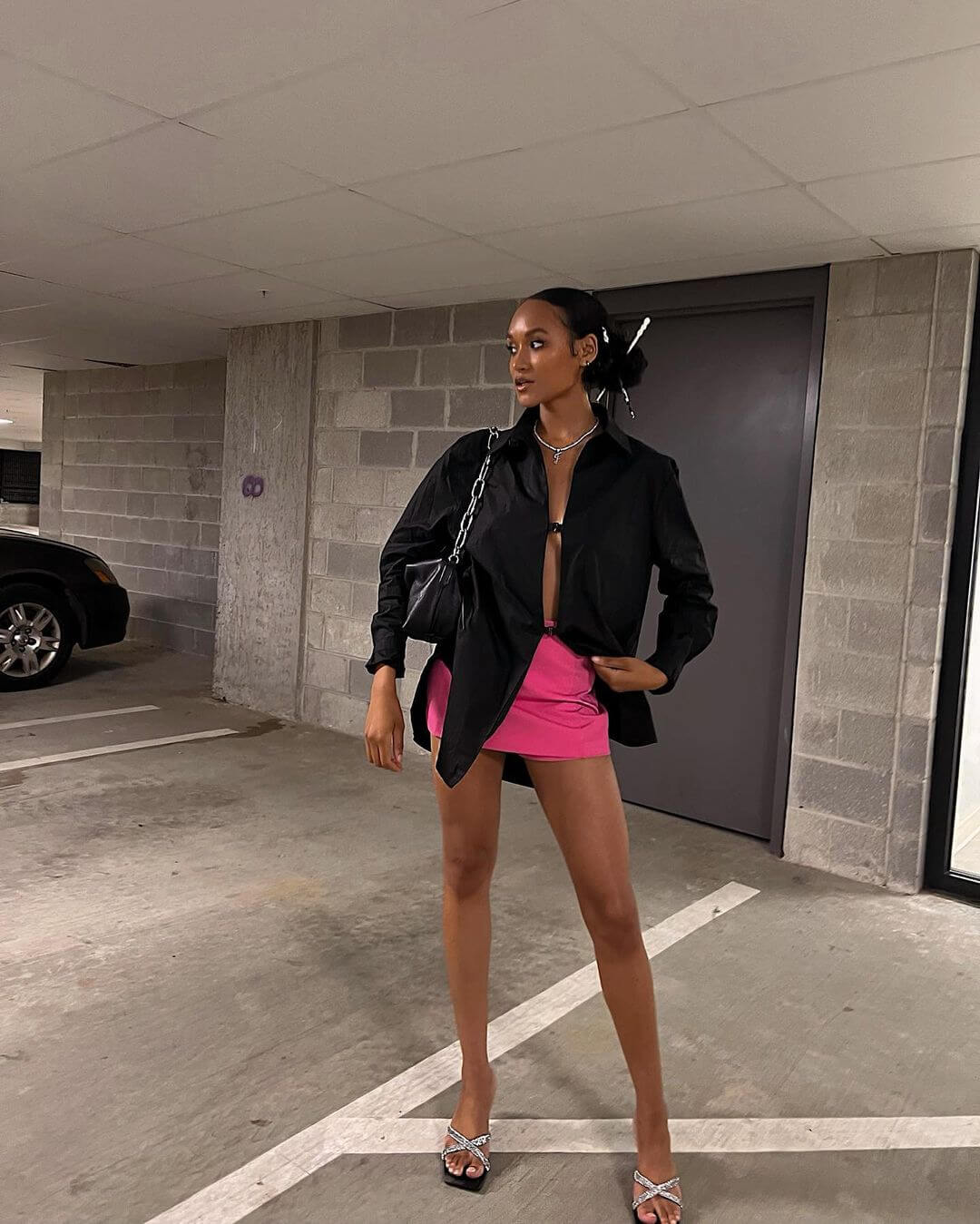 Photo via @itsjustjhordan
9) Saturated Hues
This look proves that the micro miniskirt can be such a fun piece to style. Since it's daring, bold and irresistibly flirty, it works in confident colorways. Think bright pinks, neon green, and highlighter orange. No color is too bold to tackle, and in our opinion, the higher the saturation, the better. Once you've got your pick of a high-octane hue, you'll want to tone it down a notch with a solid-colored button up. Now you can complete the look however you'd like whether that's with embellished heels or platforms.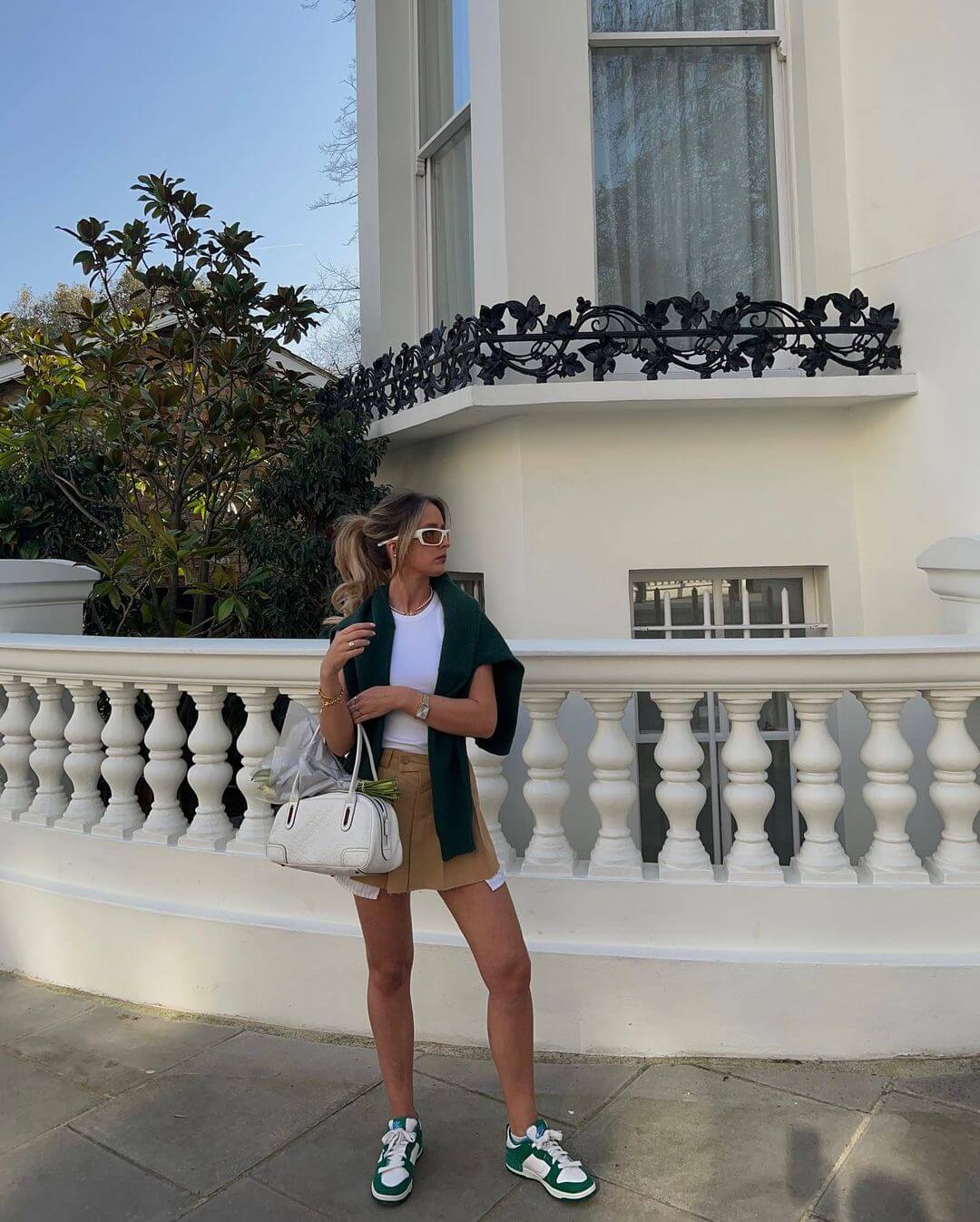 Photo via @keziacook
10) Sporty Chic 
Last but not least, we present Kezia's casual, laidback take on the miniskirt. She proves that when in doubt, you can always fall back on a pair of stylish sneakers. To further add to the nonchalant vibe, throw a sweater over your shoulders and add your favorite 90's inspired sunglasses to match the throwback vibe.

(Visited 1 times, 1 visits today)