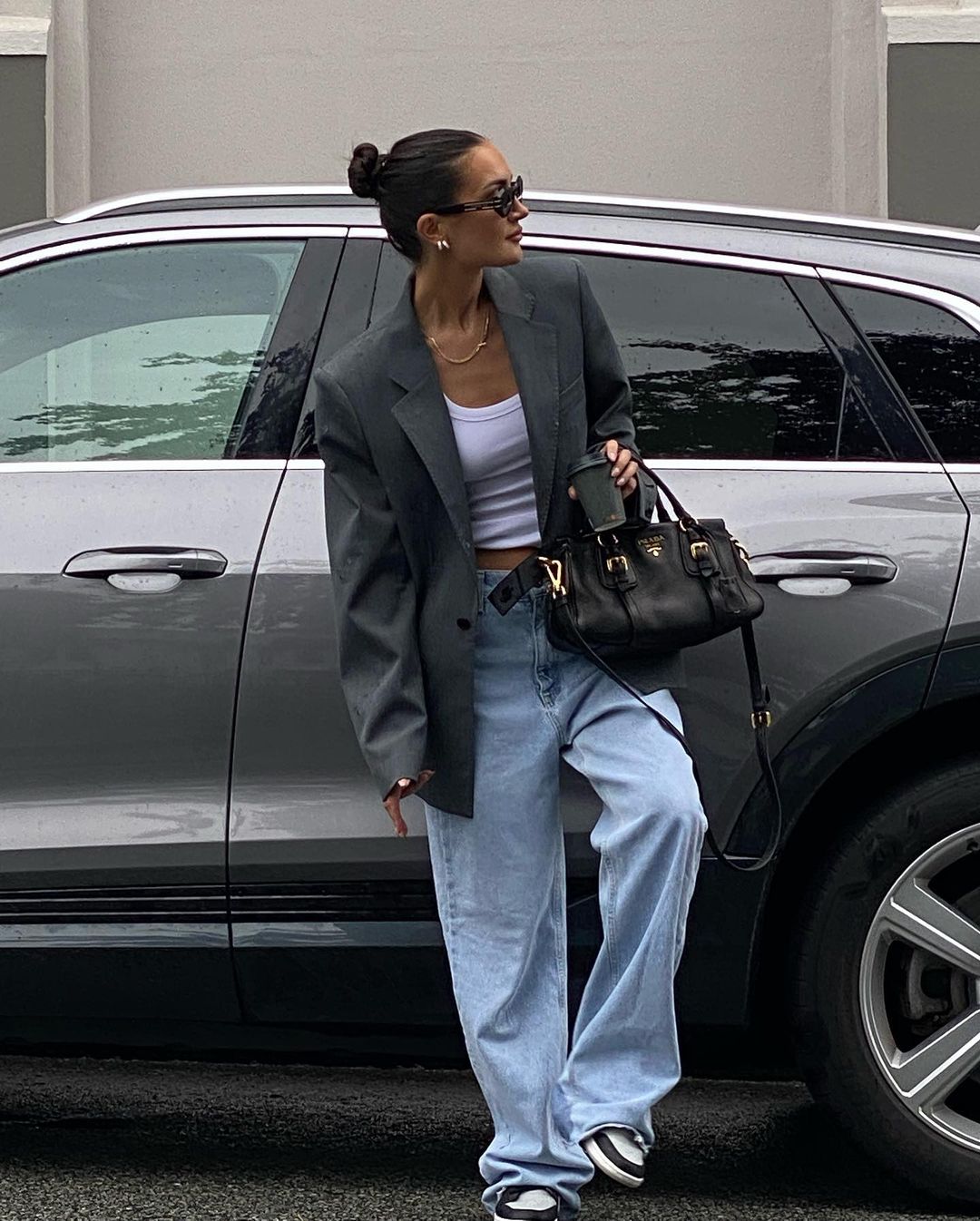 Photo via @ardiananicki
You're in luck if you struggle with pants that are too long or too loose – because for this next major fashion trend, you can skip the tailor. From the looks of Instagram and the latest fashion week snaps, we can vouch that puddle pants are sure to be omnipresent this season. In case you're wondering what defines this pant style… They're exactly as the name suggests – bottoms that are distinguished by their long hemline, which pools around the ankle like a puddle. Perhaps an evolution of the 90's baggy jeans that emerged last year, we can bet that puddle pants are going to be high in demand. Many of fashion's most stylish girls have already endorsed these ultra relaxed bottoms. So, we wanted to pay special homage to their casual vibe, effortless silhouette and sheer versatility. Need some inspiration? Explore our favorite looks with puddle pants below.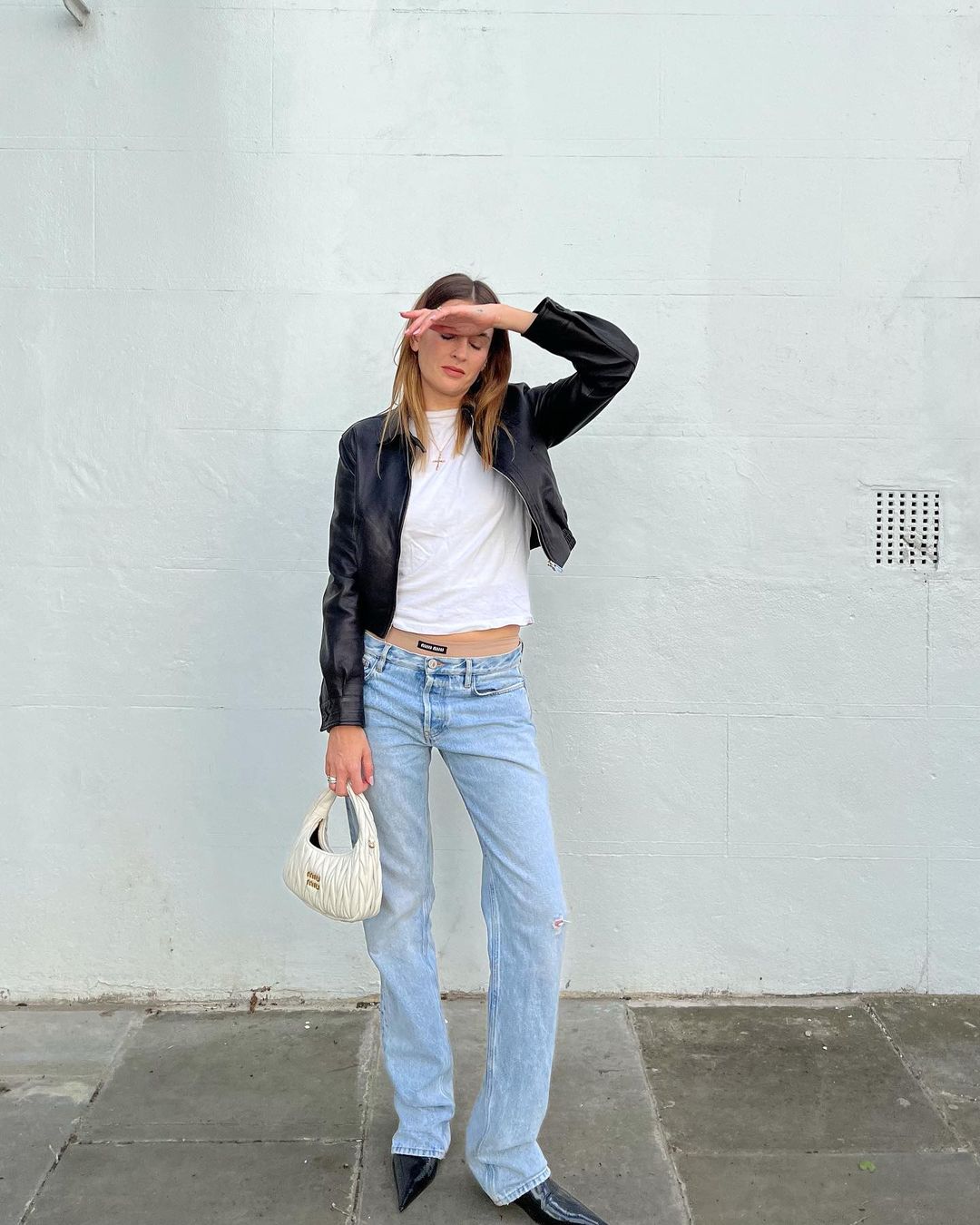 Photo via @camillecharriere
1) Better with Leather
It is no secret that everyone loves a little leather action as soon as fall makes itself known. There isn't a more stylish way to combat the cold front than by throwing on a leather piece with your new puddle jeans. Forgo your classic moto jacket and opt for a shrunken piece. Then, add a simple tee and a pair of pointed toe boots to seal the deal. Make mental note of the low rise on Camille's jeans as it'll soon be replacing the ubiquitous high-rise waistline we all know and love.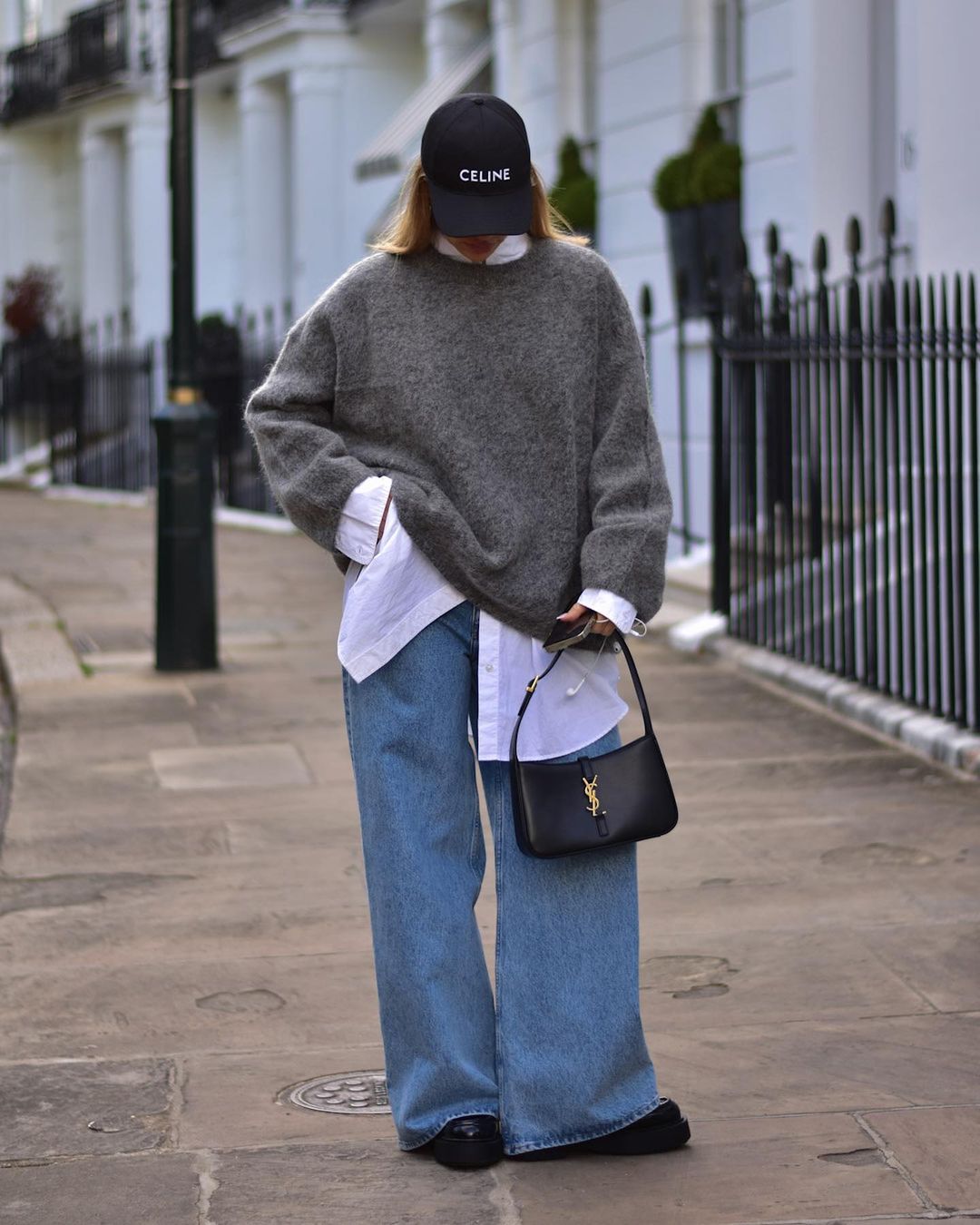 Photo via @whatgigiwears
2) Oversized Overload
There's no need to stop at oversized bottoms. Large and in charge pieces can work really well with puddle pants, especially for off-duty days when you want to be comfortable without sacrificing style. And no one does it better than this influencer. To complement the voluminous legs, Gigi layers a large button up top with a chunky knit for maximum coziness. To polish off the look, she adds a sleek shoulder bag and platform loafers.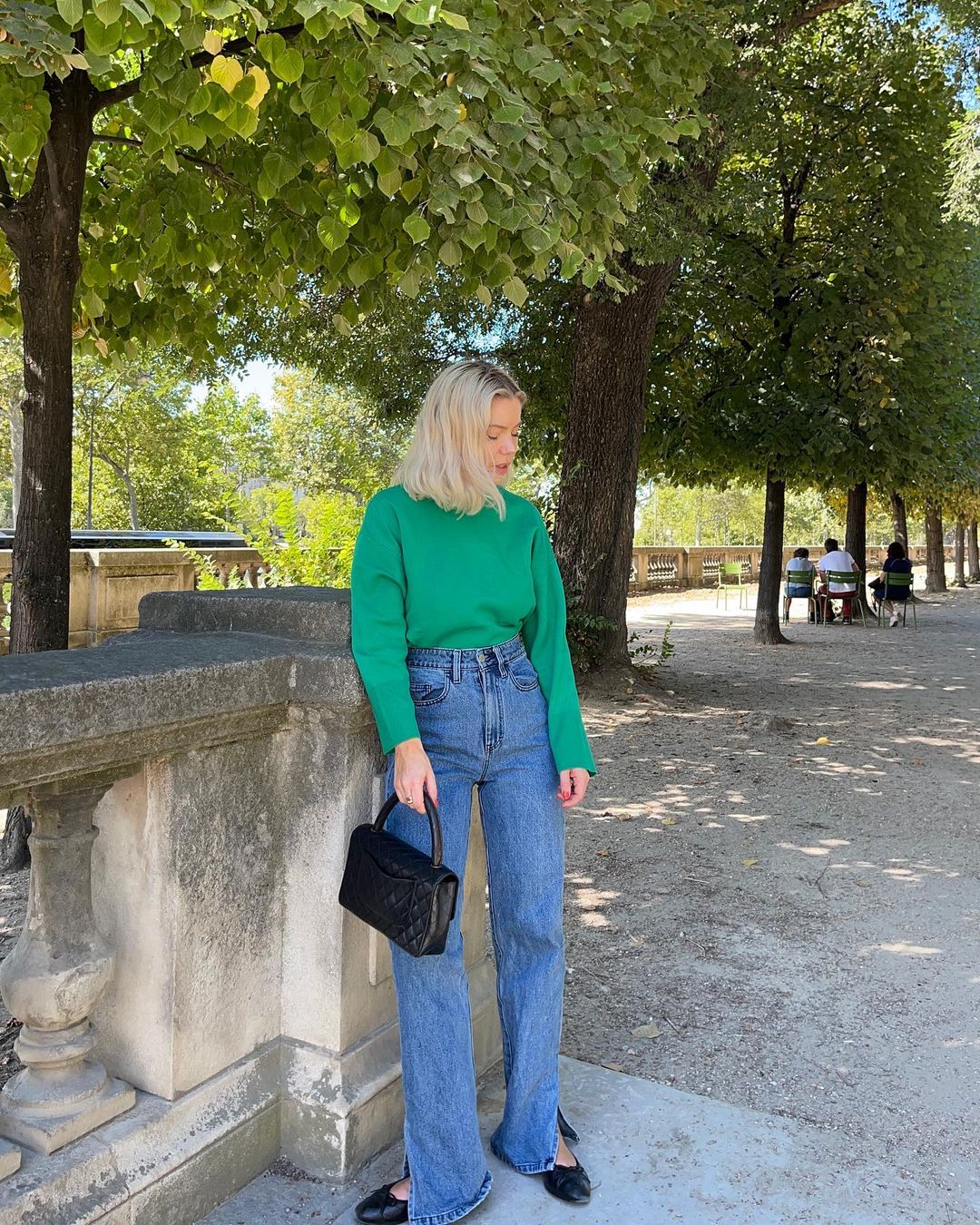 Photo via @laurajadestone
3) Colorful Knits
Puddle jeans can be treated like any other pair of denim in your wardrobe. With the ability to dress them up or down, they are quite versatile, which why they are seeing such strong momentum. For weekend adventures, try dressing up your bottoms with a colorful knit. We love the effortless approach to incorporating brighter hues into your fall outfits. For a European inspired twist, complete the look with a simple pair of ballet flats.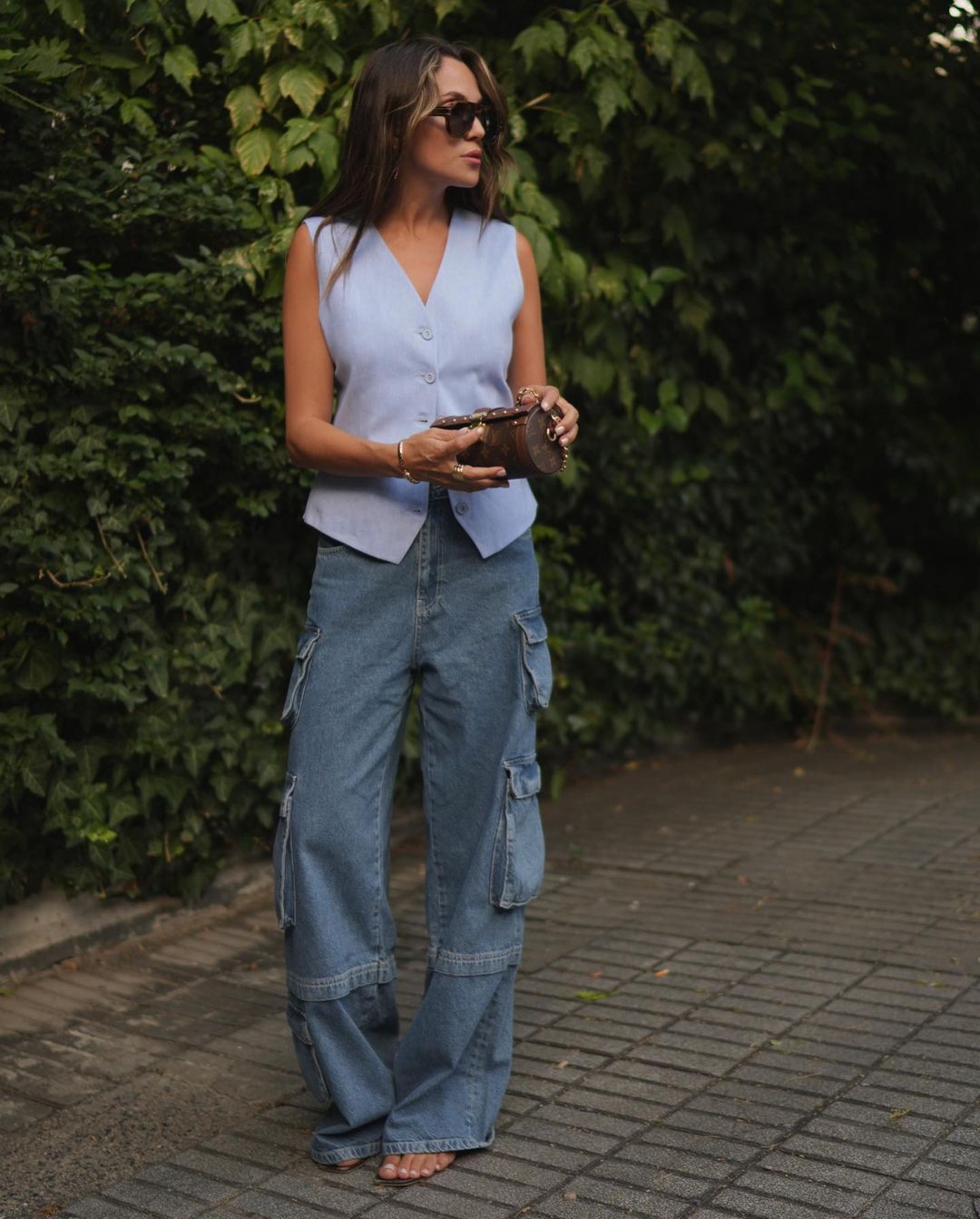 Photo via @modatutkusu
4) Vest Dressed
Looking for sophisticated ways to elevate your puddle jeans? Tailored separates always manage to do the trick. But rather than a blazer, try something more unexpected such as a vest. This sleeveless tailored piece instantly smartens up your bulky denim bottoms, resulting in a chic look that can be worn to the office and beyond.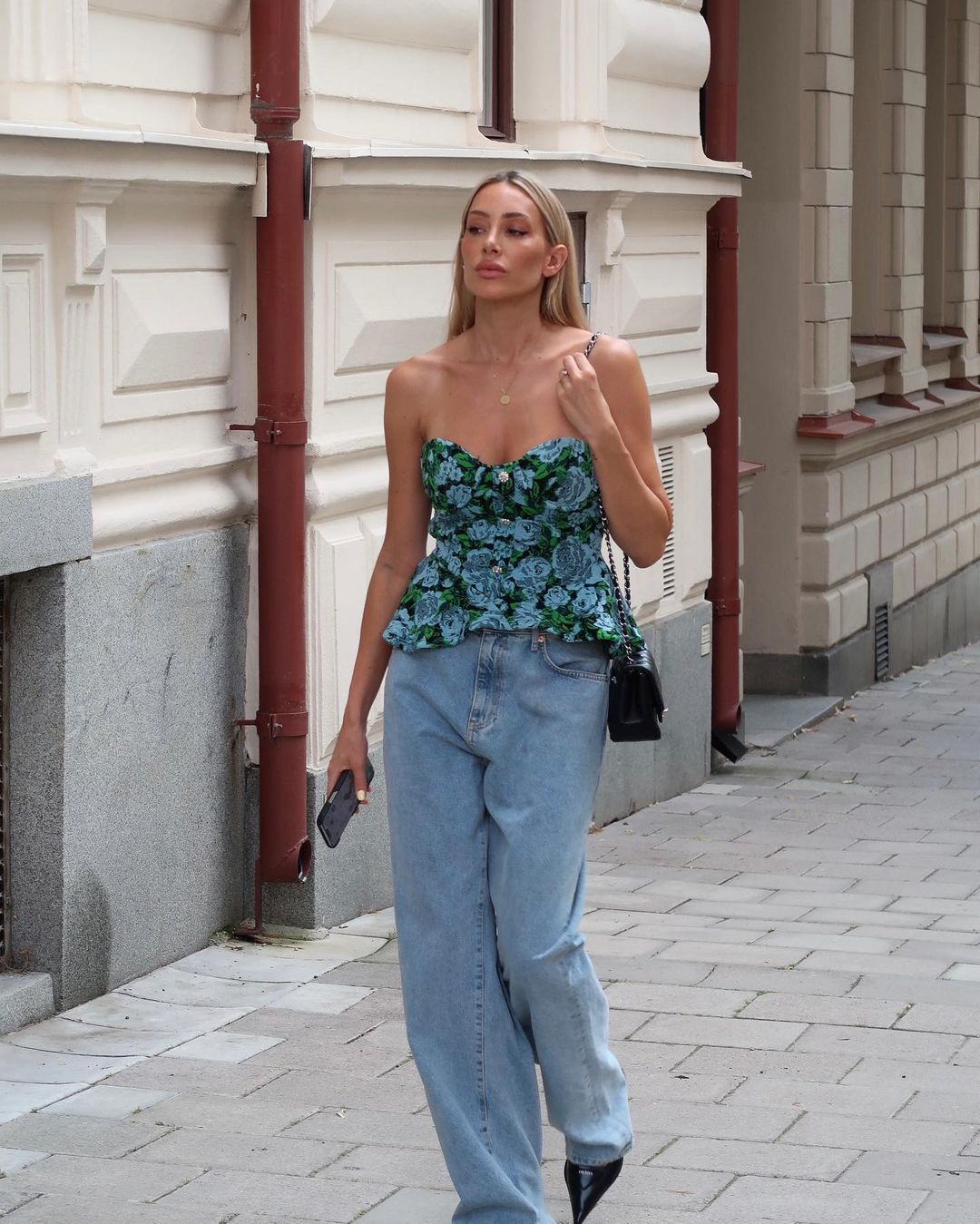 Photo via @alexiiak
5) Feminine Edge
For a trend that is rather androgynous in nature, having the option to add a feminine touch is always welcomed. That's the case here with this visually contrasting ensemble. The masculine puddle jeans with the flirty, feminine bustier top undoubtedly yields a double take when worn on the streets. With the sleek pumps, the end result is a little bit edgy yet elegant.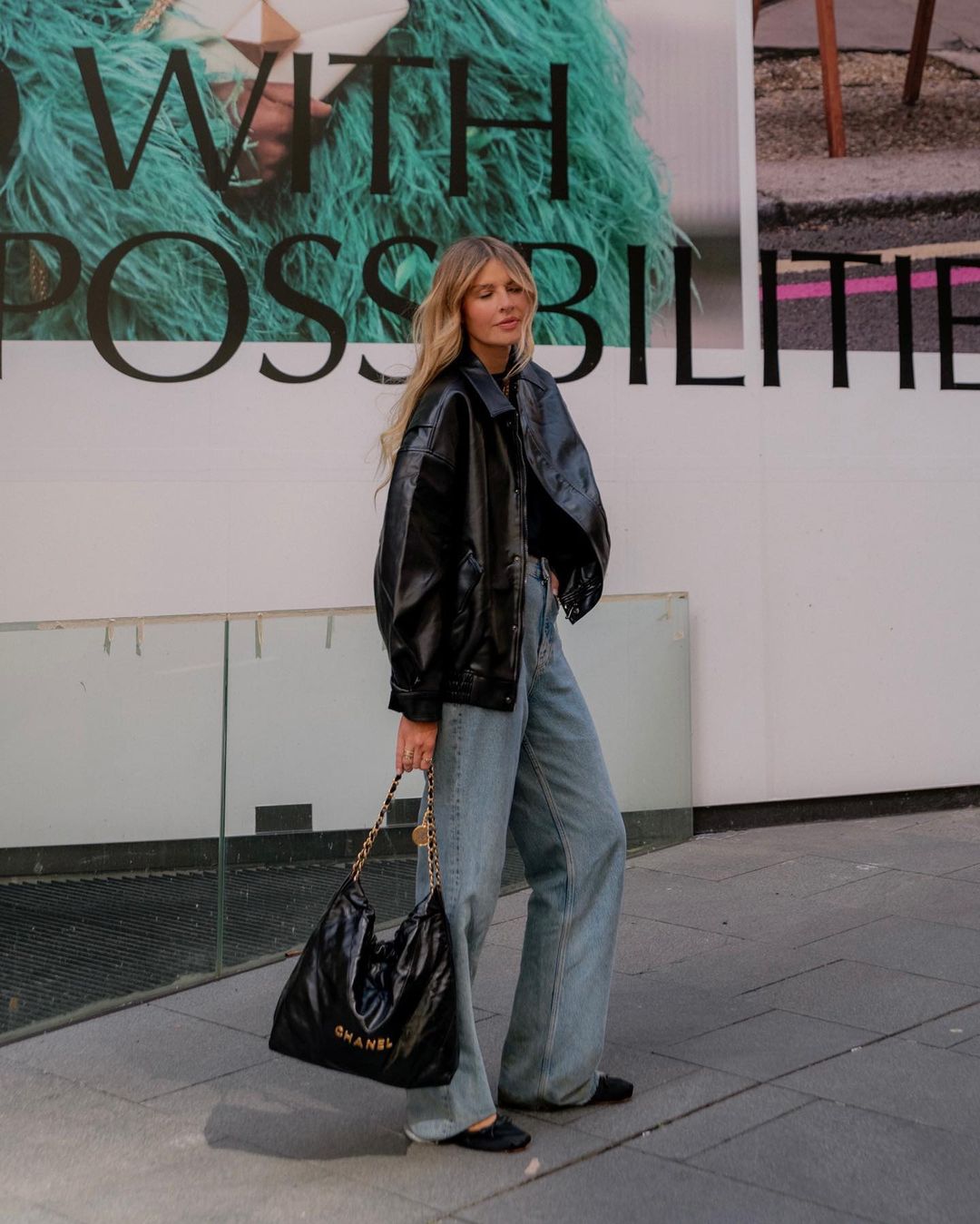 Photo via @elle_ferguson
6) Bombshell 
In case you missed it, one of the most sought after outerwear pieces of the fall season is a bomber jacket. Blame it on Top Gun but this aviation inspired piece screams effortlessly cool – which is perfect for styling with our new favorite denim bottoms. From there, let the occasion be the inspiration for your footwear. Everyday errands call for comfy flats while a stroll in a new city warrants vintage trainers.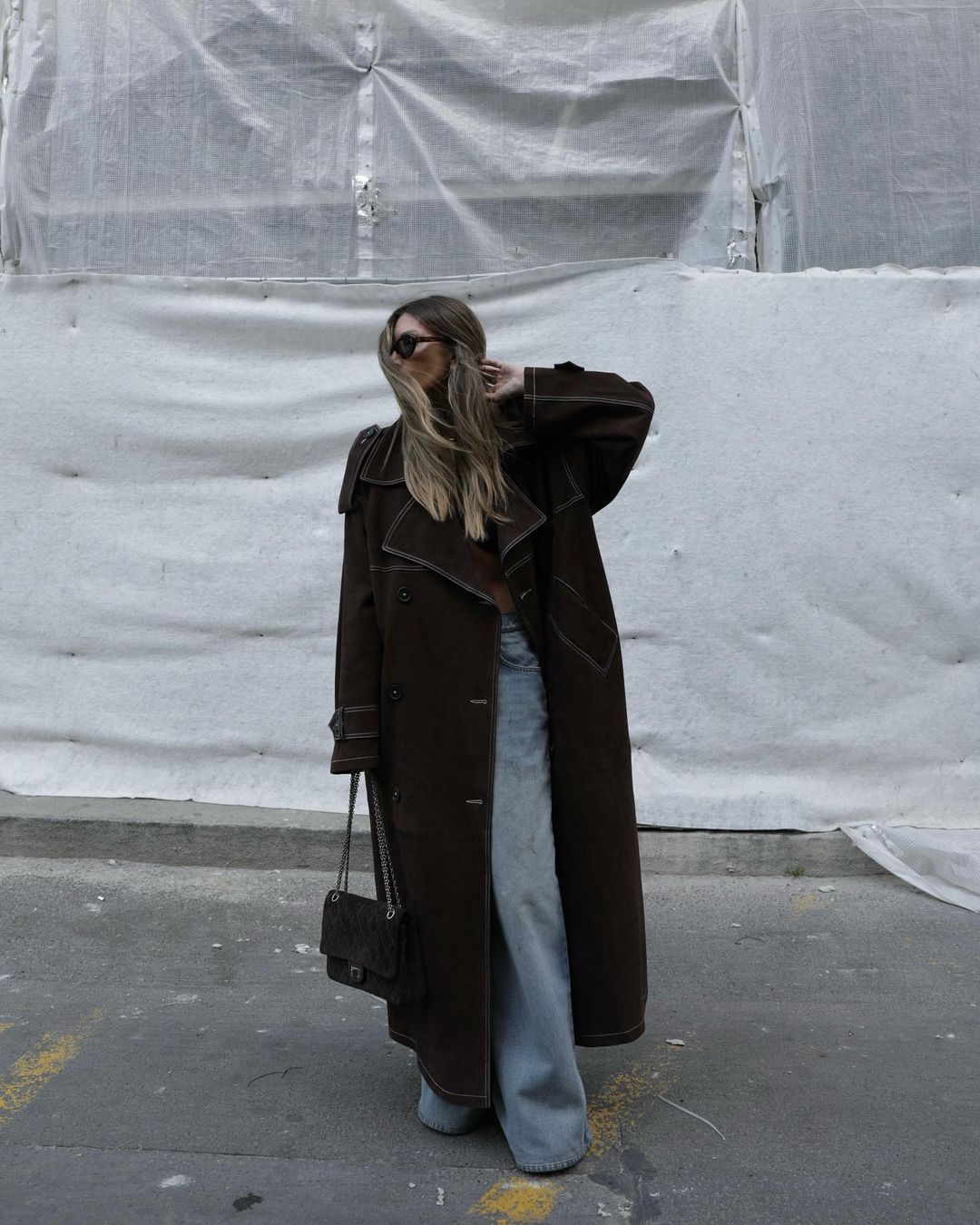 Photo via @ivanamentlova
7) Trench Coat
Sometimes, one of the best and easiest ways to tackle a brand new trend is to start with the basics. So rather than overthinking the look, ease into your puddle pants with an age old trench coat and basic tee. This minimal yet refined combination is guaranteed to make a lasting impression wherever you happen to go. It's also incredibly effective whether you're wearing jeans or trousers.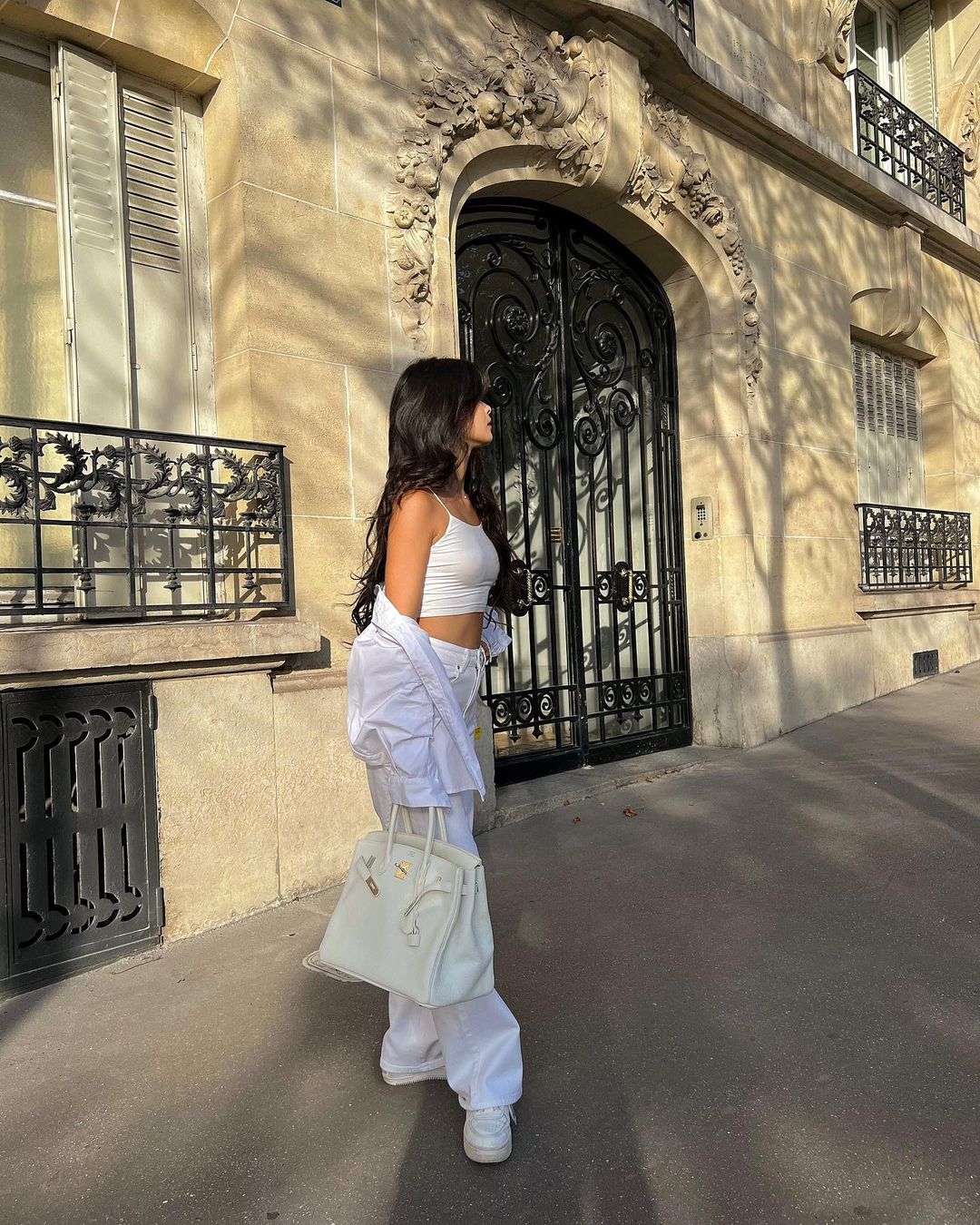 Photo via @caroline_hu
8) All White
For those who like to take risks, you can be brave and opt into all white outfit like this influencer. Your best bet is to save this look for a day with clear skies. It's just a matter of stacking multiple white pieces together for a clean take on the floor grazing pant style. Add dimension by varying the silhouettes and sprinkling in structured accessories, like an oversized tote.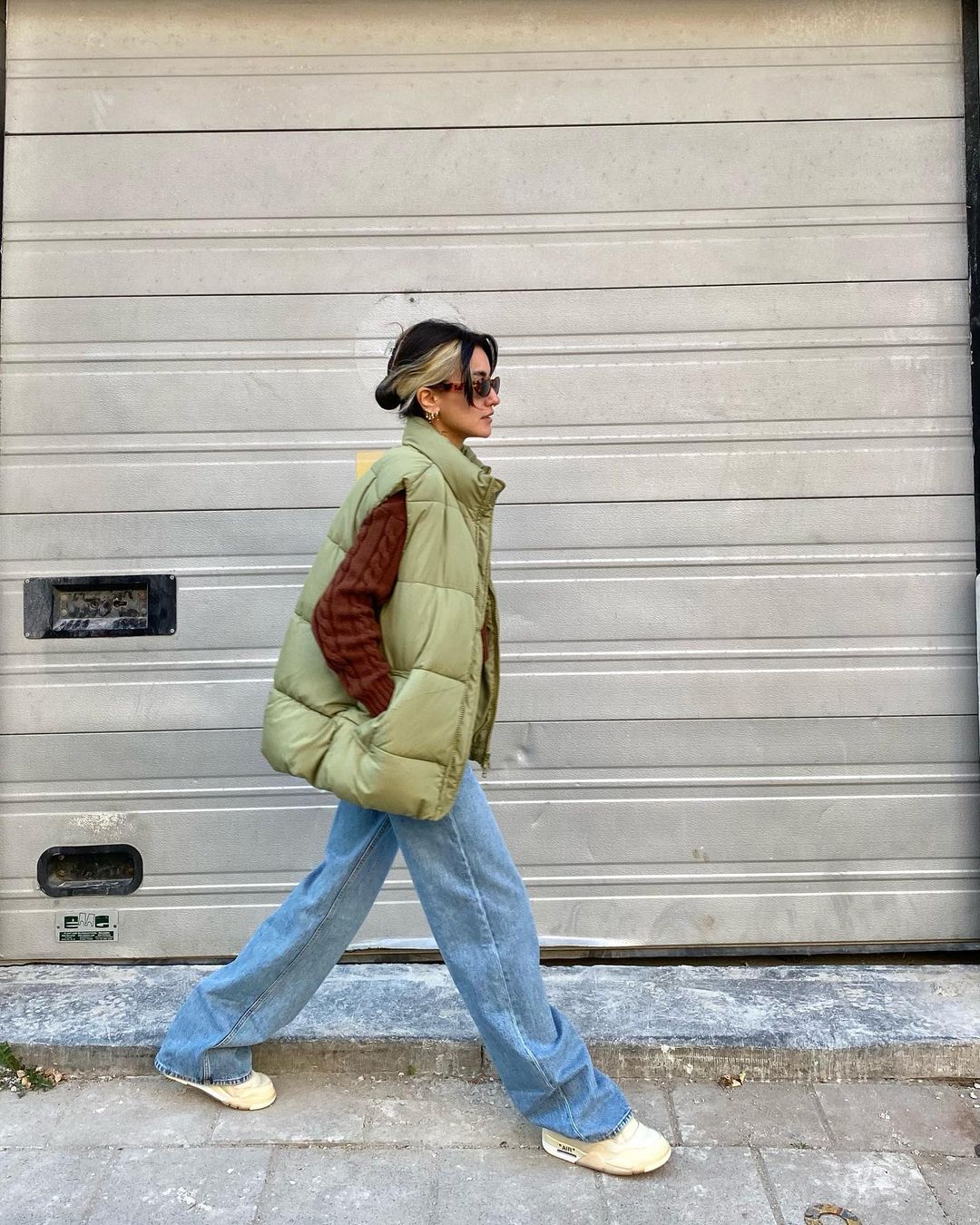 Photo via @ginneynoa
9) Best Foot Forward
Footwear plays a key role when it comes to styling puddle pants trend due to the extra inches on the inseam. One of our favorite choices go to sneakers. Trainers of any kind set the tone for a laidback look and maintains that casual, street style vibe. As you gear up for fall, consider wearing this duo with a cable knit sweater and puffer vest. You can't beat the 90's nostalgia and endless layering potential of this combo.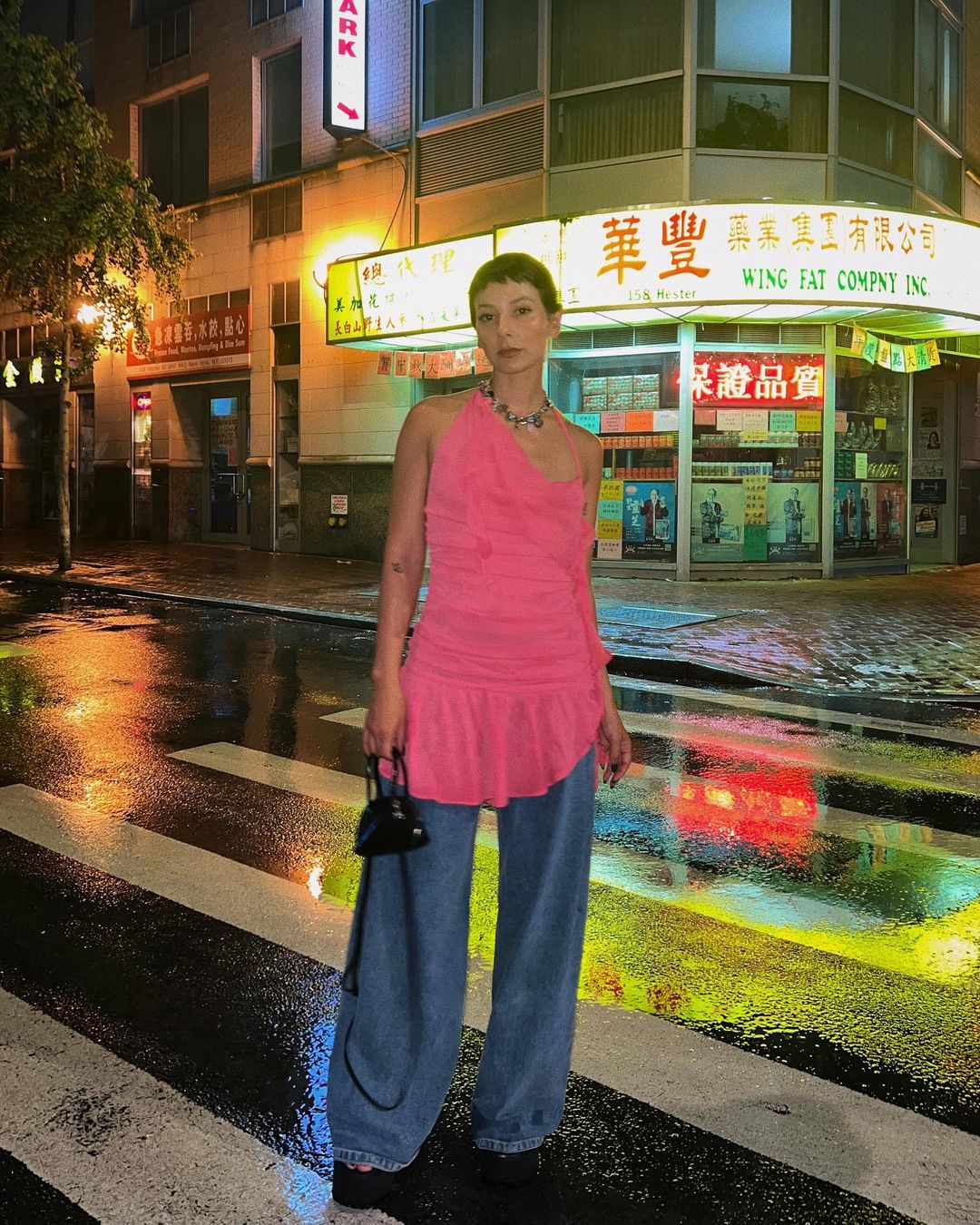 Photo via @alyssainthecity
10) Barbiecore
We've highlighted the ever growing barbiecore trend on multiple occasions – but this outfit further proves it is more versatile than you think. To feminize the puddle jeans trend, Alyssa rocks a bright bubble gum pink frock on top, injecting a tender touch. If you're not a fan of allowing your jeans to completely drag on the ground, just slip on some sky high platforms for added height.

(Visited 1 times, 1 visits today)