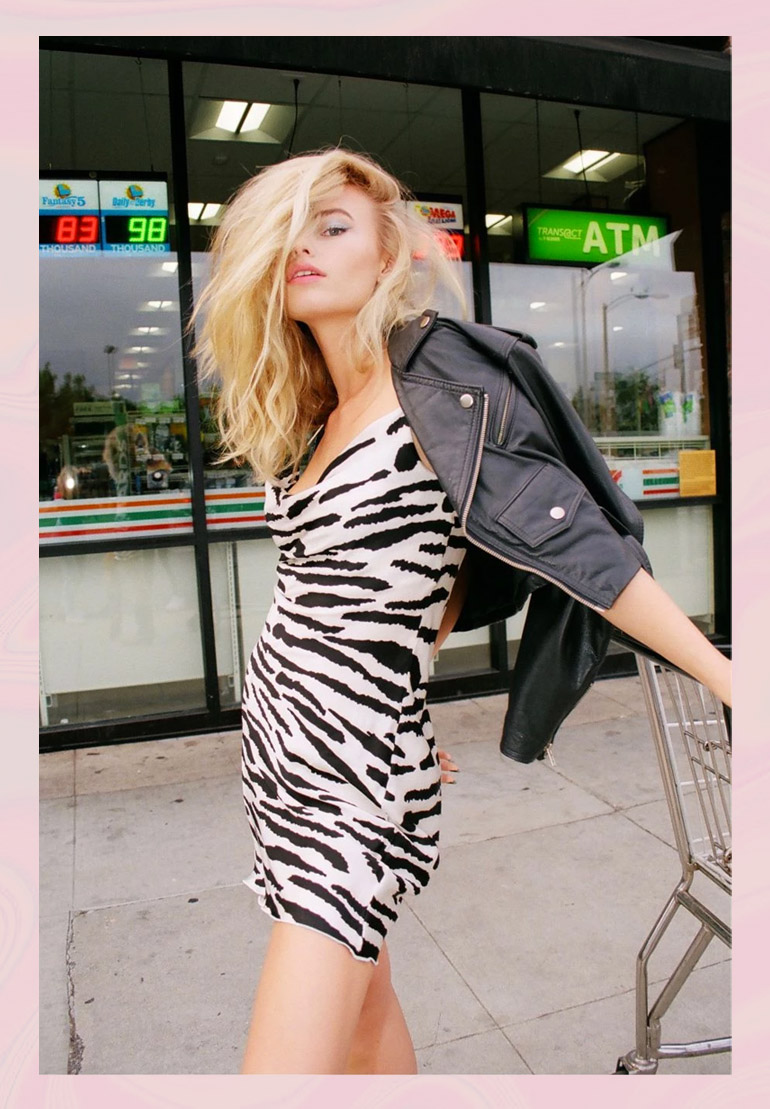 There are so many fashion trends from the 90's that have come back with full vengeance over the last couple of years, that its hard to keep up! From Doc. Martins, to grunge wear, to chokers and beyond, we are loving the full nostalgia of that golden era of grunge and rock. But perhaps our very favorite trend to be making its way back onto the runway (and into our closets) is the slip dress! You know the look! That silky, slinky, simple, and oh so sexy garment that takes you from the bedroom to a glam night out in no time! The best part? There are so many fun iterations of this fabulous fashion trend and so many ways to rock the look that you could spend the rest of 2019 in slip dress fashion and never get bored! So if you're loving this slip dress fashion trend as much as we are but not sure what your favorite slip dress style is or what slip dress brands are best for you, don't worry, we won't let you slip up! We've created a list of the Top 12 Slip Dresses to Shop in 2019! Go get 'em!

1) The Lovers & Drifters Club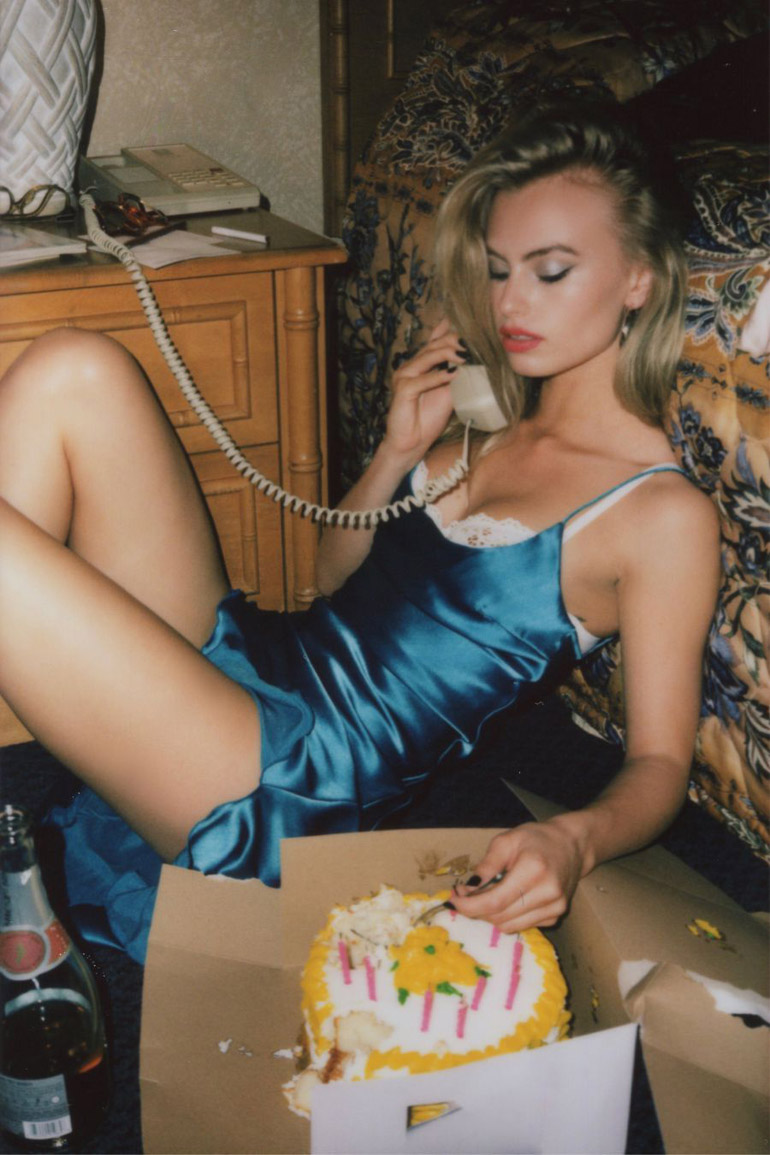 The Lovers & Drifters Club is an Australian-born brand situated in Amsterdam, Netherlands, and founded in 2014. This brand has such a great sense for weaving sex and fashion into their online campaigns, embodying a free-spirited female with a rock n' roll persona, which if you ask us, is a perfect recipe for creating an unforgettable 90's slip dress style. The label's Citrus Bomb Mini Slip Dress is, well, the bomb! With it's citrus green satin, bias cut, and spaghetti straps, this dress is a fierce take on the classic slip dress. This dress is so eye-popping that you don't have to worry about trying too hard with accessories or makeup. Keep it clean (and green), and you can't go wrong! The Lovers & Drifters Club is known for creating pieces for the wild-at-heart that are all hand made in Bali, and is going to be a go-to for all your slip dress fashion needs! Trust us

2) Endless Summer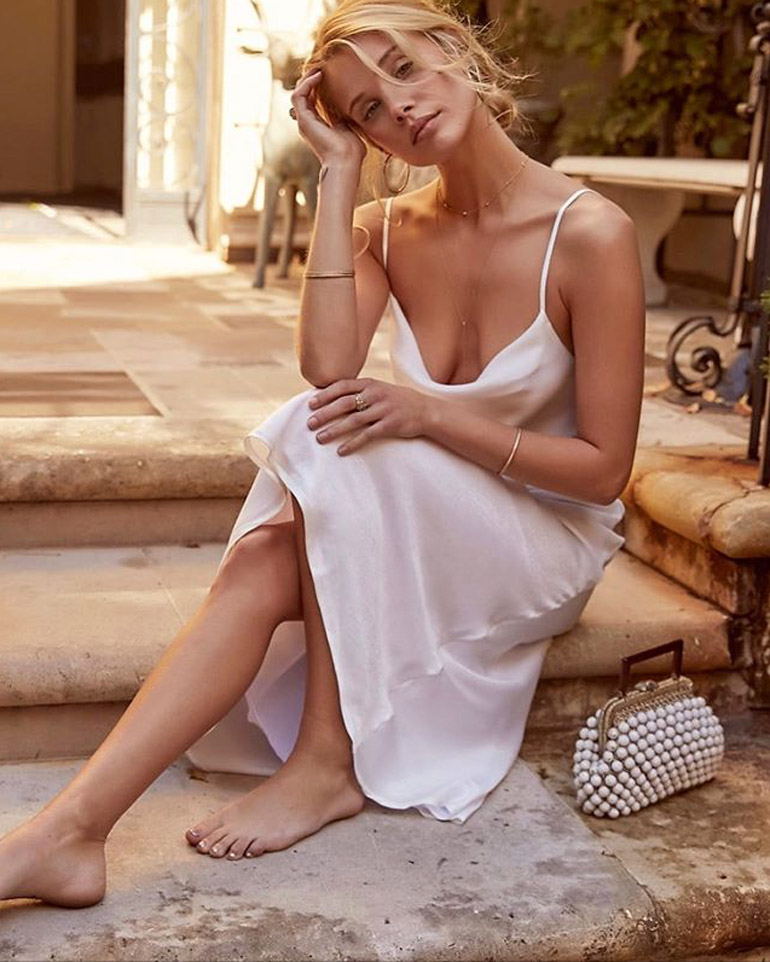 From the sunny and very fashionable Venice Ca based brand Endless Summer, The white Berri Slip Dress is so classy, clean, and elegant, we would literally get married in it, or at the very least rock it on a honeymoon with some tanned arms and legs! You will look completely effortless wearing this dress with its adjustable straps, cowl neckline, and fully lined Polyester fabric (so no embarrassing see-through moments, ladies). Consistently loved by the best of the fashion circuit you can always find great day-to-night looks like this one and more from this go-to cool-girl brand. So be sure to keep Endless Summer on your radar all year long. And in case you were wondering, the fun doesn't end with slip dress styles. You'll also love all the crop tops, blouses, and camis this trendy brand has on tap!

3) Olivia von Halle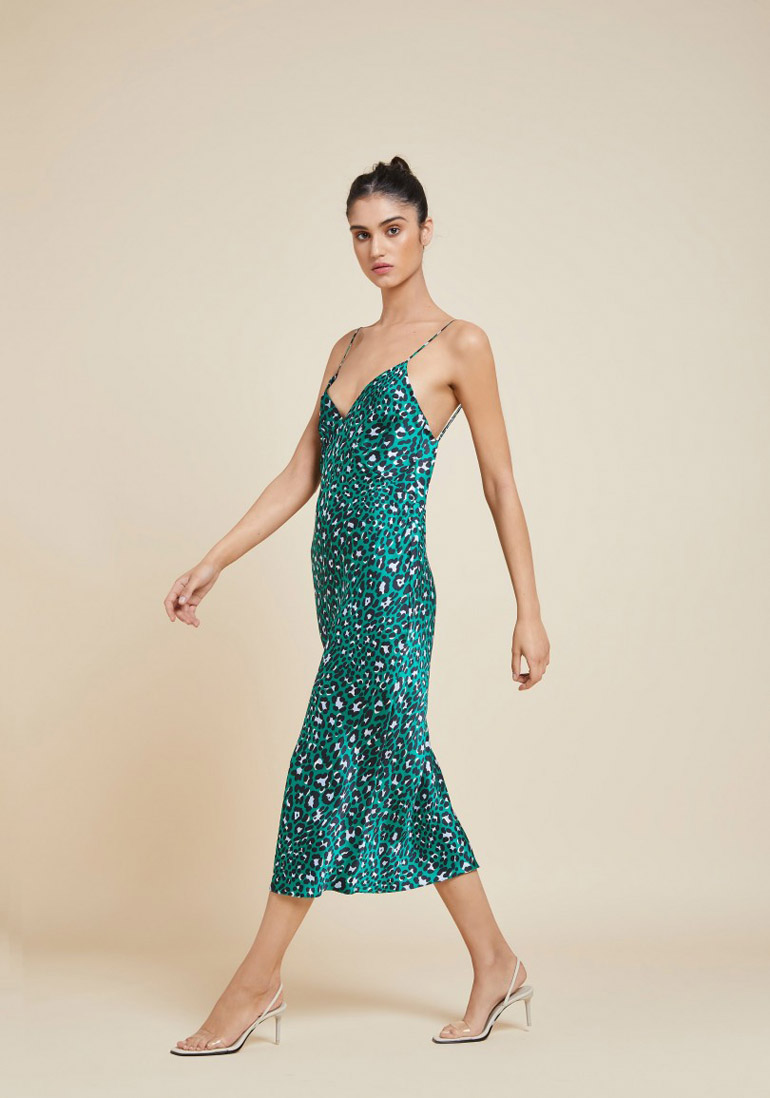 If you're craving a little luxury and style, then you're going to want to check out British label Olivia von Halle. Established in London in 2011, this luxury brand offers pyjamas, robes, kimonos, nightshirts, and eye masks. So its only fitting that with these lovely boudoir offerings, that slip dresses would also join in on the fun! And boy, have they! We're pretty much obsessed with Olivia von Halle's Issa Danger Silk Slip Dress! Take a look and you'll see why! This time-tried classic slip dress has been revamped and updated with eye-popping lagoon green silk featuring a leopard print that is one for the ages! Whether you're looking for the perfect dress for your next special event, date night, or girls' night out, the choice is simple! And we're not ones to name-drop, but hey, when a brand has fans such as Rihanna, Cara Delevingne, Jennifer Lopez and Gigi and Bella Hadid, it just must be doing something right!

4) L'agence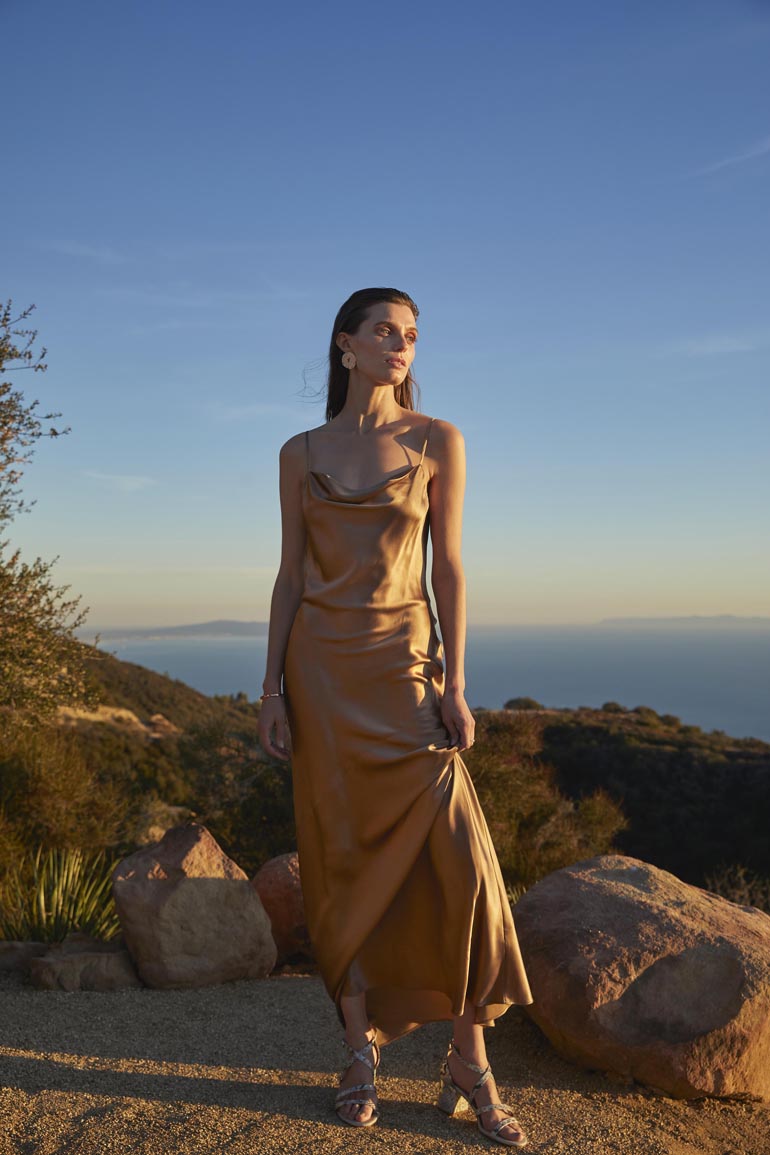 A brand that combines the effortless style of Los Angeles with the sophistication of Paris is always going to be a fashion success! And so is the case for the Cali-based brand L'agence. You can always expect quality fabrics and right-now designs that are made to last from this chic label. Offering both fashion staples, special pieces, and a very popular denim collection, L'agence has everything you're looking for no matter what the occasion. And with a refined selection of slip dresses, it's made it to our list! The Elora Mini Slip Dress really caught our eye. Crafted from silk charmeuse, this python printed spaghetti strap dress creates a super flattering fit you can't deny! We especially love the length of this exquisite dress – so don't be afraid to show a little leg. And if that's not your thing, not to worry! The brand's Arianne dress is the perfect solution, a sister dress to the Elora with a little more length and a lot more luxury.

5) Michael Lo Sordo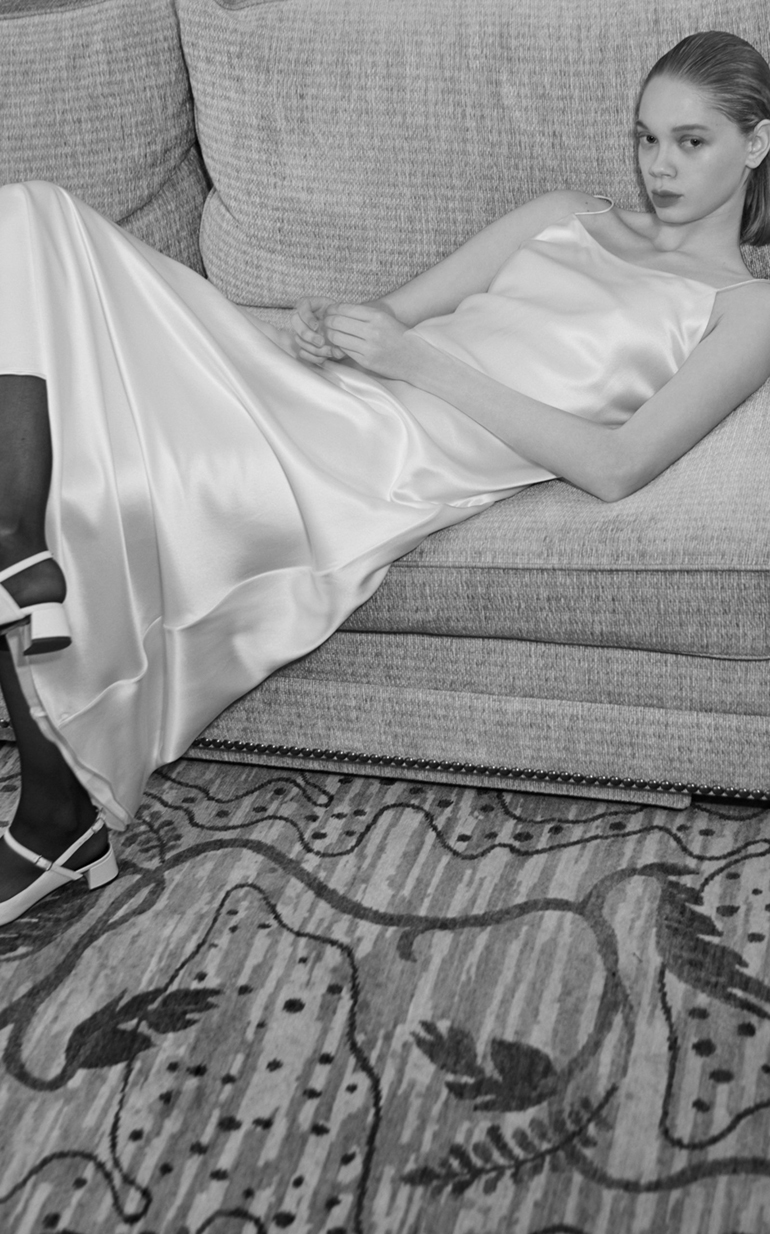 The refreshing take on the 90's slip dress coming from contemporary womenswear label Michael Lo Sordo is a breath of fresh air. With his Carolina Bias Slip Dress, the Aussie designer solidifies his inclination towards romantic minimalism. The stunning Turquois dress made from 100% silk boasts an open back crisscross strap design, and a unique side hem slit with handkerchief hem, making it stand out from the crowd. Drawing inspiration from past and present, the label's promising designer Michael Lo Sordo is making a name for himself in the fashion world. We can't wait to see what else this creative young designer has in store – but for now, we'll settle for his perfect take on the slip dress outfit.

6) Cushnie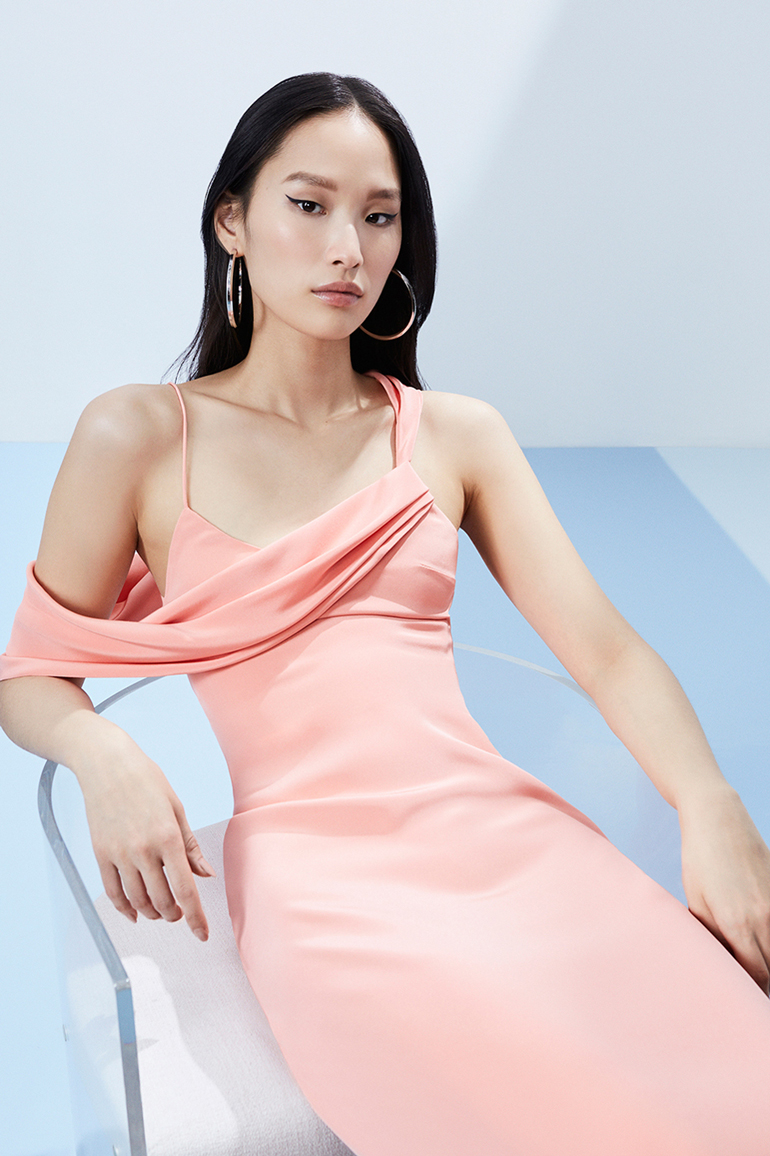 For a truly unique take on the modern slip dress, check out the luxurious Woodrose Silk Charmeuse Asymmetric Mini Dress from Cushnie. Made from double silk charmeuse, this sophisticated dress features an asymmetric one-shoulder sleeve and slightly fluted hemline. A Tassel details accentuates the plunging open back, creating the icing on the cake for this envy-inducing look. Created with a mission to empower women, and to celebrate diversity and inclusion, the label's CEO and creative director Carly Cushnie has done an excellent job of artfully crafting lush and refined designs. Loved by many empowering women such as Michelle Obama, Beyoncé, Gal Gadot, Lupita Nyong'o, Ava Duvernay, Jessica Biel, and Jennifer Lopez, Cushnie always delivers on its promise of upscale pieces for the modern woman. You can always expect the perfect fit for the female form, and a refined sense of cosmopolitan minimalism and femininity.

7) Galvan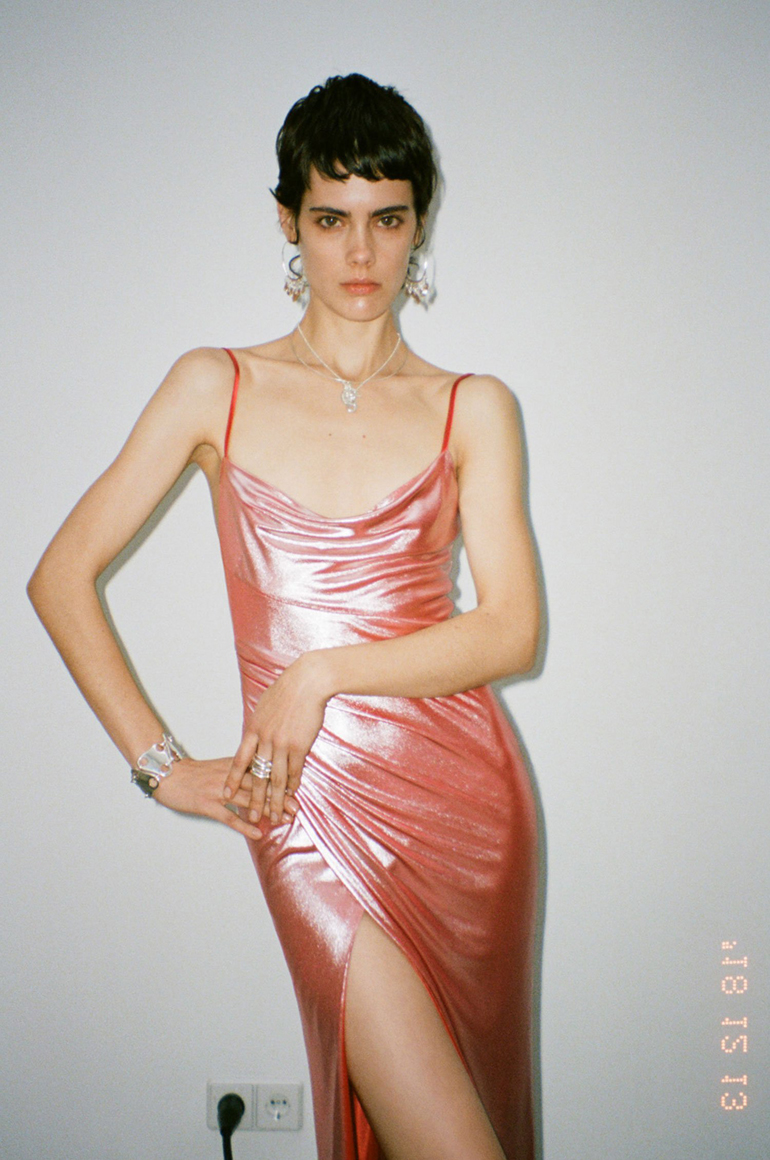 Hands down the most glamorous slip dress we've come across is the absolutely stunning Stardust Slip Dress from evening-wear brand Galvan London. A sparkling version of the brand's signature slip dress, this style will take you from the red carpet to the disco in no time. Crafted from chiffon embroidered with rows of chrome sequins, this dress has a clean A-line shape with a super flattering silhouette you'll fall hard for! Finished with delicate spaghetti straps and a low cut V neckline, you'll show just enough to leave the rest to the imagination. The brand's founders Anna-Christin Haas, Sola Harrison, Katherine Holmgren and Carolyn Hodler came together over their mutual love of fashion and contemporary art with a desire to create modern looks for strong women. We love that! For the best in signature evening wear, pick the versatile designers from Galvan London.

8) Dion Lee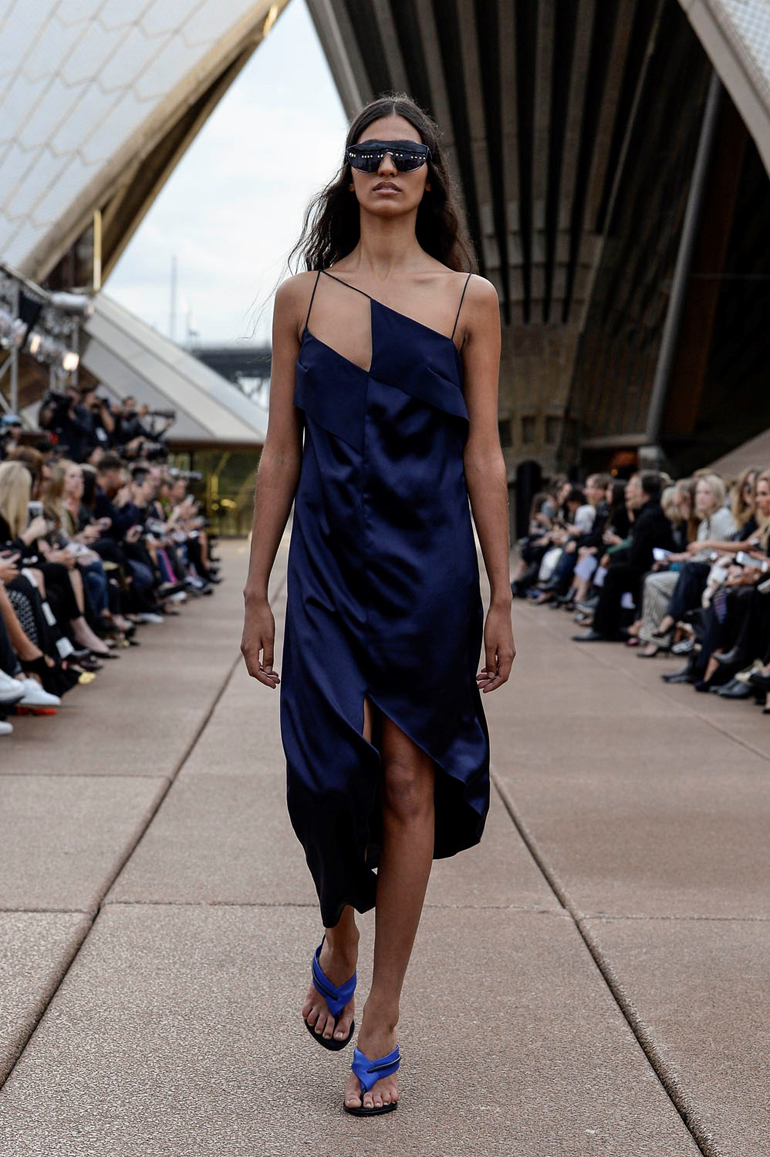 Our pick for the most feminine and flirty slip dress goes to the Aussie based brand Dion Lee with its Silk Satin Lace Slip Dress. A woven diagonal bodice with layers of silk and French solstiss lace adorn the front, while the flattering and body skimming dress in a bias cut hangs perfectly and hits a mid calf length. This slip dress is offered in a lovely Navy color, but we are even more entranced with the Copper version. Known for his experimental construction combined with traditional tailoring methods, the namesake brand's designer Mr. Dion Lee has truly created greatness with this dress. Both comfortable and ultimately feminine, you'll never want to take this dress off!

9) Sablyn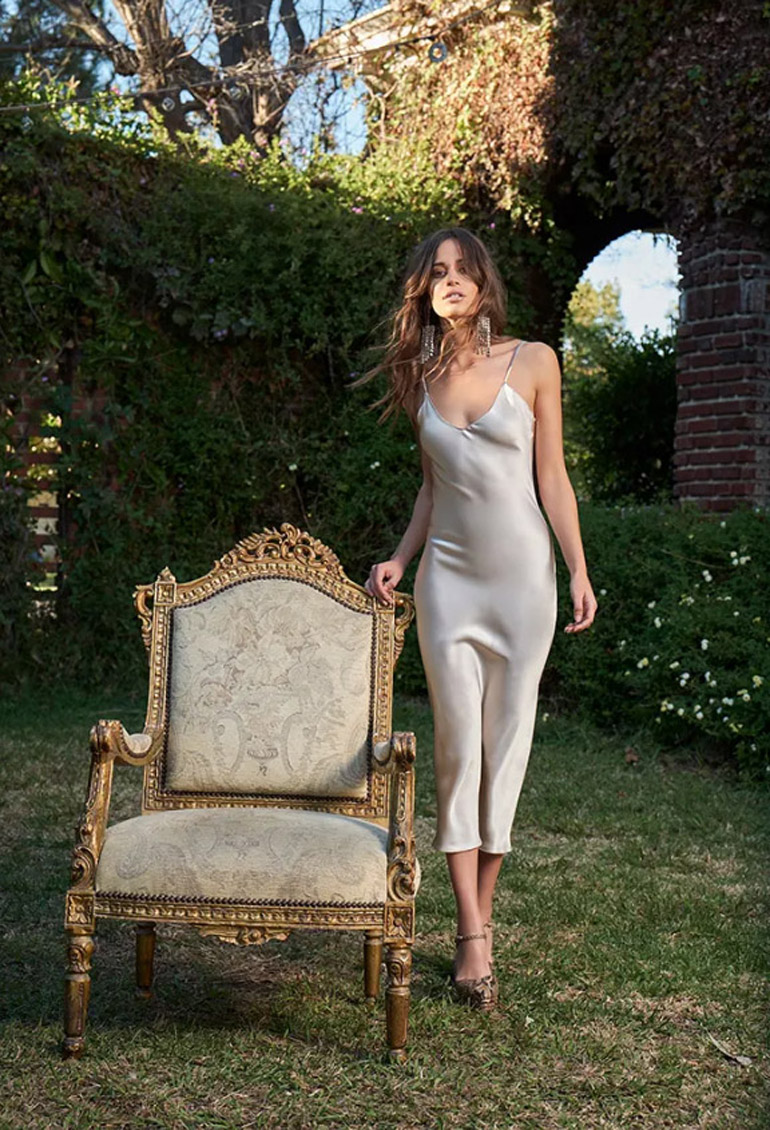 Are you a fashion lover who is all about the button details? If so, we have a slip dress you're going to love! Los Angeles based fashion label Sablyn, founded in 2017 by Sable Banoun, has a 100% silk slip dress called the Carla Covered Button Slip Dress, and it has buttons for days, in all the right places! The simplicity of form and peek-a-boo button lining in this minty silky little number is done just right. Class, simplicity, and elegance, are what this dress exudes, and what the entire Sablyn label exudes for that matter. Bridging sexiness and comfort to create ready-to-wear pieces that are made to last, designer Sable Banoun brings her wealth of experience in the fashion world to create unforgettable slip dress styles you'll die to get our hands on all season long. If you're loving this delicate and charming mint hue but are not all about the buttons, don't fret! The label's Charlie Crew Neck Slip will be just what the doctor ordered.

10) Nicholas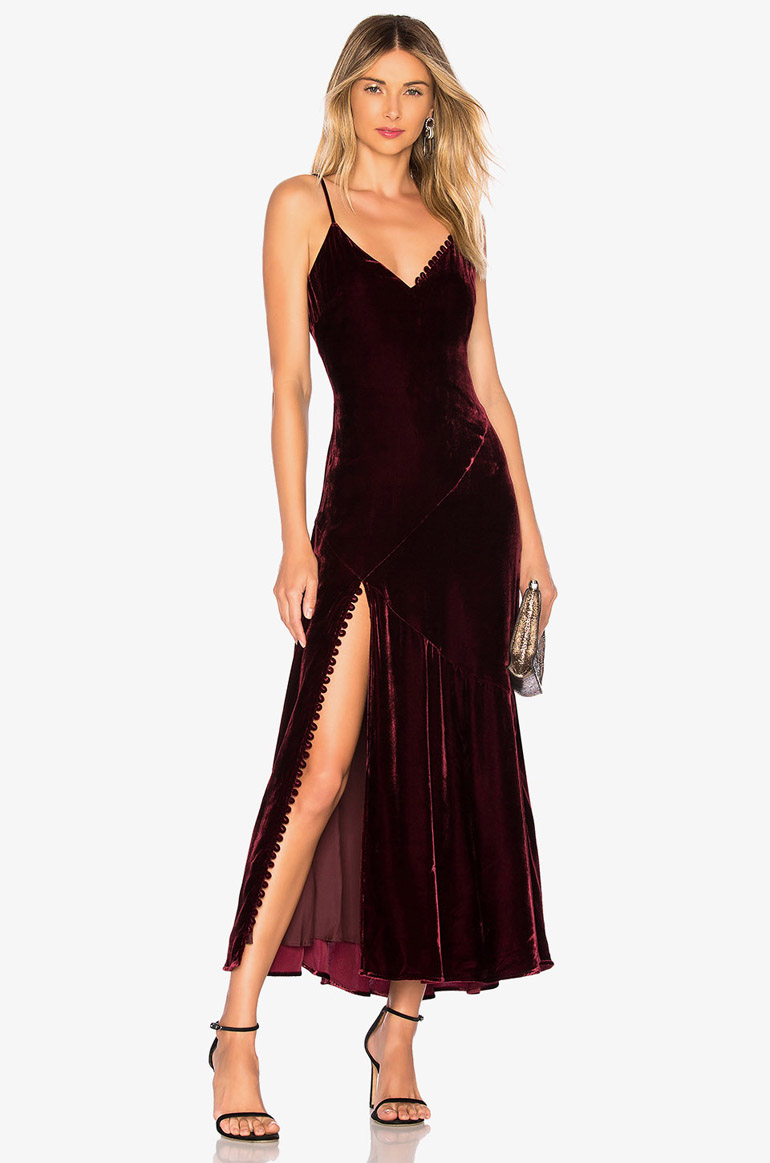 Loving the slip dress fashion trend but find silk a little intimidating? We get it! The sexy and delicate nature of silk and satin, though a great match for slip dresses, isn't necessarily up everyone's ally! Which is why we're loving the Slim Velvet Slip Panel Dress from Australian women's fashion brand Nicholas. This fully lined velvet slip dress has a plunging side seam slit perfect for making a statement, while the deep burgundy velvet fabric creates a dreamy construction perfect for any sexy date night. Established in Melbourne in 2009 and instantly becoming a cult hit among the Aussie style makers, clean lines, subtle detailing, and bold color palette's all make Nicholas a winning choice.

11) Shona Joy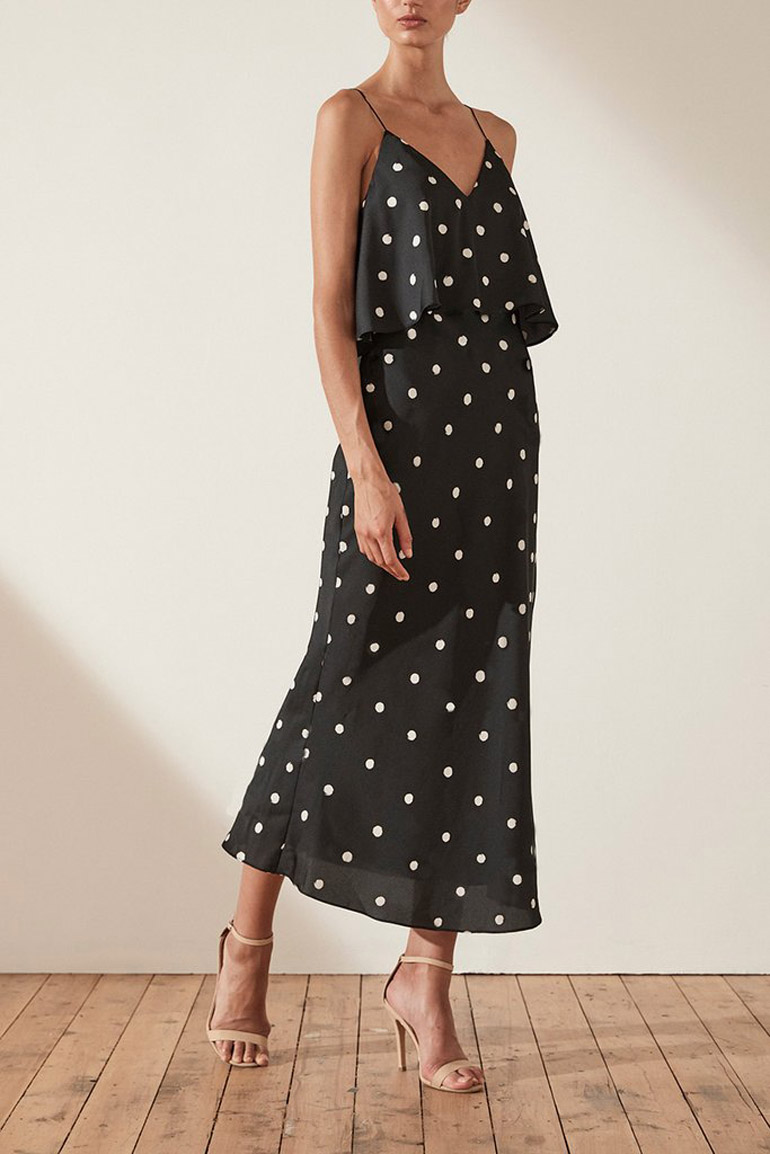 When you're looking for a little somethin' extra in your slip dress, whether it be a fun print, or a silhouette that is a departure from the classic cut, The Avery Frill Bias Slip Midi Dress, from designer Shona Joy, featuring a vintage-inspired black and white polka dot motif and frilly overlay, is just the right amount of unique for style seekers who like to think outside the box. This medium weight woven silk dress with just a touch of silk, offers spaghetti straps, and a slight flare at the hem. Pair with stilettos or dress is down with a denim jacket – either way you can't go wrong with this super cute and versatile dress. Designer Shona Joy, based in Sydney Australia, has been turning heads with her eponymous label since 2000. We love that this proudly independent label manages to stay true to its humble beginnings (selling at Bondi Beach markets), while continuing to create lux and modern designs that truly celebrate all women.

12) Bardot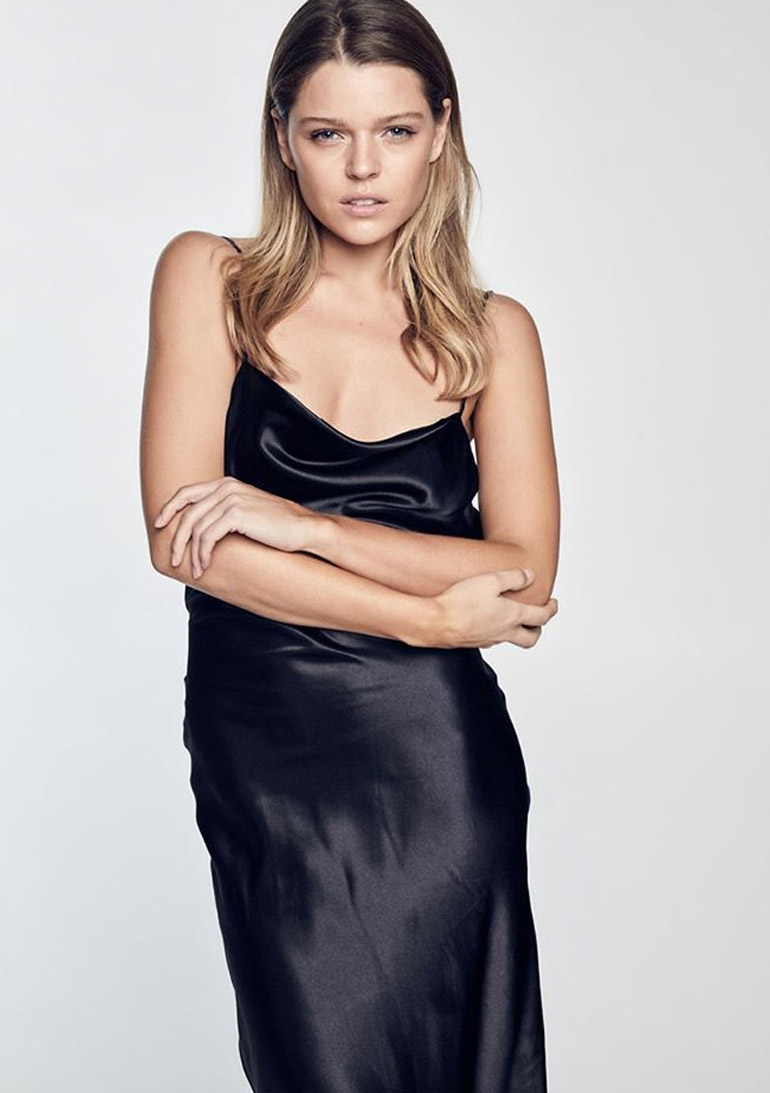 There's really nothing better than a gorgeous, slinky, simple slip dress to get the party started after a sunny day at the beach. If you like things a bit more casual, this lovely little Floral Slip Dress from long-standing fave fashion brand Bardot, is gonna get you off on the right foot this summer! The best part? The price point is beyond reasonable and accessible so you don't have to worry about breaking the bank. Launched in 1996, Bardot has transformed into an Australian fashion power-house, offering the hottest fashion styles for women year after year. If you're a lady who likes to wear fashion with a bit of attitude, and loves a good bargain, then there's no doubt that Bardot will be your next go-to brand for slip dresses and beyond!
(Visited 1 times, 1 visits today)