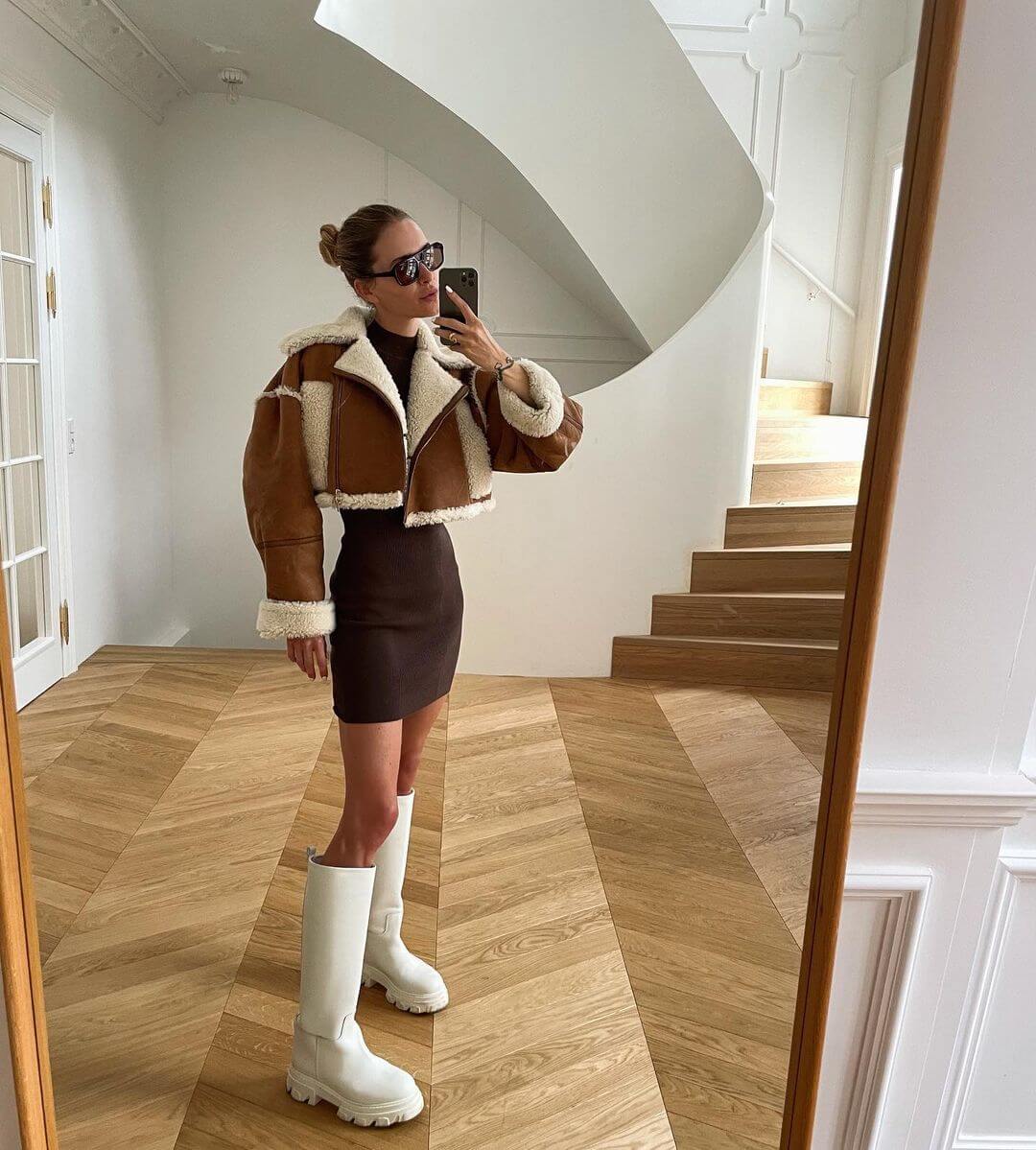 Photo via @pernilleteisbaek
Nothing is better than a pair of boots that marry fashion and practicality. There's one in particular that's made for walking and you can surely bet we are talking about lug sole boots. They're without a doubt this year's hottest shoe trend. The eponymous thick, rubber platform sole don't just add height and style points but offer long lasting comfort. We believe it gained popularity not only for its cool-girl aesthetic but because it's the ideal shoe to transition you from summer to fall to winter and beyond. Every single brand is hopping on board too. From top designers, like Gucci and Saint Laurent, to indie labels, lug sole boots have taken the fashion world by storm. As it is a more power-hungry look to sport, we wanted to provide some inspirational outfits to get you in that lug sole frame of mind. If you are ready to tackle this season's It trend, keep scrolling for 10 lug sole boot outfits that you can recreate on a whim!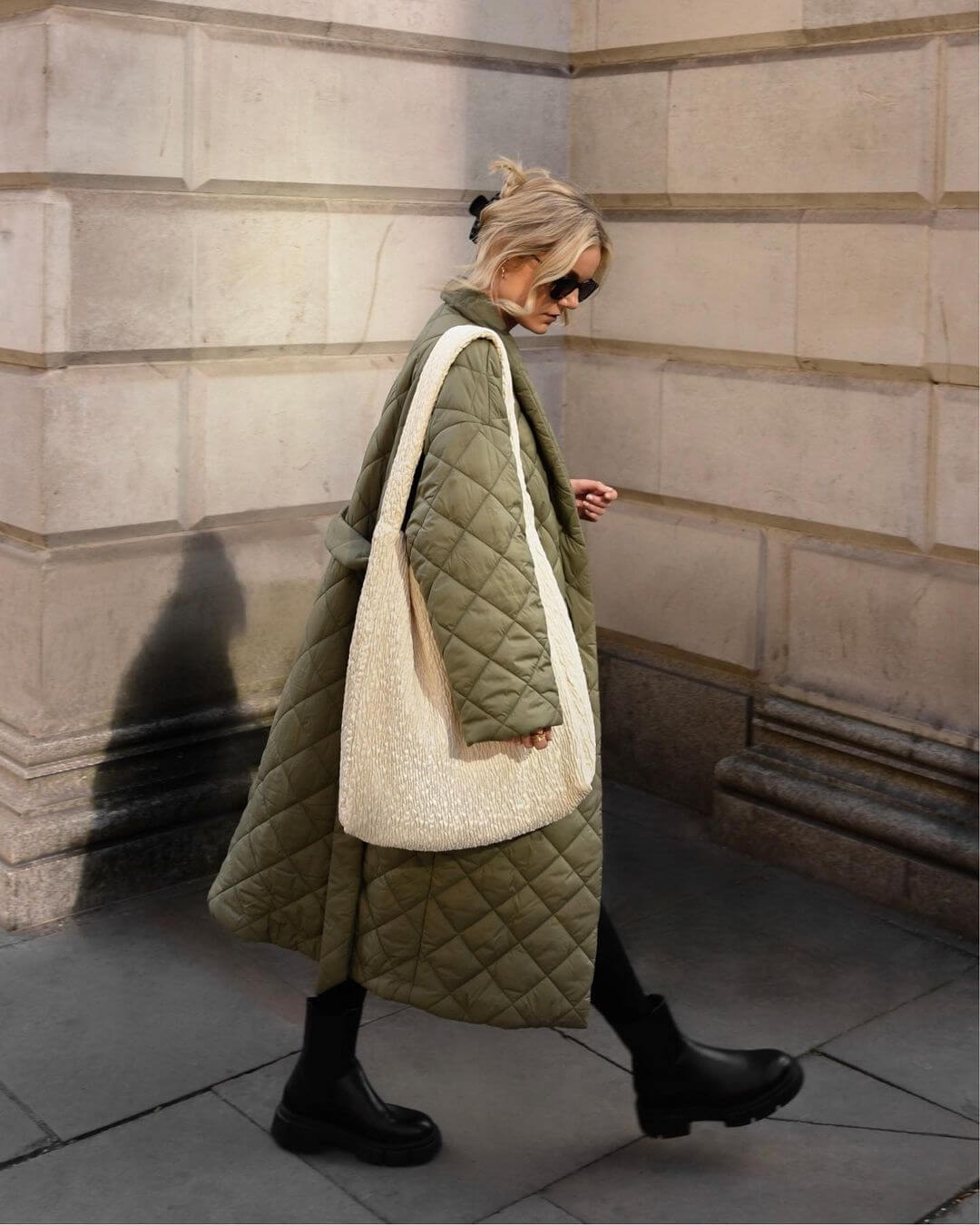 Photo via @ninaleacaine
1) Tactical Outerwear
As lug sole boots are more of a tactical footwear choice, what better way to style them than with an equally tactical outerwear piece. Anoraks, trench coats, and quilted outerwear are perfect to combat the cooler temperatures. However, when you team them with the aforementioned boots, you get a cohesive utilitarian aesthetic that's forward and chic. Bring in more feminine elements like a soft handbag and hair clip to balance out the edginess.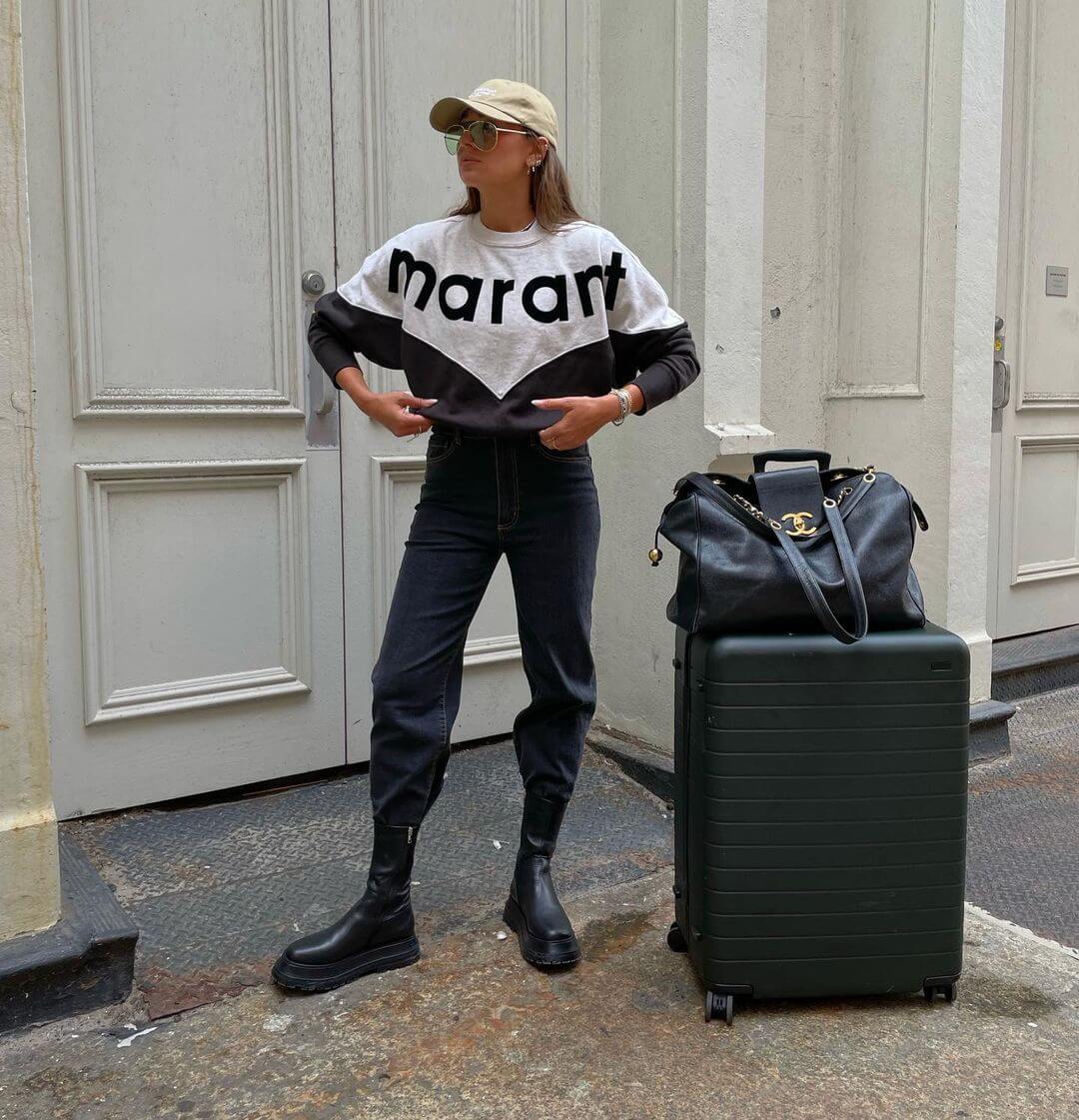 Photo via @weworewhat
2) On-the-Go Tuck
Whether you are heading to the airport or tackling errands on your to-do list, we love this effortlessly chic way to style the ever popular lug sole boots. Who knew that relaxed denim would look so incredibly chic tucked into the footwear! This outfit blends comfort and style into one look for busy fashionistas on-the-go.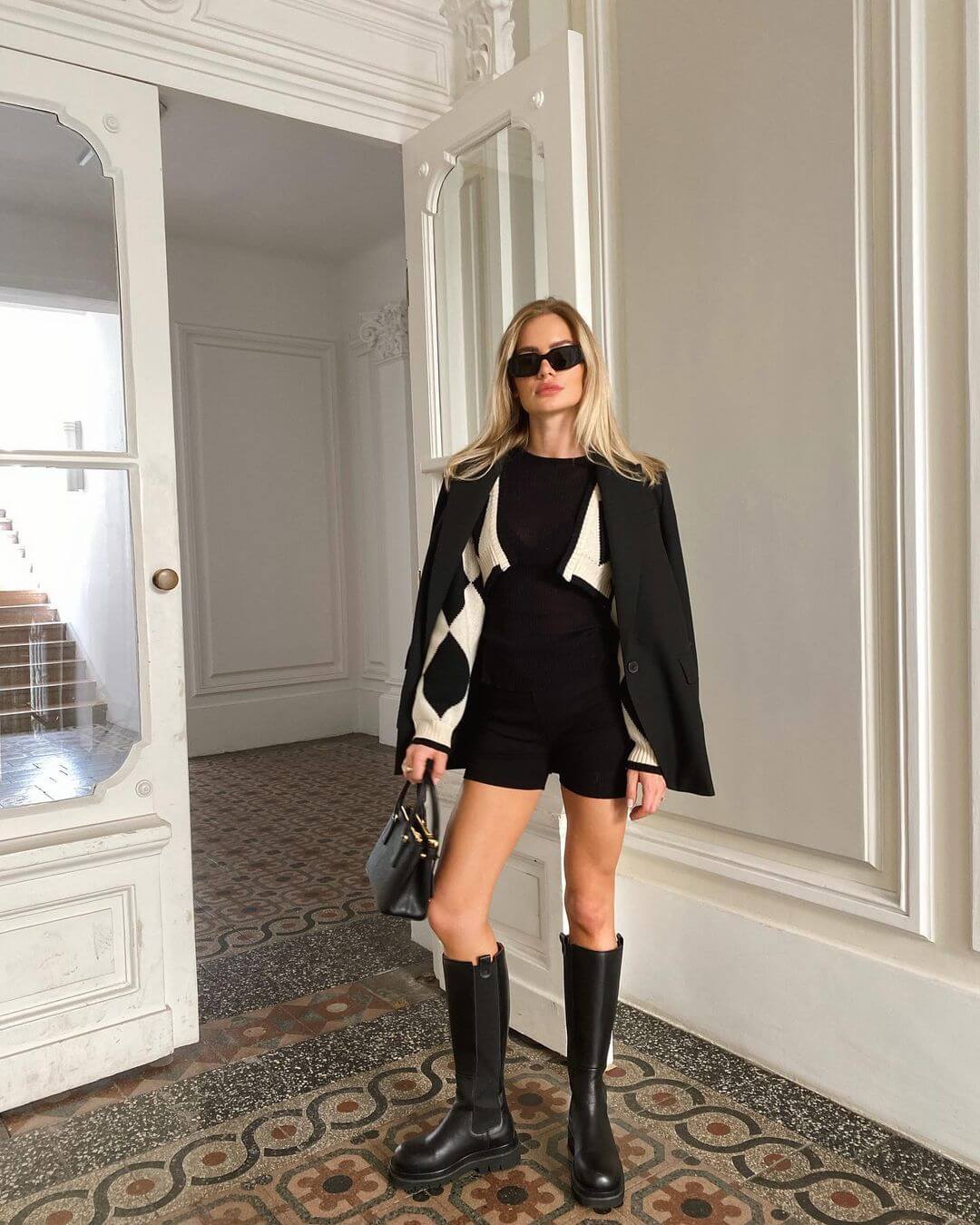 Photo via @viktoriahutter
3) Transition Summer to Fall
Still want to sport your shorts for the beginning of fall? No problem! A taller lug sole boot is here to save the day as we gear up to transition to a new season and brisk weather. We are obsessed with this mod, black & white outfit that features a layered cropped cardi, oversized blazer, shorts and of course – the boots of the moment.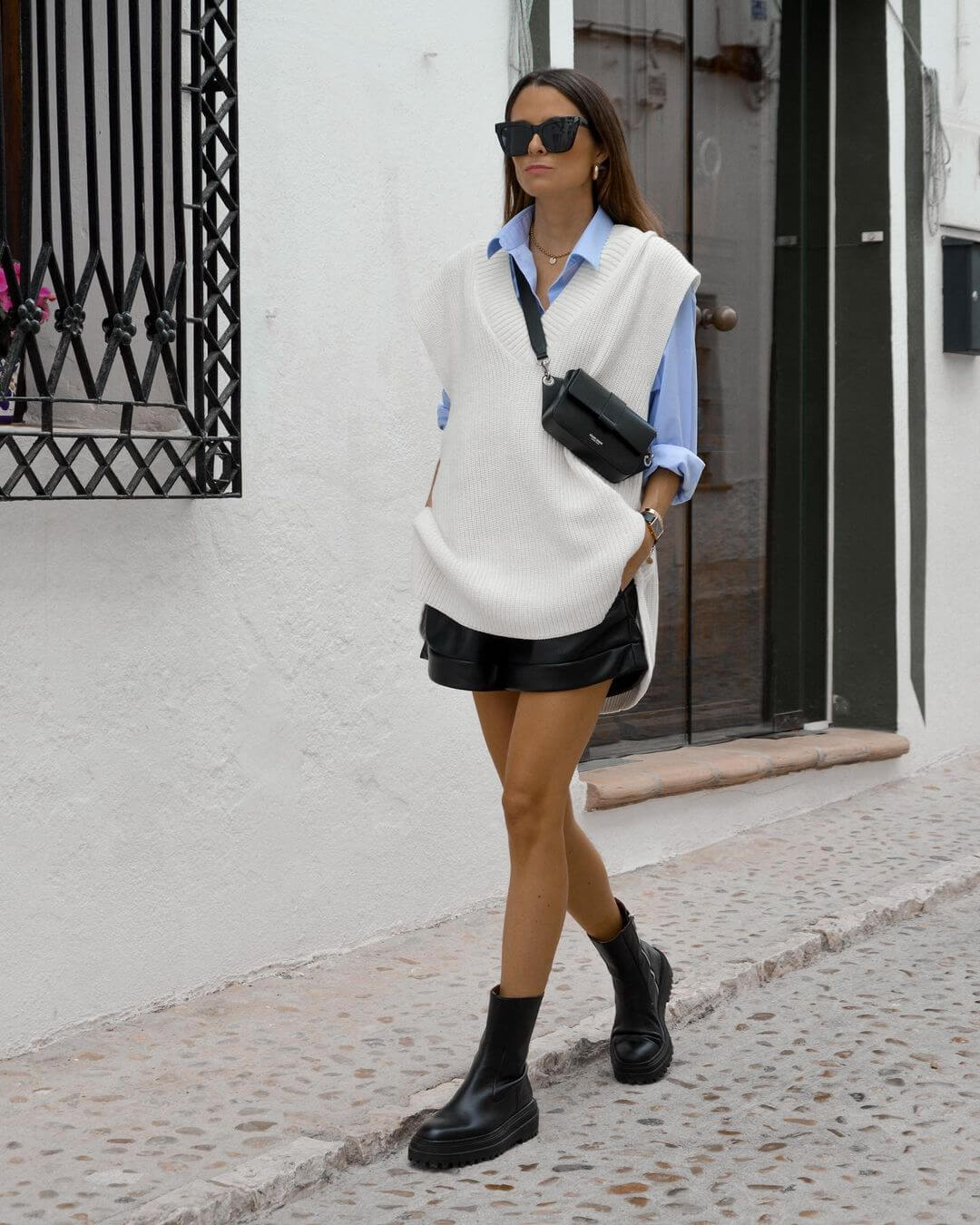 Photo via @lookfortime
4) Vest Believe It
Double up on the latest trends this autumn by styling the endlessly popular sweater vest with an oversized shirt and lug sole boots. The layered vest look has an almost androgynous feel which is perfect for the chunkier booties. This is proof that the mid-calf lug sole boot is an easy accompaniment to your everyday wardrobe.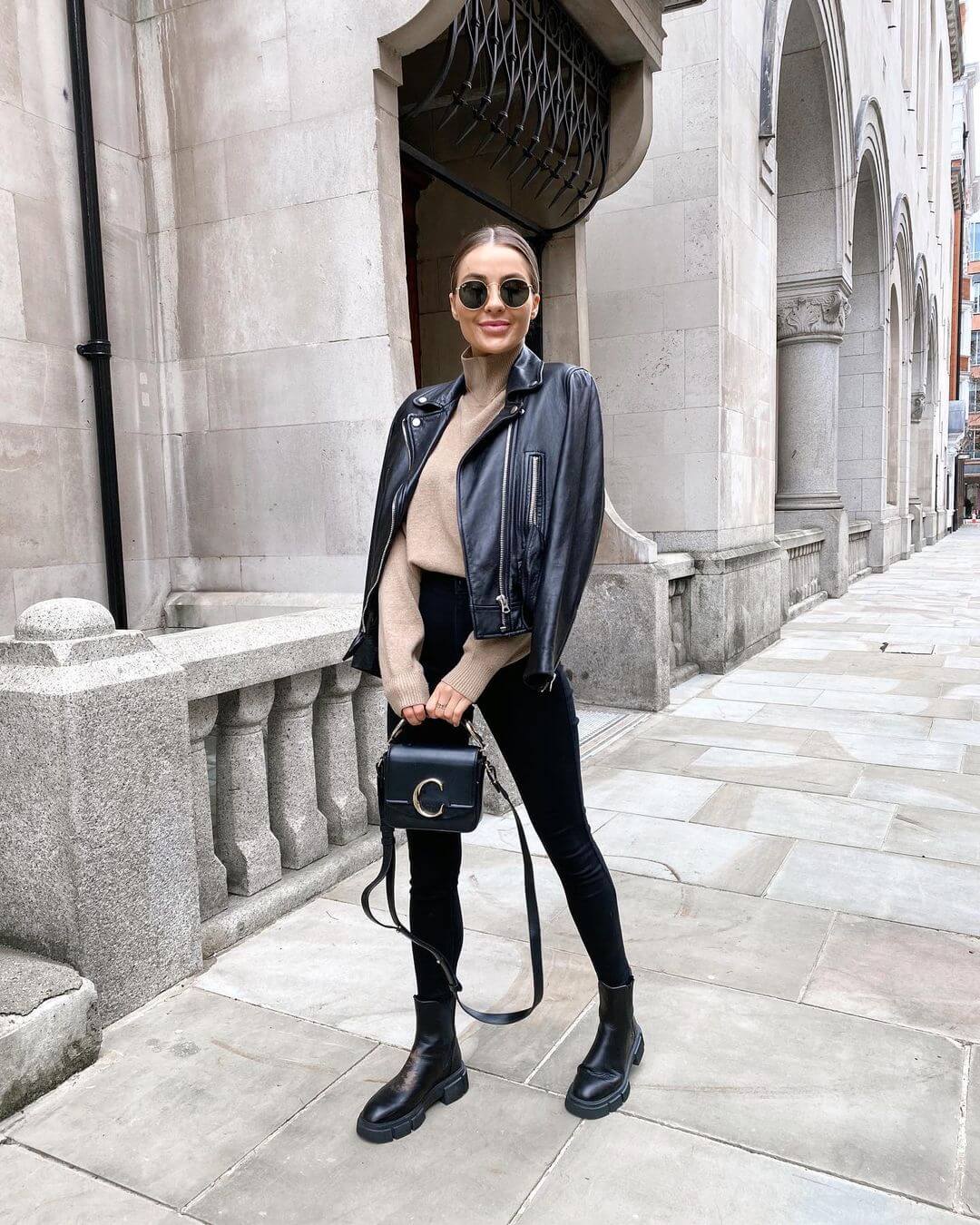 Photo via @nadiaanya__
5) Wardrobe Staples
There is no need to reinvent the wheel either! This trendy, thick-soled shoe works like a charm with the most basic of wardrobe staples. Key fall pieces like neutral knits, skinny pants and leather moto jackets are natural companions to the lug sole boot. This means that you can easily style them with your favorite everyday outfits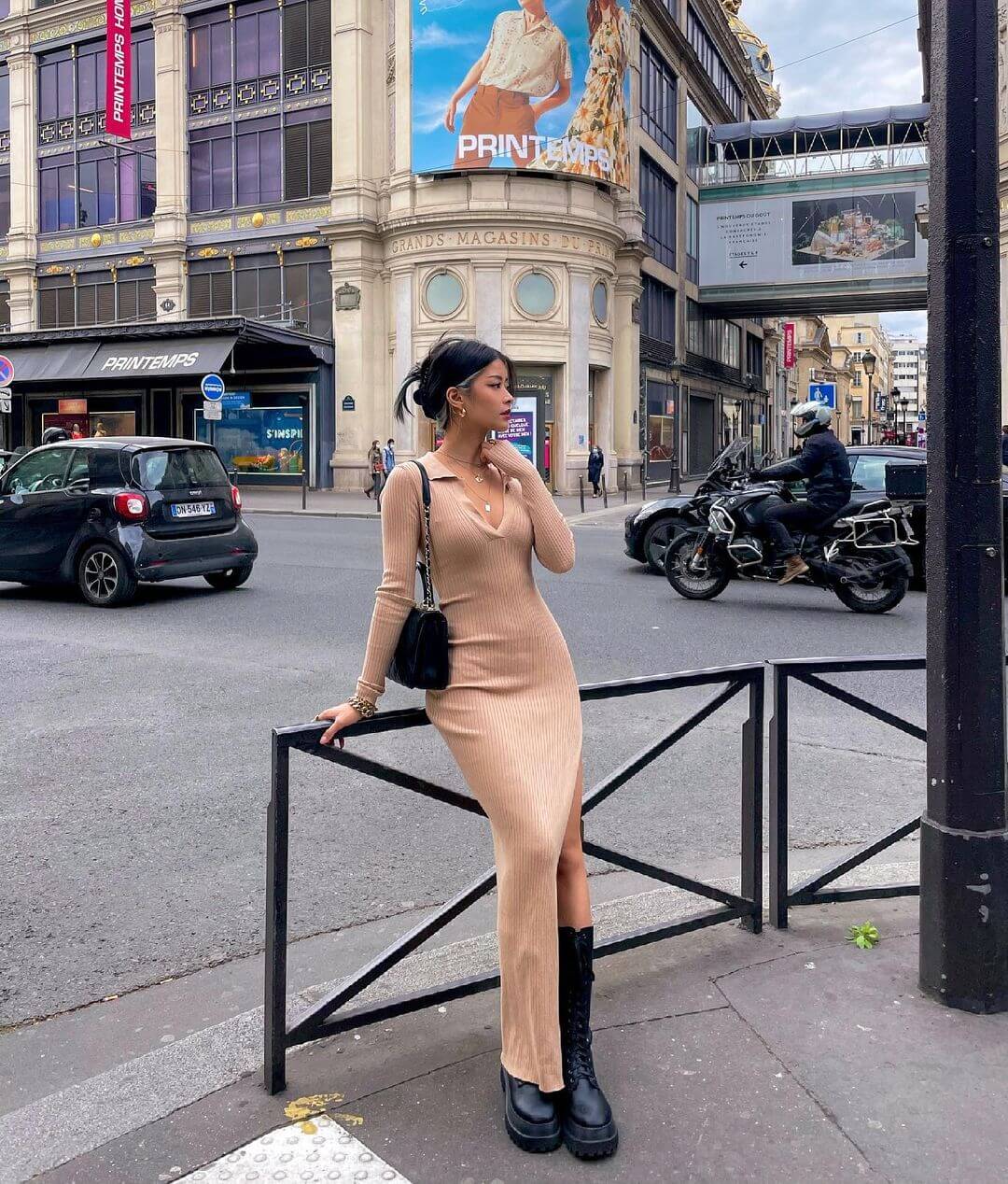 Photo via @caroline_hu
6) Elevated Knitwear
To vamp up your dressier pieces (or make them more wearable for the daytime), you can utilize lug sole boots. Trade pull-on boots for a lace-up design to heighten the drama and add a touch of punk rock character to your look. We adore the end result when mashed up with a form-fitting ribbed knit dress. Don't be afraid to go for a thigh slit to show off the full breadth of the boot too!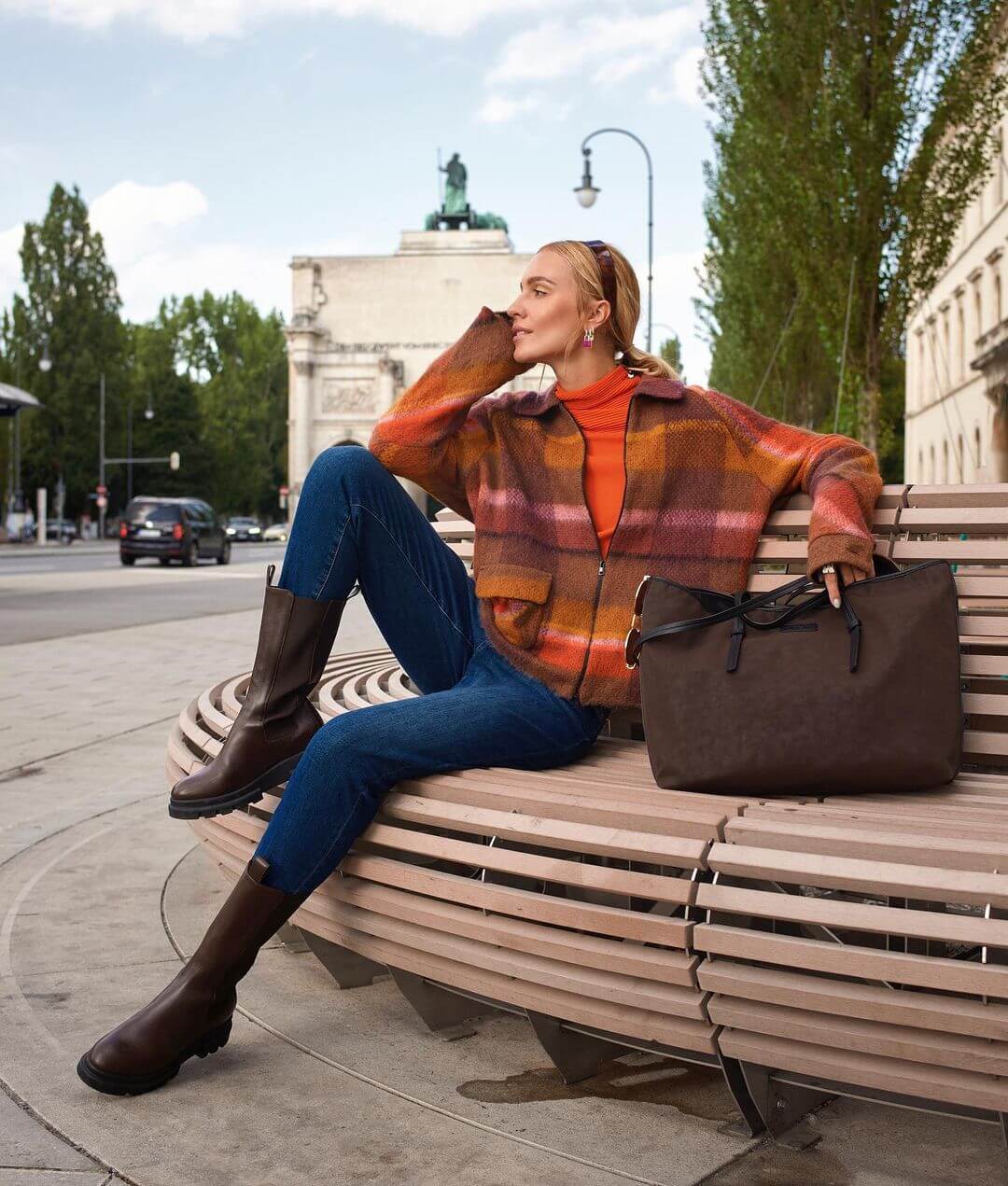 Photo via @vikyandthekid
7) Plaid Girls Club
Our favorite cozy pattern to wear in the fall and in winter is unquestionably plaid. It embodies the warm vibe of the season – and happens to pair really well with the boot of the moment. You can recreate this ensemble by pairing a plaid shirt jacket with a sweater in a matching colorway. When it comes to the shoes, opt for warmer neutrals like brown.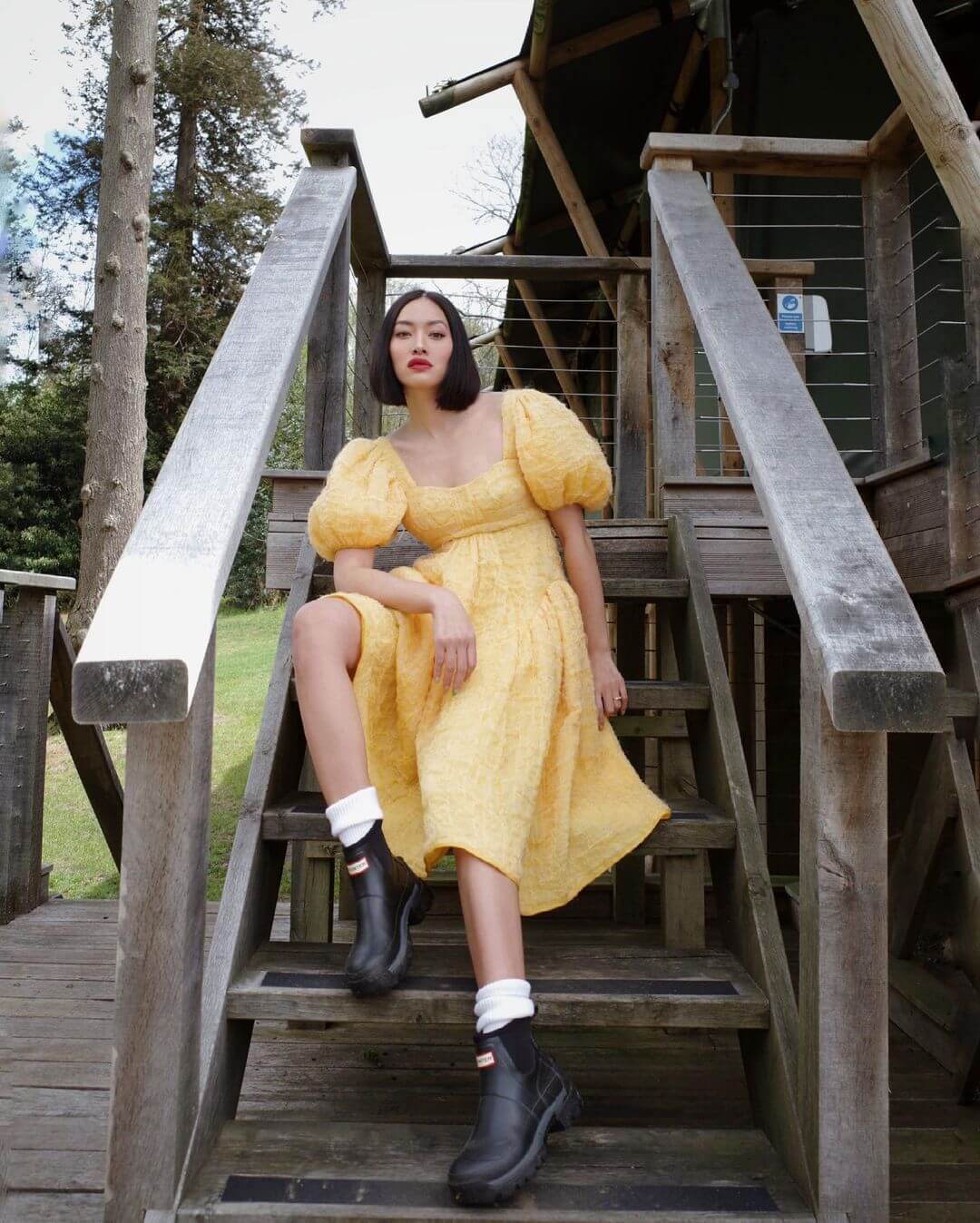 Photo via @handinfire
8) Femme Juxtaposition
There is no denying that lug sole boots have a military-inspired look to them. With that said, there is nothing we admire more than a little juxtaposition within one outfit. This next outfit idea requires you to put on some of your more feminine pieces, such as a textured, voluminous-sleeve dress. The lug sole boot and sock pairing totally changes the vibe of the outfit, making it more in tune with urban street style.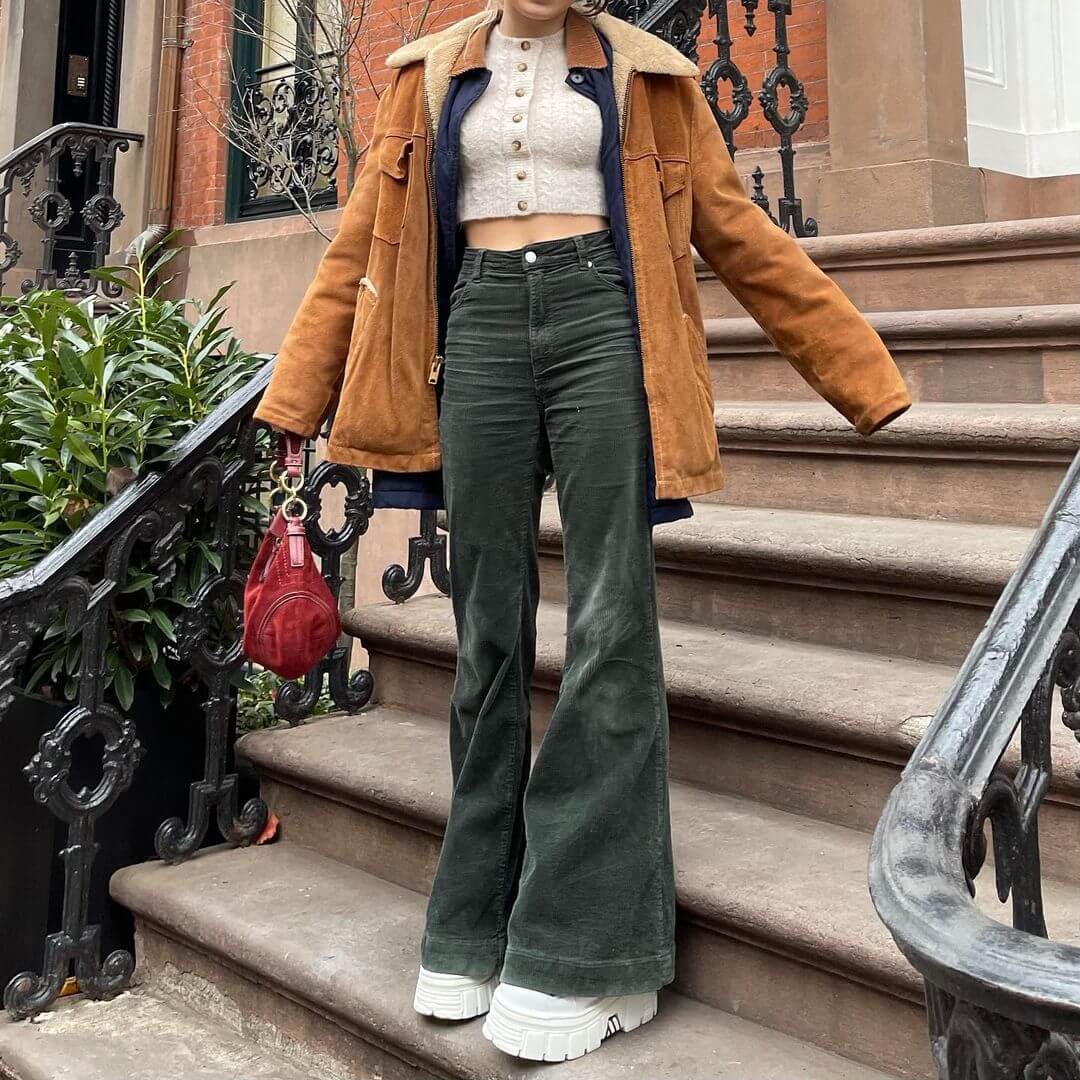 Photo via @best.dressed
9) New Heights
Since lug sole boots have such an exaggerated sole, they can really stand out within a look. We love how this influencer adds flair to her mixed 90's/70's look with some wide bell bottoms, cropped cardigan and shearling lined jacket. The white boots are a highlight, taking these simple pieces to another level.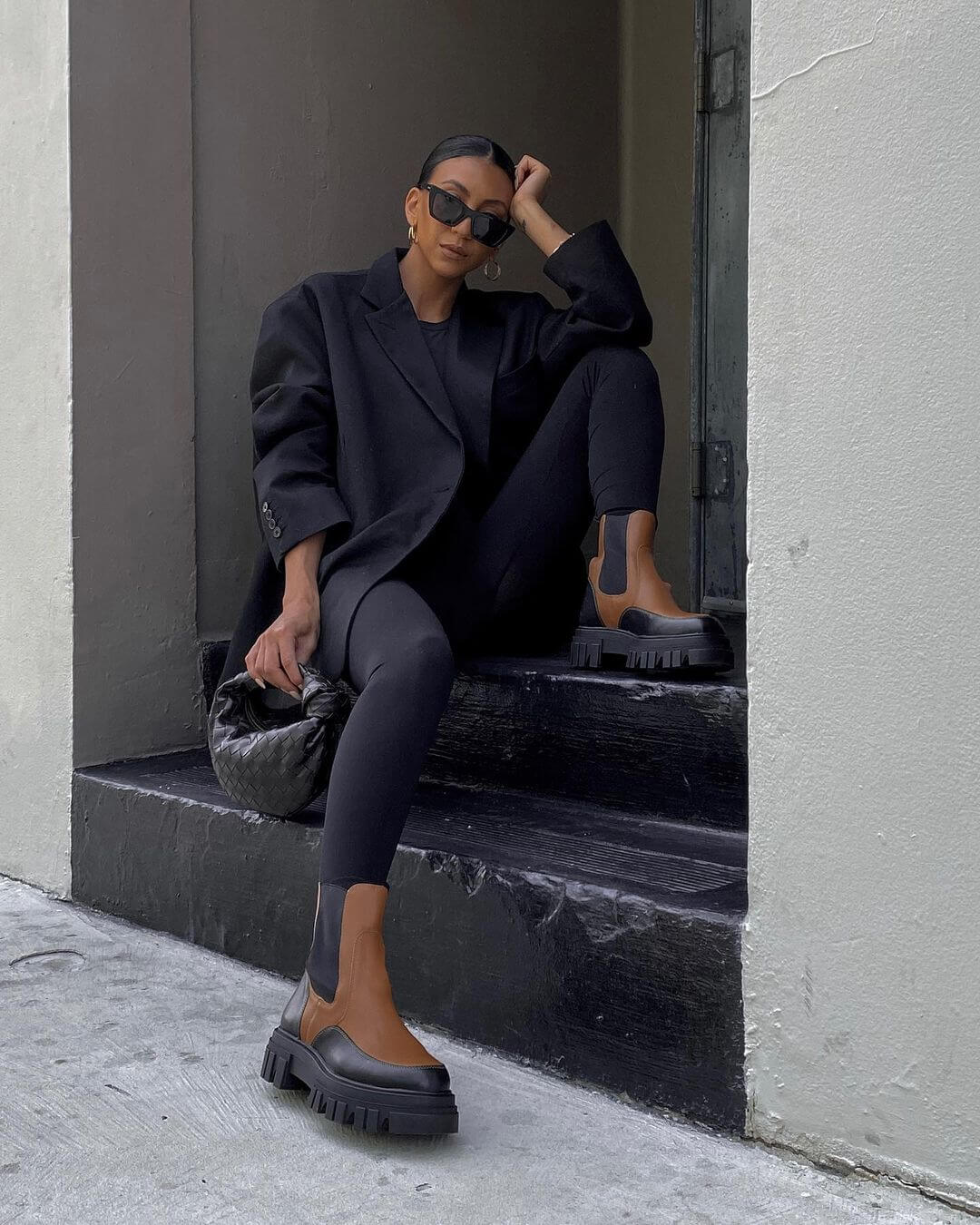 Photo via @kayla_seah
10) Sleek & Modern
Lug sole boots are especially made for those who often lean into sleek, modern, and minimalist style. A relaxed blazer, basic tee and legging combo looks immediately updated with these trendsetting shoes. Plus, if you are not completely sold yet, lug sole boots are fit to tackle the rain and other wintry elements with its gripping bottom, making them excellent choices for gloomy days.

Lug sole boots definitely take the cake as the most popular shoe for the upcoming months. The thick tread make them a surprising treat that goes with just about everything, including leggings, denim, and even more delicate dresses. Whether you opt for a classic chelsea style boot or knee-high rain boot, these boots are sure to make a statement with any outfit.
(Visited 1 times, 4 visits today)