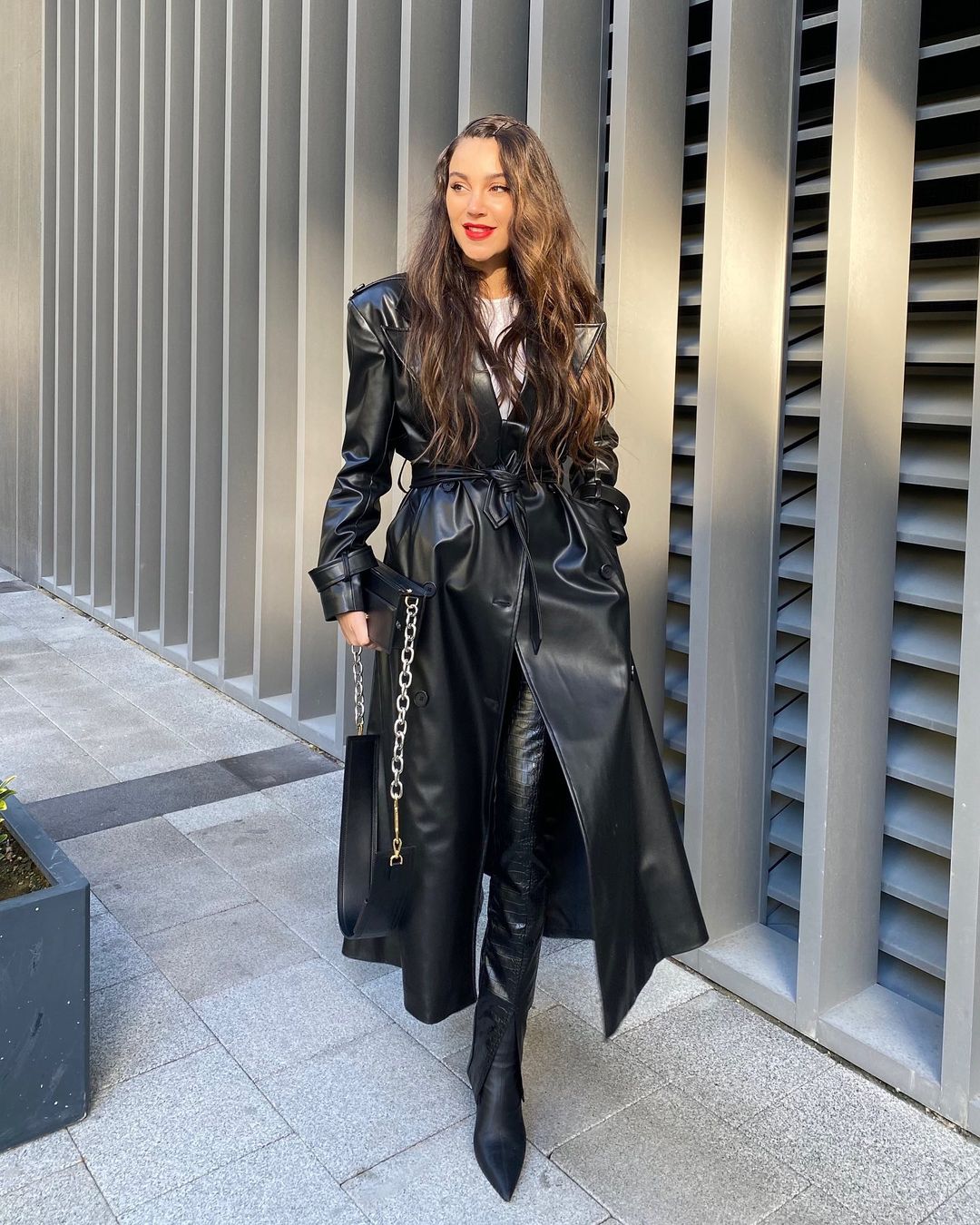 Photo via @cananulugol
Year over year, it seems that leather has become more meaningful through the fall and winter seasons. So much that we are starting to categorize it as a necessity, holding the same value as sweaters or jeans. Since leather is clearly not going anywhere anytime soon, we see no reason as to why one shouldn't experiment with this fabrication. It's incredibly easy these days too as leather is taking the form of almost every silhouette you can imagine. Beyond just the classics (i.e. leather pants and jackets), you can find a plethora of leather minidresses, corset tops, and accessories that communicate sensuality and edge all at the same time. If you're hunting for unexpected ways to inject leather garments into your wardrobe, we compiled a docket of head-to-toe leather outfits that showcase  all the ways you can wear the trendy fabric now until year end.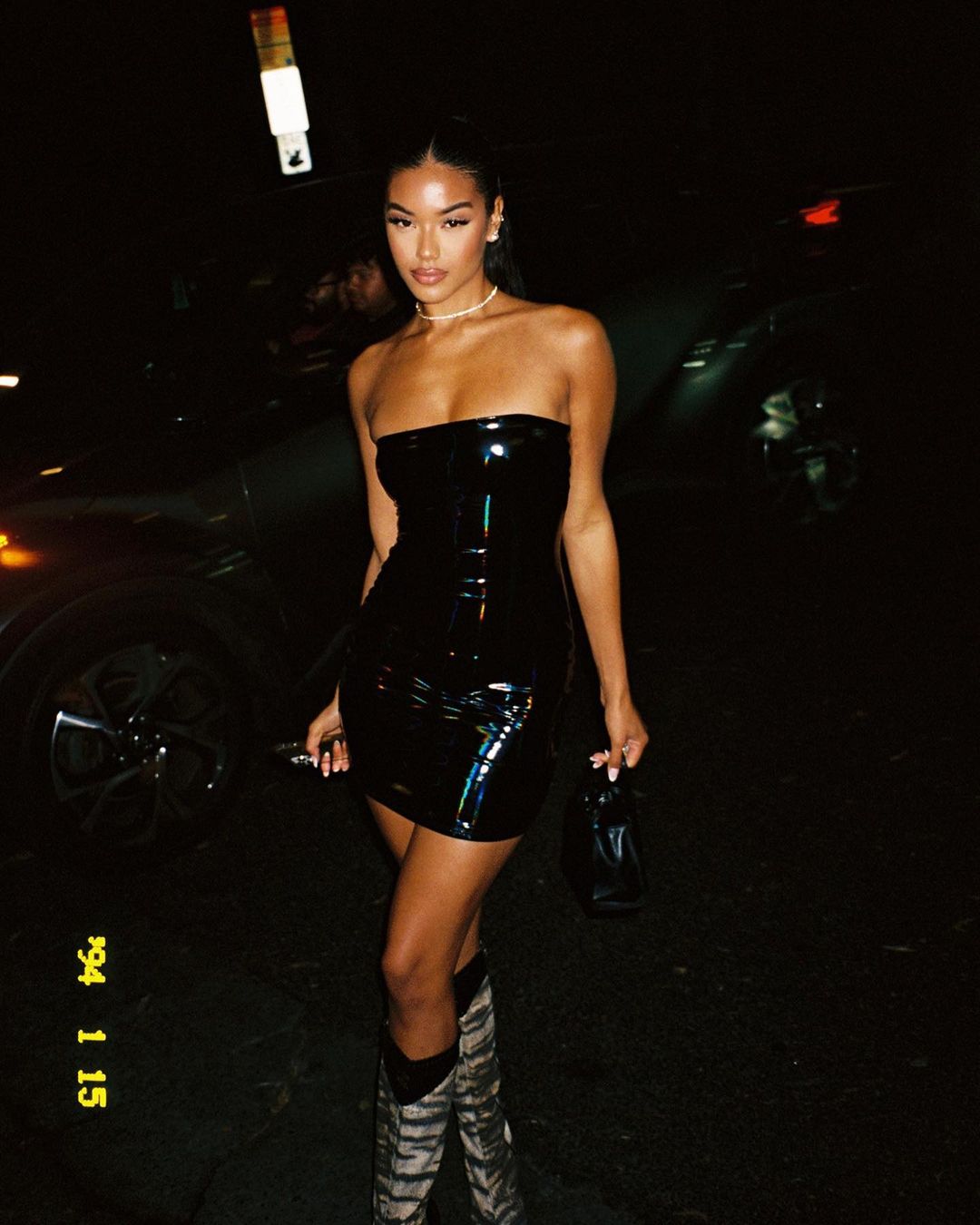 Photo via @yarelisdenise
1) Time to Shine
We all know that leather is an inherently fierce fabrication. So take this notion and run with it. Let leather guide you for all your night outs this season as there is truly nothing more show-stopping. Yarelis keeps her look simple, yet effective, dressing up a high-shine, minimal leather dress with a bold calf-high boots and a mini handbag. There you have the picture perfect night time outfit.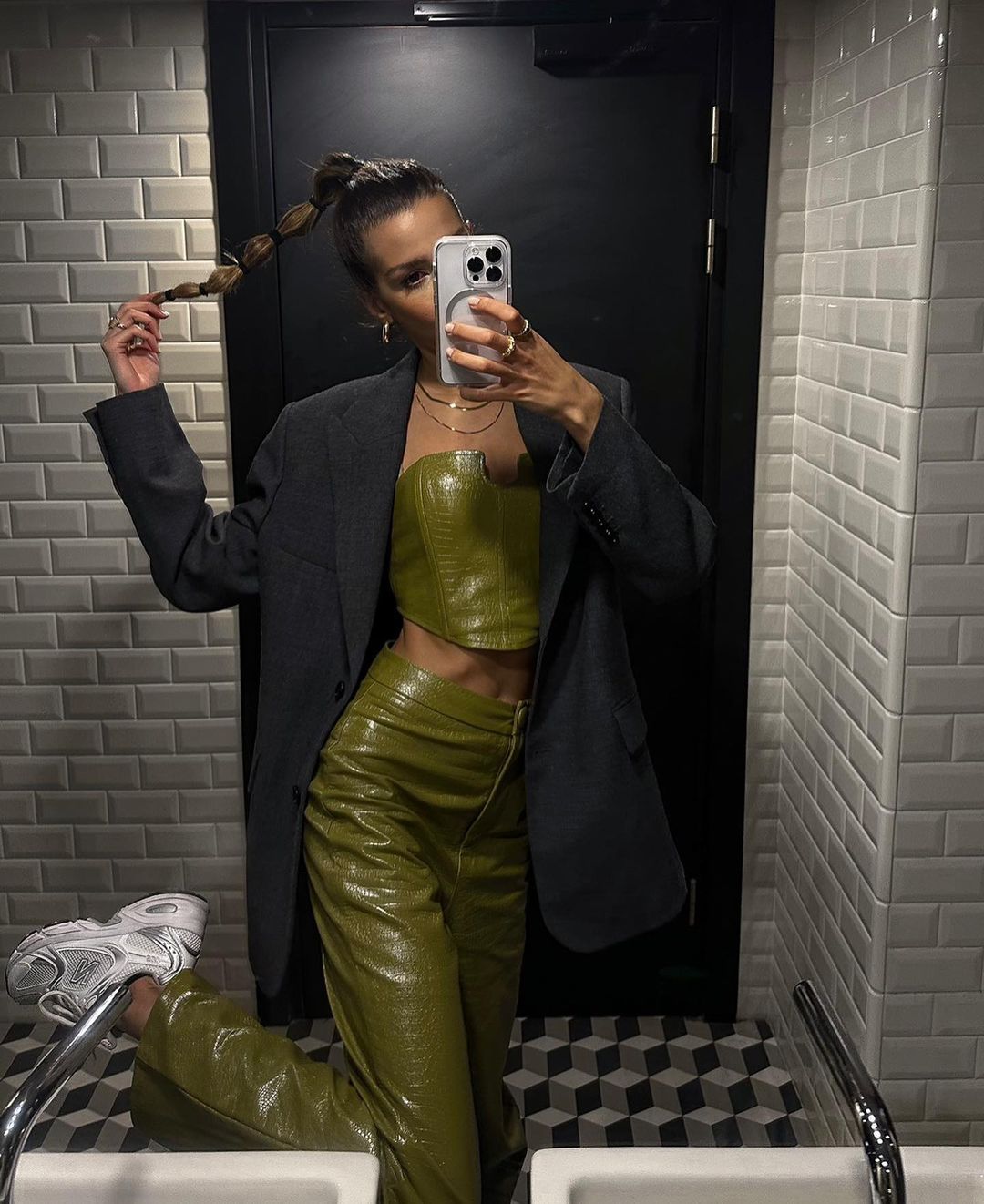 Photo via @marinanorjes
2) Matchy Matchy
Who doesn't love a good corset moment? Especially when it comes in leather. Something about the sultry silhouette coupled with sleek leather pants makes us swoon. Even better is if both pieces match for a complete head-to-toe look. As dressy as the aforementioned combination might seem, you can keep it tamed and effortless by following Marina's suit. She styles her coordinating leather set with an oversized blazer and casual trainers for a look that could quickly transition from day to night.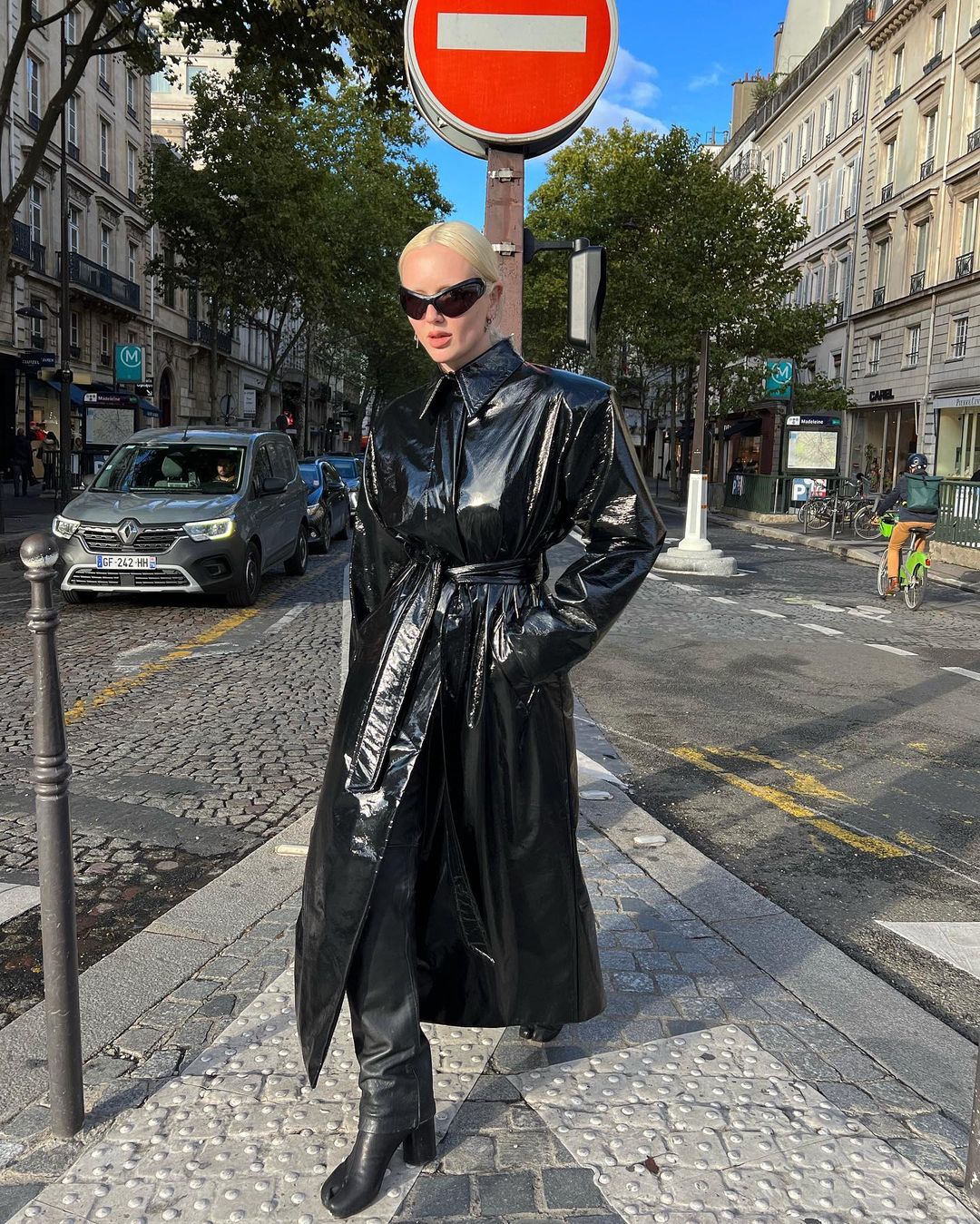 Photo via @salavat_kypere
3) Matrix Vibes
Looking to invest in one leather piece that can have maximum impact on your entire wardrobe? There is no better way to go than a leather trench. It allows you to channel Matrix vibes but in the best way possible. This outerwear piece does it all – it is sleek, classy, and trendy. Plus, the waist-cinching design looks sharp enough to pair with a variety of looks you already own.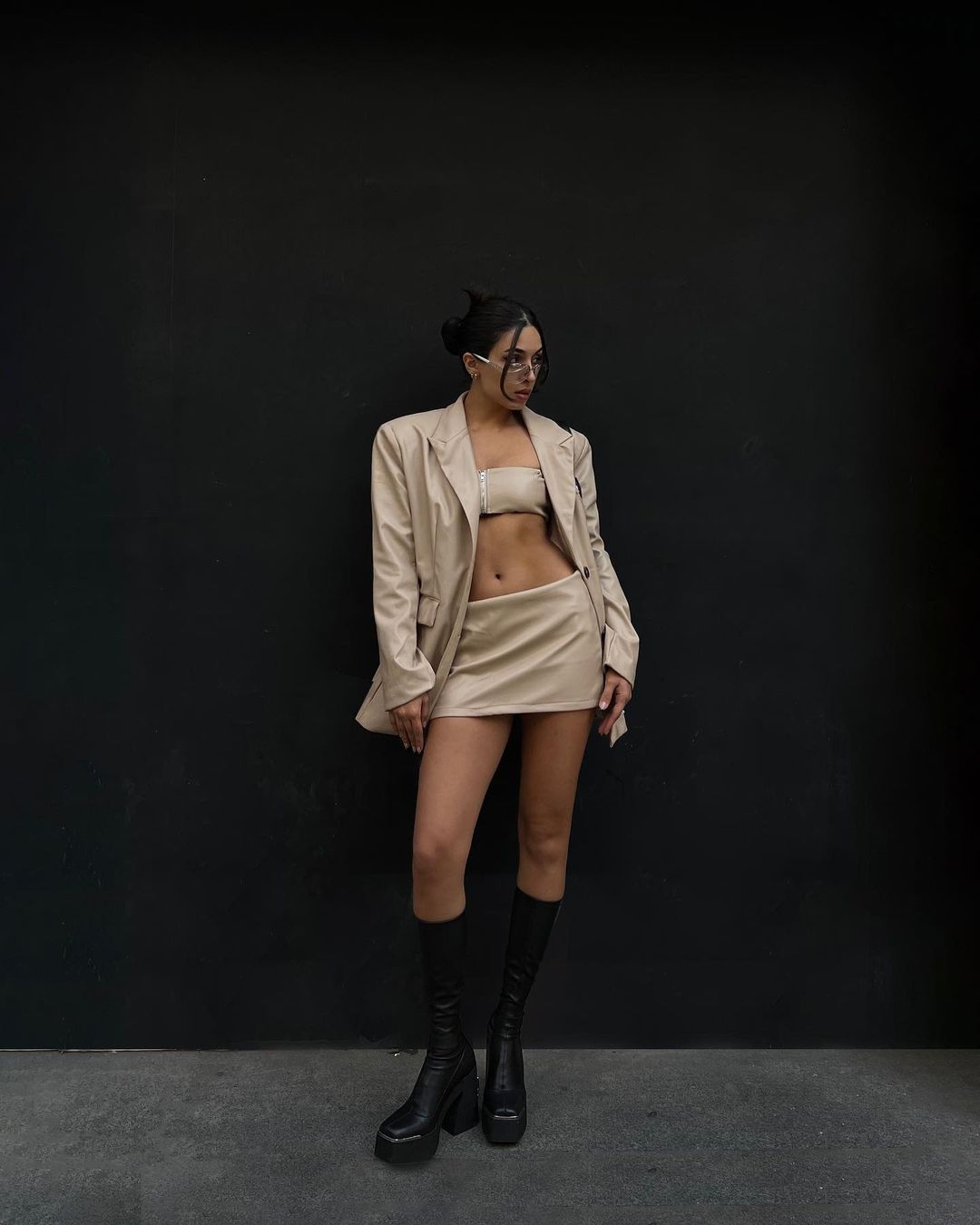 Photo via @suellensamara
4) Leather Separates
When tackling a new trend, we love the opportunity to shop in sets for ease of mind and styling. The already-coordinating fit also gives it serious day-to-night credibility since it comes together without a hitch. And that's not even the best part. You can wear the pieces within the set individually as a jumping off point for a myriad of other looks.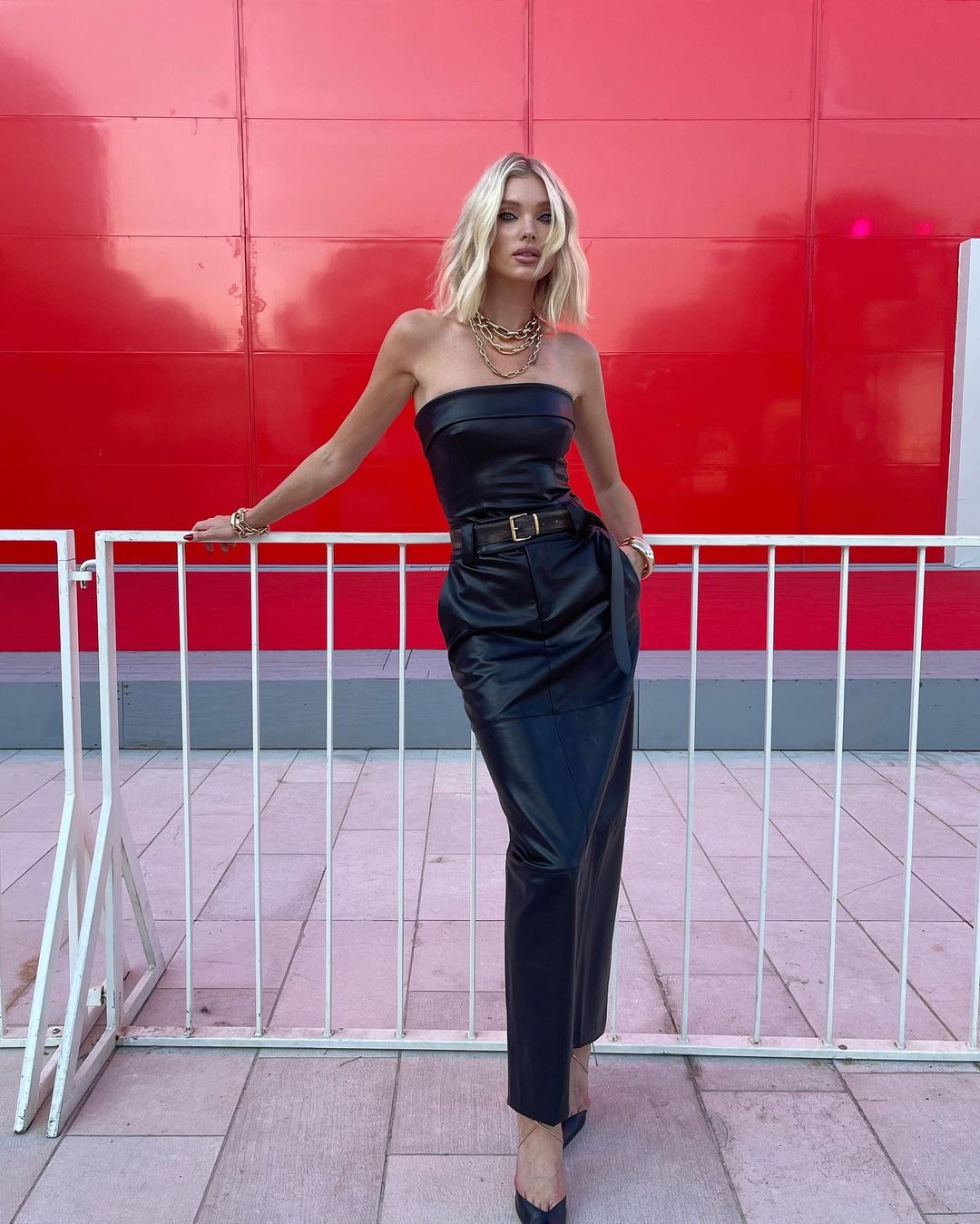 Photo via @hoskelsa
5) To the Maxi
By now, we are all aware of the allure that maxi skirts have. But we just found the ultimate floor-grazing skirt that commands full attention: the sleek leather maxi skirt. It's jaw-dropping gorgeous and works seamlessly well with a leather tube top. The trick to keeping two stacked leather pieces separate is to incorporate a contrasting belt to break up the look as Elsa has demonstrates above. Throw on a blazer and you have an office-ready fit – or slip into a cropped shearling jacket for a chic city look.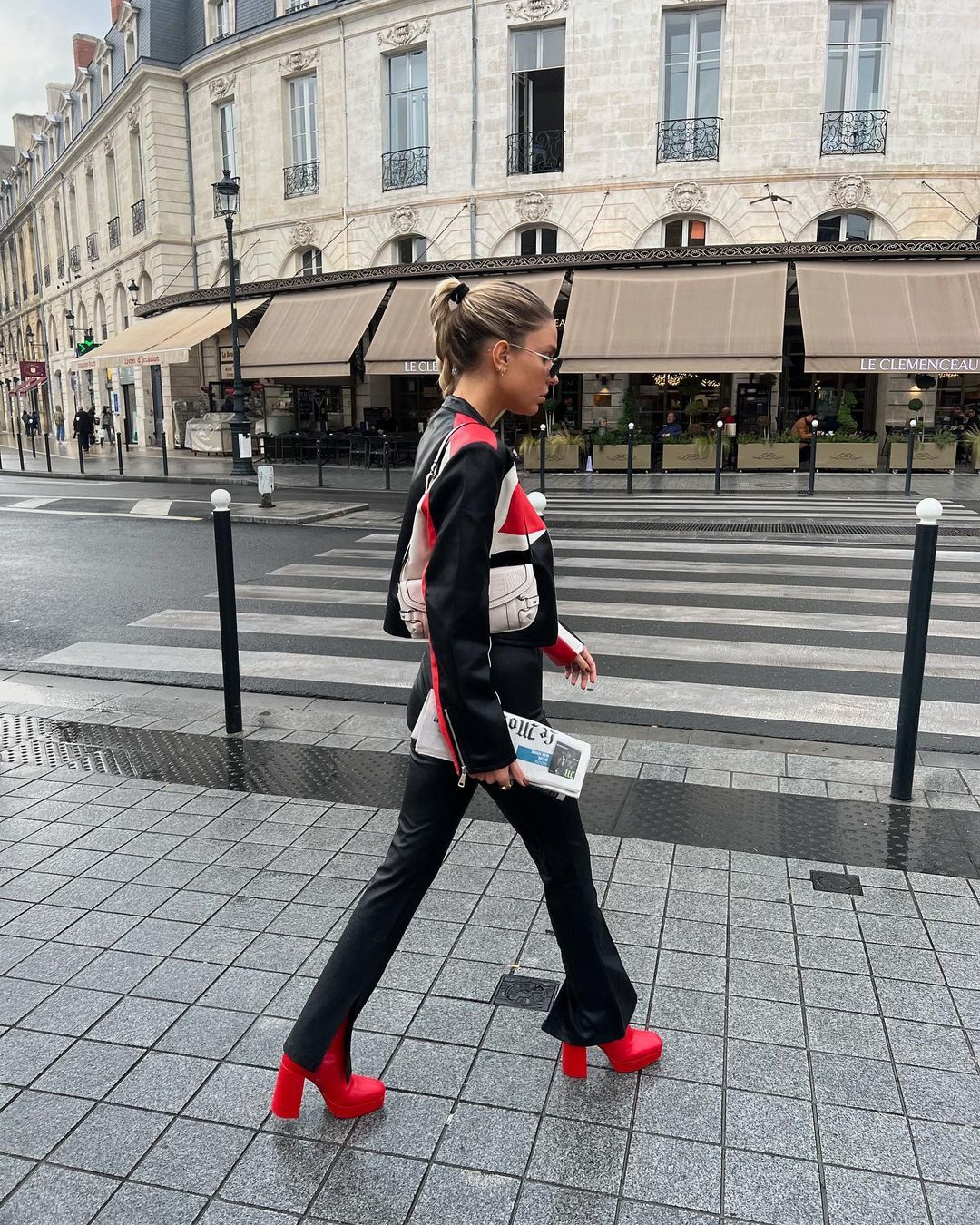 Photo via @audreyafs
6) Biker Chic
Leather pants are quickly becoming just as essential as a pair of trousers. Incredibly versatile and flattering, we bet you will find yourself reaching for them more often than not. If there's one thing that's better than one leather element in your look, that would be two! Double down on the cohesive leather-on-leather outfit with a biker jacket. You could even go so far as finishing off the look with punchy platform boots.

Photo via @lissyroddyy
7) Under Wraps
Most leather pieces on the market will be offered in black with the exception of browns and other neutrals. Whilst we adore an all black look on any given day, it is nice to break it up with some color when the time is right. Alicia injects the perfect flash of Bottega green via a pair of colorful, chunky boots. Now that's one styling hack to employ when you want to add some oomph to your head-to-toe leather ensemble.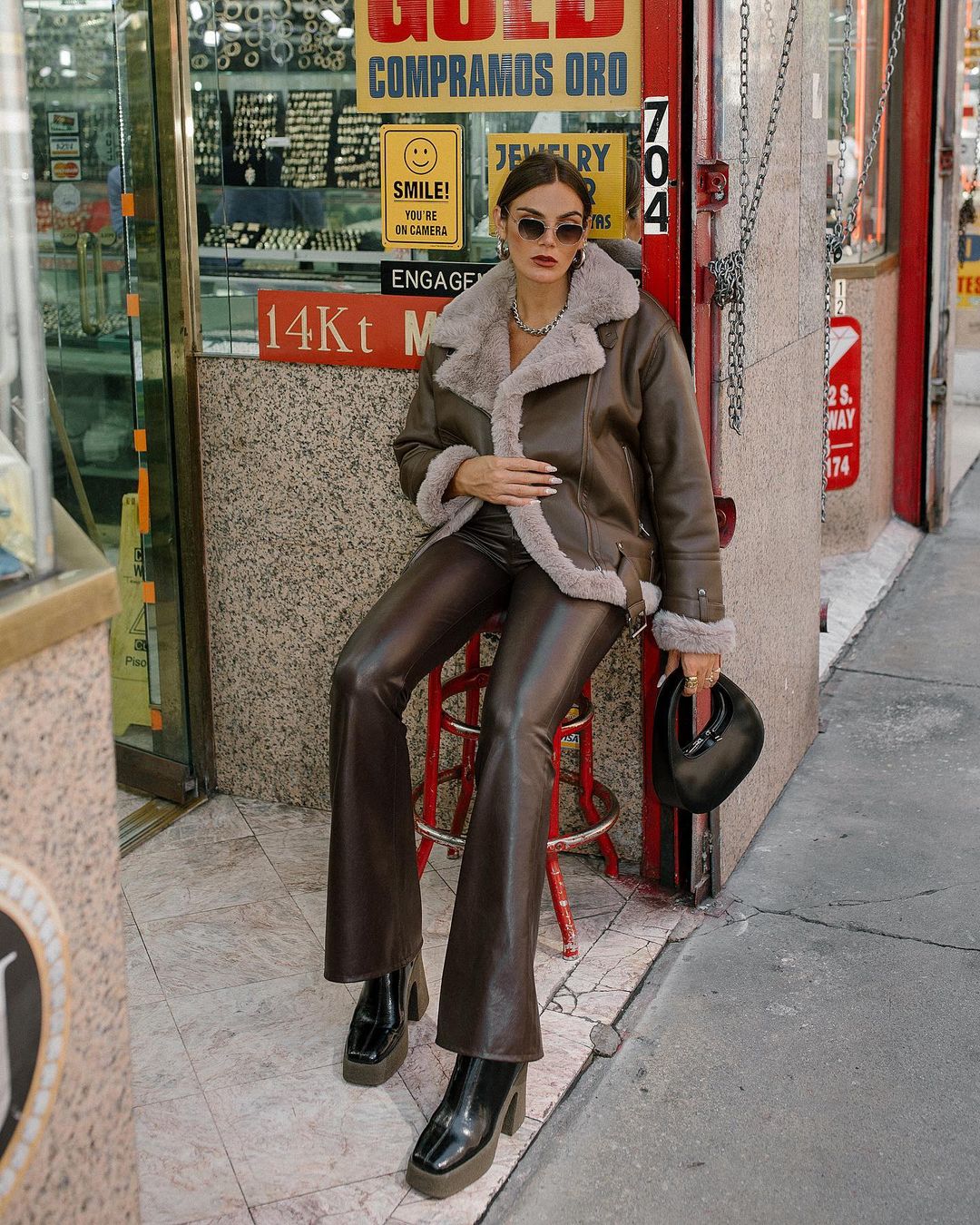 Photo via @tezza.barton
8) Chocolate Brown
Speaking of neutral leather, Tezza serves up the most divine chocolate brown outfit inspiration. This warm hue screams autumn and offers up a chic alternative to the classic black leather we all know and love. Recreate the look for yourself with a faux-fur lined bomber jacket and brown flared pants for a fall-friendly fit that could very much be transitioned from work to play.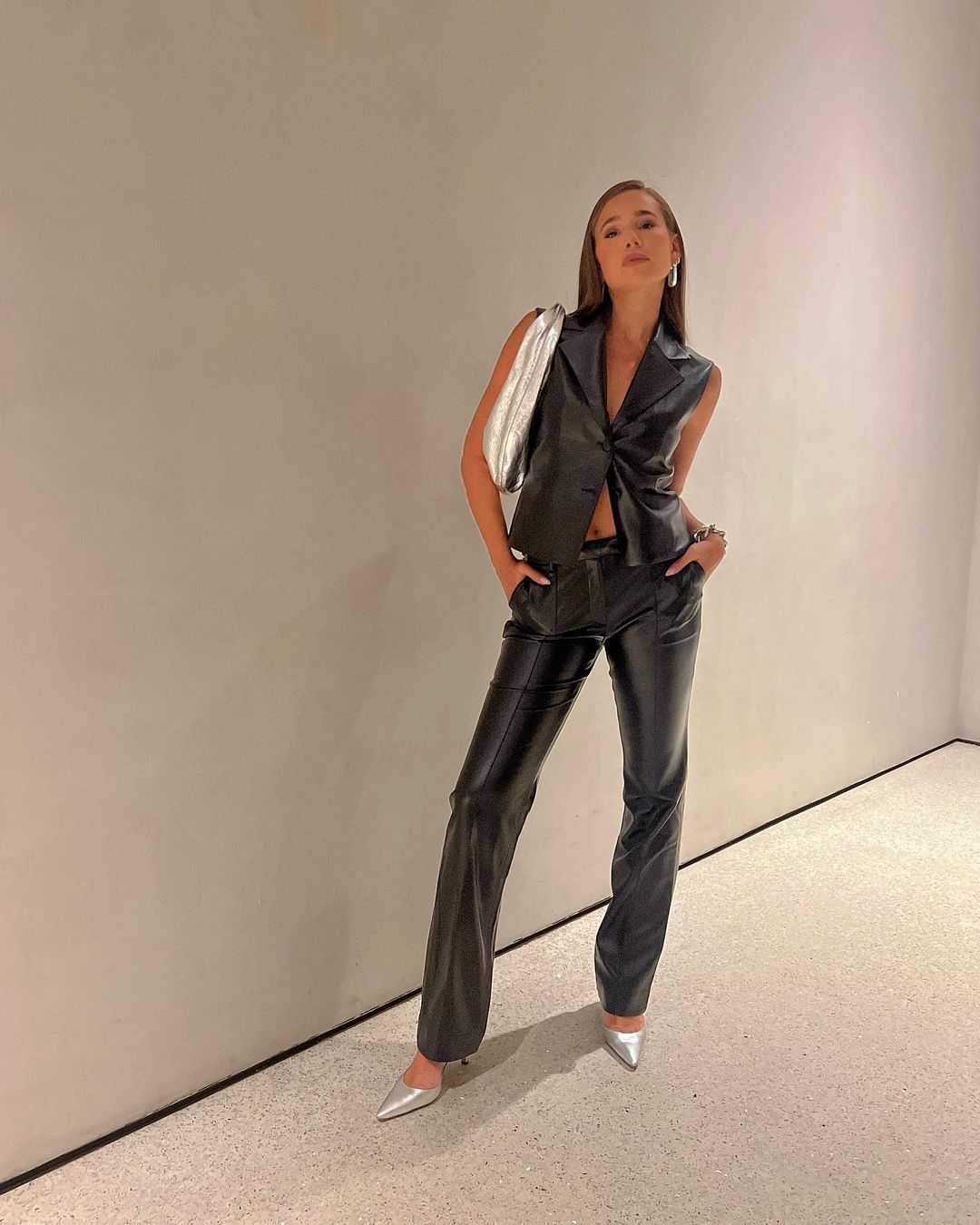 Photo via @weworewhat
9) Silver Lining
In terms of jewelry and accessory trends, silver is taking precedence over gold in 2022. Gold might give off a feeling of refined opulence, but silver has a rugged, edgy aesthetic, which is ideal for accentuating a head-to-toe leather outfit. Danielle rocks a full leather vest and trouser combo. But the silver accessories take the cake in upping the cool factor. Everything from the earrings to the bag and down to the heels makes a case for trading gold for silver this season.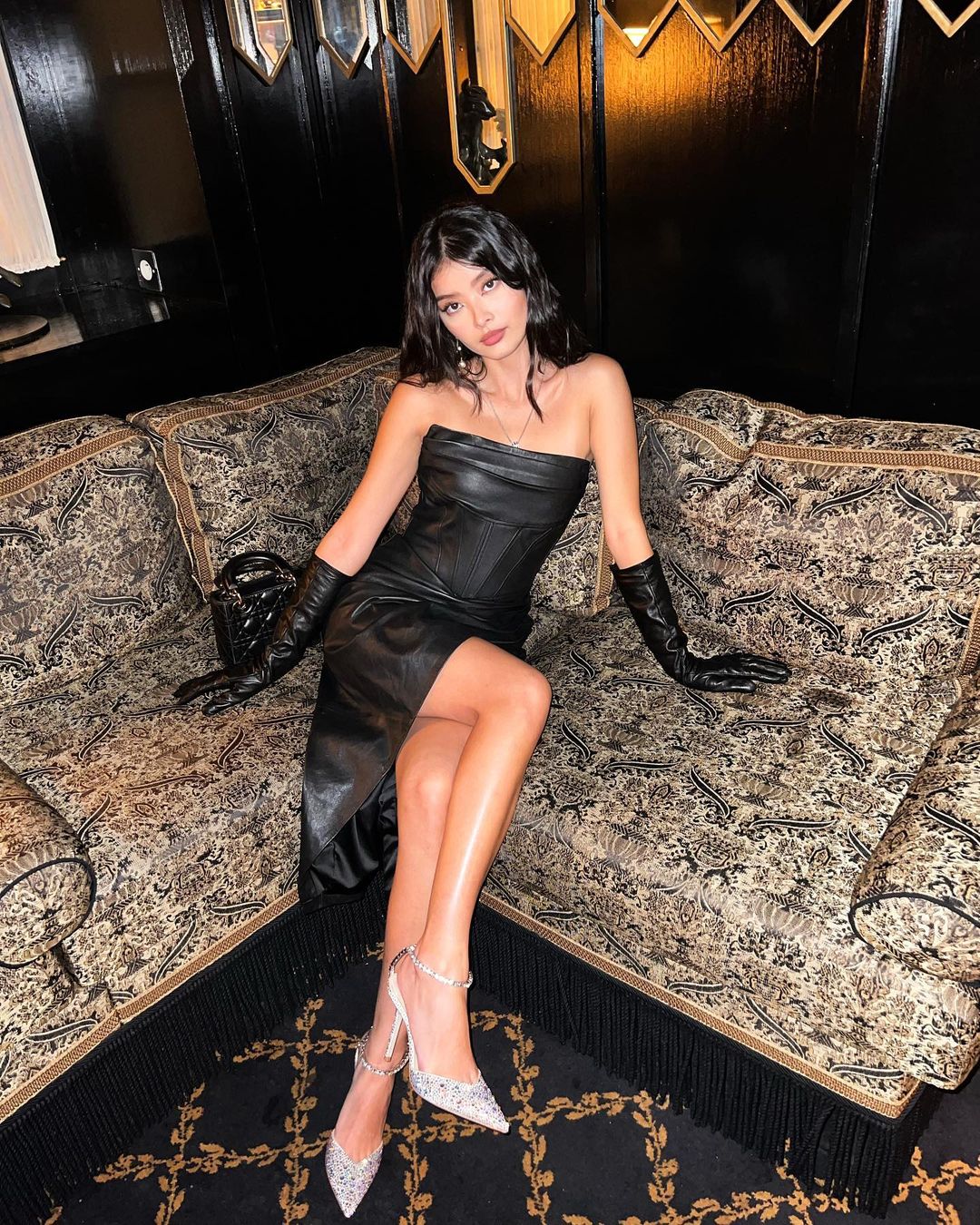 Photo via @caroline_hu
10) Glove You
One foolproof way to add a dramatic flair to any outfit is to incorporate a pair of elbow-length gloves. They're not just distinctly feminine but have the ability to take on a punk edge, depending on how you style them. If you want to step out into the dusk with all eyes on you, mimic this fully loaded leather uniform with the leather opera gloves and dark corset dress. 

(Visited 1 times, 1 visits today)